Planning for your next cookout? Whether you already own one or you're looking to buy a new BBQ, there's more to the perfect barbeque than kit alone. 
Have you ever planned a BBQ party, only to realise something is missing at the last minute?
The grill is fired up; the burgers and steaks are cooking. Then, it's time to flip them, but you can't find your spatula or tongs!
Or have you ever got to the point of serving up, only for guests to ask: 'where's the salad? Are there any veggie burgers?'
There's nothing worse than feeling unprepared while on hosting duty. Sure, you don't need much to have a great barbecue – but how do you host the perfect BBQ?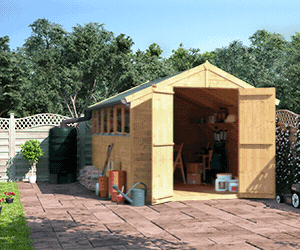 Well, that's what we're here for. We've prepped 12 BBQ steps and ideas for you so you won't be left wanting at the grill!
How Do I Host The Perfect BBQ?
It can be nerve-wracking and stressful to be the party host. With all that pressure, some people skip the planning part, focusing only on the food they've got to prepare.
But you may be way behind; still debating charcoal vs gas grills. But don't worry, we're here to help. That's why step one on our list is something big. But with our help, you can get it sorted with the grill that best suits your space, budget, and cooking style.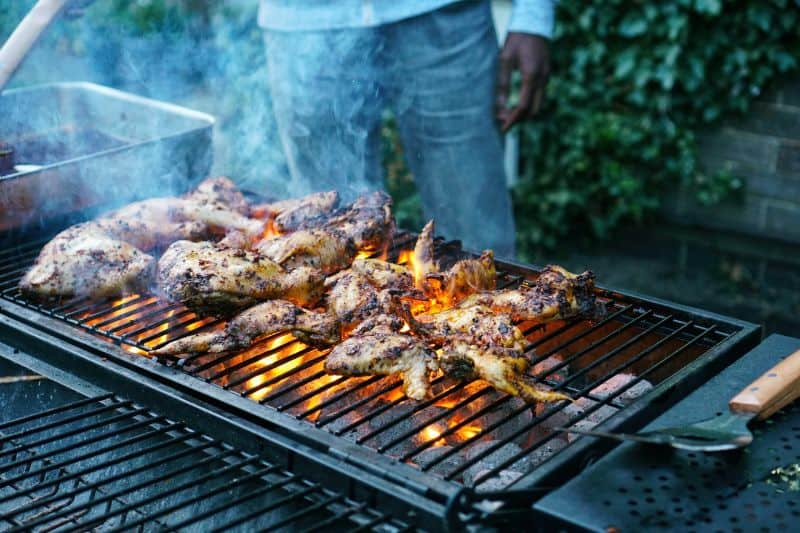 Step 1: Finding the perfect BBQ
When it comes to BBQ grills, you've got two options: charcoal vs gas, right? Well technically (there's also electric BBQ's), but we'd like to broaden your horizons and break these choices down. Who knows, you might even find that you want a smoker BBQ or a pellet grill.
So, how will you find which BBQ suits you and your outdoor needs best?
Your first step to finding the right grill is to put some ground rules in place. Considering these factors will help you move forward to making the right decision.
Space:

How much do you have available in your outdoor space? Will there be enough to put your BBQ in storage?

Location:

Where do you plan to place your BBQ? On your patio, in the garden, or by the poolside?

Budget:

Do you have a target price range for the grill you plan to buy? For instance, have a look at our

best BBQs under £300

Cooking requirements:

What cooking surface area do you need? Will you cook for a small crowd or a larger one? What are you planning to serve them?

Time and effort:

Are you willing to deal with ashes for that smoky flavoured barbecue in return? Or are you after speed and less cleanup?

Cooking:

How experienced are you? Are you looking for a beginner-friendly BBQ or something that's designed for professionals?
Once you've considered these things, it'll be a lot easier to pick what type of BBQ grill is right for you.
A charcoal BBQ is a classic favourite among purists. It's regarded as an ideal and authentic way to grill food.
It gives off one benefit that stands out above all others: smokey and strong flavours.
In contrast, gas BBQs are known for their ease of use and precision. This type of grill is ideal for those who value convenience.
There's no messing with charcoals and no waiting around for the coals to light. It doesn't impart much inherent flavour to grilled foods, but there are no ashes to clean up.
Electric BBQs are generally much more compact – perfect use for both indoors and outdoors. They're an excellent alternative for apartment dwellers who aren't allowed to cook with either gas or charcoal on their balcony.
Then there are pellet grills that can be used as grills or smokers. They come in barrel or cart-style designs and need to be filled with food-grade wood pellets. Ideal for small outdoor spaces.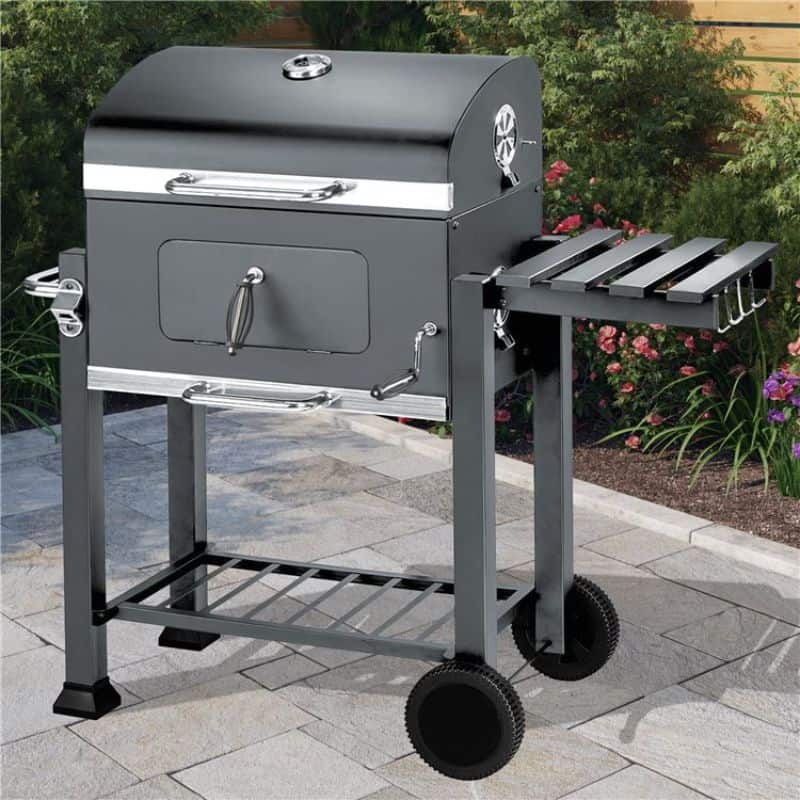 Step 2: Check and clean your BBQ grill
You don't want your BBQ to be filled with oil grease or leftover ashes on the day of your cookout, do you? Before sending out those invitations, get your grill primed and ready.
A well-kept grill is safer, looks great, and just works better.
For charcoal and pellet BBQs, here are the key parts of cleaning:
Ash catcher

Grill rack

Vents

Kettle lid
For gas and electric grills:
Ignition and temperature knobs

Sider burner or hot plate

Grill rack and warming rack

Gas tube and connector

Lid and handle
We all need to know how to clean a BBQ, and this cleaning guide with tips will help you to learn! It's the ultimate BBQ cleaning guide packed with tips and a step-by-step guide.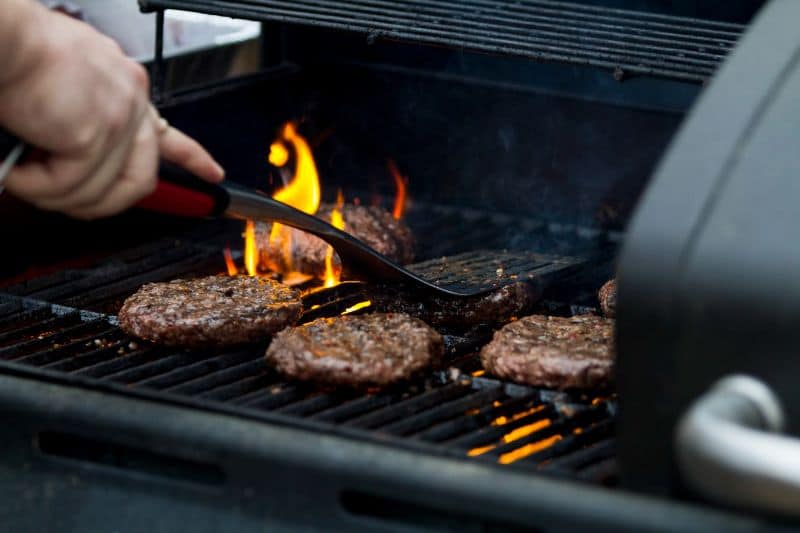 Step 3: Prioritise everyone's safety
To serve good ol' flaming open-flame grilled foods is probably your top priority. But how about everyone's safety? That should definitely be in your rule book when hosting an outdoor party.
Regardless of the type of grill you own, take these safety measures in mind. These will keep you, your guests, and your home safe for barbecuing season.
Grill outside and away from any structures.

Grills cause fire incidents from time to time. Have preventative measures like a fire extinguisher in place. It's also worth noting to check for overhanging tree branches when you set up your grill
Ensure your BBQ is stable.

Set up your grill on a flat surface, and be sure it can't be tipped over

Keep an eye out for propane leaks.

One of the common signs of a gas leak is the smell. The other one is when the flame won't light. When

cleaning your BBQ your can check your gas line for perforations

 

Be careful with charcoal starter fluid.

To speed up the ignition of charcoal, we recommend using a charcoal chimney starter. It's a lot safer than adding flammable liquids to the fire and uses newspaper to start the fire instead of starter fluid
Wear the right clothing.

Clothing can easily catch fire. Make sure your shirttails, sleeves or apron strings don't dangle over the grill.

Have a fire extinguisher nearby.

If you don't have a fire extinguisher, baking soda can help control a

grease

fire. A bucket of sand next to the grill also works wonders.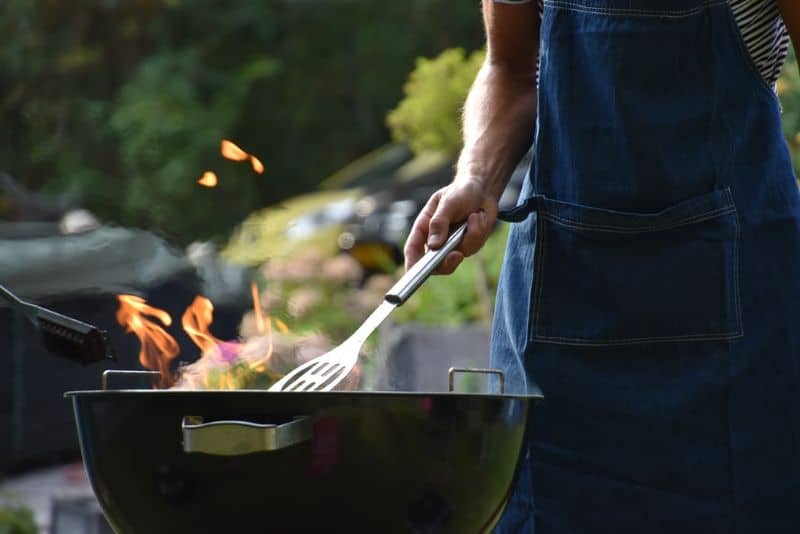 Step 4: Get utensils ready
You don't need fancy gadgets and toolsets for your next cookout. All you need are these reliable and must-have grilling accessories.
Aluminum Foil

Apron

Butane or propane

Charcoal or briquettes

Grill Fork

Grill Glove

Knives

Spatula

Tongs

Towel

Oil
A wire-bristle brush will also come in handy. And don't forget to bring or have spare gas tanks or charcoal with you!
If your grill doesn't have an in-built thermometer, use a meat thermometer instead. That way, you'll know if your meat is cooked through.
Step 5: Plan your menu from the mains to the sauces
You can go from a simple menu to an extravagant one depending on the celebration, season, and budget. You can also go with the classic staples or make some upgrades to show off your cooking skill.
Categorise your menu into four parts: mains, sides, desserts, and sauces.
For the mains, you can prepare grilled steaks, salmon, shrimp, or brisket rubs. You can never go wrong with burger patties and sausages as well!
Coleslaw, potato salad, and Tortilla chips make the perfect choices for the sides. Watermelon and other summer fruits are also great appetisers.
And let's not forget about desserts! Adding ice cream to the menu will make your guests delighted, especially the kids. That's for sure.
A barbecue wouldn't be complete without a sauce. You can either get one from the supermarket or make your own.
Set out the all-time favourite toppings, too, so everyone can build their own ideal meal. This includes:
Ketchup

Mustard

Mayonnaise

Hot Sauce/Sriracha

Cheese
And with a BBQ with side tables you'll have more room for storing and staging all these extras!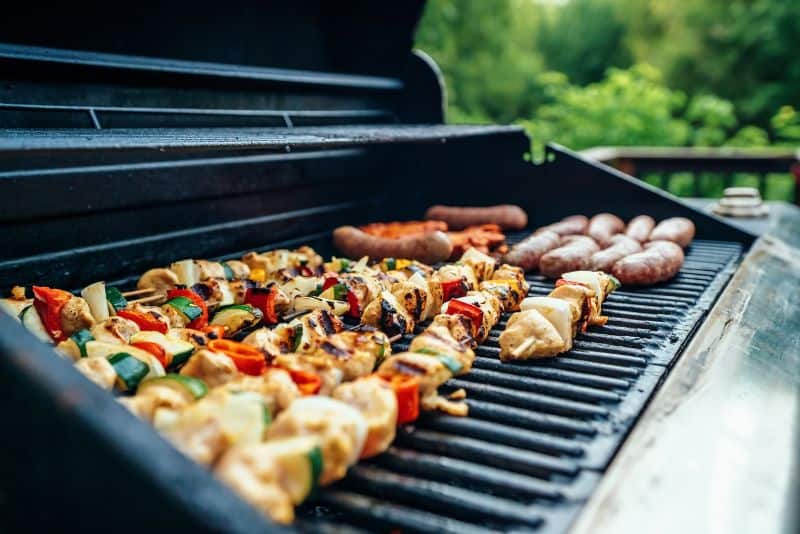 Step 6: Consider adding a vegan menu
Don't forget about your vegetarian guests. Luckily, there are heaps of vegan-friendly recipes and alternatives available to those with dietary restrictions.
The meal you'll serve to them should include a good source of plant-based protein. Think about adding tofu, tempeh, seitan, and beans to your grocery cart when shopping for the ingredients.
Or follow these faux meat recipes, and your vegan guests won't be able to resist these drool-worthy plant-based meals.
And with a BBQ with dual cooking compartments, you can even cater for vegans and vegetarians whilst keeping food separate!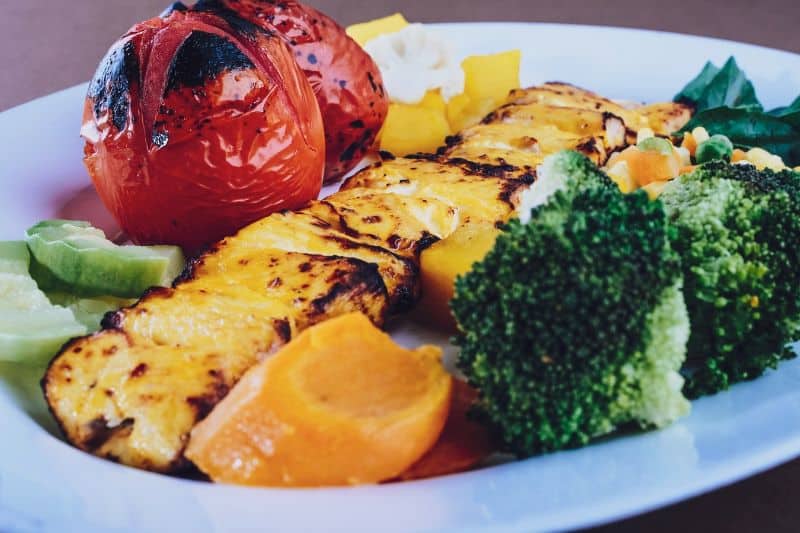 Step 7: Have a table setting checklist
Tableware is one of the crucial aspects of a BBQ party. This is where you also decide if you'd go for disposable items or the usual household plates and utensils.
Whatever type and design you want to pursue, it's best to have a table setting checklist. Keep it simple and functional like these:
Cups

Cutting boards

Napkins

Plates and bowls

Serving bowls

Silverware/cutlery

Table cloth

Tongs and serving spoons

Toothpicks
Disposable plates, cups and utensils require less clean-up after the party. Plus, you're less likely to run out of supplies.
On the other hand, using real cutlery, glasses and plates will benefit your guests and the environment better. They're more convenient and lessen plastic waste.
They can also add a bit of a classic touch to your BBQ gathering.
Step 8: Make sure everyone has their own cup and drink
Cold drinks are key to keeping everyone cool and refreshed throughout the party. There are lots of beverage options that are ideal for BBQ parties, so get something for everyone.
Offer a variety of non-alcoholic drinks for kids and guests who don't drink alcohol. Home lemonade and fruit punches are sure to be a hit!
Don't forget to fill the cooler with ice-cold beers as well. Take this chance to show off your bartending skills with a signature cocktail or two.
Ensure there's an extra load of ice cubes and plenty of water to keep everyone hydrated.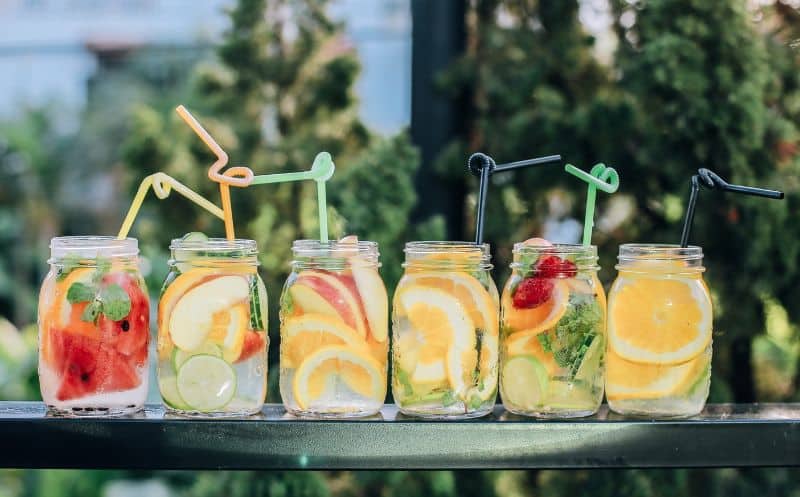 Step 9: Plan fun outdoor games for extra entertainment
Take your grilling game to the next level with some fun outdoor activities for everyone to take part in! 
Outdoor games are one of the highlights of summer and BBQs. Try to put together some classic, fun activities for all ages to enjoy.
This is a great way to bond with family and friends and make good memories. Prepare your backyard for some exciting games like:
Bean bag toss

Badminton

Egg-spoon races

Horseshoes

Sack races

Scavenger hunt

Slide and toss

Two-legged races

Water balloon toss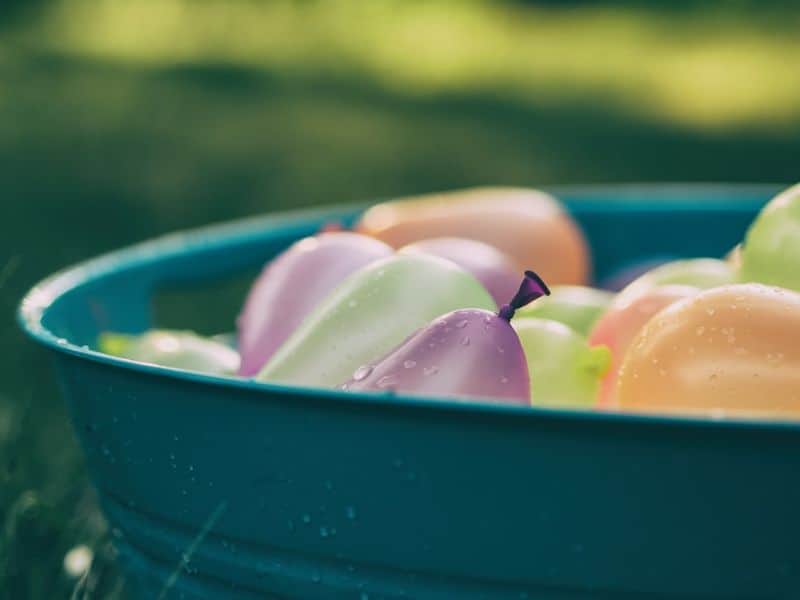 Step 10: Find the perfect garden furniture
When it comes to garden furniture, you can't go wrong with rattan sets. Modern rattan furniture sets offer a weatherproof alternative to natural rattan furniture.
This means you can leave them outdoors all year round, making them a perfect BBQ companion, no matter what season it is.
Not only does rattan furniture provide your guests with somewhere to sit back and relax, but it also enhances the look of your garden space. If you're looking to add something stylish and durable to your garden, take a look at these best rattan furniture (2021).
Just look at our rattan sofa and dining sets – perfect for lounging around whilst eating off paper plates.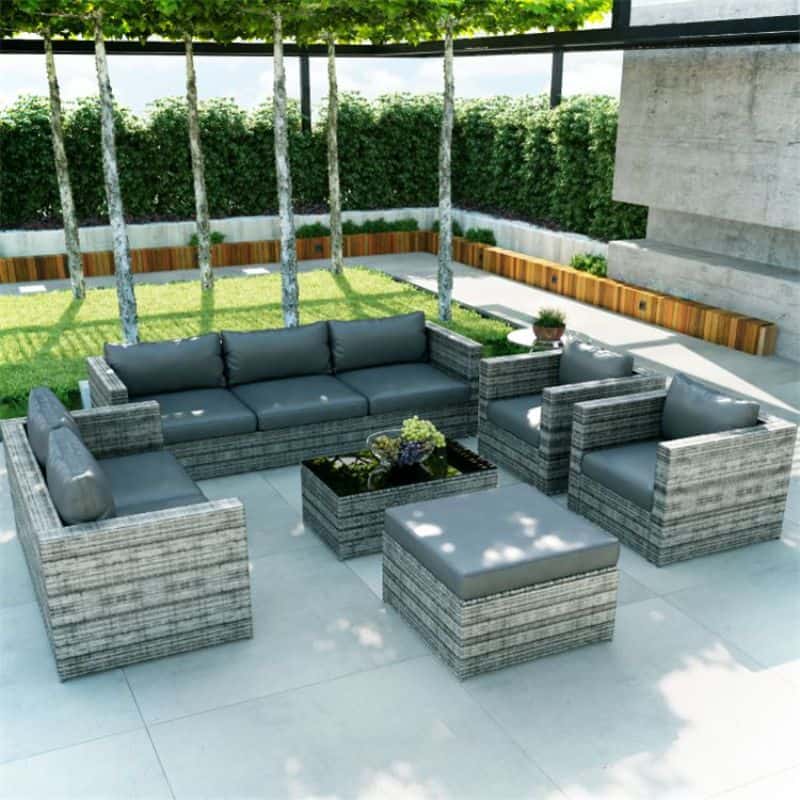 Step 11: BBQ food hygiene tips
Other than keeping your grill and hands clean, here are some hygiene tips for safer BBQ cooking:
Defrost the meat well before cooking. Proper thawing will help prevent harmful cold spots.

If you're using a charcoal BBQ, wait until the coals are glowing red. It's a sign when the heat is evenly distributed. This will stop your meat being over-charring on the outside and raw inside.

Cook to a least core temperature of 70°C for 2 minutes.

Cut into meat to check if it's well cooked. If you have the slightest doubt, a meat thermometer will come in handy.

Hold hot food at a temperature of 63°C until served.

Use a cool box filled with ice packs to minimise bacterial growth on raw or chilled food.

Don't leave food out of the refrigerator for longer than half an hour, unless you have a portable chiller. Hot weather encourages bacterial growth.

Use separate utensils for raw and cooked meats, as well as for ready to eat food like salads and bread.
Step 12: Clean up!
Inviting guests over for a BBQ cookout comes with a lot of prep work, including cleaning. After all, even with fun, good food, and company, you'll still probably have to clean before and after.
Here are some cleanup tips that will help you put everything back into order in no time:
Opt for disposable items.

This includes plates, bowls, cups, and utensils. Guests can throw these away when they're done using them. In return, this handles some of the cleanup for you without them even knowing.

Prepare trash stations.

Unless you want your backyard to be filled with trash and disposable items at the end of the day, set up trash stations. This will make it easier for everyone to clean up after themselves.

Keep cleaning supplies in handy.

Have a roll of paper towels available or within reach for your guests. A multi-purpose spray cleaner can also help you clean up mishap spills from drinks or foods.
And remember, you should clean your BBQ after each use, and deep clean it at least twice a year! 
So there you have it, our quick BillyOh guide to having the perfect BBQ. Just remember these 12 steps and you'll be the talk of the town at BBQs this summer. No more mad rush to the shops for vegan burgers!
Recap: 12 Steps to Have/Plan the Perfect BBQ
Step 1:

Find the perfect BBQ grill for you

Step 2:

Double-check and clean your BBQ

Step 3:

Don't forget the safety measures

Step 4:

Prepare the utensil beforehand

Step 5:

Plan your menu from the mains to the sauces

Step 6:

Prepare vegan alternative dishes

Step 7:

Have a table setting checklist

Step 8:

Provide drinks for everyone

Step 9:

Plan out some fun outdoor activities

Step 10:

Find and invest in good garden furniture (Like a BillyOh rattan set)

Step 11:

BBQ food hygiene

Step 12:

Clean up the mess

And if you're looking for more inspiration, check out our ultimate list of BBQ party ideas.
Shop BBQs
FAQs
Dust and ashes can build up inside, beneath, and even outside of a grill. There's also grease, grime, old food and fats.
Follow the steps in our How to Clean a BBQ guide and you can get your grill ready for your next BBQ.
For charcoal BBQ, good quality charcoal is essential. These light right away and burn better without tainting the flavour of the food. Simply build charcoal up in a small pyramid at the bottom of your grill bowl and consider using an accelerant (bear in mind, this may affect the flavour of your cooking).
As for gas grills, keep the lid raised while lighting, turn the gas on and press the electric ignition to start. Lower to suit your temperature.
As for electric BBQs, flip the switch on, and it will start heating up right away. Simple as that!