10 Best Patio Heaters 2019
Patio heaters are a popular way of keeping warm whilst outdoors. Whether this be whilst having a BBQ, watching the stars or simply having a catch up with your friends and family outside. A patio heater can be the perfect solution to staying outside longer without having to worry about wearing a ridculous number of layers.
---
The 10 best Patio Heaters 2019
The Firefly Wall Mounted heater has 3 power settings. These include 650W, 1350W and 2000W. Therefore making it perfect for both indoor and outdoor use. The outdoor heater itself measures 30 x 50 x 20cm in size and is therefore light in weight. This can lessen the concern of the potential damage caused in the rare occasion that it was to fall off the wall. The angle of the heater is adjustable. This allows you to direct the heat to a specific location.
For a reasonable price this electric powered heater could suit your needs. However bare in mind that this patio heater is not water proof. Therefore it would ideally be positioned somewhere that is protected from the rain.

This electric wall mounted patio heater is simple yet powerful. With the ability to heat up an area of up to 25sqm, as well as being waterproof, this heater could be the perfect solution for those with a large garden. However, the plug socket is only 1.5m long. The heater offers 3 power settings of 800W, 1600W and 2500W which can be changed via a remote control. This saves you the hastle of climbing up the wall to change it.
The Futura Deluxe 2.5kW Wall mounted heater is cheap, weatherproof and easy to install.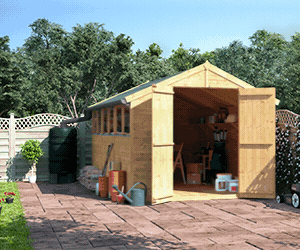 The Firefly 2KW FreeStanding Heater is a highly popular patio heater. This is no surprise considering the adjustment function that allows you to change the angle of the heater up to 45 degrees. The heater has 3 power settings of 650W, 1350W, 2000W allowing you to fit the temperature to your requirements. This patio heater is also water resistant. Therefore making it perfect for those who want to leave the patio heater outside.
If you want to, the middle pole can be removed which turns the heater into a table top heater. However this would be better suited to the lower power settings as 2000W could be a risk.
This ceiling mounted patio heater runs on electricity. There are 3 heat settings that are 500W, 1000W and 1500W. The powerful Halogen heating bulb provides a relaxing warm glowing heat. The heater can be mounted to the ceiling of either a pergola, gazebo or many other garden structures. The size of the heater is 420x420x240mm and has a weight of 1.6KG.
The highly efficent Halogen heating element can allow the heater to last for up to 5000 hours.

This gas powered patio heater is a simple table top heater that is affoardable yet effective. The heat can cover a space of up to 4-6 square metres and can provide nearly 14,000 BTUS. Something that is considerably less than that of an electric heater. The adjustable knob of the tabletop patio heater means you can have complete control over how much gas you want the heater to consume.
This gas patio heater would be best suited to those who require a patio heater on a budget. This is as it is both low to purchase and low to run.
Pyramid Living Flame Garden heater
For those who want an attractive looking patio heater this could be the product for you. The 2.21m tall Pyramid Living Glame Garden heater is a pyramid-shaped, tall floor-standing heater with a sleek finish. With a quartz glass tube the fire itself will be visable for all to see. Fon't worry, the gas canister is hidden by a flush panel on the front.
The powerful heater has an output of 9500W and has an adjustable heat knob. This allows you to control the conumption of the heater by up to 9500W.
The Firefly 1.8KW Halogen patio heater utilises a carbon fibre infared heating element to heat the objects that surround it and not the air. This makes for more effective and energy efficent heating. Not only safer, cleaner and saving up to 30% more energy than gas, thanks to the electricty that powers it, this heater has two heat settings at 900W or 1800W. It can also heat up an area of up to 7 metres squared.
Although a standard design consisting of a tall stand sitting on a broad base, with a top similar to that of an umbrella. This gas powered patio heater features a simple ignition system allowing for the heater to be lit in an instant. The attractive coated bronze finish offers 46,000BTU's of heat, is fully adjusable and comes with assembled wheels. Therefore an easy patio heater to move around your garden.
The Heatmaster U3RSO is unique in appearence in that it offers not one, but four heat lamps. This means the heat is all-round rather than directional. Despite the four heat lamps, the patio heater is still economical as it utilises infra-red techonology. The electricty powered patio heater is designed to live under the standard garden parasol. Therefore perfect for those wanting the heat whilst sitting under the parasol at a BBQ.
Although rather expensive, this heater is an innovative model that would look modern wherever you use it.
The Sarhara table top is perfectly suited to those having a dinner party outdoors. The attractive design and the weighted base for added safety means this heater will happily sit on, or around your dinner table. The heater is gas powered and is simple to use as it only requires a standard bottle of LP gas from the local hardware store and a connection to a hose line.
The 98x56cm heater is rather expensive but with this heater, the price is justified by the easy setup, attractive look and variable heat control.
---
Different styles of patio heaters
Wall mounted
Wall mounted patio heaters are best suited to those who are looking at heating one specific area without the likelyhood of needing to move it. They can provide a reasonable amount of heat. However, this will cover around 4-5 feet.
Most wall mounted heaters are electric, this makes them popular as they are easy to install and will be low in run costs.
Hanging
Hanging patio heaters are perfect when floor space is limited. They can simply hang above the area you wish to heat and can provide 360 degress of warmth. Typically, the heaters can happily heat between 6-8 people at a time even when hung 3 feet above the cold area.
Table top
Perfect for outdoor dining where the heater may need to be moved depending on table space. Table top heaters are highly portable. They can typically last around 2-3 hours when running off a 1 lb propane tank. Also, some table top heaters can be used indoors. They are perfect for patio conversions or a cold garage.
Types of fuel
Propane
Propane fueled patio heaters are a very popular way to fuel your heater. This is as they are portable and easy to refill. They can be filled at petrol stations or by simply purchasing a new one from a shop. However, investing in a propane patio heater can be a problem if you're looking to be cost efficient. This is as they will often need replacing. This makes propane patio heaters more expensive than the other types of heaters.
Natural Gas
Fueling your patio heater via natural gas is a highly conveniant method. Especially as more and more houses are fitted with natural gas lines. However, this limits the portability of the heater. Furthermore, if attached to a gas hose extension this can serve as a safety hazard.
Electric
Electric powered patio heaters are perfect when wanting to heat up a small group of people. This is as when compared to other types of fuel they tend to be slightly weaker when sending out heat. They are easy to set up and can also be used indoors.