April Fools is drawing near. And since it's still March to date, this article will not prank you to doing non-sense tricks to ruin your prospects but give you nerve-racking ideas for the month to come! 
While everyone is as cold as a cucumber in spending most of the year on work, academics, parenthood and other serious stuff, there's a day in April that gives a green light to high jinks and practical jokes.

Though the roots of this gut-busting trend are cloudy, some theories tried to explain its beginning. The most popular of them happened on April 1, 1689, where a mass of Londoners was tricked into coming to see 'the lions washed' at the Tower Ditch.
It is believed to be the first recorded instance of a popular April Fool's Day prank since no one saw any lion washing ceremony.
Now, if you're a fan of the prank season, please know that so do a lot more people around you. You surely don't want to be cliche and don't want the joke bouncing back to you on this battle of wit and gags.
With that said, here is a list of offbeat April Fools pranks that'll make you this year's reputable rascal.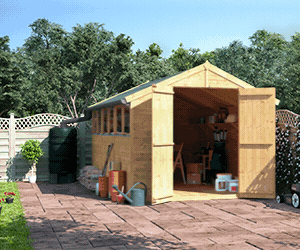 1. Glued Quarter
For this trick, paste a coin, a bill or a credit card on a populous street and enjoy the spectacle! You may want to have your camera handy then.
View this post on Instagram
2. Offer Someone A Drink
Being nice isn't a prohibited act on April Fools. Just make sure it's appropriate for the occasion.

3. Office Mouse
It's a classic prank to tape your colleague's mouse at work. However, the photo you stick with it carries the novelty.

4. Spider Roll
Draw a little arachnid on that tissue roll and make sure it's hidden until someone needs to pull it out to jolt the life out of them. 

5. Dough-Nuts
Health is wealth, dear friends.

6. Office Party
You know where this is going and you know it's going to be fun.

7. Won't Come Out
This probably is the heart-warming act of love you've been waiting to do on your sister. Only, it's April Fools.

8. Gelatin Dish
Plant your dad's, mom's, friend's or boyfriend's valuables on cooled gelatin for their taking and tell them they're welcome.

9. Jokes On You
If you know anyone who has a crush on you, might as well get his/her number now. This could turn out as a hilarious prank or a match-making feat.

10. Dummy
It only needs a pair of an outfit and a printed out image of you to surprise your officemate on April 1. First, because a dummy of you smiling is sitting on your chair, and second because it's the first time you went to work on time.

11. Pop Out
Happy April Fools!

12. A Box Of Chocolates
April Fools can also be a day where you can promote a healthy diet among your loved ones.

13. Dollar Bill
Money is always a great bait.

14. Spilt Ice Cream
Just a little school glue and nail polish and you nailed it! Make sure you put it on the right spot like the sofa or the newly-changed bed sheet.

15. Sticker Socket
Stick this one on the right places and you'll surely be laughing at all the upset chargers.

16. Blame the Dog
This will be a hilarious prank! Also if you will place it on the most distressing of all places like the pillows or the carpet.

17. Good Tip
Aside from being a great restaurant prank, this is also a good way to save money.

18. Bathroom Scare
People would freak out at the sight of this. It's a classic prank but never fails to shock the nerve out of everyone.

19. Toilet Boy
Who wouldn't be scared? Especially if no youngster lives in the house.

20. Clown in the Drawer
Happy April Fools Day!