Have you been thinking of having a spot in your house that can serve as your visitors' haven?
We know the struggle of having surprise guests at home, especially when you do not have the area to accommodate them. You might even feel embarrassed that they feel uneasy in your home.
So, have you ever considered turning the available space in your garden into a receiving area?
Planning on designing your multifunctional space in the garden can be exciting. However, before you buy a set of chairs and shed, you have to learn about the essential facts in building and designing a garden patio.
Here are the fundamental things to consider in designing your patio — as suggested by designers themselves: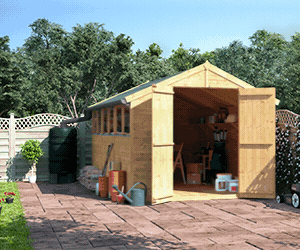 Purpose and Size

Do you often entertain many visitors, or just a few close friends?
The size of your available space can answer this question. The purpose of your patio depends on the amount of area you have. A typical design that measures 3x3m can have a table enough for 4-6 persons. Adjust that, of course, if you have fewer people in mind.
Your plan of having raised beds in the lawn could also determine your patio measurement. Just a little reminder to be careful in totally enclosing your yard with borders or raised beds. We're aiming for a comfortable place here, so don't make it feel claustrophobic.
Position and Privacy

A patio is where you and your loved ones will probably eat and mingle. If you plan to position it a little farther from your house, then you should rethink the idea as doing so can be very inconvenient.
Its construction should be set in the most convenient area as well — ideally near your kitchen. It will give your guests an easier time as they can quickly transport their food and drinks.
However, if locating your patio near the house is not possible with the space you have, find a spot that is as weatherproof as possible.
And if the desired area is not yours to start with, you should scratch the plan. We don't want you getting penalised!
Shape and Form

What could the shape of your patio be? Experts say that most of their clients prefer soft flowing and generous curvy lines.
On the other hand, rectangular areas tend to be more efficient in maximising space – a significant factor in limited landscaping spaces.
Patio masters suggest that you may consider having a rectangular patio set amongst curvy and flowing borders. This will soften the harsh lines of the square edges.
Colour and Ambience

Once you have determined the place and size of your patio, imagine the ambience you want to create in it. The colour scheme of the whole porch will decide the atmosphere!
It is best to employ a professional painter to do this job, so you can guarantee that you get the closest colour you have in mind.
According to experts, you should consider natural and calming tones in designing your garden patio, but you should not limit yourself with those usual paints.
Aside from colours of the wall and floor, the pieces of furniture you place in the patio should also match the entire design. For the most weatherproof type, you can opt for rattan garden furniture that has numerous benefits.
Just remember to choose complementary colours to make your place pleasing to the eyes!
Practicalities

You do not want to get embarrassed with your visitors because you have a friend who suddenly fell off the edge of your patio, right? If you have raised beds around, there are safety issues that you need to consider.
Other practicalities you need to assess in designing your garden patio are drainage requirements (especially if your patio is large and the garden is prone to congestion), lightings, and awnings. These are particularly important if you want to ensure your outdoor gatherings can continue at any time of the day.
Weather is another essential consideration in designing your garden patio. If you have no idea how to warm your space up for the winter, you can go through this list of heaters perfect for a patio.
Materials

This part is understandably daunting and mind-boggling with endless options of materials you can have. Your decision regarding this matter can also dramatically affect the final appearance of your garden setting.
Gone are the days when you can only choose among concrete paving, bricks, and precious natural stones. You can now have a lot of cheap products to use, such as sandstones and limestones from India. You might also prefer concrete, slate, granite, travertine, gravel brick, setts, and many more!
A wide variety of shades and hues of the materials now lets you be experimental and more creative in designing your garden patio. You will positively be satisfied with all the pleasing designs you may be planning for your garden space.
Budget

You often get what you pay for, so how much are you willing to spend on in designing your garden patio?
Take into account how much your patio would cost.  After deciding the style you want and the budget you will allocate, make sure that 10 or 15% of your funds are left as a buffer, in case an unexpected circumstance happens.
However, if you are really in a tight budget, the patio can be built in phases. Just make sure that you plan it in a way that you can still use the area even if it is being set up in instalments. The key is to build the broad features first, then just add details afterwards.
Designing your garden patio can be overwhelming, but seeing the results eventually will surely give you satisfaction.