A dad is the most special man to his children, so he simply deserves the best. This Father's Day, show your dad how much you love and value him by giving a gift he deserves.
Have you gotten your dad anything special for his special day? If not, our list of cool and cheap Father's Day gift ideas will lend you a helping hand.
9 Father's Day Gift Ideas for 2019

1. Skipping Rope

If your dad is a certified fitness junkie, a skipping rope is a useful and cheap thing you can get him this Father's Day. As he gets older, this piece of equipment can improve his foot coordination as well as enhance his muscle strength.
If this idea sounds too simple, you can go for a smart skipping rope. It's an LED exercise rope that automatically keeps count of each jump, allowing him to experience the evolution of cardio workout.
2. Leather Folder

Thinking of an ideal present to gift a workaholic dad this Father's Day? A leather folder will surely be appreciated!
This elegant looking folder helps organise and store his essential paperwork and other documents.
3. Coffee Mugs and Coffee

You can never go wrong with coffee, especially since most dads love sipping this hot beverage every day. If your dad is a certified coffee lover, spoil him with different variants of coffee grounds to delight his daily shot.
4. Everyday Carry Kit (EDC Kit)
If your dad loves hiking and camping, he will surely love this EDC kit!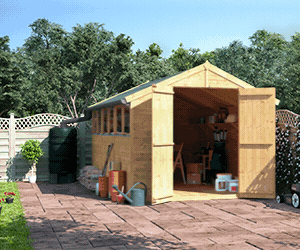 A lot of dads love going on adventures, so introducing the Everyday Carry (EDC) kit will certainly help him on his next hike. It consists of the following equipment:
Folding knife
Flashlight
Multitool
Tactical Pen
Pry tool
Paracord Wearable
5. Hammock

If your dad already has a complete hiking or adventure kit, a hammock can be useful. Look for a material that is water resistant, durable, and handy to get the bang for your buck.
6. Badger Claw Outdoor Gardening Gloves

Does your dad have a green thumb? With the BillyOh's Badger Claw Outdoor Gardening Gloves, he can now rake without tools, and protect his hands from sharp plants, too! The strong built-in claws in these gloves make digging, planting, clearing roots, preparing the soil, and raking quick and easy.
Get these gardening gloves for only £3.49.
7. Portable BBQ Grill

For the dads who love to cook outdoors, the
BillyOh Top Gas BBQ Grill Portable
is the perfect present! This tabletop barbecue is compact and lightweight, perfect for dining outdoors.
Available in black or red, the barbecue has an enamel finish on both the bowl and the lid, meaning it is likely to stay looking stylish for a long time.
Get this portable bbq grill for only £29.00.
8. Monaco Firepit

Gorgeous and contemporary, the
BillyOh Monaco Firepit
is sure to create an incredible ambience in your garden. It is also a perfect present for dads who loves bbq and bbq parties.
This fire pit has a granite-effect finish resembling heavy stone. It includes a protective mesh cover and a matching metal tool to stoke the fire and shift logs.
Have this firepit for your dad for only £159.00.
9. Rattan Lounger

The man of the hour deserves some break. This
rattan lounge chair from BillyOh
lets your hardworking dad relax in style and comfort with a matching side table for that glass of lemonade while he lays under the sun.
For only £179.99, this lounger gives your dad the perfect relaxation!
We hope you picked the perfect Father's Day gift ideas for your dad. Give the big man a hug today!
'Wishing all the hardworking dads a happy father's day!