Gardens are a beautiful feature in every British home. However, due to the weather and other limitations, they cannot always cater to our need for a functional outdoor space.
So, garden patios are the place to be! It allows homeowners to spend quality time in their yard even when the lawn is muddy during the winter.
Your Garden Patio Must-Haves
Garden patios can add value to every British home. Particularly if it is furnished with adequate seating and a rainproof cover, it can also serve as a great space to entertain guests in all weathers.
So, make sure you have these three patio fundamentals to make it more functional!
Rattan Garden Furniture

Spending time in the patio can be one of the best ways to relax at home. Especially if you have a beautiful garden, enjoying nature in your porch could ease a tiring workday.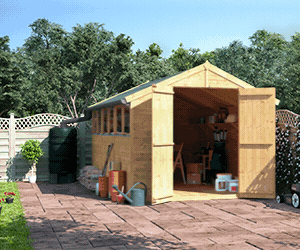 Aside from such, patios are also a great place to bring friends and family together for a little gathering. It can be a small chat with the squad or a family weekend barbecue.
Either way, a rattan dining set in the patio is highly beneficial. Aside from braving different kinds of weather, its material also makes it extremely durable.
It also carries an aesthetic look to your outdoor setting. Compared to wooden furniture that is prone to corrosion and metal chairs that can be hard to move, rattan sets are sturdy but lightweight.
So, a rattan dining set will complete every British patio. Getting one for your own will surely make every outdoor moment more memorable for you and your guests.
BBQ

Barbecue parties have become a beloved tradition across the UK. So, every British patio will not be complete without a high-quality grill.
Whether we plan to host a huge gathering with relatives and colleagues at home or simply want to have some grilled cuisine for lunch, a barbecue is now a patio must-have.
This cooking equipment has two categories: gas and charcoal. Some prefer charcoal grills for juicier meals, though its flames can be harder to control.
Customers love our BillyOh Kentucky Smoker BBQ Charcoal Grill Outdoor Barbecue with Shelves for its flue damper and air vents that let you control the temperature for optimal baking and fish smoking results.
Others, meanwhile, prefer gas barbecue despite creating a simpler zest in meat because its flames can be easier to manage and it requires less time to use and clean.
The BillyOh Huntsville Gas BBQ 4 Burner + Side Burner Inc Cover & Regulator Black is a best-selling model that takes the effort out of cooking and dining outdoors.
Patio Heater

Some love spending time in their patios only when the weather is warm. But, cold summer nights will be a thing of the past when you have a patio heater at home.
It will give you the warmth you need no matter how you long you want an outdoor gathering to extend to the night. Instead of rushing to the living room, it will let you and your guests enjoy late-night moments in the patio while remaining cosy and comfortable.
These heaters typically come in electric types or fire pits and chimeneas. Electric patio heaters are available in wall-mounted, parasol, hanging lamp, tabletop, and searchlight designs.
Fire pits and chimeneas, on the other hand, can come in traditional clay, fire basket, globe, and even tripod types. Regardless, Billyoh's range of high-quality patio heaters will provide the outdoor warmth you need in any occasion.