Keep in mind that there are several things to consider before purchasing a log cabin. Nevertheless, this shouldn't intimidate you to get yourself one as this outdoor building will help you make the most out of your garden space.
One of the most important things to consider before purchasing a log cabin is to know where you'll put it. Apart from considering the size of your outdoor space, it is important to look at how you aspire to use the log cabin.
However, no matter how precise your plan is in using your log cabin if it's in the wrong spot, then it's time to look for the right spot. To help you with that, our garden experts have listed down the things you need to consider finding the perfect location for your log cabin.
Here's How You Can Find the Perfect Location for Your Log Cabin
Check the Terrain


Checking the terrain is definitely one of the important things to remember when you're looking for a location for your log cabin. You don't want to locate your log cabin on an uneven surface, do you?
To make sure that your log cabin is built on a concrete base, choose an area wherein there'll be no underground barrier or tree roots that can get in the way. Moreover, the concrete base must be somewhat larger than the outer aspect of the structure.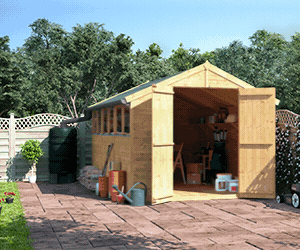 Drainage


Placing your log cabin on a wet surface is thumbs down. Imagine heading to your log cabin where the surface our wet and its location is at the lowest level.
If you don't want to cause the timber to rot and if you want a spot that is more convenient for you, look for a location that is well-drained. Just in case your ground surface is mostly composed of clay, you can ask for professionals help.
They will help you fill the ground with gravel that will serve as the foundation of the concrete base for your log cabin. This also helps prevent any water from entering your cabin throughout the year.
Accessibility


Let's talk about accessibility. This is one of the major factors to take into considerations when locating the perfect spot for your log cabin. A pathway that leads up to the entrance of your log cabin is important. So make sure there should be one when planning.
If you think you found a suitable area for your cabin but it lacks a pathway, there are ways you can do to fix it. You don't have to stress about it. Instead, start using concrete or stone pavers to swiftly build a path along the entrance.
Natural Light


Every homeowner wishes to have a significant amount of natural lighting not only in their households but also in their outdoor buildings. So change your plans if you want to place your log cabin in a dark corner under some overhanging branches.
This will not allow any source of sunlight to enter your outdoor structure. Keep in mind that it is not recommended to place your log cabin under direct sunlight.
So it's better to find a spot with a perfect balance of shading and lighting to place your cabin. You don't want your log cabin to turn into an oven during the summertime, do you?
This is very likely to happen when the location has no sufficient shading. Without an adequate shading, it can cause damage to your outdoor structure.
You can ask for your local landscape gardener's advice to help you find the perfect spot to place your log cabin. The professionals can also help you enhance the lighting condition inside your log cabin.
For good shading, log cabins are being placed near the walls of the house often times. Installing some lights outside the building can grant you easy access during the night.