With the cold weather drawing in, many Brits are starting to ignite their fires while making themselves cosey in their chunky knits.
Although the thought of being nuzzled into your sofa with a cup of hot cocoa is the ideal place to be during the colder months, that doesn't mean you should forget about the garden that you spent your summer months turning into a relaxing haven.
What once may have been the perfect place to enjoy the bright and sunny weather during the summer, could also become a winter wonderland.
With that said, you may be wondering how you can still enjoy your garden during the colder months. In this article, we have put together five ways you can easily enjoy your garden.
5 Ways to Enjoy Your Garden During a British Winter

1. Keep Your Bird Table Stocked and a Water Bath

Whatever the season is, you can always appreciate the various wildlife that may enter your garden. But, if you are looking to attract more wildlife into your Winter haven make sure to invest in bird feeders and a water bath. Also make sure they are regularly stocked up.
If you happen to have a birdbath in your garden, pour tap water into it. You can also use any shallow bowls you don't mind leaving outside and fill them with bird feeders or other appropriate foods.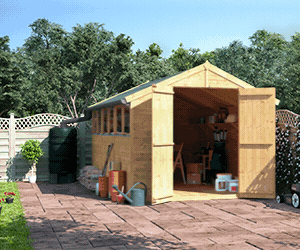 Providing for the birds is a great and easy way to enjoy the outdoors from the comfort of your home. Because let's face it what's better than watching the birds taking a bath or setting forth for some seeds or nuts?
2. Garden Lanterns at Winter Time

Winter time means shorter days and therefore more time in the dark. However, that shouldn't stop you from spending time outside.
One simple way you can add a little spark of extra charm into your garden is to put up a set of fairy lights. Alternatively position a few garden lanterns around your garden.
Directly placing small lanterns in the borders and around your outdoor seating area or outdoor garden building will automatically make your garden a little bit more magical.
3. Bring the Heat Outdoors and Wrap up Warm

If you want to stay cosy while you enjoy your garden in the winter time, placing a source of heat outdoors is an easy solution. For example, a
patio heater.
Place it around where you are going to be spending the majority of your outdoor time, and ensure the heat can reach all the most crucial spots.
Once your heater is on, to become even cosier, you can wrap up with a warm blanket, numerous items of clothing and grab a hot mug of thick hot chocolate, complete with cream and marshmallows. By doing this, you may even forget that you're sitting in the freezing cold!
4. Outdoor Cooking

You can offer a cosy and warm night outside with your family and friends in your garden by having an outdoor cooking activity. For instance by having a barbecue. Something that, yes, may sound crazy, but with suitable warm, outdoor clothing, there is no reason why a winter barbecue can't be as good as a summer barbecue.
Alternatively, spend an evening sitting around a controlled fire pit and toast marshmallows or chestnuts.
You can check out our top-selling BBQs – both gas and charcoal – to make your winter outdoor cooking activity possible.
5. Small Log Cabin

To get into the Christmas spirit, why not transform a small log cabin into a cosy Christmas retreat or even a Santa's grotto.
Deck it out with fluffy blankets and comfy chairs and sofas for ultimate relaxation. Why not also include a projector to watch your favourite Christmas films?
Check out our high-quality garden log cabins to add a new room in your garden where you can relax and enjoy your spare time.