Garden Buildings Direct is a family business that has been running since 2000. They are known for specialising in outdoor buildings and leisure products such as garden sheds, summerhouses, log cabins and much more.
Beyond a shadow of a doubt, looking for the best garden shed manufacturer that offers a wide range of options has never been easy. But have you heard about Garden Buildings Direct? Their exceptional service is unquestionable, which makes them one of the leading manufacturers in the UK.
Moreover, Garden Buildings Direct is known for its uniqueness within the marketplace as they have total control over every product. Their factory in the UK makes and prepares all wooden products from designing, manufacturing to delivering the product.
They continually ensure that the delivery of every item is with high-quality handle and care at their rightful customers' doors.
Garden Buildings Direct UK
Whether you're a green-fingered individual or not, for many of us, having an attractive garden is always something we aim for. However, since time is not always on our sides, it can be difficult for some to maintain one.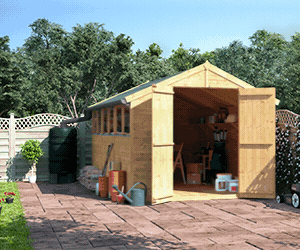 It doesn't matter how small or fancy your garden is, what matters most is how you'll transform it into an ultimate getaway. The good thing is, Garden Buildings Direct offers you a wide variety of shed types that can help you achieve your ultimate dream garden.
Garden Sheds

Sheds are cost-effective, and they won't cost you the earth—this is one of the main reasons why investing your money in an outdoor shed is a great idea.
With a simple outdoor building alone, you can transform it into almost anything! It could be a home office, home gym, garage, or even the ultimate storage area.
You don't need to be stressed out while working out which type of shed you require. Shopping a shed has never been more comfortable with Garden Buildings Direct.
Their shed collection is available in different sizes and shapes, and of course, the types—wooden, metal and plastic sheds. There's a lot to choose from, so make sure to visit their website!
Not only that, but the majority of their products is designed to withstand any harsh weather condition in the UK.
Log Cabins

An outdoor log cabin could be the ideal alternative when it comes to investing in a house extension. So instead of paying rent for office space, why not try Garden Buildings Direct log cabin collection? Yes, you've read that right! You can turn a log cabin into the perfect home office.
Just imagine having a perfect garden view right from your office. That thought will not only give you an extra bit of inspiration, but it will also help you cut out your monthly expenses.
But the options don't stop there—you could also turn it into an entertainment room where you can spend time with your family. Or even a personal gym space where you can find the motivation to get in shape.
Summerhouses

Spending your summertime inside a Garden Buildings Direct summer house will surely give you an unforgettable summer experience. It is indeed that the weather can be unforeseeable, especially when we're talking about the warmer months.
Nevertheless, you have nothing to worry about even if it's going to rain if you'll be spending your day inside a safe place like the summerhouses. So why choose a summerhouse?
With GBD summerhouses, you get to enjoy fresh air, well, thanks to its built-in long windows and wide double opening doors, while spending some quality time with your loved ones.
Even when the warm weather has passed by, your summerhouse will not be put into non-use. You could turn it into a cosy paradise or storage for your summer belongings.
Playhouses

Every child deserves to have unforgettable and wonderful childhood memories. To make your kid's childhood memories a memorable one, a playhouse from Garden Buildings Direct can make that happen!
Let your children create their own little world by freely expressing themselves with a GBD playhouse collection. They offer a wide range of playhouses that guarantee your children's safety.
There's plenty of choices to choose from, including a single or multi-storey building to a more traditional or modern style playhouse.
Greenhouses

Every green-fingered individual knows how vital a greenhouse is. A greenhouse is an ideal shelter for fragile plants; this is where they can be taken care of.
Garden Buildings Direct Greenhouse collection comes in various sizes. As for the type, you can choose from either plastic or wooden materials. They assure you that all of their greenhouses provide an optimum amount of heat and sunlight that will help your plants to survive.
Outdoor Living

Garden Buildings Direct made a barbeque party comfortable and more convenient! Not only do they offer portable barbeques, but they offer BBQ accessories too.
You don't have to worry about throwing a barbeque party to different places, how heavy the barbecue will be or how much space it will take up in your car—Garden Buildings Direct has got you covered!
Garden Buildings Direct Reviews
For over a decade now, Garden Buildings Direct has proven itself to be a reliable company. That wouldn't be possible without their constant efforts to develop and improve their services!
Below, we have provided you with some reviews and personal stories, from their happy customers.
For more Garden Buildings Direct reviews, you can check out their various social media pages, including Facebook, Twitter, Instagram, YouTube and Pinterest.
https://www.instagram.com/p/BW-WwklgOEA/