Christmas is just around the corner, and the hunt for the best Christmas gifts has begun!
We understand if you find it challenging to find the perfect gifts you can give to your family and friends because, in fact, we do too. But to lessen the hassle, we've picked out some of the top trends of the year, as well as items which gardeners would be completely lost without.
Robotic lawnmowers, naming slates and kneepads are sure to be the three gifts on the top of gardeners wish lists this Christmas. If in doubt, you can always buy bulbs and flowers, but make sure they fit in with any plans and colour schemes the recipient may have for next summer!
Make Christmas shopping easier this year with these six of the best present ideas for gardeners.
Six of the Best Christmas Gift Ideas for Gardeners
Naming Slates

Ideal for use in a variety of ways, such as paths, driveways, in flower beds, rockeries, fish ponds and as plant toppers — no wonder that naming slates are great gift ideas for gardeners.
These can be made out of slate so you can use chalk to write on them, or made out of porcelain or you can purchase them with names already printed on.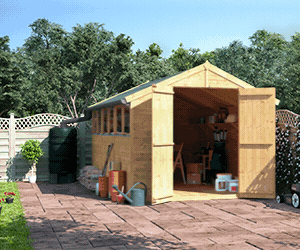 Robotic Lawnmower

If you're looking for something that can make any gardeners' most tedious job a lot easier, you might consider checking out these auto mowers as they become part of the growing trends when it comes to gardening tech.
What makes the job more convenient? Simply turn the mower on, and it will make its own way around the garden cutting the law.
Ornaments
 
One of the easiest ways to personalise a garden is to use ornaments, whether this is in the style of water features or gnomes. If the person you're buying for has a collection, then your job is a lot easier!
Simply purchase something that fits in with the collection. Just make sure not to duplicate.
Clock

It's easy to lose track of time when you're outside doing jobs in the garden. Make this a thing of the past by purchasing an outdoor clock. 
Whether this is in the style of an old train station clock, which could be in keeping with the aesthetic, or a modern take on a sundial, it's certainly something which will get a lot of use.
Kneepads
 
Gardening could mean spending too much time on your knees while tending to plants and soil, which eventually can result in wear or injury over time. 
Kneepads are sometimes seen as a luxury product that isn't necessarily needed to be able to enjoy gardening, but it may change the way the receiver looks at their garden, and their knees will thank you for it!
Bulbs

While bulbs, seeds and flowers will always be a staple gift item, opting for this will constantly remind the receiver of you when they look at it. Not only that but they are often very safe to get as well.
Note: As long as they aren't planning to stick to a colour palette, and if they are, make sure your gift will fit in!
Are you looking for the best Christmass tree? Might as well check this article to find the perfect tree for you!