The most wonderful time of the year is just around the corner! Indeed, it's beginning to look a lot like Christmas!
Are you looking for some ways to decorate your garden this Christmas? Our outdoor experts have revealed six pieces of easy-to-follow advice for decorating backyards so that all gardeners can truley get into the Chritmas spirit this year.
From getting crafty to taking more traditional decorations into the garden, following these simple tips will spread the Christmas cheer outdoors and make this festive season extra special. So, are you ready to feel the Christmas spirit in your garden this year?

6 Ways to Decorate Your Garden This Christmas
Many of us seem to think Christmas is an indoors event and drop their festive spirit at the back door. This is such a shame because it is easy for any UK households to turn their outdoor space into a winter wonderland.
Lights, tinsel and wreaths can also all work outdoors. If you've never got creative for Christmas before, now is the perfect time to start.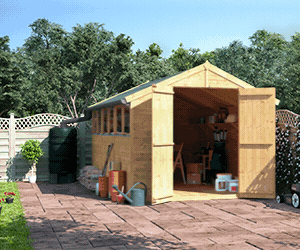 So here are our simple top tips to decorate your garden this Christmas.
1. Put up a Christmas Tree
Outdoor Christmas tree? Sounds Christmassy!
Since most of the Brits will have a prominent Christmas tree in their homes this winter, complete with all the waterproof decorations, why not stand one in the garden too? After all, the outdoors is a tree's natural home.
A freshly cut, potted Christmas tree placed on a lawn or patio is the perfect centrepiece for a festive backyard. Just remember to only attach waterproof decorations and definitely no little chocolates.
2. Drape Tinsel like Bunting
A tinsel which is made from plastic or shredded metal should be able to resist the worst of the British weather this winter. It could be hung about the outside of the house, along fences or around the garden ornaments.
3. Light It Up
Waterproof Christmas lights are perfect for wrapping around any trees or substantial bushes in festive gardens. Whilst a specifically purchased light-up Santa ornament or two could be ideal for dark evenings.
Keep it tasty, though. An obnoxious army of bright neon reindeer on the lawn will annoy the neighbours and make the garden look tacky this Christmas.
4. Hang a Wreath
Many households will hang a festive wreath on the front door or in the porch, but hanging one on the back door, shed or another garden building too could also bring a touch of Christmas to British backyards.
5. Get Crafty
Tie ribbons or burlap around railings, hang hand-made paper snowflakes in garden-facing windows, make seasonal topiary or collect pinecones and evergreen branches for conservatories, cabins and playhouses.
6. Build a Snowman
Most Brits dream of a white Christmas, so make sure to take advantage by building a snowman if it snows during the festive period. If there's no snow, a fake snowman that is made of a metal frame and fabrics or other materials can also be purchased or created and prove a classy Christmas garden decoration.
There you have it! We hope these tips will help you to bring the Christmas spirit into your garden.