Organic gardening is an eco-friendly form of gardening — allowing you to grow your own delicious, healthful organic food.
While eating organic veggies can help reduce the amount of pesticides you consume as well as protecting the environment, buying them can actually get very expensive. 
Luckily, there are easy steps you can follow to grow your own fresh vegetables and at the same time, learn the methods of organic gardening!
Getting Started
Surprisingly, developing an organic garden only requires minimal effort. There's no need for you to hire someone — just roll up your sleeves, and you can get started.
Just remember, even with a single plant or two, you can start small. And don't worry if things aren't perfect right away, we're here to guide you! It's time to start an organic garden!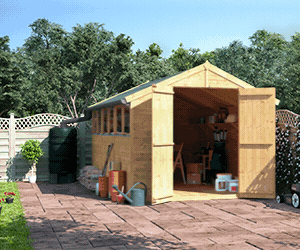 How to Start an Organic Garden in 6 Easy Steps
Courtesy of our garden experts, we have compiled our six easy organic gardening tips for starting a vegetable garden.
1. Start Small


Many gardeners tend to start out too big, and they end up getting overrun by weeds or several gardening chores. Given that, it is vital to start small, especially for beginners.
One hundred square feet is plenty to start, but if you plant densely, you can grow a lot of food in that space. For the novice, 50 square feet is enough. 
Instead of planting ten tomato plants, try to sow one or two and treat them well, staking them up. You can get dozens of tomatoes from one plant if taken care well — perhaps even hundreds.
2. Access to Full Sun and Preparing the Soil


When starting a vegetable garden, it is essential to pick a location that gets full access to the sun (at least 8 hours a day).
As for the soil, a healthy one helps build up stable, productive plants. Considering that there will be no synthetic fertilizers in this garden, you'll want to make sure the soil is well-conditioned.
The basic fundamental of creating good soil is mixing quality compost with 2-4 inches of straw or leaf mulch and providing enough water. Then you can proceed with soil testing and adding microbial inoculants based on that.
To estimate the quality of your soil, get it tested with the use of a home testing kit or by sending a sample to your local agricultural office. 
Tip: It's best to test them in the fall as applying any organic nutrients must be done before winter.
3. Choosing the Right Plants


Choose plants that will adjust well enough to each spot in terms of light, moisture, drainage, and soil quality. 
If you're buying seedlings, look for plants raised without chemical fertilizers and pesticides. Many things are best grown from seeds, such as sweet peas, squash, cucumbers, sunflowers, coriander, annual poppies, and more.
4. Fertilizers


Liquid fertilizers are exceptionally beneficial for vegetable garden starters.
Ocean water and seaweed fertilizer provide a broad spectrum of nutrients instead of just the N-P-K of most conventional fertilizers. Both are used throughout the growing season, often once a month, according to an expert from Smiling Gardener.
Microbes are as crucial in our soil as organic matter and nutrients. Try mixing one of the fertilizers above with microbial inoculants such as compost tea and a sugar source like molasses and thank us later.
5. Planting Crops


Planting vegetables or cutting flowers that you will be harvesting should be grouped tightly in raised beds. Arranging them will reduce weeding and water waste while expanding the space between rows will promote air circulation, repelling fungal attacks.
6. Watering


The best time to water your plants is in the morning — as it reduces the amount of water lost to evaporation. Watering your crops in the evening will only cause them damage due to fungal and bacterial diseases.
On the other hand, for newly seeded areas, it is best to water them often (probably every 2-4 days). By late spring, water less often (perhaps once a week) but more deeply to encourage roots to go down.
Note: Water the roots, not the greenery.