In terms of versatility, a log cabin is one of the best garden buildings that can be transformed into almost anything, including a yoga studio! By converting your cabin building into a yoga sanctuary, you can meditate and achieve spiritual enlightenment without necessarily leaving your home. 
Breathe new life into a log cabin by turning it into a refreshing yoga studio. Here are the five steps on how you can turn your garden building into space for spiritual awakening.
1. Consider the Space

When creating a yoga studio from a log cabin, one of the decisions you have to make is the spacing. It would be best if you considered how much space you need, including the location you choose to build your meditative practice area.
If you're planning to use most of the space, it's essential to decide the dimension of the room— that way you can do your yoga poses freely. But if your log cabin has limited space, use the size of yoga mats as a basis and make sure they have at least 50 cm between laid out mats to allow other users to move stress-free.
Storage space is also crucial, so you can keep your studio neat and tidy. Create a designated area for shelves so you can store your yoga mats, cleaning equipment, and other things in one place.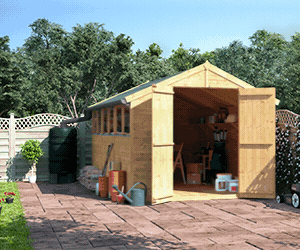 2. Ventilate the Room

Yoga practice includes breathing exercises. With that, proper ventilation should also be considered to control how much moisture is lingering in your studio. 
Good ventilation also means the room will have better air circulation, preventing air pollutants from affecting your health while meditating. 
Heating and air conditioning systems should be considered too, especially if your studio is a closed space. A heater is a great companion during the colder months while air condition is ideal for the summertime.
Nothing's better than having a yoga studio that can provide you with the greatest comfort all year round.
3. Set the Mood with Lighting

To set the mood in the studio, good quality lighting is a must. Don't underestimate its power as it has a huge impact on the room's atmosphere, which can affect your mood and well-being.
According to Bryan Dunkelberger (via Mindful Studio), the lighting in your yoga studio should be either wall sconces or indirect light. He explained that since most people are on their backs and looking up at different times and directions throughout the class, having fixtures over their heads can distract them.
When lighting your studio's four walls, make sure you're not looking into the fixture directly. But if you need to install lighting above your head, try to get a filtered lens so you won't end up looking straight at the bulb.
Speaking of good lighting, natural light is also a great alternative option. Plus, it provides numerous benefits, including improving moods and aids concentration.
4. Paint It with Calm Colours

When painting your yoga studio, don't forget to think about how you want to feel when you're in the room. If relaxation is your primary goal, we have listed down below the ideal colours you need to consider.
Yoga cultivates mental and physical health, so by painting your studio with cooler tones or warm whites, you can meditate and do your yoga routine in a more relaxing atmosphere.
You can opt for cooler paint tones such as deep grey, lavender and aqua or you can also consider warm whites and muted colours, e.g. warm brown, cool brown, teal blue, just to name a few.
5. Accessorise Your Studio

Some prefer complete silence when meditating or doing some yoga poses while others like ambient noises.
Listening to the sounds of nature while meditating can help you to focus more on breathing, keeping you calm. By adding speakers in your interior design ideas, you can integrate nature sounds in your closed studio.
On the other hand, adding scented candles, incense, or aromatherapy spray can help create a welcoming and calm vibe in the space. You can create a space for some shelves to place the candles, flowers and other things to keep them in place.
Yoga is an excellent way to relieve stress, enhance flexibility, health and physical fitness, benefiting both of your mental and physical well-being — no wonder why many people take yoga classes worldwide.
But imagine having a space of your own to feed your mind and body with greater relaxation. With a log cabin, you can make your dream yoga studio happen!
If you don't own a log cabin yet, visit our website at BillyOh.com to find the best garden building that will suit your outdoor needs. All orders come with guaranteed fast & free delivery to most of mainland UK.