If you wish to escape your traditional concrete house for a while, a log cabin is a perfect alternative home that will give you the cosy and warm feeling during the colder months. Not only that, log cabins are one of the countless ways to improve your garden space.
However, with so many garden log cabins that are for sale in the market, meaning—you have so many log cabins to choose from, how are you supposed to know the difference and which is the one best suited to your requirements?
If you're experiencing the summer and winter seasons, which garden log cabin style would be best in the Summer vs best in the Winter? To save you from the confusion, our garden experts have provided you with this handy advanced guide to log cabins.
In this advanced guide, we aim to answer the most frequently asked questions all regards to log cabins.
According to some sources, a log cabins roots come from Scandinavia and Eastern Europe. However, their exact origin is uncertain.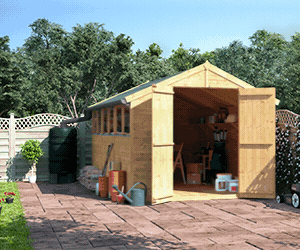 It is an ideal alternative home for a family who wants a cosy and warm experience during the colder months. However, in our time today, log cabins serve different purposes.
You can spot them in many gardens of every UK household. Some log cabins act as a personal gym or home offices whilst some use them for storage purposes.
With that, which log cabin do you think will be the best suited to your garden space?
There are countless of log cabin types available in the UK market. From garden log cabins, cheap log cabins to luxury log cabins, garden offices, contemporary log cabins to log cabin summerhouses and log cabin sheds.
Our log cabin home collection comes in a variety of designs which gives you plenty of options. In our advanced guide to log cabins, we have provided you with their brief descriptions down below.
Contemporary Log Cabins

If you're looking for a log cabin with stylish and luxury space features, you can opt for a contemporary log cabin. This log cabin style is suited to those who are very much living in the modern age with a modern front overhang.
Its overhang feature provides you with shade protection against the beaming sun and a shelter from the rain as well. Besides, you can transform this cabin into wherever your imagination takes you.
Our log cabin series has double glazed or single SAN built-in windows which will give you the light and airy feeling inside. Not only that, but this will also guarantee you with amazing views of your garden.
Garden Offices

You can now bring your own office in your garden! This idea is ideal for those who love with the idea of working at home, especially for professional homeworkers.
You can transform a log cabin into a home office, particularly for those who are planning to set up your own business from home. Don't you love the idea of working a few steps away from your home?
Having a garden home office of your own will not only help you count down your monthly bills but also your travel costs as well.
Log Cabin Summerhouses

Summerhouses are the perfect place to relax wherein you can sit and read your favourite book during the warmer and colder months. Ideally, a log cabin summerhouse is a step up from a modular summerhouse.
The nature of the log cabin construction is the feature that stands out in our log cabin summerhouse collection. It becomes a better-insulated building, thanks to its tongue and groove boards that interlock.
Log Cabin Sheds

A log cabin can also be an excellent alternative for storage purposes where you can have a safe place to store your garden materials and other belongings. It's a perfect place to store your gardening tools like trowels, spades, shears, especially the bulky ones such as lawnmower safe in one area. Home office, home gym and home cinemas are the most popular alternative log cabin shed use you can try out.
We make our log cabin collection from tongue and groove panel fittings which makes them extremely durable. Our log cabin sheds guarantee long-lasting protection throughout the year.
Log Cabin Playhouses

If you're a parent who wants to treat your children with an outdoor building that will last longer, you can opt for a log cabin playhouse. This is where they can run their imaginations wild and create their own little world.
There are so many ways you and your kids can transform a log cabin playhouse. It can be an arts and crafts den, hideout or merely an area where they can play with their toys.
What is the Best Thickness for a Log Cabin?
When considering a log cabin's thickness, the best thickness will always depend on how you are planning to use it. A British log cabin varies in thickness from 19mm, 28mm, 35mm, 44m to 70mm.
Keep in mind that each thickness provides you with varying levels of durability and strength. The thicker the log, the stronger your outdoor building will be.
19mm – 28mm
If you want a budget-friendly price, you can opt for the 19mm as it is the cheapest log cabin thickest available. Whereas, the 28mm width is way stronger than the 19mm—you can opt for this one if you want a premium summerhouse.
35mm – 44mm
The 35mm thickness log cabin is suited for cabin use in the Autumn, Spring and Summertime. Also, double glazing is recommended for better insulation, especially if you plan to use the cabin during those seasons.
On the side note, the 44mm thickness is made up of double tongue. With that, a log cabin with a thickness like this is more equipped to deal with harsh weather conditions.
70mm
A log cabin with 70mm thickness can withstand all the seasons. Thanks to its extra purlins in the cabin's wall which makes the outdoor structure stronger.
Opting for this kind of thickness will cost you more than the others. For that reason, it is essential to consider when you are likely to use the log cabin to base your log cabin thickness choice.
Maintaining Your Log Cabin
Before Applying the Treatment
Ensure to check out all the necessary pre-treatment before applying the treatment. After checking all the things that have to be tested, we recommend to start the applying of treatment at the top of the log cabin way, then continue to work your way down the building.
There are four best log cabin treatments you can consider:
Oil-based treatments – this kind of treatment has long-lasting protection which makes the treatment durable enough.
Water-based treatments – a treatment that requires no primer, this also can be applied onto the wood directly.
Solvent and spirit-based treatments – one of the best and effective forms of treatments for log cabins.
Pressure treatment – this type of treatment allows the wood preservatives to go deeper into the pre-cut timber.
Why not take a look at some of our customer log cabin stories where you can have the chance to hear from our customers directly. Learn how their experience purchasing with us went, how the assembly went.
Have a look for yourself!
https://billyoh.com/extra/customer-stories/log-cabins/
Our Latest Log Cabins
BillyOh Highfield Log Cabin

The BillyOh Metro Log Cabin

BillyOh Canton Log Cabin