Have you ever visited open gardens? Now is a perfect time as it's National Garden Week!
Seeing a garden in full bloom may make you feel calm and at peace. It is very therapeutic when you are in a garden or just surrounded by trees and the beauty of nature.
Nature helps us take a breather and appreciate life more. Visiting a garden can be a way of reconnecting to oneself and with nature, and just forget the modern world we have now.
You could observe the chirping birds and swaying leaves instead of wallowing in your problems, then find positivity again. With the garden celebration coming up, we present below the open gardens you can visit for National Gardening Week 2019.
There are several gardens worth visiting here in the UK. You can eat while watching the birds and butterflies flying, get involved in several of their programs, and learn a lot about gardening, sustainability, and biodiversity.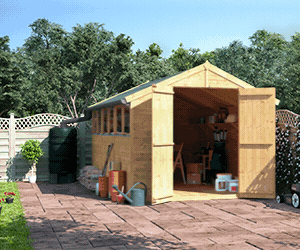 We hope you will find interest in gardening after knowing and visiting one of these majestic open gardens.
Open Gardens to Visit This 2019 National Gardening Week
The Phoenix Garden
Previously a car park, The Phoenix Garden was built by local volunteers in 1980s. This is the last garden of the original seven gardens of the Covent Garden Community Gardens. You can visit the open gardens daily, which is going to be great since it is also a registered charity.
It has been surviving because of donations and fundraising managed by a team of volunteers. It was about to close last 2016, but thankfully, successful crowdfunding happened. They earned £19,000 for the rehabilitation of the garden.
Because of what happened, the garden is now also open for weddings and other event rentals. It gives you not only the serene green sceneries but also a haven of a diverse range of urban wildlife.
View this post on Instagram
St. Mary's Secret Garden
St. Mary's Secret Garden has received well-deserved awards. The garden has helped and contributed to the wellness and therapy of the people in the community. Their main programs are social and horticultural therapy, and volunteering and training opportunities for people who are physically and learning disabled, have mental health issues, and other health conditions. Also, they offer gardening and outreach services that include planting and sensory workshops, as well as housing estate planting.
Their environmental and humanitarian surrounding has herbaceous borders, herb and sensory area, woodland with beehives, vegetable garden, orchard, pond, greenhouse and wildlife meadow. Everything you witness in the secret garden is running through the help of volunteers and beneficiaries.
View this post on Instagram
Skip Garden
King's Cross Skip Garden is a charming, sustainable oasis of wildflowers, vegetables, herbs, beehives, and chicken sheds. It has a lot of superfoods that are mostly planted in recycled materials, mainly from the construction site. You should visit this grown community project that gives different opportunities for young people.
You will be in awe seeing pumpkins and beans spring from skips, as well as tomatoes and chillies on polytunnels. Learn to love the garden that was created by thousands of hands united together to finish it. It is a garden for everyone—regardless of age, background, colour, or language.
Plus, they have the Skip Garden Kitchen Café that uses ingredients coming straight from the open gardens.
View this post on Instagram
View this post on Instagram
Hampstead Hill Garden and Pergola
You might have wandered across Hampstead Heath's parkland every year, but you may not know about this mysterious yet elegant beauty on West Heath.
Lord Leverhulme built this in the 20th century as a situation of his grandest and extravagant parties. The place has magnificent gardens and scenic, elevated walkway with overhanging plants which creates a lavish canopy and tangled roots all over stone pillars. It is a taste of Edwardian super-rich vibe.
However, to be able to experience the picturesque scenery, you have to get through the hilly roads and few steps. Be ready for your breath to be taken away on your first-time experience in this majestic place. With its romantic and wistful-looking vibe, it will inspire you to hold a video or photo shoot here. Your visit will be worth it whenever possible, but it is going to be perfect during sunny days.
View this post on Instagram
View this post on Instagram
King Henry's Walk Garden
This quite famous organic community garden is a party queen. The open gardens had gained more publicity when the Duchess of Cambridge Kate Middleton visited it last January 2019.
King Henry's Walk Garden is also an award-winning garden that encourages wildlife and promotes biodiversity. Gardening unites people in this beautiful garden, which is also a site that composts and reuses garden waste material. They also have custom-built systems that collect rainwaters from every neighbour's roof. This is such a significant move to save water and energy.
The community garden grows organic fruits and vegetables, and flower beds. They also have programs such as wine tasting, tea club, talks about the medicinal herbs, and ice cream making. This area of woodland is a wildlife habitat that also manages to attract beneficial insects.
View this post on Instagram
We hope you'll have a well spent National Gardening week visiting these open gardens with your family and friends.