Gardeners can spend a lot of time in their yards thinking so far ahead that they end up overlooking some major potential albeit common issues. We understand this, so to help you out we've listed out some common garden problems and ways you can solve them before they end up becoming bigger problems down the line.
7 Common Garden Problems and How to Prevent Them
Spotting issues in the garden early can not only save you some money but also spare you a lot of time and effort to focus on more important tasks.
Some of these problems, if not dealt with immediately, can cause irreversible damage to your yard. So, take some time to prevent and prepare for them so your efforts can go a long way for your garden.
Poor tree placement

Trees can sometimes grow too tall or wide, damaging structures such as houses and walls. It can happen inside your yard, or worse, extend to your neighbours'.
So, if one of your trees start to cause damage, cut or remove it before things get worse.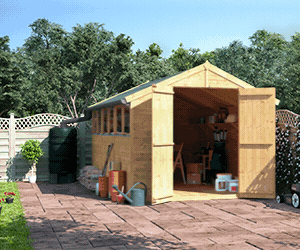 If you are planning on growing a tree, on the other hand, make sure to allot at least one and a half metres for small ones, and for larger trees allocate a distance of at least four to seven metres.
Patchy grass

Lawns tend to get patchy when large trees shade some of their parts, preventing them from getting any sun. Cut back the trees in your yard that do so to revive the grass.
Your lawn also needs a lot of water, so make sure to hydrate it adequately, especially during the summer. If you want to make it look brand new after the hot season, make sure to do necessary tasks in time for autumn.
To give a further boost to your grass' growth you can check out these10 grass boosters you can find at home.
Weeds

Weeding is one of the most strenuous yet vital tasks in the garden. So, aside from removing unwanted plants whenever they sprout in our plant beds, you can also prevent their growth with some homemade, chemical-free alternatives.
However, you should do a little research to determine what is weed and what isn't.
Lack of privacy

It is always delightful to spend time with family and friends in the backyard, but being overlooked by neighbours can spoil the moment.
So, you can either install box hedges for privacy or plant a lot of screening shrubs and trees to protect your privacy.
Rubble

Rubble can sometimes hide by the lawn, hindering excavation when setting up plant beds. They can also stop your plants from establishing their roots deep enough in the soil.
Unfortunately, the only thing you can do is remove them, which can be time-consuming.
Slugs and Snails

Slugs and snails, who are known to eat their way through plants and flowers, can be a major nuisance in the garden. So, use snail-resistant barriers to secure your yard or some organic pest-repellent that won't harm any pet or wildlife.
Over, or Under, Watering

Plants need an adequate amount of water, not less and not more. To ensure this, determine how much rain there has been, each plant's placement and the recommended amount of water for every species.
For flowers, if they are beginning to look sad and droop, perk them up with a drink of water.