If you're looking for the best outdoor dining sets, then we'd like to put rattan garden furniture forward for the crown.


Rattan has been setting the bar high for garden furniture. And synthetic rattan creates garden pieces that are hard-wearing and great to look at.
Rattan furniture is not only a safe, but a great bet for styling your garden with. That's why we've brought together the best rattan furniture sets for 2021 to show just how great it is.
And the time has come to end the debate over metal vs rattan furniture because we all know who's the real winner here!
Key takeaways:
Rattan is a natural material used for making outdoor pieces. It's the type of garden furniture that makes you feel as if you've entered a Hawaiian beach resort

It used to be top dog for garden furniture until

synthetic

rattan came in. The artificial version mimics the look of the genuine one BUT with even better qualities

Synthetic rattan garden furniture has weatherproof qualities, making it a top-tier choice. Most, if not all, outdoor fixtures feature this material

You can find synthetic rattan dining sets from long tables and corner sofas to cube and fire pit tables!
What Is Synthetic Rattan Garden Furniture?
Weaving techniques using natural rattan for furniture have been around since the 1970s. Until manufacturers discovered a top-notch material that is; synthetic rattan.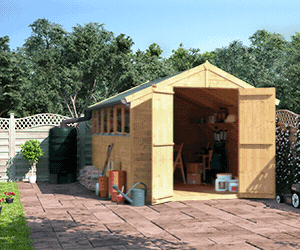 Made from synthetic fibres and PE material, synthetic rattan pieces are UV-stabilised. This means it can withstand outdoor elements, including humid or damp conditions.
In short, it's weatherproof, unlike natural rattan.
Other types of synthetic materials include PU (polyurethane) and PVC (polyvinyl chloride). But all in all, PE (polythene) is a more sustainable, cost-effective, and versatile choice.
The benefits
What makes it the best quality outdoor furniture? Take a look at the fantastic benefits below and see for yourself.
Synthetic rattan furniture is well-known for its weatherproof qualities, which 'real' rattan doesn't have. Meaning it's less likely to fade, rot, and become brittle, a.k.a the downfall of natural rattan furniture.
Thanks to being weather-resistant, it doesn't need much maintenance. You can use a fine brush or a soft wet cloth for a deeper clean.
With its artificial fibres, this also means the furniture is less prone to loosening strands. You won't have to worry about it half as much as you would if you had an actual rattan furniture set.
Most PE rattan models also have a powder-coated steel framework. So what does this do?
Steel is a solid and robust metal that helps to support your body weight for long periods sat on rattan dining sets. But with powder-coated steel, the material will also last longer.
What's more, it offers added protection against rain, frost, and snow.
It's a no-brainer: even with cushions, synthetic rattan is a lot cheaper than natural. What a great cost-effective solution for those who want to incorporate rattan into their space on a limited budget!
Spending all summer outdoors? Synthetic rattan is the outdoor furniture you need!
What to Look Out for When Buying Rattan Garden Furniture
Before buying rattan garden furniture, consider the following:
Frame type
Let's suppose you're planning to buy a rattan sofa set for lounging and entertainment. The more you use it outdoors, the more it's exposed to the elements.
And no-one wants to hear a crack as you lie back (from the chair or your back!); let alone see your furniture getting deformed every time you use it.
This is why it's important to take note of the framework of the furniture. You'll want to make sure you choose a model that has a powder-coated frame.
UV protection
On top of style and design, you should look out to see if the furniture can withstand harmful UV rays. If it can, then there'll be no doubt that it's weatherproof, too!
With synthetic rattan garden furniture, you can be confident that it's already UV-stabilised.
Cushions
Padded cushions add long term comfort while helping to ensure that the furniture won't lose its shape. Luckily for you, most synthetic rattan sets come with soft cushions to sink yourself into!
The bottom line
Powder-coated steel frame, weatherproof qualities, and cushions… sound familiar? These factors turn out to be the qualities that synthetic rattan have!
Now that you know what to look out for, it's time to find the best outdoor dining sets for you!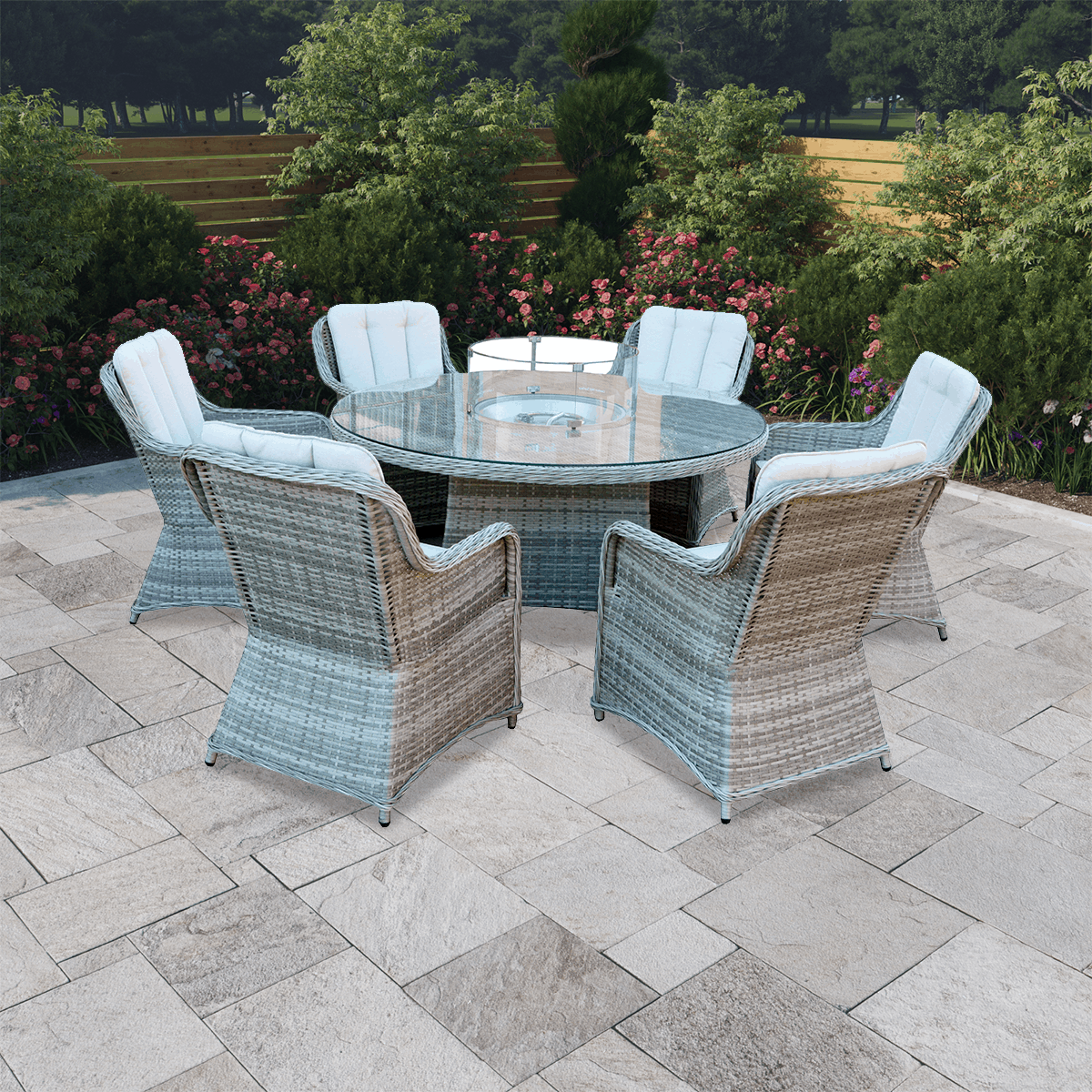 Outdoor Dining Sets – BillyOh Best Rattan Furniture (2021)
Rattan garden furniture is available in a wide range of styles. From sofa sets to dining sets, you'll find something that will suit your outdoor needs here at BillyOh.
Let's begin with rattan sofa and corner sets.
Best Rattan Sofa Set/Corner Set/Coffee Table Set
Rattan sofa sets can come in four to nine seaters, depending on the size of your garden and what you want to use it for. Some models also include a coffee table and an ottoman that can be stored.
Rattan corner sofa sets are an increasingly popular choice. They're ideal for gardens with limited space.
Take a look at the BillyOh Salerno corner sofa. This set includes a two-seater sofa (seats 4), a tempered glass-topped coffee table and a storage box.
It also comes with soft, inviting cushions to sink yourself into. Designed with comfort and functionality in mind, it's a perfect outdoor companion.
What we like about the Salerno is it's made from weather-resistant synthetic weaves with a powder-coated steel frame.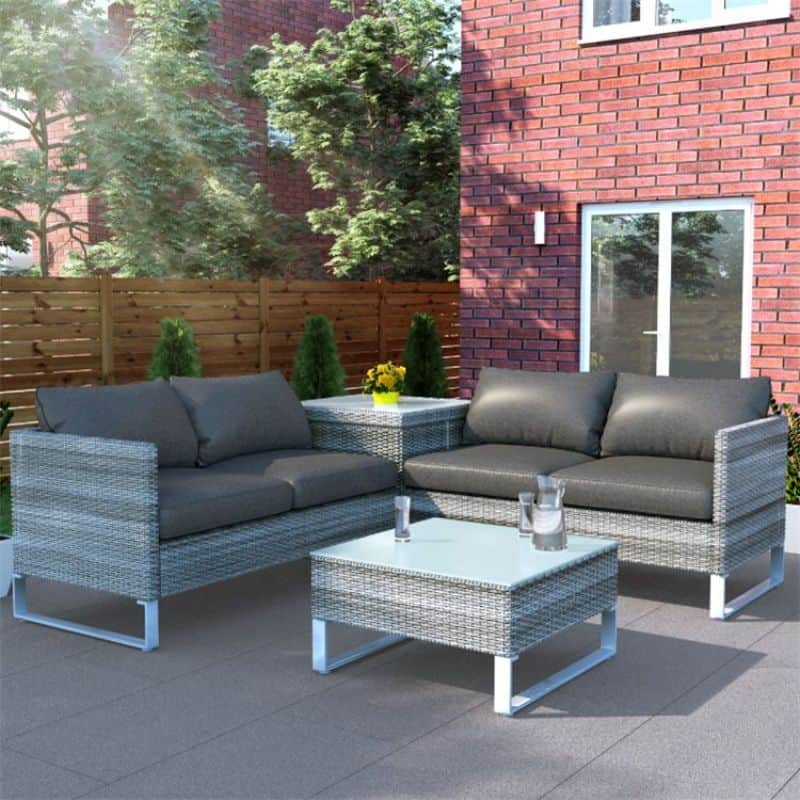 Best Rattan Cube Set
Rattan cube sets are an excellent choice for anyone who has a more compact garden or outdoor space. These sets usually come with a four to 10 seating capacity.
The term 'cube' comes from their ingenious design. It lets you tuck everything under the table when not in use, forming a perfect cube.
Just take a look at the BillyOh Modica cube set, available in 8-seater and 10-seater cubes.
The set seats four to six people, but the added four footstools double up as seating. Featuring a modern, stylish mixed grey rattan design, it complements any garden.
The Modica is easy to store away and make space in your garden. It also comes with luxury seat and back cushions and ottomans at no added cost for maximum comfort.
Flatweave rattan is woven around a steel frame with powder coating. This means this set is long-lasting and can be bought at any time of the year, and will still look great in the summer.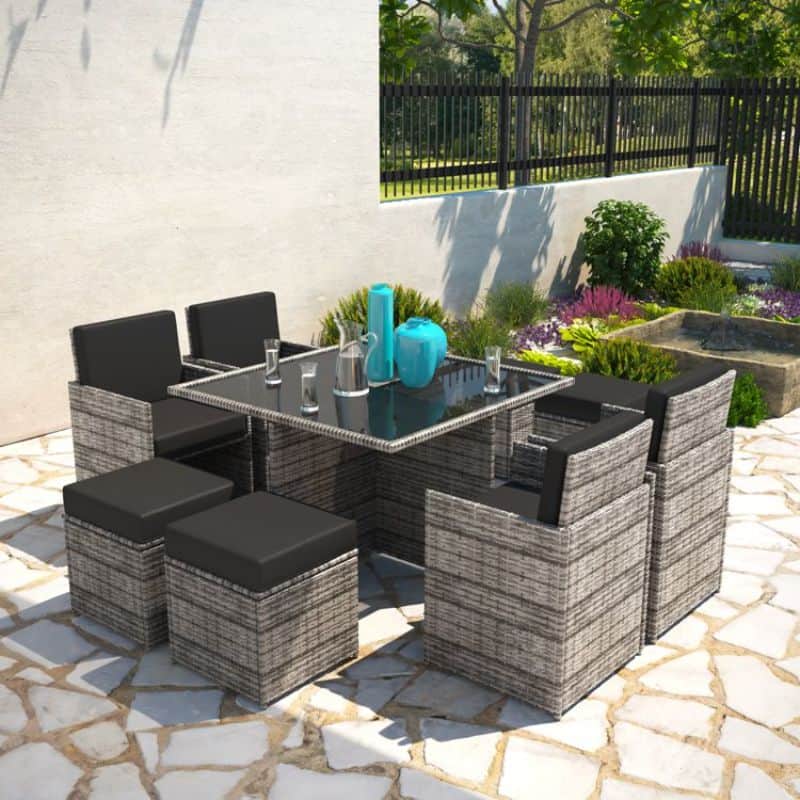 Best Rattan Set with Fire Pit Table
Also known as a fire table, a fire pit table combines a fire table and patio table. It provides convenient light, warmth, and a level surface to put things down.
A rattan set with a fire pit table is perfect for those who love to have night conversations while making s'mores on the patio. It's also a great outdoor companion if you like hosting al fresco dining during chilly nights.
Take a look at the BillyOh Capri set with a fire pit table. It's the perfect blend of functional design, comfort, and style.
The large square table is complete with an impressive integrated steel gas fire pit. It comes with glass surrounding the pit for extra protection from any minor sparks.
The multiple heat setting lets you prolong your outdoor relaxation well into the night. With the added footstools, you can also provide extra seating.
The set is carefully crafted using reliable polythene rattan with a powder-coated steel framework. It's UV-resistant, anti-fade and anti-mould, made from the high-quality advanced weave.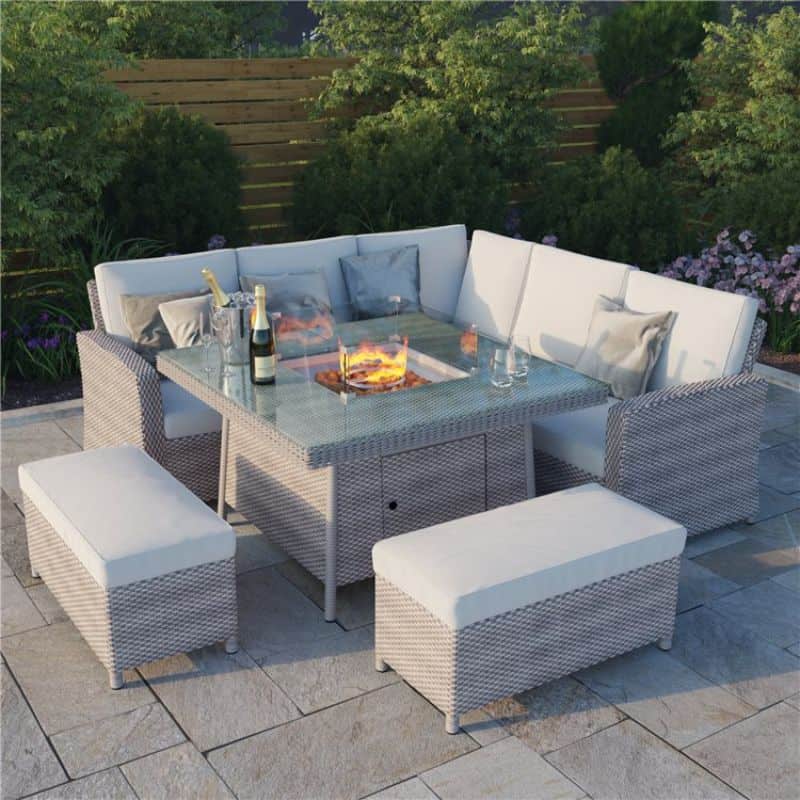 Best Rattan Sofa Dining Set/Comfy Dining Set
Nothing beats al fresco dining on a rattan dining set. Most units can seat up to 10, offering a luxury outdoor experience while having great food and wine under the sun.
The beauty of rattan dining sets is they also can be a quiet spot to relax in peace by yourself around a large table. Take a look at the BillyOh Siena dining set.
Designed for alfresco dining, the Siena will make a great addition to your patio. The long, tempered glass-topped table offers ample space for even the biggest of get-togethers.
The thick, luxurious seat cushions ensure that you can dine and relax in total comfort. The set is crafted from high-quality PE rattan and powder-coated steel framework.
You'll get to enjoy it for many seasons to come!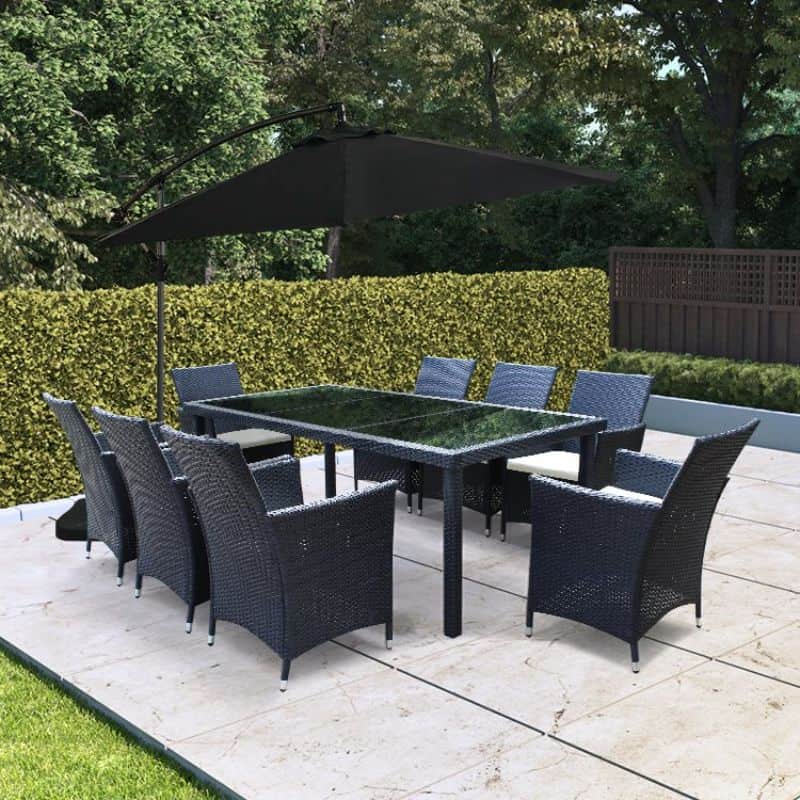 Round-up
Finding a stylish, comfortable, and long-lasting outdoor furniture set can be a challenge. But rattan furniture is flying out of stores faster than ever before. 
That's why, with BillyOh's rattan sets, you'll find the furniture that'll make your space the envy of the neighbourhood!
If you have a small patio or garden, we recommend adding a rattan corner sofa set into your space. But if you want something that can be a space-saver, rattan cube sets are your best bet.
Now, if you enjoy spending time on your patio but you're worried about the chilly weather, this might be the perfect time for you to invest in a fire pit table. For alfresco dining, you can't go wrong with rattan dining sets, especially those with long tables.

And if you've picked up some rattan furniture, check out how to style it in our rattan furniture guide.
Shop Rattan Garden Furniture
FAQs