Gardens which are shady because of buildings and tall trees are a common issue for homeowners as gardens are becoming more of a premium. As plants generally prefer areas which receive a good amount of daylight and sunshine, you might be put off by adding flowers and shrubs to your garden in fear they won't survive.
 If you have a certain gloomy patch in your garden which needs a sprinkling of colour or a garden which quite dark all year round, you'll be happy to know there are shade loving plants which will brighten up your garden tremendously.
Some plants prefer different amounts of shade, as well as damp or drier conditions, so we've broken these into categories so you can establish which plants will thrive well in your own garden. We've even included climbers, container plants shrubs and shade-loving houseplants for those of you who don't have much outdoor space to work with.
Light and Partial Shade-Loving Plants 
ampanula, also known as bellflower plants, are cheery perennial flowers that will thrive well in a garden with partial shade and cooler temperatures. Bellflowers bloom mostly in June and July but can provide your garden with pretty flowers right through to October in some areas.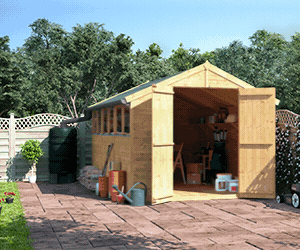 If you've got a spot with light shade,  Bleeding Heart is a perfect cottage garden classic which will brighten up your garden and add a pop of warm pink hues. In Spring, it bursts into a heart shaped flower with arching stems. Its new latin name is Lamprocapnos, but you may also know it as Dicentra.
The Siberian Iris or Iris Sibirica can grow up to 1.2m tall, with narrow grassy foliage and beautiful violet-blue flowers on branched stems. Add some colour to the shady areas of your garden with this pretty shade loving plants. 
The Foxglove is one of Britain's most distinctive and popular wildflowers, with tall spires of tubular flowers. Typically, foxgloves are purple-pink in colour and spotted within. Their colour varies subtly and colonies of pure white plants can occasionally be found in the wild. These stunning perennials are perfect for your shady spots.
If you are looking for a more unusual plant for your spring garden, the Brunnera is an ideal plant to choose. Throughout April and May, Brunnera 'Jack Frost' is covered with lots of small, bright blue flowers which are complemented by heart-shaped foliage which is a delicate pale silver-grey with pronounced dark green veins.
Pulmonarias, commonly known as Lungworts, are partial-shade-loving plants which are low growing and provide masses of flowers in Spring. Pulmonaria comes in a variety of colours and is native to Europe, including the UK which means they thrive well in British gardens.
Deep Shade Loving-Plants
Iris foetidissima is the perfect iris for a gloomy spot, particularly beneath trees, where other plants struggle. It has evergreen foliage and dull purple flowers, but it comes into its own in autumn when its large seed pods split open to reveal rows of orange-red seeds that remain well into winter.
A sign spring is on its way, Snowdrops are much-loved bulbous perennial in the UK and given a moist soil, they can multiply into drifts of white flowers and provide plenty of plants to share with fellow gardeners. These delicate plants will grow in the shadiest of spots.
Geranium nodosum is the most shade-loving plant of the Geranium varieties and is a great candidate for underplanting in shaded and wooded spots. This reliable plant quickly makes a ground cover, even in dry conditions.
The 'Superba' features large clumps of palmate, crinkled, heavily veined leaves, and tall panicles of beautiful bright pink flowers from mid- to late summer. This colourful leafy plant will make a statement in your garden and can grow up to 4ft tall and spread 3ft across.
Otherwise known as Alchemilla Mollis, Lady's Mantle is made up of robust clumps of glossy large dark green leaves and flower spikes which grow up to 70cm in summer and bloom white or pink-veined flowers with green-purple bracts. This plant makes a great shrub for your shaded garden.
Amelanchier X Grandiflora is a small tree which tolerates deep shade in summer. Best bought multi-stemmed, it provides bundles of white flowers and coppery young foliage in spring. You can also expect to see summer berries and vivid autumn colour with this plant.
Dry Shade-Loving Plants 
A lovely genus, the Epimedium family is native to Europe and Asia. Epimediums from Europe are often some of the most tolerant of dry shade and make a great choice for the north side of a wall or a bed that receives some irrigation in eastern Britain, and typical shade garden borders in the western parts of the country, where rainfall is generally higher. 
When looking for garden flowers which are adaptable, compact and long-blooming, you should definitely consider hardy geranium plants. Cranesbill Geranium is especially tolerant of dry shady areas and makes a perfect pop of colour for gloomy patches.
Sweet rocket, Hesperis matronalis, flowers white or purple flowers annually. The flowers' fragrance is as sweet as a violet's and most pronounced in the evening. Leave the flowers to drift, naturally through an informal border.
The plants which prefer damp shade typically suit boggy areas or at the edges of ponds and rivers. Monarda has distinctive flower heads with each one consisting of a large number of tubular flowers creating a dome of petals. Monarda will flower from early summer all the way into early autumn.
Originating from the lush, mountainous regions of south-eastern Tibet, the Himalayan blue poppy is a magical plant which requires a damp, cool and sheltered position in order to bloom. The best time of year to start propagation is from early Feb to the end of March. But as long as you can provide cool conditions during germination, then it is actually possible to germinate Meconopsis seeds at any time of year.
Shade-Loving Plants for Containers 
Forms of Solomon's seal have been grown in British gardens for centuries and you should plant it in a cool position in dappled shade. Once established, they require little maintenance. Keep the soil moist in summer as this produces large clumps more quickly.
Heucheras or Coral Bells, look striking in borders with other shade-loving perennials, but when planted up they make a beautiful container for shaded areas.
>Hosta is the ultimate shady garden plant also makes a happy home in pots. Make sure to keep your hosta container well-watered and it will thrive well. This leafy plant will bring greenery to any patio or decking area.
Diamond Frost Euphorbia forms snow-like flowers in the garden or pot, blooming non-stop from planting until hard frost. Try it in deeper shade and see how it blooms.
Climbers and Wall Shrubs for Shade 
In most places, the Clematis' natural habitat is to grow under the canopy of tree's and shrubs and for the twining stems to grow through the branches, allowing the flower to lay on the open canopy above. Because of this habit, a number of varieties of Clematis will cope with partial shade to full shade.
Winter Jasmine looks fantastic on walls, fences and stretches of trellis. It's flowering season extends over the worst of the winter months; it will perform in whatever site or soil you offer it, whether dry ground or damp, in sun, shade or anything in between.
Climbing Hydrangea or petiolaris is a large self-clinging, deciduous climber with broadly oval leaves turning yellow in autumn. Flower-heads grow to 20cm in width, with small fertile flowers surrounded by showy white sterile ones.
Shrubs for Shade 
'Mrs Popple' is a vigorous upright shrub from the Fuchsia family which flowers single bright red sepals and tube with violet-purple petals. This pretty shrub is a great choice for your shaded garden.
Rhododendron can be evergreen or deciduous shrubs or trees, with simple leaves and often have a colourful indumentum of hairs on the lower side. Koichiro Wada' is a compact, dome-shaped small shrub with silvery young foliage that becomes dark green with a thick fawn tomentum beneath. Rounded trusses of pure white flowers open from bright pink buds in mid spring.
Fatsia or Japanese Aralia are evergreen shrubs with stout, sparsely branched stems bearing large, leathery leaves and small white flowers in terminal compound umbels. Add something different to your shaded garden with this Japanese shrub.
Shade-Loving Houseplants 
The Peace Lily is a non-toxic sibling of the Lily which is great if you have kids and pets. Drooping means they're thirsty but they'll cope well in dark rooms without much sunlight.
Flame Violet is a perennial which sprouts a pretty red flower in summer and autumn amid silver-green leaves that grow two to three inches long.
>Phalaenopsis orchids, otherwise known as moth orchids, come in a variety of colors and can thrive in a number of conditions. This pretty plant will brighten up any dark room.
Find out about 10 of the most endangered plants.