Achieving a wildlife-friendly garden may require you considerable time and effort, but if you have always been keen on protecting and welcoming wildlife into your outdoor space, then it's worth giving it a stab.
But how exactly can you transform your garden into a wildlife haven?
Garden ponds are undoubtedly crucial for wildlife. It can be beneficial for species such as frogs and newts which have lost homes a.k.a bodies of water in the landscape. 
And by reating a watery haven in your garden, it could be one of the best things you can do for them!
Our ultimate guide to achieving a wildlife-friendly garden shares a wealth of advice and information, including how to build your own pond for all sorts of wildlife to hibernate! Whether you're an amateur gardener or a dab hand green-fingered Brit, this thorough guideline will sure come in handy.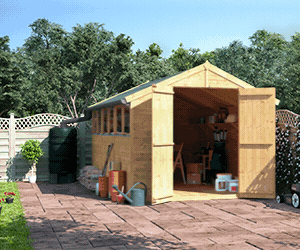 1. Transform Your Garden Into A Wildlife Haven

As we've mentioned earlier, transforming your humble outdoor space into a wildlife haven may require time, money and effort but it sure does worth a shot! 
And since you're at BillyOh, we offer nothing but budget-friendly garden hacks and ideas, helping you to get well on your way to drawing more nature and wildlife into your garden.
From planting plants and tidying up your outdoor space to creating an area for insects and installing a pond, we've got you covered! So, if you wish to switch your common garden space into a biodiversity haven, feel free to check these ten budget-friendly steps in transforming your garden into a wildlife sanctuary.
2. Create Your Own Garden Wildlife Shed

When it comes to the wildlife garden, there are lots of possibilities you can explore to attract an abundance of flora and fauna — and one of them is turning your outdoor space into an ideal spot for animal spotting through your shed.
With that, if you're a shed owner, our garden experts have put together their top five tips for converting your humble garden shed into a wildlife spotting den. Go check them out!
3. Helping Your Local Wildlife

Being aware of the local wildlife's habitats
 is a good starting point to show respect as well as give love to the diverse number of creatures living on your doorstep. Well, the good thing is, you can now start helping them thrive through these easy steps.
From providing them with bird baths, leaving a bowl of cat foods outside the house, stop cutting down trees, and to name a few ⁠— not only you're contributing to nature, but you're also providing wild creatures, including birds, insects and mammals the sanctuary they need.
Find out more about how you can show your love to your local wildlife with these 11 easy ways.
4. Things to Consider When Creating a Wildlife Pond

A wildlife-friendly garden isn't complete without garden ponds and water features installed in any outdoor space. But before you build a sanctuary for the local wildlife, ensure to take time and consider these essential matters beforehand.
This includes the type of animals to attract to your pond, the perfect season to work on wildlife ponds, the ideal plants to add, and much more! 
Browse through these six things to consider when building a garden pond, including a step by step on how to create your own wildlife pond.