As the days begin to get lighter and warmer, there's nothing better than spending time in the garden and looking forward to summer. But be mindful that your garden has to be prepared before Spring starts kicking in.
And to help you kickstart the growing season, our garden experts suggest spending time planning in order to prepare your garden for spring.
As with everything, it's essential to prepare your outdoor space, as preparation is key. When the busy gardening period comes around, doing all of the small jobs that can pile up means they will no longer be a burden.
The more jobs and preparation have done during this time, the better your garden will look, and the more enjoyable it will be, in spring and summer.
Ensuring soil has been forked over and is full of the right nutrients will have a positive impact on the bulbs and seeds that will be planted in the coming months. Tidying and cleaning the greenhouse will also help ensure it is working effectively.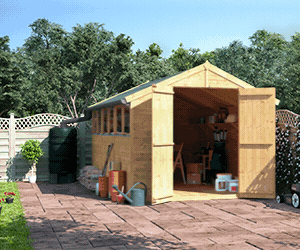 Six Ways to Prepare Your Garden for Spring
Tidy Up


Nothing's better than having enough canvas to work on in the springtime. To help you save time in planting bulbs and seeds, our experts suggest weeds and fallen leaves from flower beds beforehand.
And by clearing away any wood or piles of rubbish that may have been left over from last year will also provide you with a blank canvas to work on.
Greenhouse


Cleaning a greenhouse shouldn't take long since most of them will have been left empty over the winter. With that, rubbish must be removed, and the glass should be cleaned both inside and outside to remove algae — helping the greenhouse get its optimum amount of sunlight.
In addition, any glass panes with cracks or chips should be replaced to ensure they don't get worse.
Maintenance


General maintenance, such as checking and repairing fence panels or just making sure little jobs are done will allow you to enjoy your garden when the good weather comes around.
Tip: To have an instant clean deck, clean your patio with a power washer.
Plan


As we've mentioned earlier, preparation is key.
It takes time to finalise the plants you want to grow in spring, not to mention the "when" is the perfect time to plant them. But having a planting calendar means you can spend your time nurturing plants instead of worrying about what you should be doing and when.
Soil


When is the perfect time to start preparing your soil for spring? It's after the wet winter season ⁠— when the soil begins to dry out.
You should be able to fork over the soil and add fertilisers and compost to make sure it's as nutritional as possible for the seeds and bulbs.
Clean Tools


Expect that your gardening tools will be covered in dirt or mud due to using them throughout winter. What you can do to prep them is clean them with the use of water and a stiff brush.
Remember, clean and neat gardening tools are a lot way easier to use, maintain, and they are less likely to break.