A vegetable garden can add colour and life to your backyard. Plus, growing your own veggies is a convenient and healthy option for your diet and household needs. It also comes with numerous perks, including saving money on groceries by reducing your monthly food bill and improving your overall health.
To make the most out of your gardening experience, whether you're a novice or a professional, we're sharing these five reasons as to why you need a vegetable patch in your garden. 
1. It's Easy to Set Up

Gardening, in general, is easy to learn and something everyone can participate in. It just takes a little time and a little patience, including starting a vegetable garden from scratch.
First, all you need to do is decide where you want your patch to be, and after that, you can start planting seeds and take advantage of the growing season.
When choosing a spot, make sure to consider how much sunlight that area gets. After that, you can remove any grass, then fork the soil over until it's loose and easier to work with.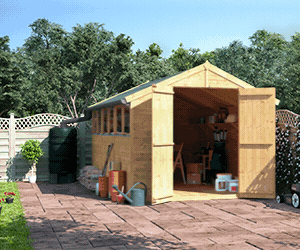 That's how to set up your veggie patch. Easy, right? You can read our beginner's guide here.
2. You'll Have Low-Cost & Healthy Foods in Your Fridge

The beauty of having your own vegetable patch is that seeds are reasonably cheap to purchase. In exchange, your household gets a sustainable supply of fresh veggies to add on every meal.
Having a readily available supply of fresh vegetables is enough to encourage anyone to eat their five-a-day. By eating more veg, you're getting a steady supply of vitamins and minerals which your body needs to perform at its best.
Listed down below are the best nutrient-dense vegetables you can plant on your patch.
Broccoli – High in calcium, magnesium, iron, and vitamins A, B6 and C. One cup of this vegetable can provide you with 130% of your daily vitamin C requirement.

Peas – Rich in fibre, iron, magnesium, potassium, and vitamins A, B6 and C.

Beans – High in fibre, iron, manganese and phosphorus.

Brussels Sprouts – Provides tons of potassium, fibre, magnesium, riboflavin and high levels of vitamins A, B6 and C.

Tomatoes – Offers plenty of iron, fibre, niacin, potassium, and vitamins A, B6 and C. They're also a great source of lycopene.

Red Bell Peppers – High in potassium, riboflavin, and vitamins A, B6 and C. One cup can provide you with 317% of your vitamin C and 93 per cent vitamin A daily requirement.

Beets – Rich in iron, calcium, potassium, magnesium, zinc, and vitamins A, B6 and C.

Carrots – High in fibre, manganese, potassium, niacin, and vitamins A, B6 and C.

Leafy Greens – Contains high amounts of iron, calcium, potassium, and vitamins A, B6 and C.
3. Tastier and Fresher Meals

Picking a vegetable minutes before you use it for cooking can provide you with a tastier and fresher meal. Remember, the fresher the food, the more flavour it holds, and tastier it is! 
Pulling up a vegetable from your own garden can also provide you with a range of fresh, healthy, and tasty goods that can encourage you to cook more healthy dishes and take advantage of your produce.
Here is the list of Vegetable-Garden Recipes, courtesy of Midwestliving.
4. It's Environment-Friendly

Nowadays most fresh produce is flown across the world, which can negatively impact our environment with the unnecessary use of air miles, land transportation and plastic.
But by growing your own vegetables, you are eradicating and cutting down your household waste. Most importantly, you are helping to lessen the high amounts of burning fuels that fill our environment as well as reducing waste from food packaging materials.
5. Satisfaction

There's nothing more satisfying than cooking up a meal knowing that all of your hard work has paid off. Seeing the ingredients going from garden to plate is something that you should be proud of, and you should taste the love in the food — minus the hassle of going to the stores.
Growing your own food is indeed a rewarding experience, offering other benefits such as improving your mental health and helping the environment. More importantly, you get something tasty and satisfying at the end of the process – what's not to love?
If you wish to grow your own food in your garden, you can read our vegetable garden guide here: Vegetable Gardening for Beginners: The Basics