As we adapt to the new changes brought on by the pandemic and social distancing, many restaurants, cafes and pubs around the world are looking for creative opportunities to safeguard their business, as they try to create the 'new normal'.
In this article, we'll be showing how you can take advantage of garden buildings like greenhouses to keep your business going and at the same time, provide the right place for your customers to dine in safety, without breaching social distancing protocols.
The 'Quarantine Greenhouses' Pod in Amsterdam

A waterside restaurant on the island of Oosterdok in Amsterdam set a brilliant example of how to safely serve customers – allowing them enjoy their meals while abiding with social distancing rules. 
Known as the Mediamatic Eten diner, this Dutch restaurant has stepped up the game by creating five separated dining pods out of glass greenhouses placed on the canalside. Each pod seats three guests at a time and solo diners are welcome too! The staff wear face shields, gloves and food is served to customers on long wooden planks.
This concept comes after restaurants across the world have been forced to close due to the pandemic. The restaurant hopes that the greenhouses will allow customers to dine out safely and securely, without breaking the social distancing guidelines. They're currently testing out their so-called quarantine greenhouses and plans to open them with an entirely plant-based menu when granted permission. Moreover, they will only allow people to dine in as long as they live in the same house.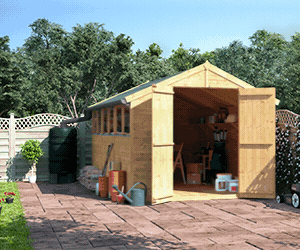 The Country Pub in the North West

A country pub in the North West – The Harrington Arms in Gawsworth – took advantage of greenhouse versatility by transforming their beer garden into an all-weather dining room—allowing them to welcome and seat a viable number of customers.
Each greenhouse is decorated with different styles, such as plants and fairy lights, with themes such as a potting shed, a beach hut, a vintage lounge, a Moroccan riad, and a botanical garden. Plus, they established a large festival-style stretch tent in the beer garden as well! 
To practice social distancing, the pub's customer spaces are split between four small rooms, and there are only three tables per greenhouse/tent for now, according to the landlady, Caroline Wightman. If you want to experience a fancy dinner after a month of being cooped up in your home, you can book a table at the Harrington Arms through their website.
Greenhouses For Sale

It is true that garden building such as sheds, log cabins and greenhouses – to name a few – can offer style, escapism and versatility. And who would've thought that we'd get to a point where restaurant owners would use greenhouses to serve and seat diners, as a way of ensuring social distancing? This only shows how multi-purposeful an outdoor building is and what a great investment it could be.
If you own a local restaurant, cafe or pub and plan to create the 'glass concept houses,' BillyOh has precisely what you need for your greenhouse requirements. Whether you're looking for wooden greenhouses, metal greenhouses or plastic greenhouses, we have the perfect greenhouse to suit your garden setting.
Our greenhouse units are designed with excellent craftsmanship, featuring high-quality materials. The BillyOh designers have worked tirelessly to produce the most extensive range of greenhouse sizes and styles so you can find one which suits exactly what you need—and are unmatched by other retailers!
Overall, we have a reputation for being the top manufacturer and supplier of garden buildings in the UK. We will continue to maintain our position as a leading hobby greenhouse store so you can get the supplies you need from our website, hassle-free and with the greatest level of satisfaction. Our free and fast delivery will have you growing your garden in no time!