The days are getting longer, the weather's picking up, flowers and trees are starting to bloom, do you know what that means? Spring's coming. 
Spring is all about new beginnings, so give your garden building a new lease on life. Our garden buildings are multi-functional, and so we have a few suggestions as to what you can do with your garden buildings for spring. 
Re-Paint and Re-Style

If your garden building is looking a little old or worn, that's nothing a little paint can't fix. Pick a new style that would look good in the spring. On the outside make it look like an iconic British beach house with colourful stripes and add a windchime to add some relaxing sounds for when the wind blows. 
Inside, if you want to keep the beach theme, add pictures of the seaside, add shells and pebbles that you've collected from trips to the beach, or paint the walls with a seaside theme like the ocean, sand or the other assorted items and creatures you'd associate with the beach. 
Of course, the beach theme is just an example; you can choose to re-style your garden building however you want to. Such as an English country house. Various paints are on offer for you that would make your garden building look rejuvenated with an exceptional finish.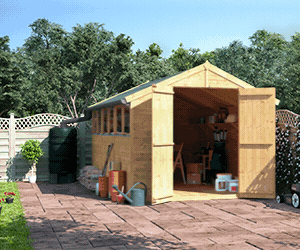 Office Space

If you work from home, you might want a workspace that's out of the house. Then why not convert your garden building into an office? 
Being outdoors can improve your productivity, and you would still be close to your home should you be needed. At this time of the year, the flowers and plants around you will be blooming showing a marvellous set of colours every time you look outside the window.  
You can have it set up how you like it, should you want a new coat of paint, a desk, a bookshelf or electronic devices and lights, providing a suitable power source is set up. 
Playroom

Children need a place of their own where they can play and have fun until the day ends. By converting your garden building into a playroom for the kids, they would be getting the fresh air and light that they would not get from playing inside. 
Depending on what your children are currently into, you can set it up to their tastes and preferences. Whether they want a place to read, play and pretend. 
As time goes on, you can adapt your garden building as they grow. A garden building would be an excellent place where they can play and hang out with their friends. 
Luxury Pet House

Pets are lovely to have around the house. But if you feel they need their own space to call their own, or to settle into before they move into the house, why not use the garden building as that space? 
Cats need a place where they can eat, sleep and maybe have a little fun with some toys. The room within a garden building would be ideal for that. Dogs would also love the space that it could provide, and you can set it up with pegs for raincoats and leashes for when it's time to go for walks. 
Better than small hutches, rabbits would love the space that would be on offer for them in a garden building. They could run about in the free area and would give them more freedom than in a small hutch or plain of grass. Plus they would be more protected from predators like foxes as garden buildings are sturdy and durable. 
If you have pets that are not as conventional such as reptiles, then you can adapt the garden building for their requirements. Such as adding heaters for when it gets cold. The amount of space there is you could have several habitat hutches or areas should you have more than one reptile. 
At the end of the day whatever you decide to do with your garden buildings, it will be great. If you don't have a garden building, then check out our fantastic range of garden buildings on our website. All of them are durable and are a reasonable price for however you wish to use it. 
There are more ideas on what you can do with your garden building.