Experts have warned that green-fingered Brits could be destroying their lawns unknowingly during the cold winter months. Lawns often take a beating during the cold and wet winter months which is why it's crucial for them to avoid these potentially harmful gardening activities at all costs.
Our team have revealed the five ways gardeners could be quietly killing their lawns with everyday gardening activities. Carrying out even the simplest garden tasks during this time of the year could end up ruining the appearance of lawns and destroy the chance of having fresh green grass for summer.

Five Gardening Activities That Could Damage the Condition of Lawns
Whilst many gardeners might think they are taking the appropriate steps to look after their lawns, they could, in fact, be having the opposite effect. You might think giving your garden a winter trim with the mower won't do any damage. In fact, it could end up destroying your lawns roots.
We want to warn gardeners of the perils of carrying out basic garden maintenance tasks this winter so there aren't any nasty surprises come the spring. From moving the backyard to leaving piles of snow on the grass, these are the five gardening activities Brits should avoid.
1. Failing to Clear Leaves or Debris
During the winter months, it is vital to make sure all the leaves and debris are cleaned off lawns. Failing to do this could smother the grass, create conditions for diseases such as snow mould. It could also invite insects, mice and other damaging pests.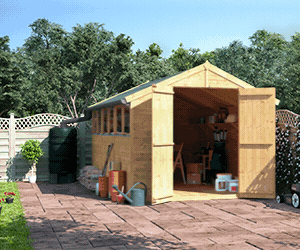 2. Mowing the Grass
It is strongly recommended not to cut grass during the winter months as attempting to use a mower over a wet lawn. A muddy soil will damage the grasses' roots and cause the blades to cut unevenly, resulting in a misshaped garden.
3. Using Too Much Fertiliser
Using winter fertiliser in a garden can be useful to preserve its condition. Also, it ensures the grass retains a bright green colour. However, using too much of the product could end up burning the lawn making this winter care tip almost useless.
4. Piling Snow on the Garden
Cleaning a snowy driveway and then leaving piles of the white stuff on a garden could potentially harm the condition of a lawn. Allowing layers of snow to build up on grass can lead to the growth of a fusarium, better known as snow mould. When it eventually melts multiple small brown spots are revealed, which can ruin the appearance of a lawn.
5. Regular Use of the Lawn
Lawns can tolerate extreme winter conditions. However, regular use of them during the winter can leave heavily worn patches of grass that take longer to recover in the spring. Although it sounds simple one of the most effective ways to preserve the condition of a lawn is to stay off the grass for as long as possible.