Replacing an old shed is quite difficult and we all want to do it once, so we need a good quality shed that can stand the test of time, is affordable and pleasing to look at.

Mike wanted to have a shed that visually fits well in his garden and decided to purchase the Clubman Heavy Duty Shed Log Cabin 3.0m x 3.0m.

"After a lot of searching on the internet, I decided on the Clubman Heavy Duty Shed Log Cabin 3.0m x 3.0m from BillyOh which was of a heavier duty construction"
"The shed was competitively priced."
Mike said that he was about to order online but needed to call to discuss delivery options because of the restricted access to the rear garden which was a neighbouring property but everything else was completed and followed online. Giving our customers the convenience they deserve is one of our goals.

"It took a couple of weeks for the Clubman Heavy Duty Shed Log Cabin to arrive, which gave me time to remove the old shed, clear the site and pour a new concrete base. "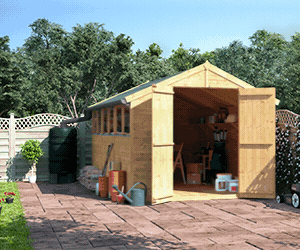 "The product was delivered on the specified date with all the necessary parts, fixtures and fittings and was built over the following two days."

"Laying the floor correctly from the start was critical and understanding that element of the instructions proved a challenge; however, one look at the video on the Billyoh website on how to erect a log cabin provided all the answers."
"My only dilemma now is that as the Clubman Heavy Duty Shed Log Cabin looks so good it'll probably be used as a summer house."
"I'll have to build another shed for the garden tools."
"I'll certainly buy another Billyoh product."
Maximise your outdoor space with garden sheds. Hide your bins, store your bike, keep your garden tidy or make it the most out of it and be creative by making it a summer house like Mike. Shop our range of log cabins today.
Check out our other customer reviews:
Log Cabins
Clubman Log Cabin stories