Summerhouses are one of the ideal alternative outdoor buildings to relax, unwind and entertain. In fact, there are countless ways you can do about it that you haven't considered yet. With that being said, there could be tons of questions that are bouncing inside your head—waiting to be answered.
Finding the perfect place for your summerhouse, how to maintain it or which summerhouse is the best for you are one of the aspects you have to consider when you want to get one.  Worry not because we've got you covered! You can use our advanced guide to summerhouses and learn everything you need to know about it.
What Is a Summerhouse?
A summerhouse is a wooden outdoor garden building which can be used in various ways. This wooden outdoor building commonly features:
– tiled or felt roofs,
– large windows and door
Not only that, some summerhouses encompass porch steps, verandas or canopies which helps to extend the outdoor structure's front. Larger summerhouses have a similar style to log cabins.
Types of Summerhouses
Summer houses come in different styles and purposes. Here's how to know the difference between them all.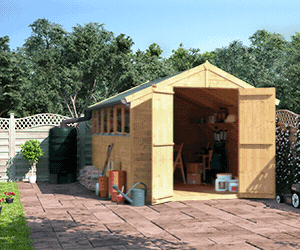 Contemporary Summerhouses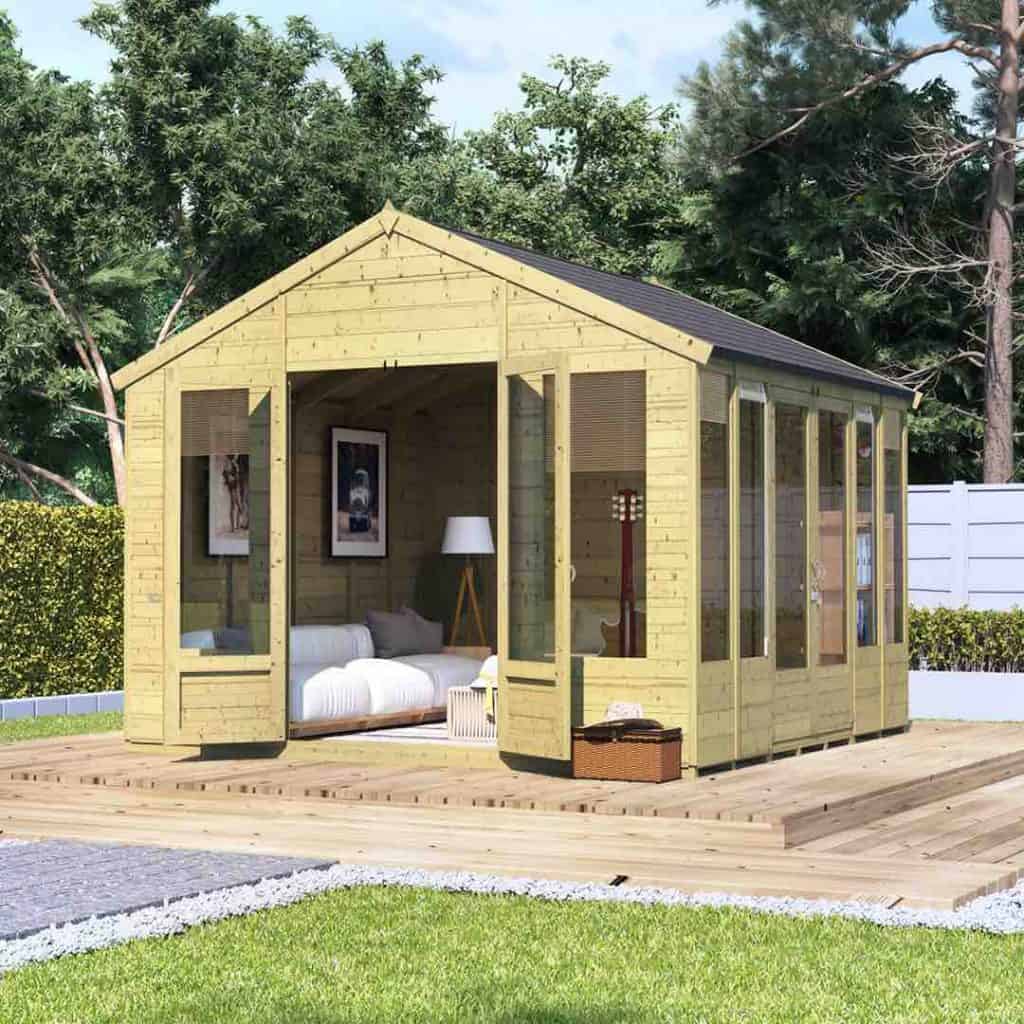 Contemporary summerhouses aren't just ideal for those who are into more stylish and modern designs. This outdoor structure is also a perfect touch to give your garden a modern edge and look.  Made with an interlocking tongue and groove boards—it creates a smooth and clean aesthetic charm.
Traditional Summerhouses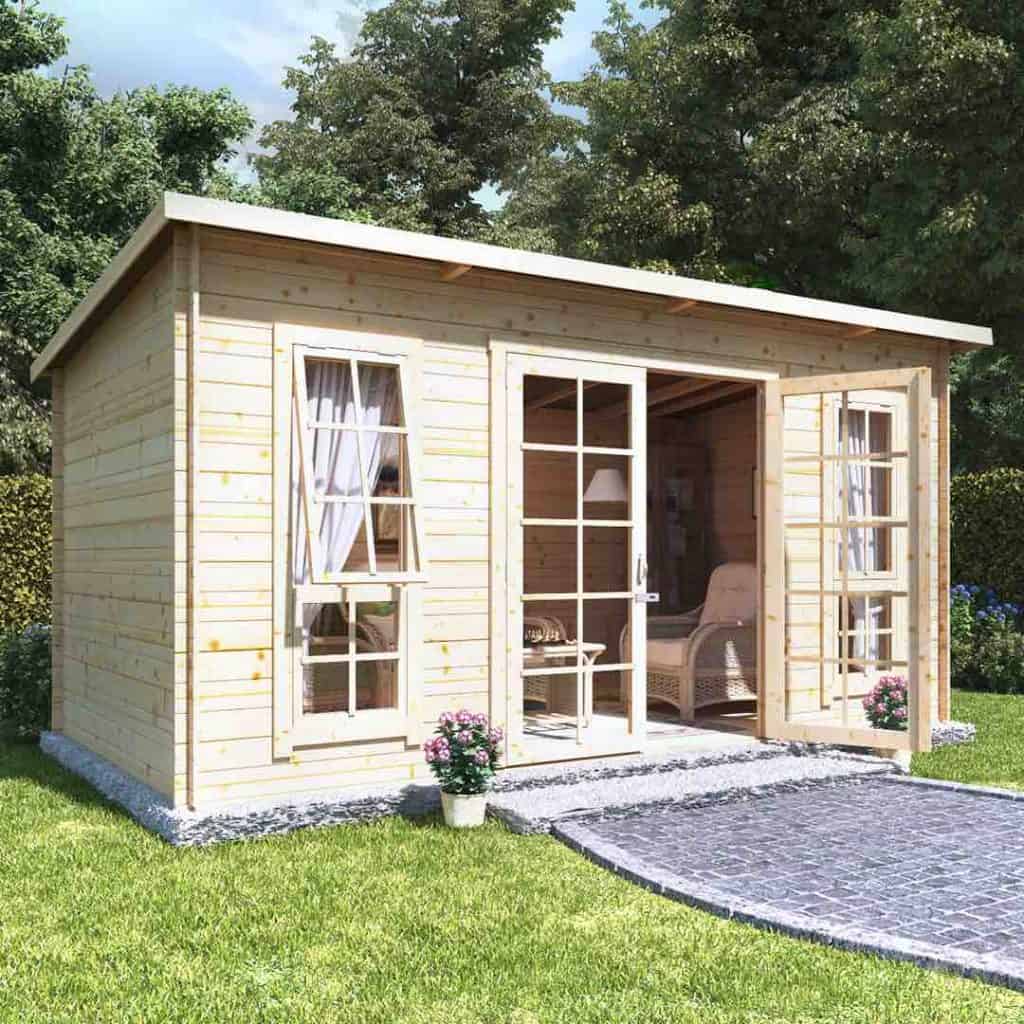 Some people tend to go for the traditional looking summerhouses rather than opting for the contemporary ones. For them, this classic and traditional summerhouse is more appealing than any of the other summerhouse buildings.
The traditional summerhouse features Georgian windows and the common apex roof shape. So, if you want a classic edge on your garden, the traditional summerhouse is what you can opt for.
Corner Summerhouses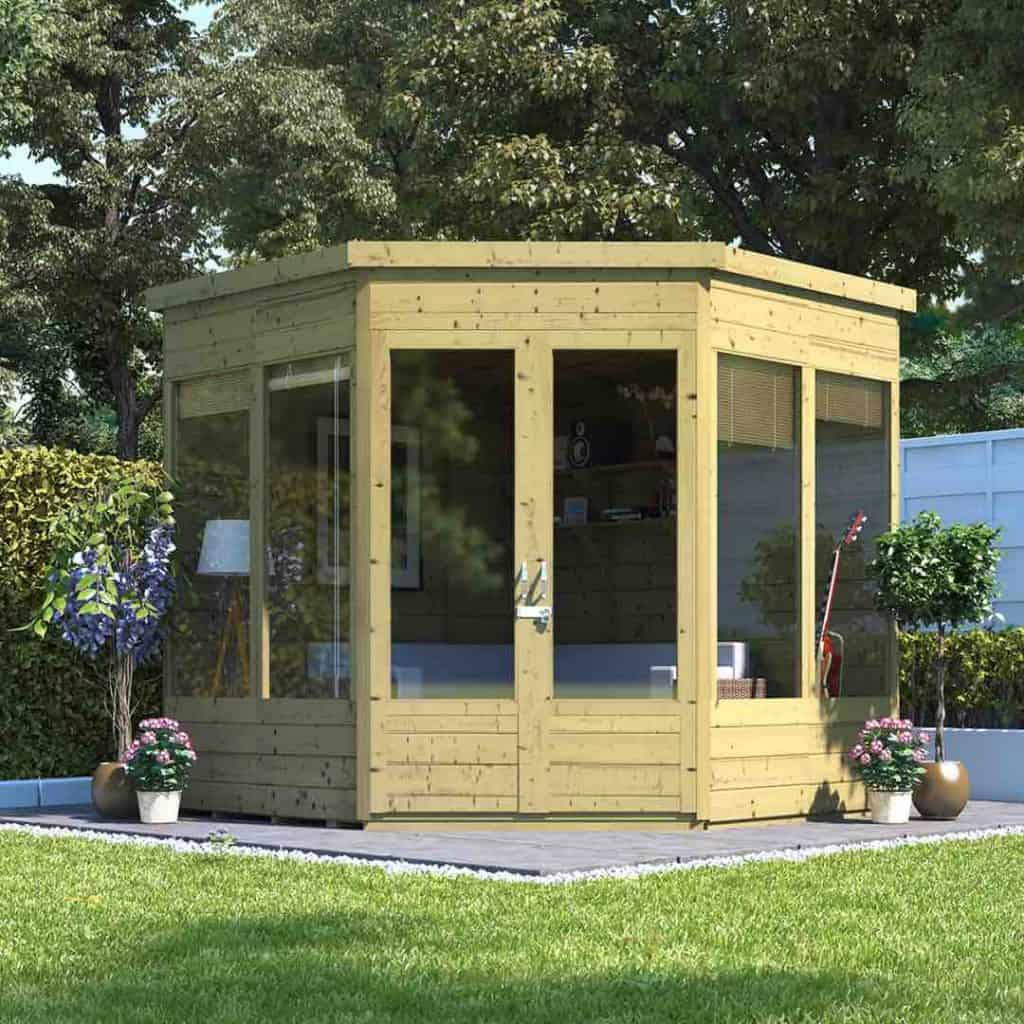 One of the difficult tasks you'd encounter when it comes to your summerhouse is to find the perfect space for it. This is where the corner summerhouses come in handy.
You don't have to worry about how are you going to fit your summerhouse because this type of outdoor building is designed to fit into a corner you can make the most of your available garden space.  A corner summerhouse often features double doors that provide you with a panoramic view of your garden.
Small Summerhouses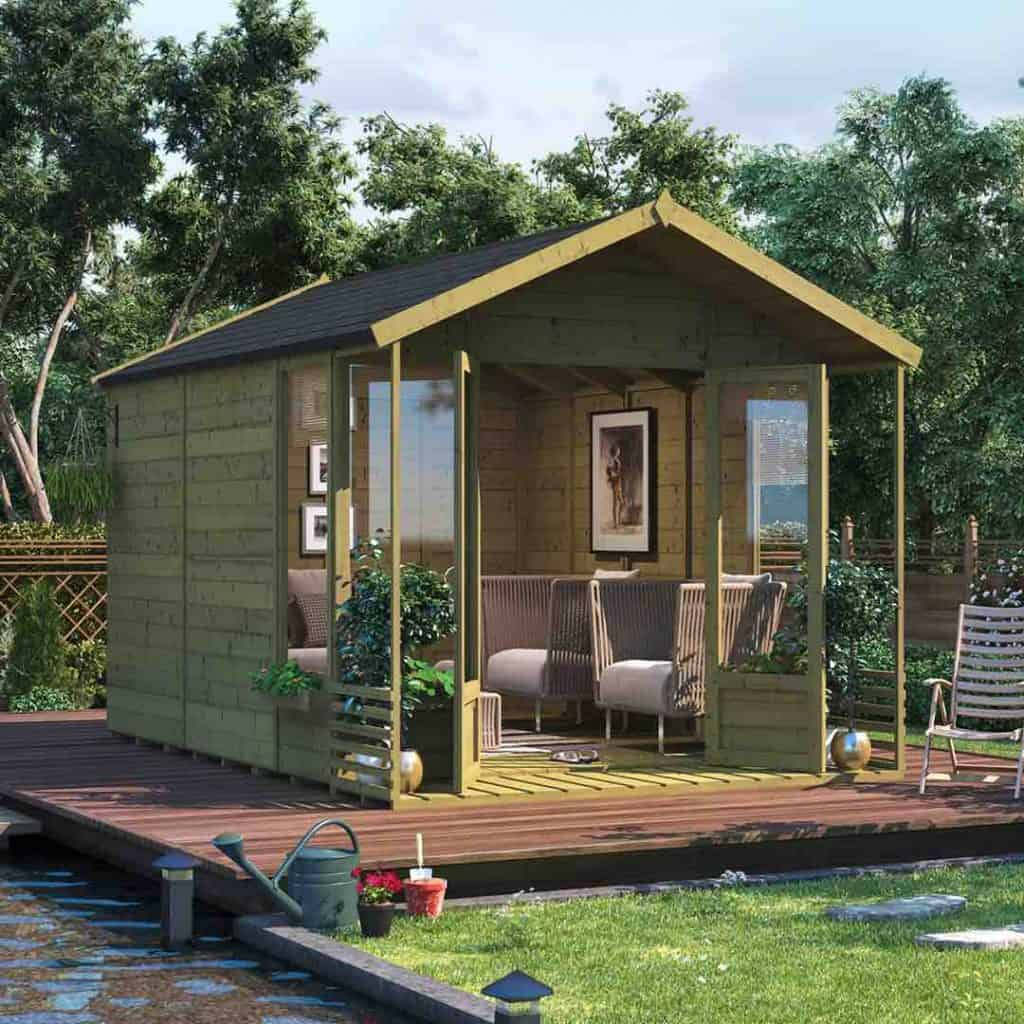 If you have a small and very limited garden space, a small summer house can be your best bet as it can measure as small as 6' x 4'. It turns out that small summerhouses aren't convenience, but they're also budget-friendly.
This small outdoor building can be used as a small haven to relax or use its purpose as storage to keep your outdoor furniture during the colder months.
Log Cabin Summerhouses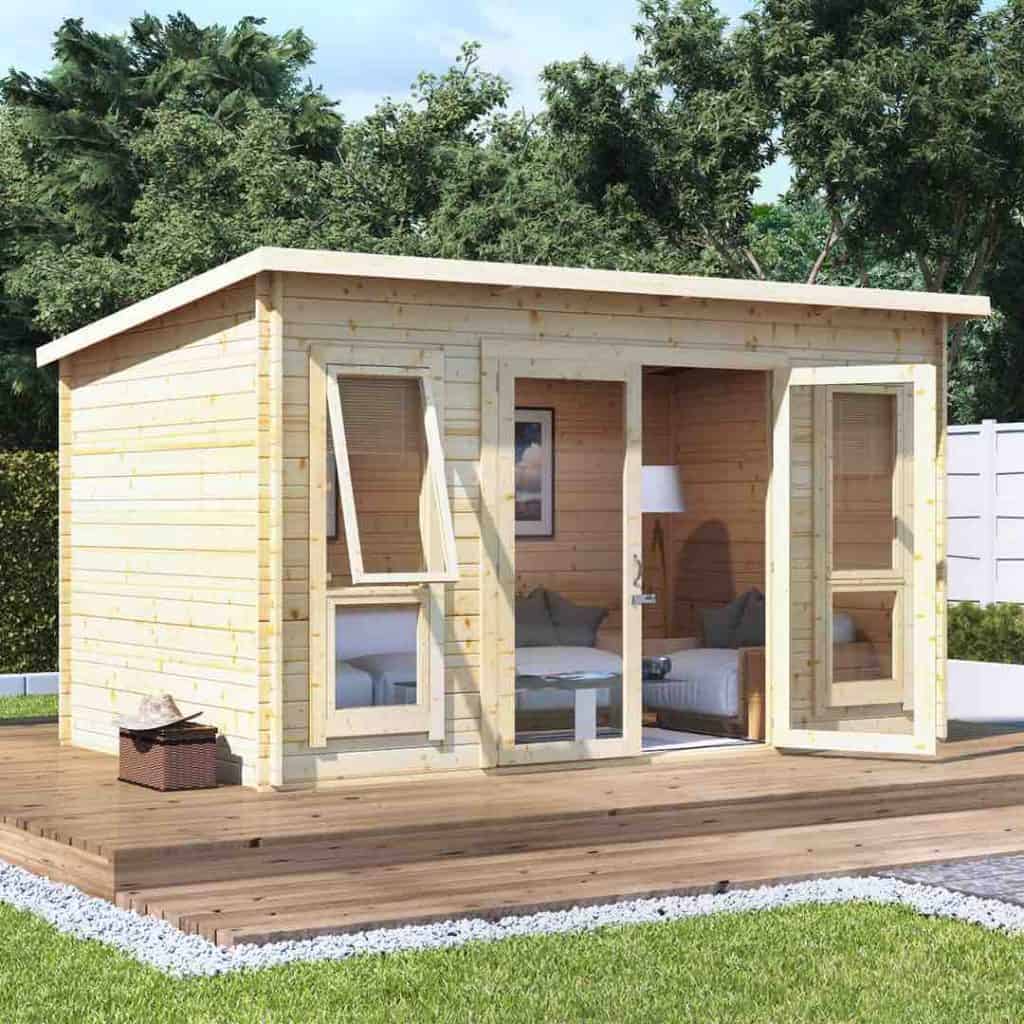 If you wish to have a luxurious style of the summerhouse, a log cabin summerhouse can be your best option. A log cabin summerhouse can dd a touch of spectacular view in your garden.
Moreover, this lavish summerhouse is made with a sturdy outdoor building structure to withstand any harsh weather conditions and built to last.
Summerhouse Sheds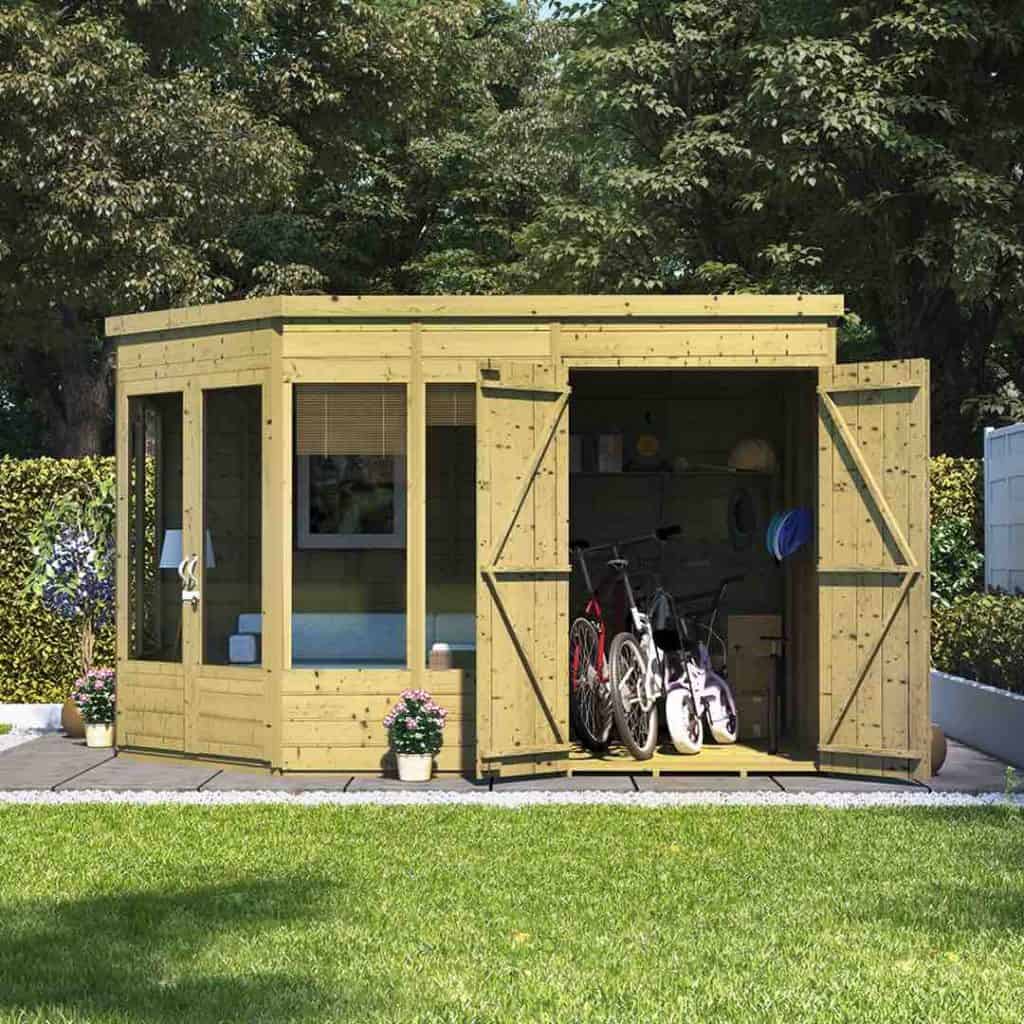 Yes, you've read that correctly. A summerhouse can also be used for storage purposes wherein you can conveniently store your garden tools.
In fact, this outdoor structure can also be the perfect place to escape and relax. Ideal for small families, couples or new homeowners—a summerhouse shed is an ideal solution for those who wish to have two different garden buildings without having to compromise on garden space as they are combined.
How Can Summerhouses Be Used?
Did you know that BillyOh summerhouses can be used in so many ways? Below are the great ways you can apply to decorate your summerhouse.
Garden Storage
Just like what we mentioned a while ago, a summerhouse can be the perfect area to keep your outdoor furniture and gardening materials safe in one place. Providing shelter for your belongings against the harsh weather conditions outside, there's no reason why you shouldn't consider a summerhouse in your garden.
Workshop
Another ideal spot where you can squeeze your creative juices and let your creativity run wild! A small summerhouse is a perfect choice for beginners who want to have a place where they can enhance their hobby and learn new skills.
On the other hand, if you want to install work benches and racks to keep your gardening and craft tools organised, you can opt for a large summerhouse. You can also transform your summerhouse into kid's playroom where they have their own little world and boost their creative mind as well.
Office
A summerhouse office is perfect for those individuals who have the idea of working at home. Just by adding a work desk, chair and other working essentials, your summerhouse office is ready for some business.
Achieving this will not only help you cut off your travel costs, but this will also help you cut-off your monthly bills.
Outdoor Dining
If you're tired of hosting a dinner party in your common dining room, a summerhouse can be a perfect alternative for your dinner hosting party. By simply filling your summerhouse with a lovely dining set and stunning decorations is sure to attract your guests.
Summerhouse Maintenance Tips
If you want to keep your summerhouse looking neat and clean all year round, proper maintenance is essential. Here are the tips you can apply to maintain your summerhouse. In this way, you'll be able to enjoy using your outdoor building for many more years to come.
Treatment
To ensure that your summerhouse is being protected against the harsh weather condition, applying treatment can not only help you with that, but it will also help your outdoor building last longer. Here are the other things you need to look out:
– Cleaning
– Roof, floor and walls regular checking
– Insect and pest infestation
– Moisture
– Natural Shrinkage
Conclusion
We hope our advanced guide to summerhouses will help you to have a greater knowledge concerning the popular summerhouse.
From which style is best to how you should go about maintaining your summerhouses. However, if you are still unsure which summerhouse is best for you, you can hear from our customers directly.
Why not take a look at our summerhouse customer stories including the Picton Corner summerhouse.