A lot of households depend on artificial air fresheners for their homes. However, since these bottled products contain chemicals that can be dangerous to your health, it's time to switch to natural air fresheners like lavender or mint.
While the amount of chemicals used in these air freshening products are said to be regulated, research says that they still emit and generate potentially hazardous toxins. According to the study, even those that are labelled as "green" or "organic" aren't safe.
Households that are exposed to artificial air fresheners are subject to a range of adverse health effects like asthma attacks, migraines, and earache. This can be even more alarming for those families who have children at home.
But there's no need to worry – we have the best solution for this. Thanks to mother nature, there's still a way to prevent your family from suffering the consequences of using artificial air fresheners.
The simple trick is to replace them with fragrant foliage that you can grow on your own. There are many indoor plants that can emit a flowery aroma and make your entire home smell pleasant.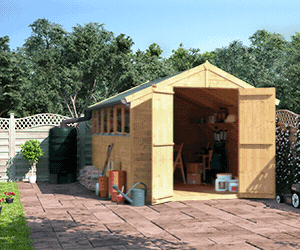 By switching from artificial fresheners to scented plants, your house can smell just as fresh without the risk of breathing harmful toxins.
While there are a wide variety of fragrant plants to choose from, we picked out the best ones that suit any taste.
Here are the five best-smelling plants that you can use as natural air fresheners:
1. Scented geranium
With a wide range of scents to choose from, such as apple, lemon, or strawberry, homeowners might get confused with getting an air freshener instead of a plant. Well, that's because germaniums come in different kinds, with unique scents to choose from. That leaves you with endless options when deciding which one to take care of inside your home.
These scented plants are available in seven scents, mainly rose, lemon, mint, fruit and nut, spice, pungent and oak. Germaniums have small flowers, but some are so tiny that you barely even notice them.
It's best to water these potted germaniums once every four weeks to keep it healthy and alive indoors.
2. Lavender
Lavender is one of the most popular fragrances from a plant, and it's widely used as a medicine because of its soothing scent. The relaxing smell that the lavender emits is believed to have a calming effect; it's even used to help people fall asleep. Although it's a popular ingredient, its effects are still yet to be proven.
Nonetheless, growing a lavender inside your home is still an excellent choice. Make sure to keep it by the window as it requires a high level of sunlight to survive.
3. Mint plant
If you're not a fan of traditional flowery plants, the mint plant might be your best bet. Its fresh smell is a great alternative to artificial air fresheners.
The two most popular varieties are peppermint and spearmint, which both emit delicate yet soothing aromas. However, mint is quite a high-maintenance plant as it requires to be watered at least three to four time a week.
4. Gardenia
This plant is a regular ingredient in many popular perfumes, and you might have even sprayed it on yourself at some point in your life. The strong yet sweet aroma of the gardenia will keep your household smelling fresh for months.
To keep it healthy, make sure to expose it in regular bright and water it once a week.
5. Citrus plant
Obviously, this plant emits a citrusy smell such as lemon, orange, and grapefruit. But if you want this plant to survive inside your home, it will require a high level of maintenance. For indoor planting, the citrus plant needs at least eight hours of sunlight per day, with one soaking every week.
If you do not meet the requirement of the citrus plant, problems can develop, and it won't be able to emit the sweet, zingy smell any longer.