You don't have to go to the cinema to enjoy a great movie experience. This time, you only need to take a couple of steps away from your house!
The pandemic doesn't have to halt your outdoor fun, especially this summertime. For the past year, many have been trying out different ways to make the most of their outdoor space.
Some have transformed their backyard into more inviting and open by investing in garden furniture. At the same time, others have summoned their creative juices and came up with unique ideas like an outdoor cinema.
Suppose you're a movie lover or perhaps dreaming of having your own at-home cinema in the garden, this one's for you! Are you ready to host special outdoor cinema screenings this summer?
Key takeaways:
According to Independent Cinema Office UK, more and more outdoor screenings take place in the country. From different locations to simple one-off community shows, outdoor cinema screenings have been huge!
Given that it's unlikely for everyone to enjoy an open-air movie night at local parks anytime soon, outdoor projectors have become a hit!
With a portable projector and streaming services, you and your family can have a movie night in your garden. But if you want to have an ultimate outdoor cinema experience, outdoor screens alone wouldn't be enough.
Log cabins make a great alternative set-up for outdoor movie nights.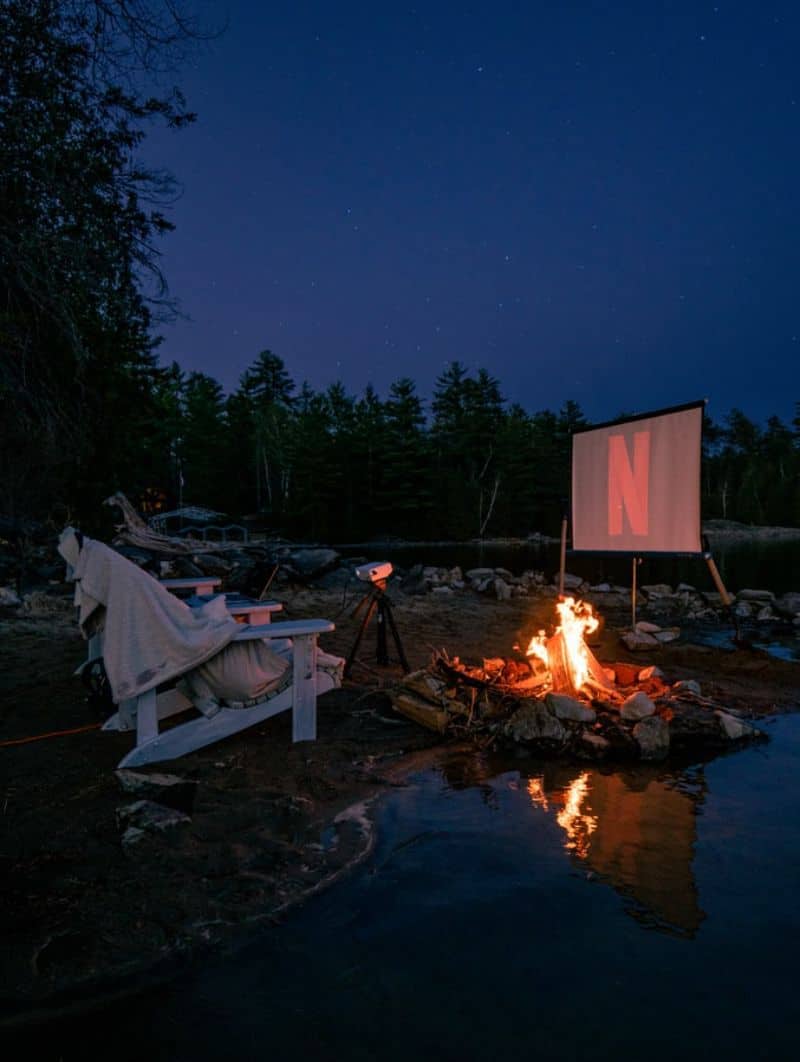 What Is an Outdoor Cinema?
An outdoor cinema set-up consists of a movie projector, a white wall or projector screen, and a sound system. For a better cinematic experience, setting up an ambient light (e.g. fairy lights) and some comfy seating like bean bags will do the trick.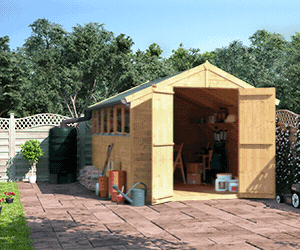 Some even invest in a streaming device, a wireless speaker set, and 3D projectors. But a garden cinema doesn't have to be expensive, so we're here to help you set up a backyard movie theatre.
But before we start with our step-by-step tutorial, here's a brief history of how outdoor cinema started.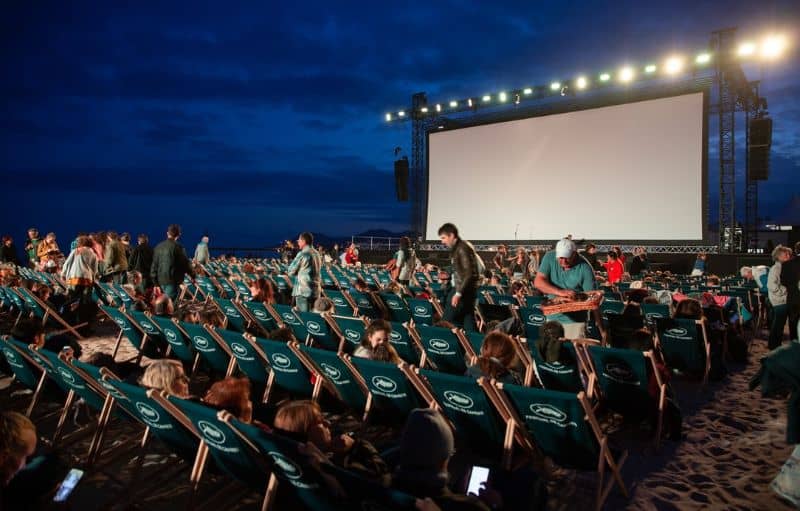 The history
Outdoor cinemas first began around 1916 in Berlin, Germany. Also known as an open-air cinema, the resurgence started with the inflatable screen invention.
Thanks to the lightweight, windproof, and portability of inflatable screens, they made it possible to bring movies to remote places. This includes creating outdoor theatre in any location, such as:
On a roof terrace
In parking lots (retro drive-ins)
In backyards
In community parks
In public open spaces
A great example of this was Loew's New York, located on Times Square, where viewers sit on camping chairs or blankets. Did you know that some Hollywood world premieres were also screened outdoors? With the stars in attendance at times!
Outdoor projectors like video projectors, sheets, and existing walls are used as DIY cinema screens to project an excellent image quality. Most public movie screenings are for free; still, nothing beats the feeling of something you can call your own.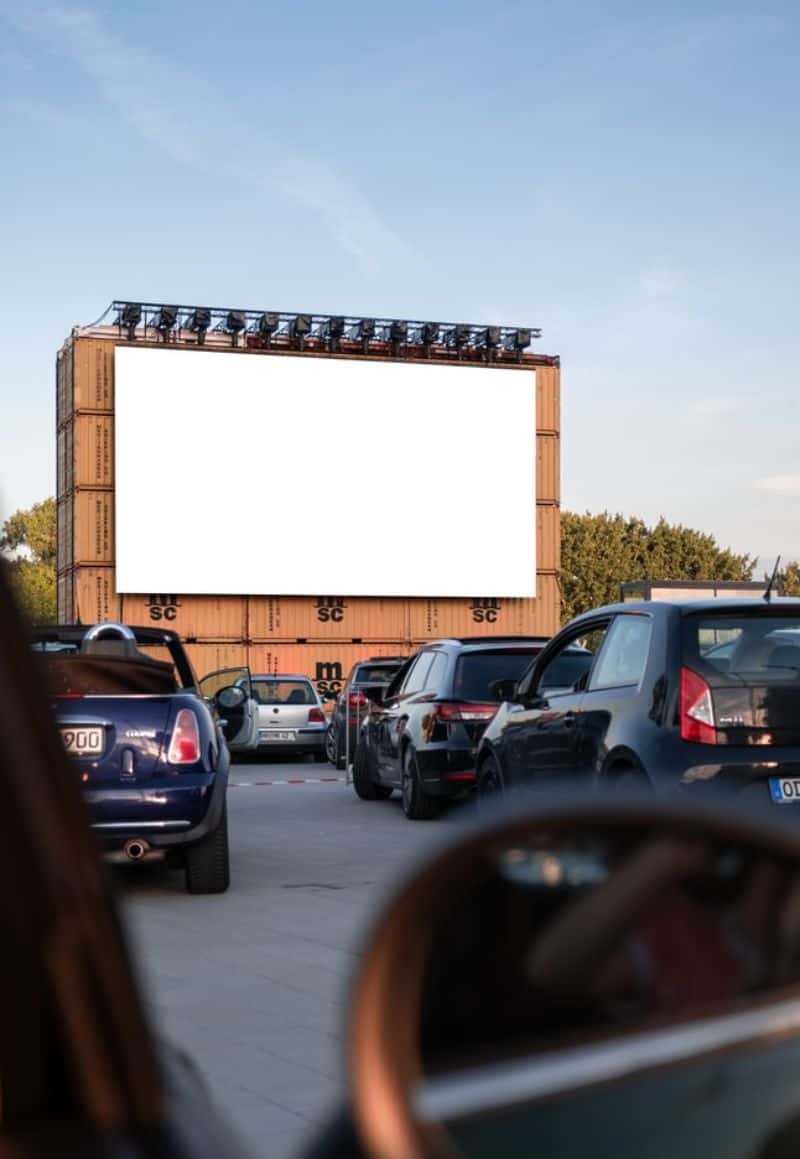 Building Your Own Home Cinema Outdoors
There's nothing quite like enjoying some bowls of popcorn in front of a wide portable screen for a movie night with the family. Luckily for you, DIY garden cinemas are pretty easy to set up, especially if you'll follow our guide below!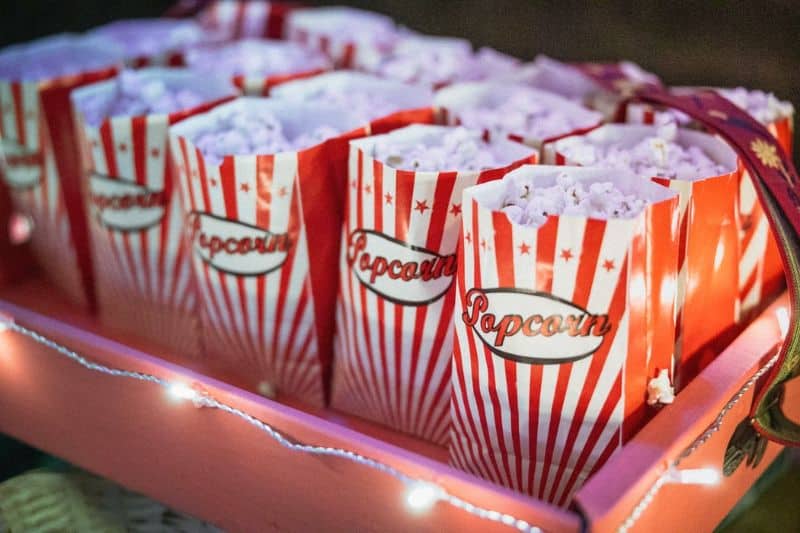 What you'll need:
A portable projector. For a more serious outdoor viewing, we recommend investing in quality outdoor projectors.
Actual projector screen. A sheet tends to have wrinkles, unlike an actual projector screen. If you want to achieve a clear movie-watching, this item is a must.
(But if you use a sheet, make sure you pull it super taut when you secure it to either a stand or vertical flat surface. This is to avoid wrinkles and achieve a great image quality.)
Outdoor furniture companions. Comfortable seating is one of the important aspects of an outdoor cinema. Hence creating a cosy space is important.
(You can either use bean bags for seating or invest in a garden furniture set, or both! We recommend opting for rattan pieces, particularly synthetic, as they can be left outdoors without weathering.)
Decorations and accessories. Setting up lighting fixtures like fairy lights and tea lights can create a warm and romantic ambience. Accessories like extension cords, routers and power strips are also the core components you'll need for your outdoor cinema extravaganza.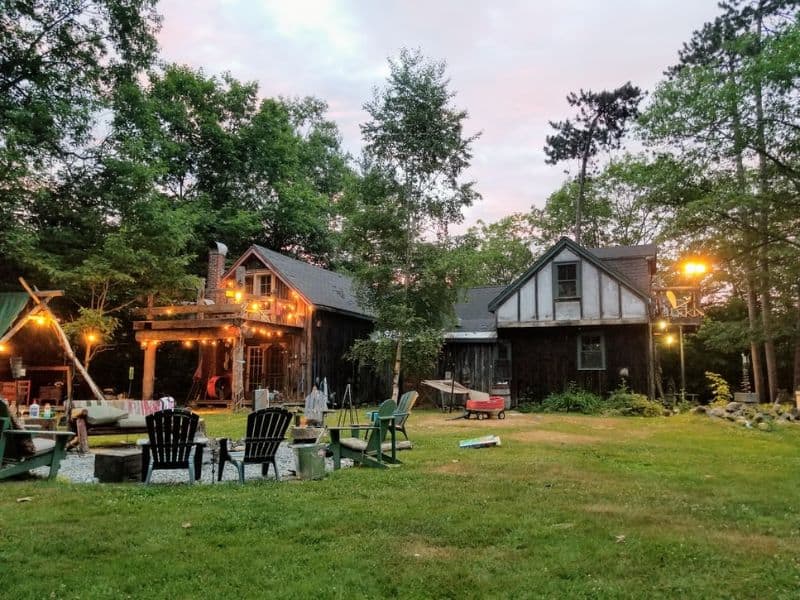 Step 1: Find the perfect location
Whether you plan to set up your outdoor cinema in your garden or on a patio or roof terrace, you need to find a spot with dry and even ground. As much as possible, make sure the chosen location is sheltered from the elements, as well.
Try to avoid an area where bright indoor lights, streetlights or city lights might reflect against the screen. If your garden feels too dark, decorate the space with some candles and ambient lighting to set the mood.
Top tip: You could set up a portable screen or sheet with a stand-in your backyard. Or against the exterior wall of your home or garden fence or wall is a great spot, too.
But if you don't have any yard space, try it in the driveway against your garage door. Your trees (if you have any) also make a great alternative as stands.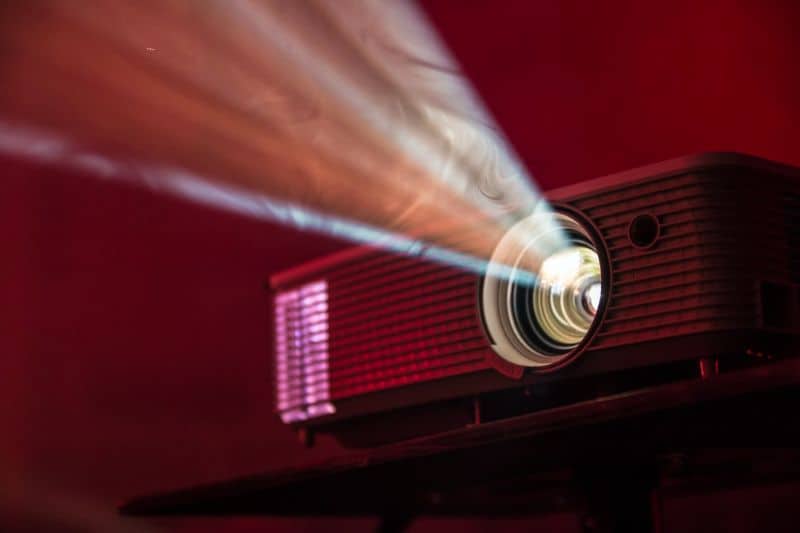 Step 2: Prep the sound system, screen, and projector
If your outdoor space isn't equipped with speakers, don't worry! Investing in great portable speakers can help you fill the entire area with sound.
A wireless speaker system is an excellent option if you wish to avoid the wires. For a great surround sound experience, we recommend a 7.1 surround sound system.
Also known as the eight-channel surround audio system, it's the best sound you can get for a home theatre, especially outdoors. If you have the means, include a subwoofer and 5.1 channel speakers placed at the centre, left and right.
You have some great options for the screen, including a video projector and a home theatre TV. If you prefer the first one, you'll need to install an HDMI cable to attain an HD resolution display (i.e. 720p resolution to 1080p or go big on 4K).
Setting up CAT5 wiring is also needed to access your pocket projector via a radio frequency (RF) remote. But if you wish to use an actual movie theatre TV or an HDMI cable will come in handy when connecting it to your laptop.
Top tip: If you don't want to set up an outdoor projector screen, a modern smart TV also works wonders!
Lastly, for the projector, you'll want to invest in a model that's more compact and bright enough to use even with lights on. Projector brightness is measured in lumens.
For outdoor use, we recommend at least 3,000 lumens for a first-rate movie theatre experience.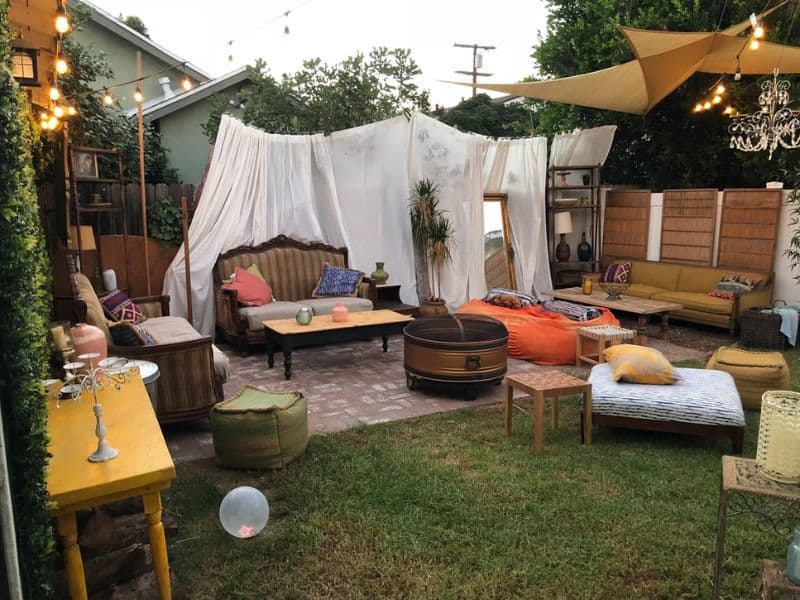 Step 3: Give it a stylish spin
Style your outdoor home cinema with soft, colourful cushions and blankets for a retro camp vibe. Or you can invest in rattan furniture set for more comfortable seating.
Take a look at the BillyOh Seville. Ideal for patio and garden cinema screening, this 8-seater rattan sofa set will let you watch and dine in comfort!
The set comes with comfortable and luxurious cushions. This way, you can have comfy seating for you, your family and guests.
Consisting of a generous three and two-seater sofa and two armchairs, and an ottoman that doubles up as extra seating, there's plenty of space for everyone.
We like this set because it's made from a premium rattan woven and has been designed and engineered to last. Plus, the weather-resistant flat weave rattan woven around a steel frame with powder coating makes it perfect for outdoor use.
Another idea is to make use of your healthy and lush lawns by adding beanbags to up the comfort factor. Throwing down a few rugs, benches or even hammocks to relax on is a great way to make your pop-up outdoor cinema more sophisticated.
Hanging string lights from a pagoda or trees is also a good call. The options are endless when decorating your outdoor space, but ensuring your guests are comfy should be your top priority.
Top tip: Make sure everyone has a good view. Light a fire pit in case it gets colder later on. And don't forget to pour popcorn into bowls, fill the bucket with ice and stock with bottled drinks!
Roundup
See? It's easier than you think, especially if you already have the necessary items you'll need. With just three (3) simple steps, you could set up an outdoor cinema in your back garden in less than an hour!
All you have to do is to find a suitable location in your garden. Set up the projector, screen and sound system. Then make sure everyone you invited is comfy by decorating the space.
Now, if you want a closed-backyard movie theatre, converting your log cabin into your dream home cinema can be your best option. Here is a complete guide on how you can turn your log cabin into the perfect home cinema.
Shop Rattan Garden Furniture
FAQ