As a resident in Tuscaloosa, Alabama is taping a huge to storm that's about to hit her community, an apparently supernatural phenomenon was caught on camera — the shape of a man is walking in the clouds in the middle of chaos. 
Along with many of the million-plus viewers who saw the video uploaded on Facebook, resident Solo Dolo says a man living in the skies has shown itself and some even consider the theory that it is indeed 'God.'
Solo was on the balcony of her house one way when she decided to stream the storm that's building around the area live on social media. The resident said she had not actually noticed what her camera's lenses caught until she reviewed the footage.
She was narrating the scenario outside her house when the strange presence was recorded to seemingly walk in the clouds. "Hey, we've got a storm over here. We got no power, everything blowing over here, boxes, trees," she stated.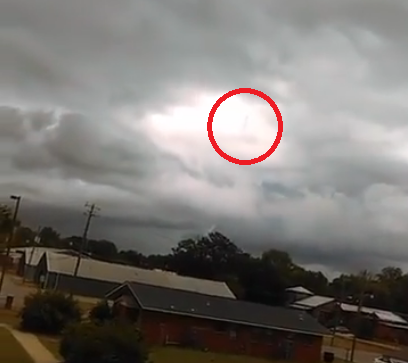 Hole in the Sky
In the footage, most parts of the sky were dark and it was windy in the entire area. However, there was a single and bright break in the middle of the heavy clouds.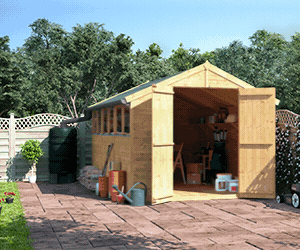 And even though Solo initially said she has no idea about the shadow of a walking man, she noticed the bright gap between the dark clouds and said: "Look at that hole right in the sky… that's who's got the power."
"He got us covered at least, we're alright," she added.
During the live video, the people who were watching it were able to point out the humanoid figure first. It resembles that cast of a tall male with a complete set of arms and legs that appear to be gracefully walking towards and then past the bright gap.
A friend of Sold names Lisa was the first to comment on the footage about the strange figure, to which Solo responded: "Can't tell me my God ain't real! Thank you, God, for using Lisa StandAlone Baker to reveal this to me. To see this is to believe this."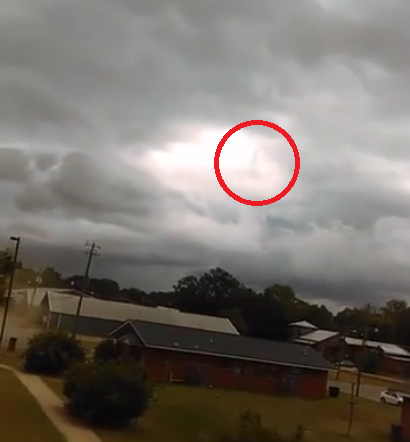 Walking through Clouds
The footage has been shared a thousand times on Facebook by people who were amazed and some who are sceptical about its authenticity. One person who took it as a sign of the Almighty captioned the footage with: "GOD IS COMING… Someone is walking in the clouds."
But one user remained cynical about it and said he saw nothing at all. On a Twitter post, he replied: "Man, I watched the video more than seven times, I don't see anything… maybe it's my phone. I don't know."
Though no one was able to explain whether the apparent shadow of a man was something supernatural or just a natural phenomenon, it was the viewers who decided to have their own takes on it.
Either way, the footage did show a rare sight of something interfering between a whole bunch of heavy clouds and it's amazingly mysterious. Watch the unbelievable video for yourself below:
https://www.facebook.com/CONTENTbible/videos/1043410485834226/?t=147