A shed is undoubtedly a big investment, which is why you want to make sure that you're wasting any of your precious time, and of course, hard-earned money. However, the good news about getting a garden shed is that it can do more than just perk up your garden and storage for your tools.
There are endless possibilities when it comes to maximising your outdoor structure. But before even looking for options, it's essential to be mindful of what you ought to with your garden shed.
It can either be a place where you want to pursue your passion, for entertainment, a gym, or maybe a home-a few steps-away from home.
Regardless of what you plan to do with your shed, these tips will help you ensure that you will fully enjoy the experience of having a garden shed around!
1. Choose the best spot
Find the best location for your shed is key to making the most out of it. Place it somewhere convenient for its purpose, and make sure there are no underground obstructions.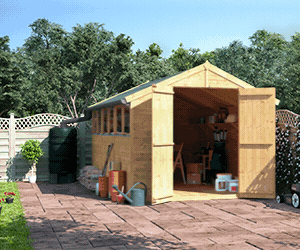 If you intend to use it as a potting shed, it should be placed somewhere it will get a significant amount of sunlight. However, it's not ideal to place it under direct sunlight as it can damage the timber.
You also need to make sure that your shed is accessible and is in a fairly open area. If you hide it behind tall bushes, you might forget it exists!
2. Always think bigger
Sheds come in various shapes and sizes, but to determine which one is best for you,consider how much space you'll need to use.
For instance, if you want to use it as a storage solution and a workshop at the same time, you need enough space to move in all directions. Be sure to include yourself in the checklist and everything will follow.
3. Built to last
Most often than not, the budget is the sole determining factor when choosing a shed. However, it's better to pay a few more than waste your money on something that won't last.
Ensure that you're buying a shed that's made from durable materials and can withstand harsh weather conditions.
4. Get a breath of fresh air
Having windows that you can open and close are a must if you plan on staying inside the shed. In this way, air and natural light can enter the structure, plus, you get a nice view outdoors. It gives more inspiration for you to work, especially if you're looking to use the shed as an office, craft room, or workshop.
Nonetheless, even when your shed is primarily as a storage solution, windows still come in handy as they will provide ventilation while you're organising items inside.
5. Light it up
Aside from a well-ventilated shed, you also need to make sure that it's well-lit. Having a good light source is important no matter how you plan to use your shed.
However, if installing wiring seems to be a bit expensive, you can invest in a solar panel or a portable generator to supply your electricity.
6. Pave the way
Creating a pathway that leads up to the entrance of your shed is an excellent idea. This is practical especially during rainy days, and you surely don't want to welcome any mud inside your outdoor garden building.
Don't stress about constructing your pathway. You can make use of bricks, paving stones, concrete, or other combination of materials to achieve a path that suits your taste.
You also need to consider having double doors as it makes it easier to get larger items in and out. It also gives a more inviting ambience for guests, in case you'll be using it as an entertainment room.
7. A deck makes everything better
Make the whole experience more fun and exciting for your family and guests by adding a deck to your shed! It allows others to mingle on the platform while some are preparing the food and drinks inside.
It can also be an extra space for kids to play with their toys while the parents keep an eye on them!
8. Play with your storage
Get creative with the interior of your shed and maximise all the available space. Install some shelves, pegboards, or hooks on the walls to hang small tools and equipment.
Keep them within reach and make sure they're not blocking the way. There's no need to spend a lot on these things either; you can build one out of wooden crates or make use of pallets that can serve as a platform to raise tools off the floor.
9. Personalise your space
Don't forget to finish the shed with a personal touch. Paint it with your favourite colour or hang some decors on the exterior for a nicer view from your house. You can also install drywall on the inside for insulation.
In this way, you'll want to visit your garden shed anytime, no matter the weather.
Take a look at our garden shed customer stories:
BillyOh Mini Master Apex Shed
BillyOh Storer Overlap Shed
BillyOh Expert Apex Shed