Any keen gardener knows how handy a greenhouse can be in terms of providing an ideal sanctuary for efficient growing, including longer growing seasons and more. Greenhouses also make an excellent choice for beginners, or for anyone who loves plants in general, as they provide highly advantageous gardening solutions.
With greenhouses being an essential component in any garden, we can't find any reason as to why you shouldn't consider investing in one. To help you decide whether or not to purchase a greenhouse, we've curated these top reasons for having a greenhouse, including a short guide so you know what type of greenhouse will suit your needs.
Let's get started!
Greenhouses UK
Greenhouses are specifically designed to cultivate plant life. Here at BillyOh, we offer the most extensive range of greenhouses to suit exactly what you need.
From wooden greenhouses to metal and polycarbonate ones, we got you covered!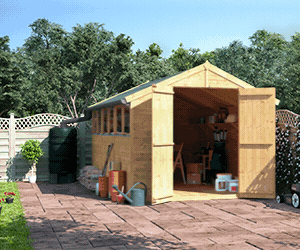 Wood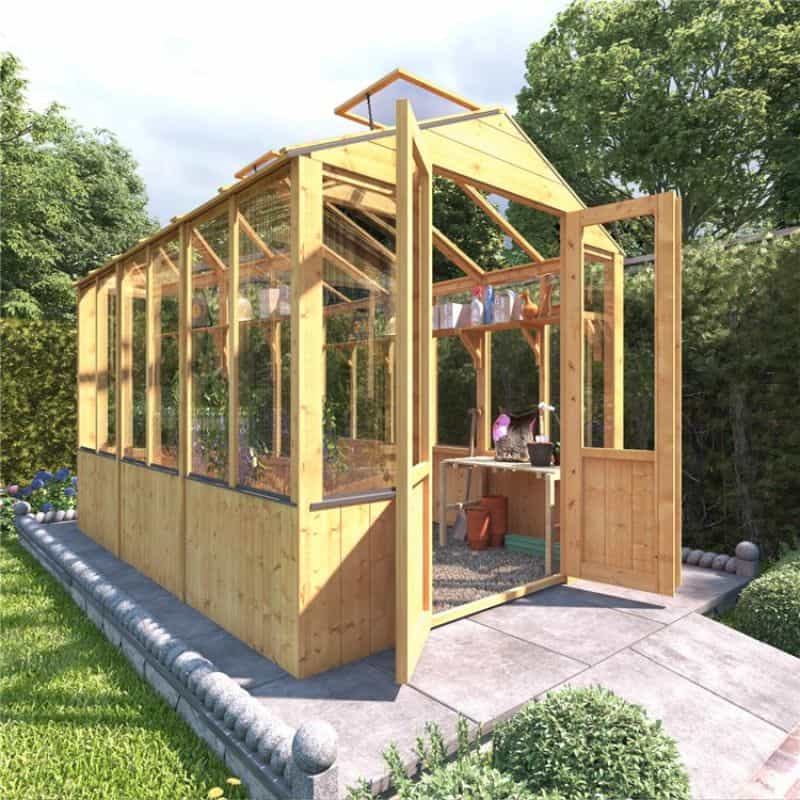 Wood has incredible insulation properties. What we admire about wooden greenhouses are that they provide natural insulation, which helps in absorbing the rays during the day while containing the heat at night. 
These features alone make a greenhouse an environmentally controlled garden building. Moreover, this makes a greenhouse practically useful to keep the plants warm and safe throughout the winter.
Furthermore, using wooden outdoor structure sticks to more traditional garden design. And, as it is a natural material, it can easily blend into the rest of your garden whilst adding a rustic look to any garden setting.
Metal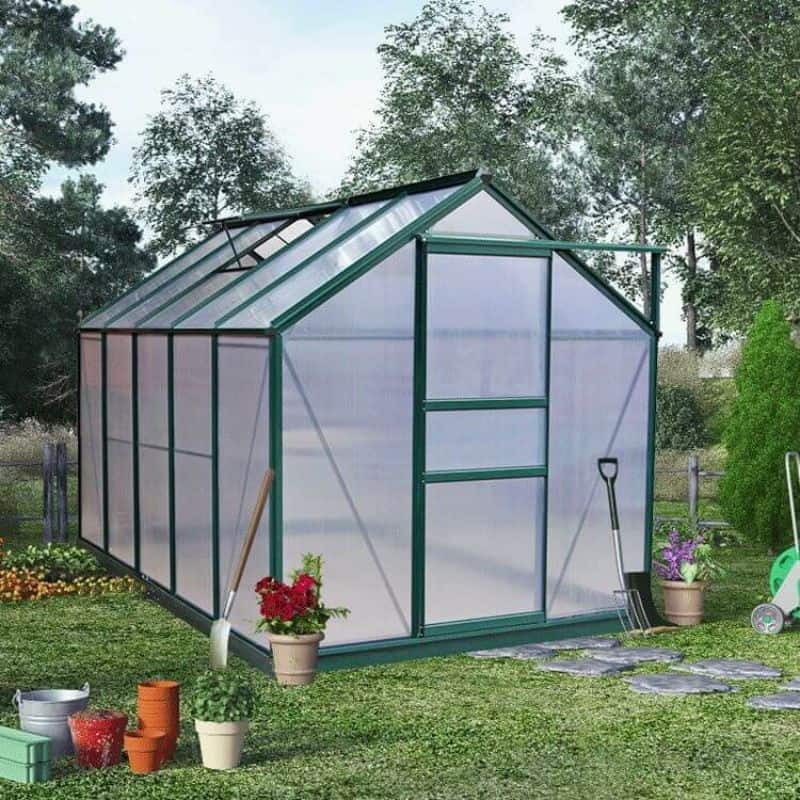 A metal greenhouse with an aluminium frame provides a solid construction base which is much more load-bearing than standard or wooden greenhouses. Furthermore, it is light and easy to handle and manoeuvre — making it a convenient portable greenhouse for gardens of any and all sizes.
A metal greenhouse is guaranteed to last a long period of time while being nearly maintenance-free, thanks to the aluminium material it features. 
Polycarbonate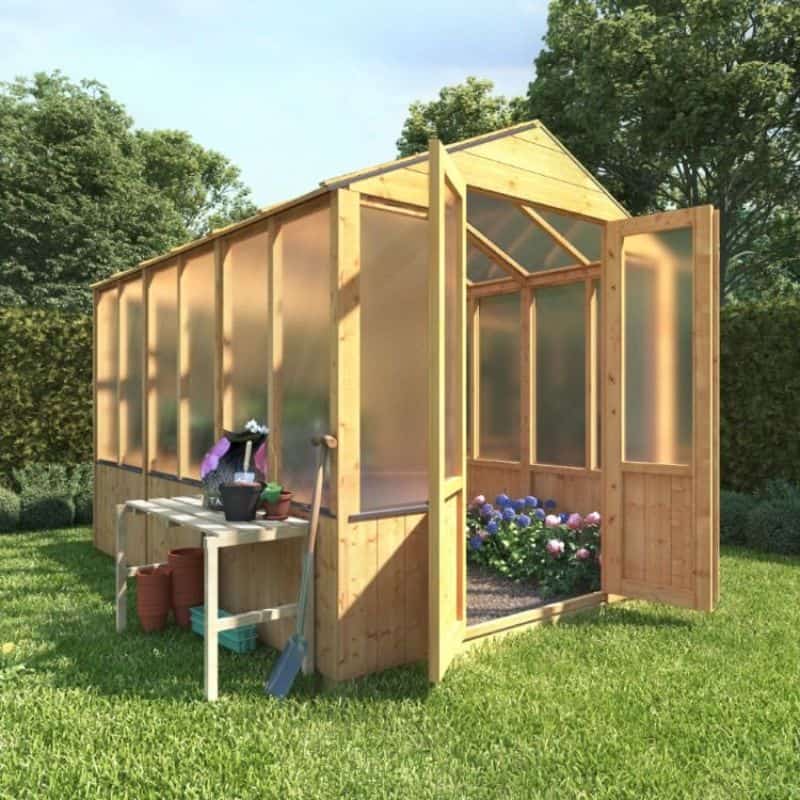 For a cheaper option, a plastic greenhouse can be your best bet, with polycarbonate being the most durable of all the greenhouse plastic.
Having no glass on the structure removes the chance of any shattering and potentially hazardous damage from hailstones or even the kids' footballs. 
Not only that, but as plastic is thicker than glass, there will also be more efficient light diffusion than with standard glass. And as for all the growing plants, they will be able to receive equal light. Not to mention that polycarbonate is a natural ultraviolet filter, meaning that your plants will have protection against radiation exposure. 
Additionally, one of the essential features of any commercial greenhouse is heat retention. Polycarbonate has a high standard of heat retention, making the chance of the polycarbonate greenhouse having a high average temperature very likely.
Fantastic Benefits of Having a Greenhouse
1. Ultimate Weather Protection
What makes a greenhouse a great investment is that you get to provide your plants with a level of protection against harsh weather conditions. With the UK's temperamental weather, there's nothing better than having ultimate plant protection against the effects of temperature swings and volatile weather – including snow, frost and heatwaves.
Plus, you'll be able to guard your plants from the strong winds and high beaming sun rays. Win-win!
2. Pest Prevention
Just like us humans who have a place to live in, greenhouses, on the other hand, are where plants live and thrive. 
With an enclosed building structure, a greenhouse sure can be exceedingly beneficial in protecting your plants against pests and predators, such as birds, deer from eating or attacking your plants.
3. All-season Gardening
One of the common problems that many gardeners experience is not being able to start growing due to seasonal weather variations. For instance, wanting to grow summer crop during the colder months.
However, you don't have to worry about any of this when you own a greenhouse! Not only do you have control over your garden temperature, but you'll also be able to start or even delay your growing season any time of the year.
4. All-in-one Gardening Place
Another perk of owning a greenhouse is that you can have a designated area involved in gardening. This will let you grow anything from flowers to vegetables and other plants. Moreover, this will enable you to keep your gardening tools and equipment, including your supplies, all in one convenient location!
5. Multiple Purposes
Having a greenhouse as your gardening companion lets you use it for a variety of purposes! Thanks to the warmer and humid environment that it provides, you can grow fresh, organic vegetables, flowers, bulbs and houseplants, including exotic plants and much more!
As long as you understand the condition your plants or seedlings require to survive; you can grow various plants at the same time or change what you sow every year—adjusting accordingly for your ideal harvest.
With a greenhouse, you have the freedom to choose and grow whatever plants you want!
Greenhouses For Sale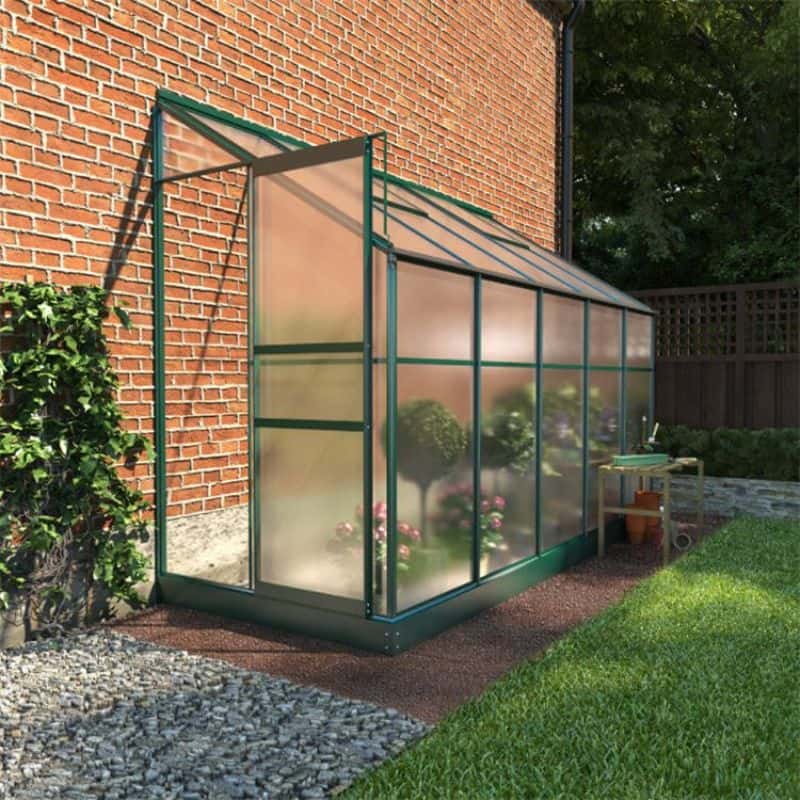 It is true that garden buildings like sheds, log cabins, and other outbuildings offer high style, escapism and versatility. Our greenhouse units are no exceptions! They're designed with excellent craftsmanship, featuring high-quality materials. Our free and fast delivery will have you growing your garden in no time!