Thinking of purchasing your own cosy cabin for your garden soon? This guide can be your ultimate shopping companion!
There are so many reasons why UK homeowners are investing in garden log cabins. For one, modern garden cabins are excellent home alternatives as well as an outdoor living space extension.
They offer cosiness and that warm homey feeling that many crave during the colder season. Most importantly, you can enjoy a cabin break without leaving your premises.
No travelling required – just the comfort of your own outdoor space! If these awesome perks have finally convinced you to get your own cabin building, then you've clicked the right article.
Read ahead so we can guide you throughout your cabin buying decision.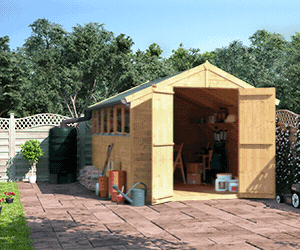 Key takeaways:
Garden log cabins are well-known for providing a quick outdoor escape. On top of that, they're also a real booster for curbside appeal.
You can transform a log cabin into anything you could ever think of.
It could be a cabin home gym, mobile cabin, home office, garden studio, or a luxury garden retreat. The possibilities are endless.
BillyOh log cabin collections are a worthwhile investment. They're one of our best-selling outbuildings and a customer favourite.
If this is your first time investing in a cabin building, you'll want to make sure you're aware of all the necessary information.
Luckily for you, that's what this guide is all about!
In this advanced guide, we aim to answer most FAQs with regard to garden log cabins. Let's get started!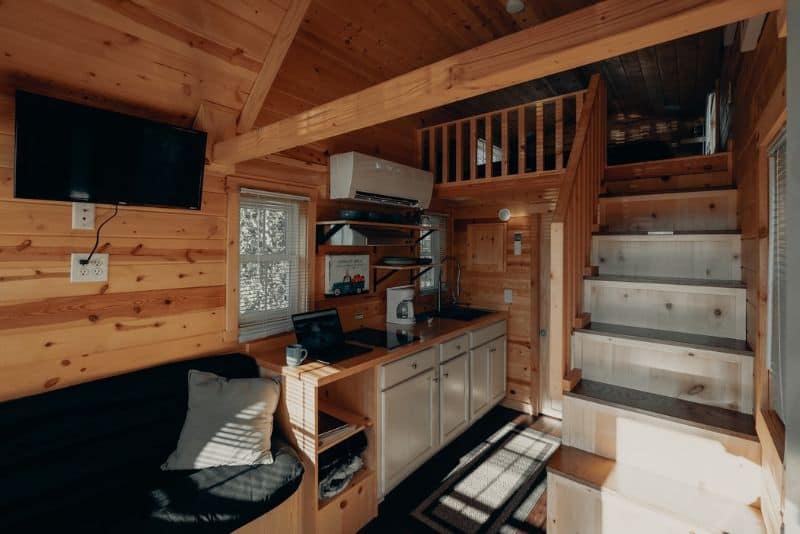 Introduction to Garden Log Cabins
The beauty of garden cabins begins with the rustic charm they possess. They can take your staycation to the next level, which is a great advantage, especially as we adapt to the 'new normal.'
On top of that, this type of garden building is an ultimate outdoor companion for any time of the year. Imagine owning one – you can make the most out of it every holiday season, special occasion, or simply as a quick escape from the hustle and bustle.
All these sound rewarding and promising, right? The truth is, cabins can offer you even more than that!
But before anything else, let's start with a basic question: what is a log cabin?
According to some sources, the roots of cabins come from Scandinavia and Eastern Europe. Yet, their exact origin is uncertain.
As the name suggests, a log cabin is an outbuilding built of logs. In earlier days, they were built by hunters, loggers, and wilderness dwellers.
Garden log cabins are pretty popular in Europe, too, particularly in the Scandinavian countries. Hence their European and Scandinavia origins.
When it comes to the design, it varies, but the common style of cabin will feature the following:
Sloping, single-gabled timbered roof
Small windows  or double-glazed windows
Double doors
Cabin-style siding, which offers a rustic effect
The interior is usually simple, as well. Most have one room or are partitioned.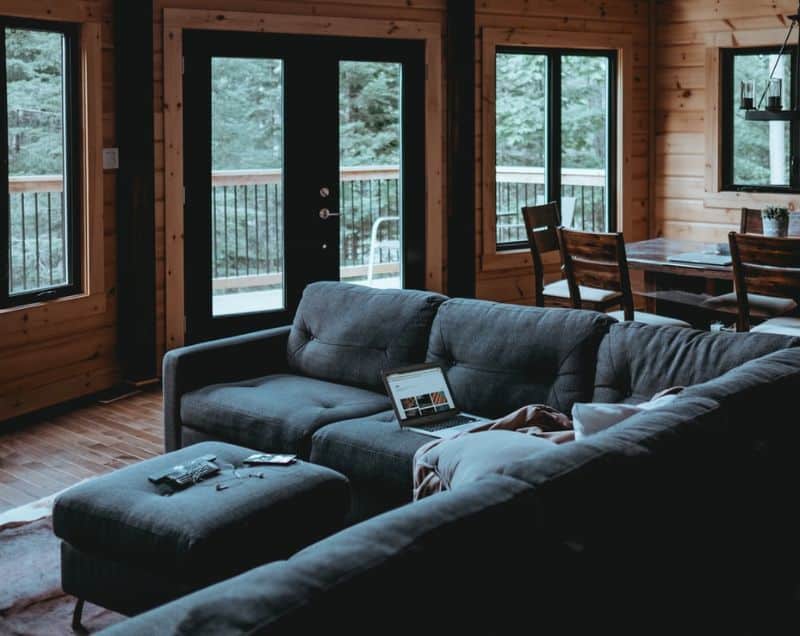 Why buy a log cabin?
A cabin makes an ideal alternative for families who want a cosy and warm experience during winter. Fast forward to the 21st century; garden cabins now serve a wide range of purposes.
You can spot them in many gardens of UK households. Other than a garden gym and home office, you can use a garden cabin as:
A writer's retreat. This is a brilliant idea to make use of your log cabin if you're into writing. Or when you need a personal space to make your piece.)
Wildlife spotting den. If you love wildlife viewing from your outdoor space, why not treat yourself with your own spotting den?
Man cave and she shed. This log cabin transformation is a win-win! Having your own dedicated space for fun, entertainment, and leisure is awesome.
Garden pub. It's time to show off your bartending skills and build that dream garden bar of yours.
Hobby room. Are you into arts and crafts? Perhaps one of your children is artistically inclined? Then a log cabin can be an excellent alternative for hosting your personal pursuits: a hobby room.
Home cinema. If you're a movie lover, what's stopping you from having your own cinema space in a log cabin? I mean, you get to enjoy a theatre-like experience without having to leave your garden. A dream come true!
These ideas are inevitably worthwhile nonetheless, but how about some out of the box cabin transformation ideas?
Buying a log cabin for the first time?
Purchasing garden buildings like a BillyOh log cabin can be really exciting. However, this decision requires careful thought and consideration.
For one, you must be aware of all the necessary information – all things cabin related. That way, you can be confident that you're making the right buying decision.
Luckily for you, our advance guide gives all the necessary information you need to find the perfect cabin that suits your needs. We want you to be happy with your decision, so you can take advantage of your outbuilding for years to come.
So, which style of cabin do you think will be the best suited to your garden space?
There's a range of log cabin types available in the UK market. This includes:
Cheap log cabins all the way up to BillyOh luxury log cabins
Modern log cabins (contemporary)
Traditional style timber cabins (traditional log cabins)
Cabin summerhouses
Timber cabin playhouses
Garden cabin home offices (outdoor home office)
Different Types of Garden Cabins From BillyOh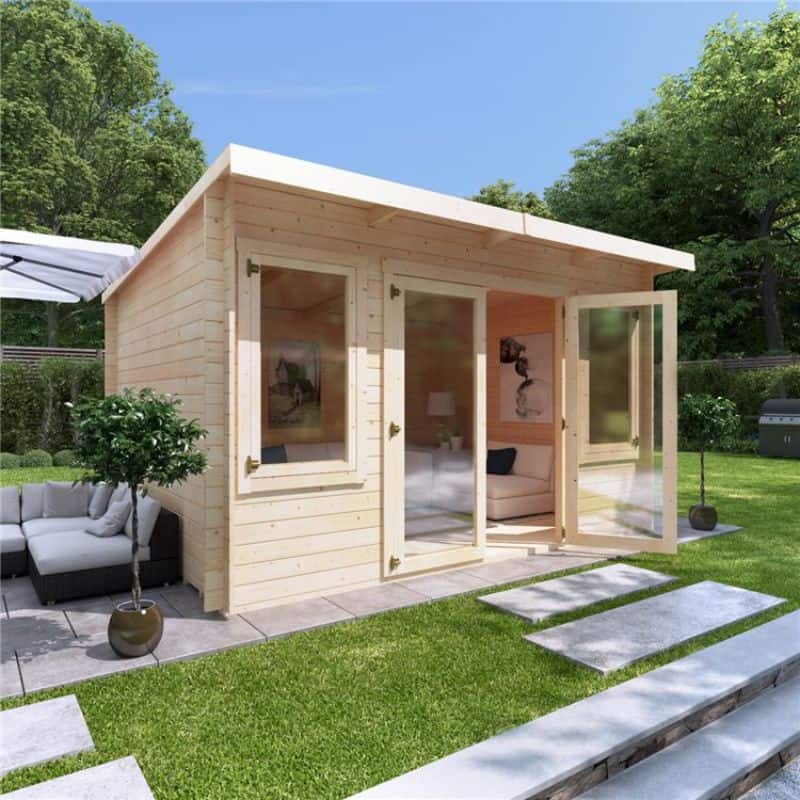 Contemporary timber cabins / traditional log cabins
A contemporary log cabin can blend well in gardens with modern settings. Most models are designed to suit the modern age, featuring a modern pent roof with a slight front overhang.
If you're looking for a contemporary garden cabin, then look no further than the BillyOh Fraya. Designed to complement any garden, the Fraya is a highly versatile and adaptable garden building.
What's more, it gives off stylish, luxurious, and perfect spatial features. It highlights a contemporary pent design and modern front overhang, adding style as well as practicality.
You can also transform this cabin with customisable features to totally suit your needs.
Note: Our modern log cabins feature double glazed or single SAN built-in windows, which will give you a light and airy feeling inside. Plus, this will guarantee you amazing panoramic views of your garden.
Most of our cabin collections are also made of high-quality European sourced timber. This feature alone can ensure you that your cabin building will last for years.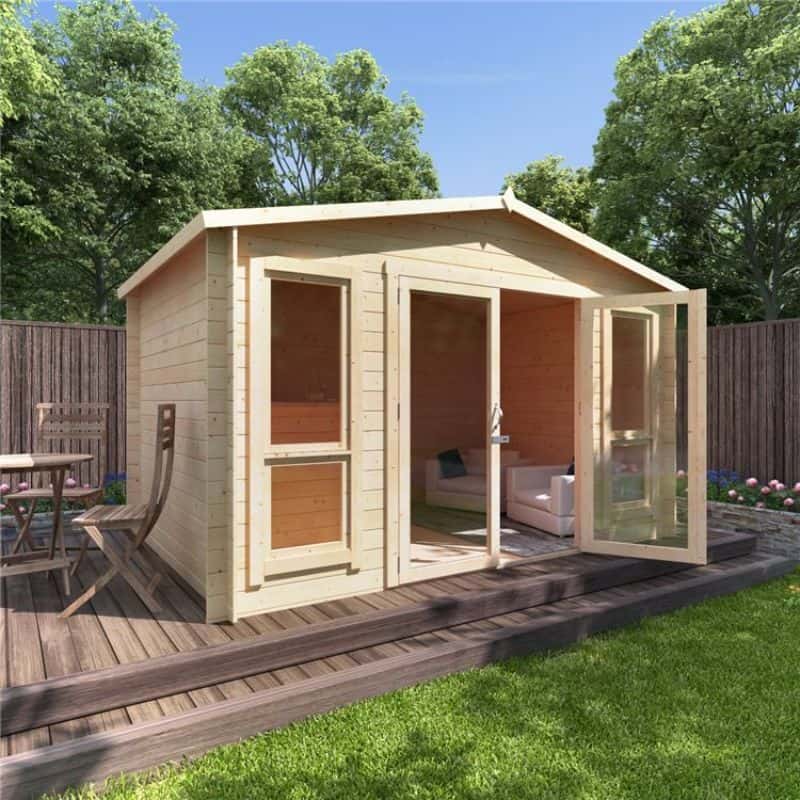 Garden cabin summerhouses
Summerhouses are the perfect place to relax, where you can sit and read your favourite book during the warmer and colder months. Ideally, a cabin summerhouse is a step up from a modular summerhouse.
The nature of the log cabin construction stands out in our cabin summerhouses. It becomes a better-insulated building, thanks to its tongue and groove boards that interlock.
The BillyOh Sasha can be your next outdoor companion for spring and summer (or all year round!). This log cabin summer house is a modern single room building featuring wide-opening windows with double-glazing available.
The wide-opening windows provide a bright, airy interior to relax in the comfort of your garden. You might also like our Darcy log cabin summer house unit! Designed with comfort in mind, it provides an ideal and perfect space to relax in.
It features a modern reverse apex design (similar to an apex roof log cabin) and contemporary styles of windows (double-glazed windows) and double doors. The Darcy would make for a stunning addition to any outdoor area, including yours!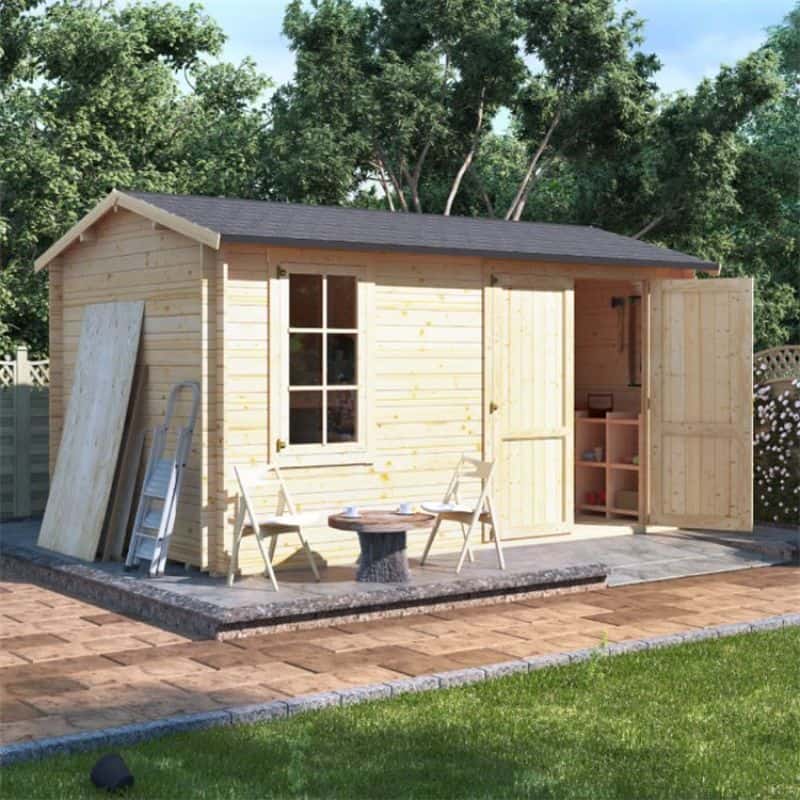 Cabin sheds/workshops (log cabin storage)
A log cabin also makes an excellent alternative for extra storage purposes. Like garden sheds, log cabin storage can be a safe place for storing your gardening materials and outdoor belongings.
You can keep your tools and equipment, such as trowels, spades, shears, and even bulky items like a lawn mower, safe in one place.
And if the outbuilding has plenty of additional space, you make the most of it by using it as a workshop, too. Just take a look at the BillyOh Traditional Workshop.
Perfect for any garden setting, this log cabin shed/workshop is designed as a classic workspace. If you're a DIY enthusiast, this traditional style cabin workshop is a must-have!
The unit features customisable wide-opening windows and wide-opening double doors. This gives you easy access in and out of your outdoor building.
What's more, this outbuilding is made from high-quality European sourced timber, ensuring year-round use.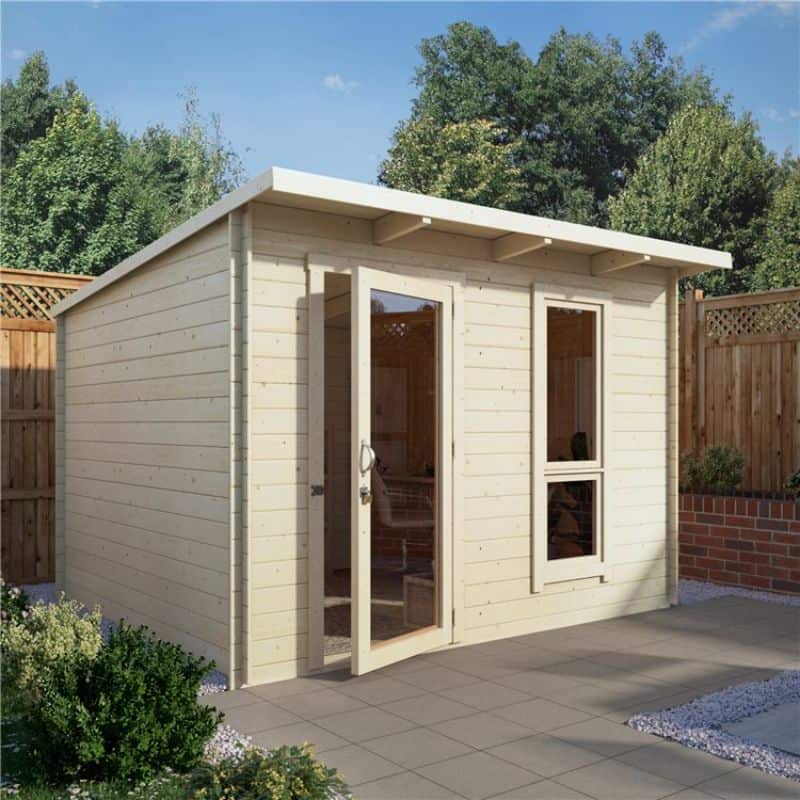 Garden office cabins (outdoor home office setup)
You can now bring your own office to your garden! A garden office is ideal for those who are working at home or even those who are learning remotely.
Or, if you're planning to set up your own business from home, a log cabin office is a great way to get started! I mean, who doesn't love the idea of working a few steps away from their own home?
Not only can this help you save more time in the morning (with less traffic), but it can also count towards your monthly bills (e.g. travel costs). Even better, converting a cabin into the perfect home office is easy, especially if you have a guide like this!
And if you're looking for ways to get some peace in a hectic household to concentrate on your work, you can't go wrong with the BillyOh Mia. It's the perfect garden building for your outdoor home office setup!
This office log cabin guarantees to provide you with a peaceful and comfortable working environment. You can finally have the freedom to make it your own office and work in style!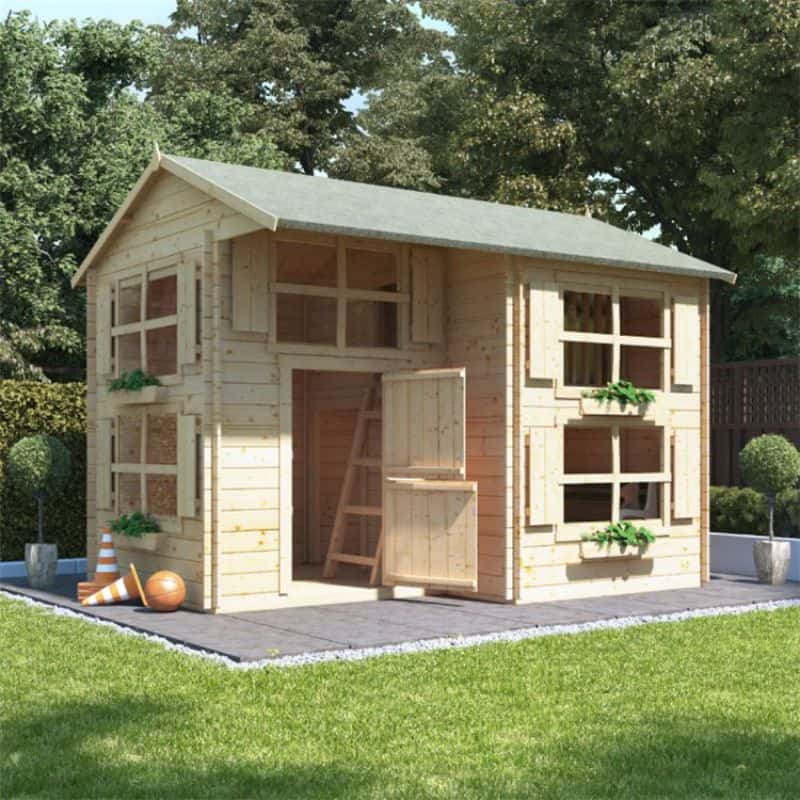 Log cabin playhouses
If you want to treat your children with an outbuilding that will last longer, you can opt for a log cabin playhouse. This is where they can let their imaginations run wild and create their own little world!
There are so many ways you and your kids can transform a log cabin playhouse. It can be an arts and crafts den, hideout or merely an area where they can play with their toys.
If you're looking for a multi-room and two-storey, the BillyOh Annex could be your perfect option. This log cabin playhouse offers plenty of extra space for children to play.
Note: We've put together this helpful playhouse buying guide, so be sure to check it out!
What is the Best Thickness for Garden Log Cabins?
When considering a cabin's thickness, this always depends on how you are planning to use it. A British log cabin varies in thickness from 19mm, 28mm, 35mm, 44m, 66mm, and 70mm.
Each thickness provides you with varying levels of durability and strength. The thicker the log, the stronger your outdoor building will be.
19mm – 28mm
If you want a budget-friendly price, you can opt for the 19mm as it is the cheapest log cabin thickness available. In contrast, the 28mm width is way stronger than the 19mm. You can opt for this if you want, say, a premium summerhouse.
35mm – 44mm
35mm thickness log cabin is suited for cabin use in the Autumn, Spring and Summer months. Double glazing is also recommended to achieve better insulation, especially if you plan to use the cabin during winter.
On a side note, 44mm thickness is made up of a double tongue. With that, a log cabin with a thickness like this is more equipped to deal with harsh weather conditions.
66mm – 70mm
A log cabin with 70mm thickness can withstand all the seasons. The extra purlins in the cabin's wall make the outdoor structure even stronger.
Yet, opting for this kind of thickness will cost you more than the others.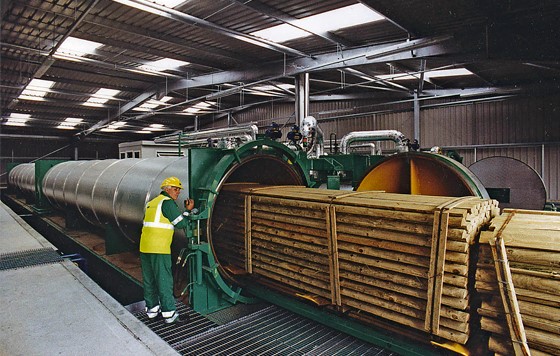 \
Log Cabin Treatments
If you plan to apply a form of treatment to your cabin building, you have four wood treatment options to consider:
Oil-based treatment. An oil-based treatment has long-lasting protection, which makes the treatment durable enough.
Water-based treatments. This form of treatment requires no primer; this also can be applied to the wood directly.
Solvent and spirit-based treatments. One of the best and effective forms of treatment for log cabins.
Pressure treatment. Pressure treatment allows the wood preservatives to go deeper into the pre-cut timber. Pressure treatment works by sealing timber in tanks full of chemical preservatives to penetrate them.
Note: Pressure treatment is a form of treatment that's carried out by professionals and is not something you can do yourself.
Top tip: We recommend starting the application of treatment at the top of the log cabin. Then continue to work your way down the building.
Customer stories (user experience)
But if you're still unsure about buying a log cabin – why not take a look at some of our customer log cabin stories? You'll get the chance to hear from our customers directly.
Learn how their experience purchasing with us went and how the assembly went. Then simply shop from our range of log cabins via the button below!
Shop Log Cabins
FAQs