Garden Furniture: Creative ways to Reduce, Reuse, and Recycle
Enjoying your garden can be a great activity, particularly when you know you have created your stylish furnishings from common materials—reducing, recycling, and reusing products that would have been tossed out as waste. That's right, you can build your own great garden furniture from common items you probably have lying around the house whilst doing your part to save the environment at the same time.
The truth is, a myriad of amazing wood furniture exists that was created from unique but common materials like pallets and scrap wood. These DIY garden furniture ideas result in distinctive and stylish high-quality furniture from reusing and recycling everyday items that still have a lot more life in them. Great quality materials like wood and plastic can produce the relaxing and attractive garden furniture your garden deserves.
Take a look at these DIY Garden Furniture ideas that can be created simply by recycling and reusing common quality materials.
Finishing Your Garden Furniture
Once you've completed your DIY garden furniture; it's time to complete the look. This can be done by adding stain and varnish, white washing, or brightly coloured paint. If you want your stylish garden furniture creations to be easily mobile in your garden, you can add casters to virtually any project. Need some help making the finishing decisions? Peruse these simple finishing ideas.
After the painting or varnishing, add the finishing touches with parasols, cushions, and covers. Outdoor parasols are available in a multitude of colours and in your choice of aluminium or hardwood frames. Aluminium frames feature a crank and tilt system whilst hardwood frames offer a simple to use pulley system. Parasol bases keep your parasol in place in all kinds of weather. Chair cushions are the ideal finisher for your newly-created DIY chairs and loungers. You can choose from lounger cushions, seat pads, armchair cushions, and bean bag cushions in a myriad of hues to complement your garden décor.
Protecting Your Project
You've put in the hours to complete your DIY garden furniture products. You've added the finishing touches with paint, varnish, casters, and even selected a parasol or two along with cushions to add that relaxing comfort to your garden furniture. What now? Well, even though your monetary investment is small, your time and creativity investment is great and you'll want to protect your projects. You want to keep them safe from the elements—rain, sleet, snow, and sun—for years to come.
If you added casters, you could spend time moving your garden furniture in and out of the elements when you want to use them in the garden. A better idea is the use of protective covers. Protective furniture covers are designed to protect your garden furniture from the elements and come in varied shapes and sizes including bench covers and table covers in round, square, and rectangle sizes. Slip them on your outdoor furniture when it's not in use and easily remove the covers when you are ready to enjoy your furniture in the garden.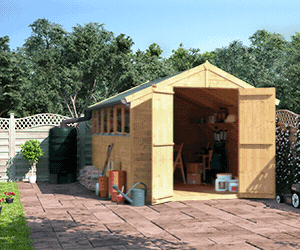 Inspiration and Innovation
Each of these projects delivers fun and creative ways to design your own stylish garden furniture by recycling and reusing common quality materials that are easily accessible. Let's close out the fun with a few more amazing and distinctive ideas for DIY garden furniture.