When it comes to small garden or patio spaces, adding in a whole garden furniture set, in most cases, can be complicated. If this is the case for you, this guide is the answer to your problem!
Outdoor seating makes it so much better when spending time in the garden or on the patio. Even more so when you have the perfect furniture that compliments your space and provides you with the ultimate comfort.
And for our money, you get all of that with none other than rattan garden furniture. This popular type of outdoor furniture has an excellent reputation for gardens of any size. 
Be it outdoor dining sets, corner sofas, or rattan cube sets; we've rounded up the best ones you can find in the UK.
Key takeaways:
Rattan has been setting the bar high for garden furniture, particularly synthetic rattan.

Rattan garden furniture can make a statement in any garden setting, making them an ideal choice when

styling your space

.

Synthetic rattan is a durable alternative that's resistant to weather conditions. If you want

weatherproof rattan outdoor pieces

, this material is your best bet.

High-quality rattan sets made with PE rattan, powder-coated steel frames, and strong flat weave

can last from 5-10 years

if looked after. It could last even longer if you provide extra special care to it.
Things to Consider: Garden Furniture for Small Gardens
If you're in the market to buy new garden furniture, there are some things you need to consider. On top of looking for the best brands, these factors can help you choose the 'best of the best' that's suited to your small space.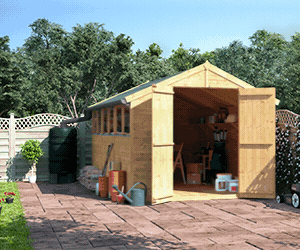 1. Measure for measure
You wouldn't want your outdoor pieces to look too big, occupying the entire space, would you? Or furniture that you thought was the perfect size ending up being too small, right?
'Measure twice, cut once'. (Or buy once, in this case!).
Even if you have limited outdoor space, you shouldn't skip the measuring part nor just wing it when getting new furniture.
Grab a tape measure to see how much room you have, taking into account the entrance space. Once you have the measurements, selecting pieces online or in an actual store will be a lot easier.
Top tip: If you're shopping online, look at the measurements of the furniture you're eyeing up. Take some blue painter's tape and map it out in your outdoor space. This will help you not only see if it fits but get a feel for it feels big enough.
Be sure to leave space to walk around. This is a great way to see what items you have room for.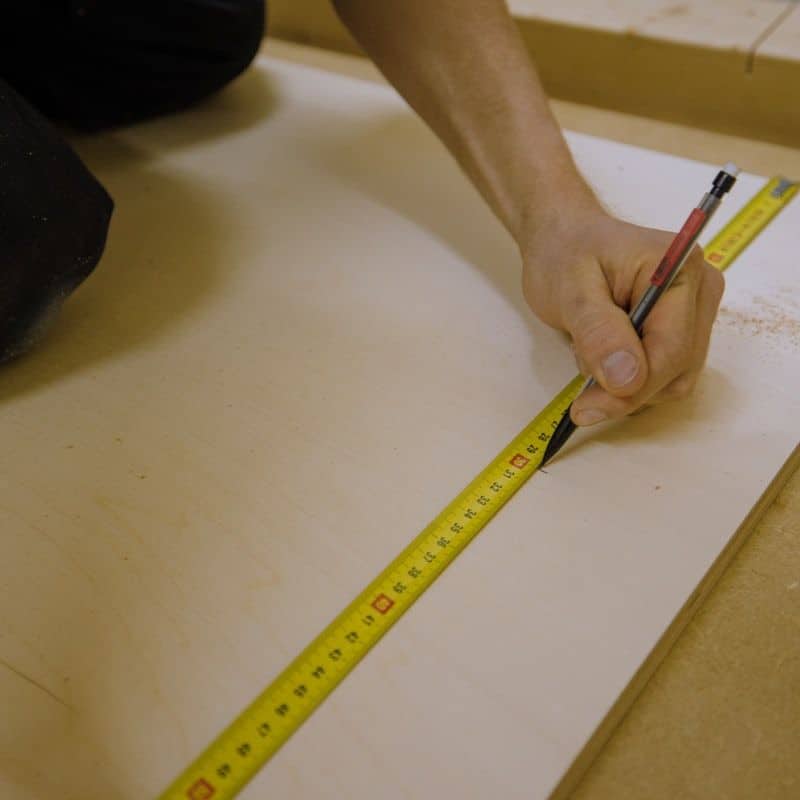 2. Know the shape of your space
Along with measurements, consider the shape of your garden or patio space. For example, if your outdoor living area is long and narrow, we recommend opting for a rectangular table.
But if it's square or you have tricky corners to work with, rattan cube sets are definitely your best bet! A corner sofa set will also look great; the same goes for ottomans.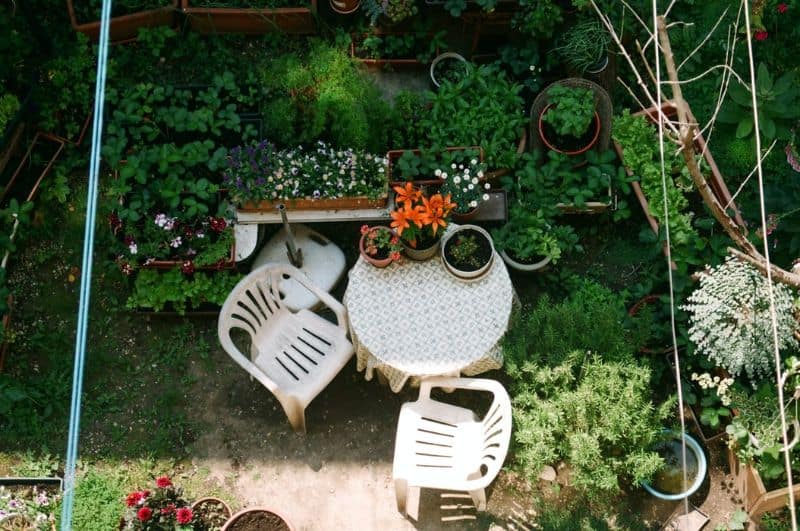 3. Choose your material
The material is an essential decision when choosing garden furniture. For one, this is one of the easiest ways to determine whether the piece is weatherproof or not.
Furniture with weatherproof qualities is guaranteed to be long lasting and sustainable. A great example of this is the popular synthetic rattan.
This type of rattan material is UV-stabilised and weather-resistant. This means it can withstand harmful UV rays and extreme British weather.
Synthetic rattan garden furniture is a great choice, too, if you're looking for low-maintenance pieces. Trust us; it doesn't need much cleaning.
Another great choice is aluminium garden furniture – it's lightweight so it's highly portable and storable, plus it's powder-coated to be rust and corrosion-resistant! 
4. A space for storing your furniture
When the winter weather starts kicking in, bringing the wettest months of the year in the UK, we recommend putting your furniture away.
Wherever you live, it's always a great idea to have a clean, dry place to store your rattan furniture. It could be a wooden shed or even a garage.
Even if you're storing your furniture inside, a furniture cover will keep it free from dust. What's more, it can even add a protective layer against potential dampness.
Top tip: If you're short on storage space, consider purchasing foldable or packable pieces for a great space-saving option.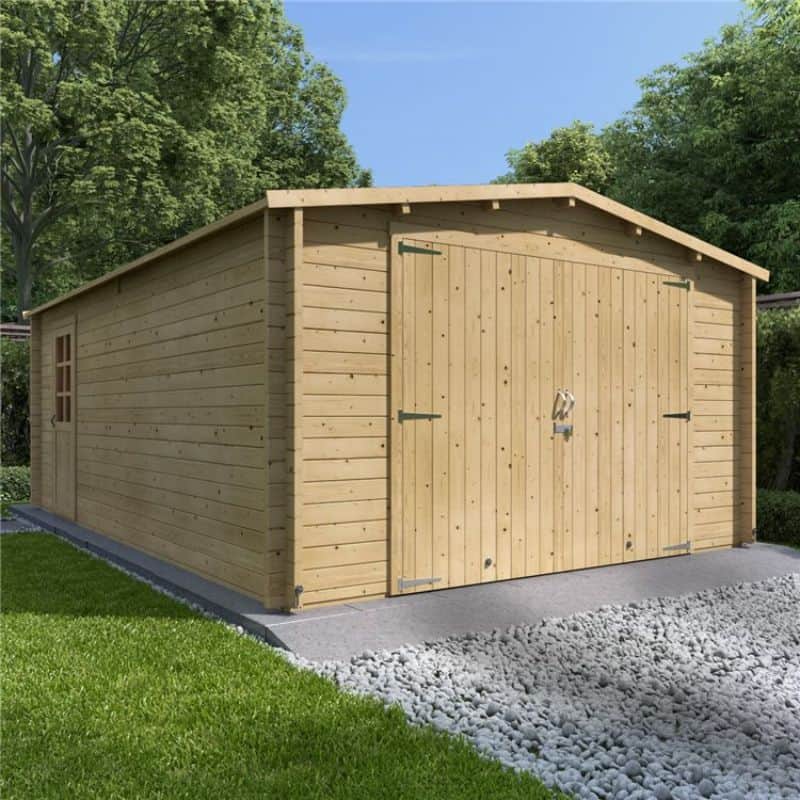 5. The frame and cushions
Rattan furniture with a powder-coated steel frame guarantees durability and comfort. Unless you want to go for a cheap material for the frame that is – hope you don't mind hearing a crack as you lie back!
Padded cushions also add long term comfort while helping to ensure that the furniture won't take as much damage and can be easily replaced. Luckily for you, most synthetic rattan sets come with soft cushions to sink yourself into!
Now that you know what to look out for, it's time to find the best rattan garden furniture for you and your small space.
BillyOh's Best Rattan Garden Furniture For Small Gardens
Rattan garden furniture is available in a wide range of styles and sizes, so you're bound to find suitable pieces for your small garden as we go along!
BillyOh Salerno Rattan Garden Furniture Corner Sofa Set With Storage (4 Seater)
Price: £849.00
With its weather-resistant flat weave and powder-coated steel frame, the Salerno is perfect for outdoor entertainment use. In addition, it's a stylish garden centrepiece and an ideal spot for an evening glass of wine with friends.
The corner sofa set comes with a tempered glass top table with a rattan body. A large storage box with a glass top is also included with the sofa set giving you much-needed space.
Its multiple pieces allow you the flexibility to change its layout to fit well into your space. Plus, the sofa features soft, inviting back and seat cushions to sink yourself into.
The set includes:
two two-seater sofa

tempered glass-topped coffee table

tempered glass topped storage box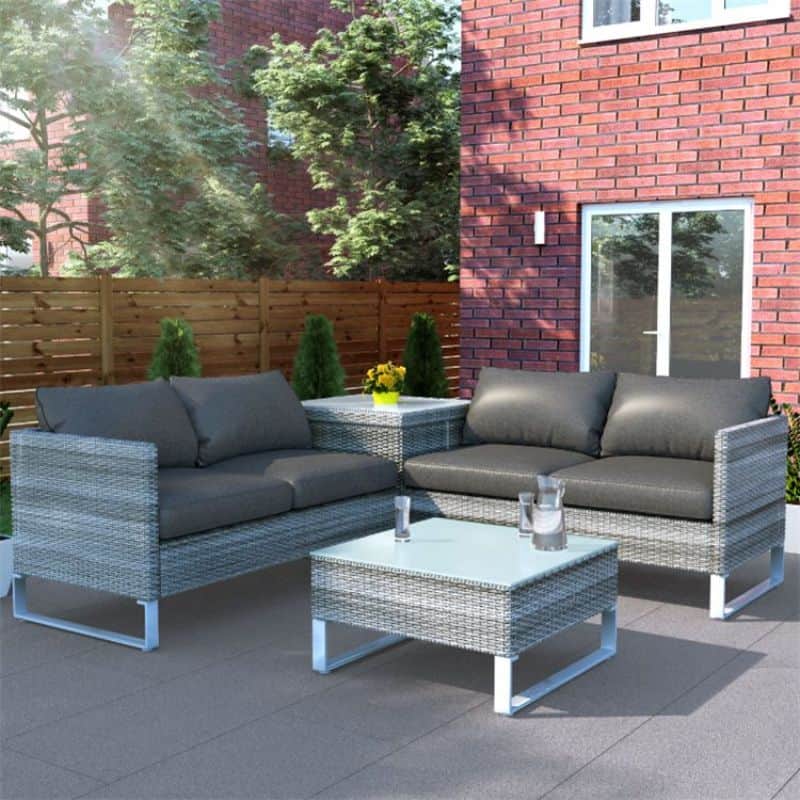 BillyOh Capri Rattan Garden Corner Sofa Set with Firepit Table
Price: £2249.00
Who says you can't enjoy an open fire, s'mores and warm ambience on your small patio during winter? Staying warm at home has never been more convenient with the Capri corner sofa set with a fire pit table!
This set is the perfect blend of functional design, comfort, and style. The square table is complete with an impressive integrated fire pit, perfect for al fresco festivities long into the night.
What's more, the stainless steel gas fire pit comes with multiple heat settings. This feature enables you to adjust the temperature to a low ambient or turn it up if necessary.
It also comes with protective glass surrounding the fire pit. The two benches can provide extra seating or they can be doubled up as footstools.
The convenient corner design also allows you to make the most of the small outdoor space.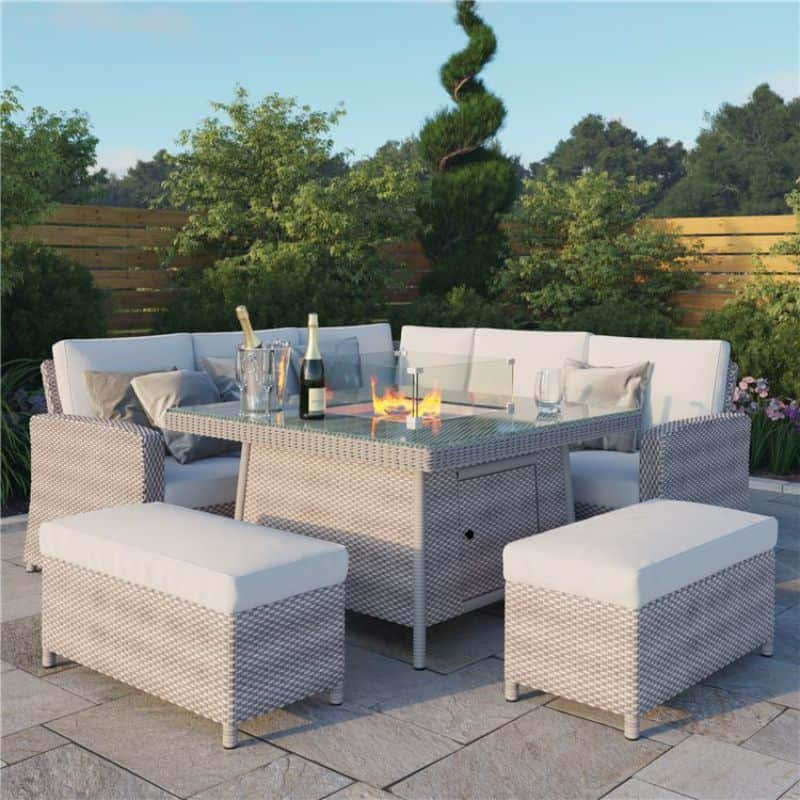 Billyoh Parma Round Rattan Garden Dining Set With Firepit Table (6 Seater)
Price: £1999.00
Combining relaxation with comfortable dining, the BillyOh Parma can be the central hub of your small garden. The tempered round glass table-top provides enough space for feasts even in a small garden.
The six luxurious chairs are also designed with an angled high backrest that wraps around the back cushion for extra support. Plus, with back and seat cushions, too, for total comfort while you sit, chat, and indulge in a delicious meal.
This set is crafted using a powder-coated aluminium framework like with the rest of our synthetic rattan furniture. This feature offers protection from rust and corrosion, making the Parma long-lasting!
This luxurious round dining set with a built-in firepit deserves a spot in your humble garden or patio as well!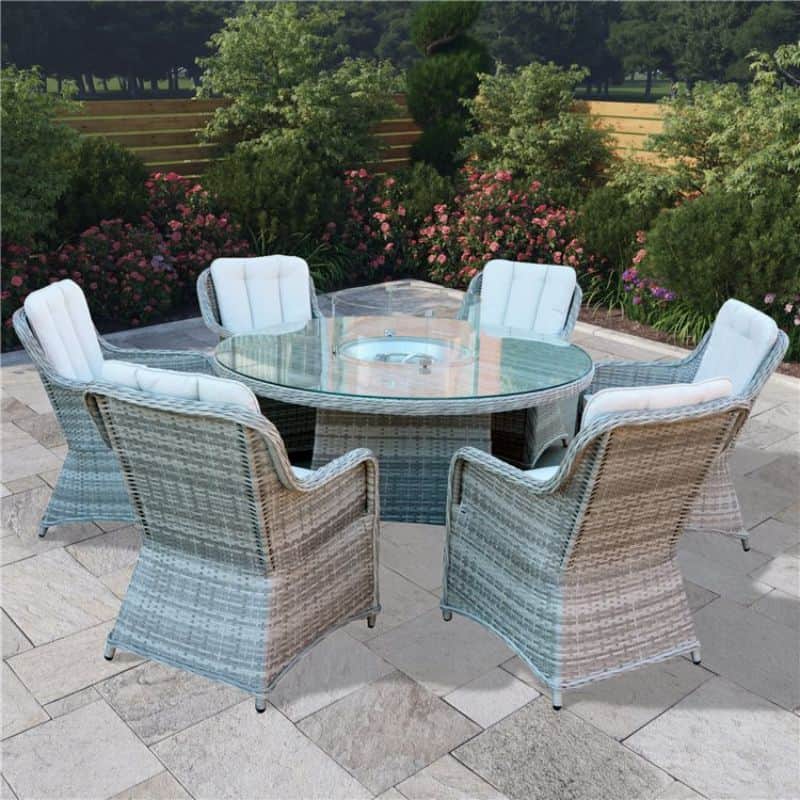 BillyOh Modica Cube Outdoor Rattan Garden Dining Set ( 8-10 Seater)
Price: £799.00 – £1,299.00
There's nothing like the tranquillity of spending time in your small garden as the weather turns warmer. This is especially true when you find your perfect outdoor companion – a.k.a. A rattan cube set!
Rattan cube garden furniture sets aren't called 'cubes' for nothing. Rattan cube sets are excellent space-savers, making them a perfect choice for your small garden.
Take a look at the BillyOh Modica. Ideal for small patio spaces, the set provides comfort and makes a great companion during the summertime.
If you love hosting alfresco dining but worried about not having a dining set that can suit your space, this is it!
The grey mixed colour synthetic rattan material creates a modern chic aesthetic. Plus, the inviting and cosy seating would work in any garden or patio spaces.
Made from durable construction – flat weave rattan is woven around a steel frame with powder coating. Thanks to its stylish synthetic rattan design, you'll have a timeless set that won't go out of style.
Most importantly, the set is designed to fit together into a cube and in a space-saving manner.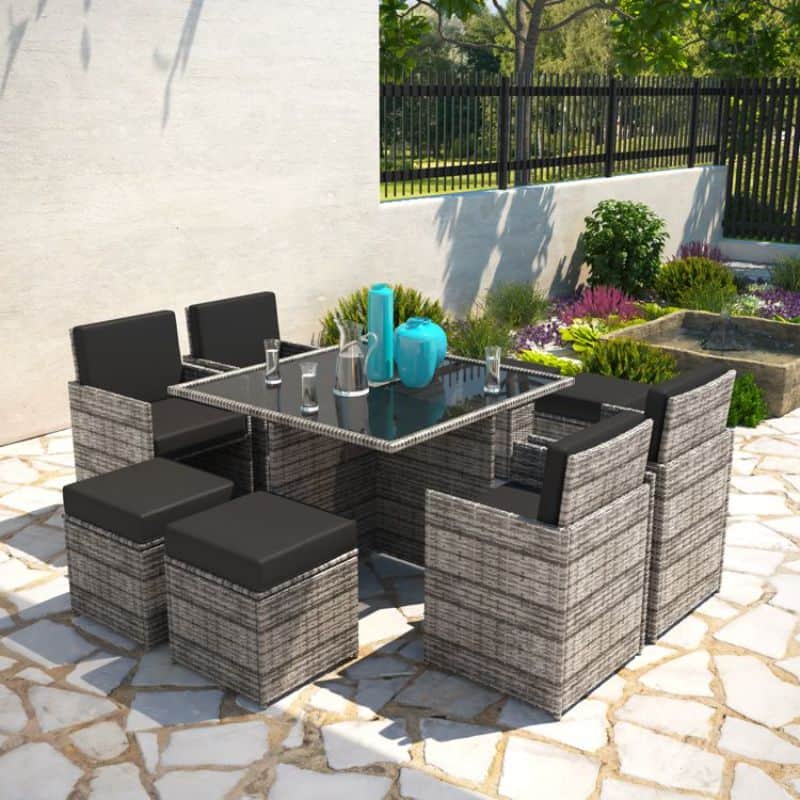 Round-up
So why buy rattan garden furniture for a small space? Well, its timeliness, stylishness, and well as weatherproof and durability qualities all make synthetic rattan a winner anyway. But for small gardens, cube and corner sets can help you maximise on available space.
Also, it's available in a variety of different shapes, sizes, colours, including grey rattan furniture. With BillyOh's rattan sets, you can find the right rattan set suitable for your outdoor needs and small space.
So why not have a browse today? Just click the button below.
Shop Rattan Garden Furniture
FAQS
Whether you're shopping online or in-store, your first step to picking the best rattan furniture is to measure. Then, get those measurements and see how much room you have.
Then get to know the shape of your space so you know which type of rattan sets to go for. If you have a small space, go for rattan cubes. For medium-large sized garden/patio space, opt for a rattan set with a rectangular table.
Choose the material. You'll want to make sure it's weatherproof and long-lasting. It's a no brainer - go for synthetic rattan furniture if you want long-lasting construction and style at a great price.
Keep an eye on the framework, too. Ensure the set is designed with a powder-coated metal frame, which is rust and corrosion-resistant.
Clean regularly; don't let the dust and mould build-up. Plus, don't just wash it only on special occasions; have a cleaning routine at least once a month.
Dry the furniture well after washing. Remove cushions, and don't let them get wet. And protect the furniture feet with a felt pad or rubber stoppers.
Finally, invest in covers for your rattan sets to keep them protected at all costs.
It can be a headache when you don't know what you're doing when cleaning your rattan pieces. But if you take note of these simple steps, you can start rolling up your sleeves.
Brushing and dusting. 

Use a soft-bristled brush to remove dust and dirt that has settled on the surface. You can use a vacuum (or even an air compressor) to loosen residual dust.

Applying cleaning solution and washing.

Allow the cleaning solution to drip between the weaves. A garden hose can help you do the rinsing part but make sure the nozzle is set to a gentle mist setting.

Drying.

Blot the rattan furniture with a dry towel to absorb some of the water. Let the excess drip and air dry. Leave it alone for at least 24 hours in a dry area with excellent air circulation.