Having been around for some time now, the popularity of rattan corner sofas sets continues to skyrocket. But what exactly are they, and why are they popular?
Sofas have been among the most commonly used furniture in houses and outdoor spaces for aeons. The comfort and convenience they provide are unmatched, making them a staple in many homes and gardens.
Over the past years, various styles of sofas have become available on the market. One of the top choices in the UK is the corner sofa, also known as the L-shaped sofa.
If you want to know more about this type of furniture, read ahead and see how you can style your outdoor space with it!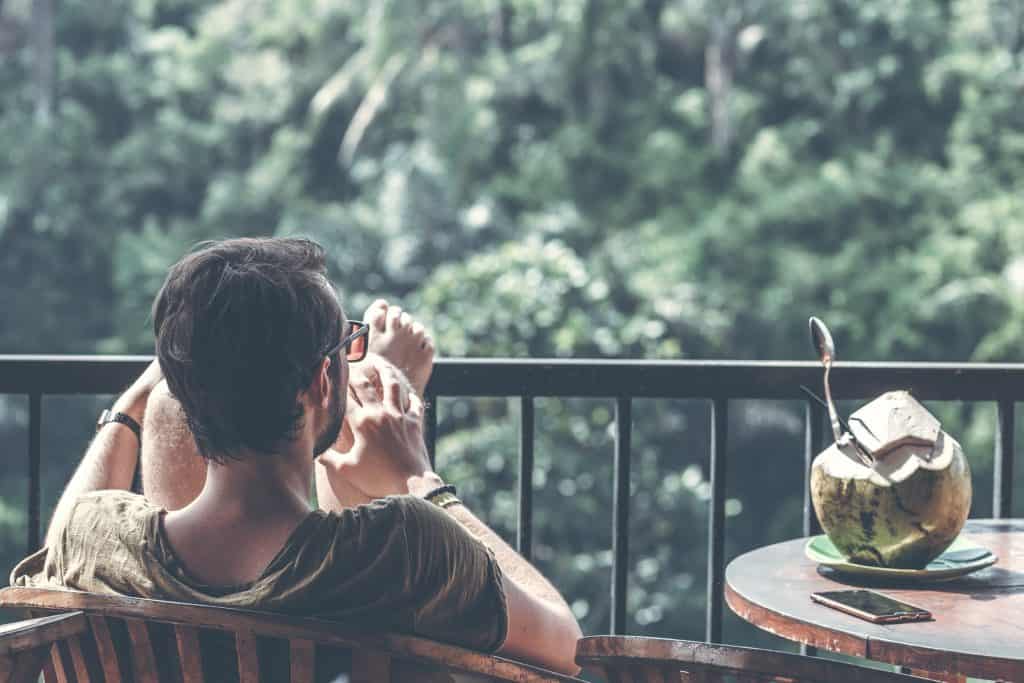 Key takeaways:
Corner sofas are a common piece in living rooms. But in recent years, they've become a popular item in patio and garden settings. Garden corner sofas and rattan corner sofas are now a staple in most outdoor furniture stores.
Garden corner sofas provide the ideal spot for afternoon lounging and outdoor relaxation. As the name suggests, they can be pushed in the corner; thus, giving you extra space on your patio.
Like any other garden furniture sets, rattan is a premium material, particularly synthetic rattan. If you're looking for good quality garden corner sofas, our rattan collection is your perfect pick!
Owning rattan corner sofa sets can offer you plenty of advantages. Hint: it doesn't end with just longevity. Find out here just how quality rattan sofas are!
We know the struggle of choosing the best furniture for your garden. But it doesn't have to be that hard, especially when you have a rattan garden furniture buying guide like this!
What Are Corner Sets: Garden Corner Sofas?
Any outdoor space or patio with corners always comes with wasted space. This is where garden corner sofas come into play!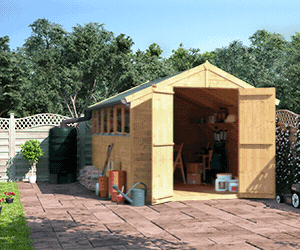 Corner or L-shaped sofas are a stylish addition to modern-day living. They also make a great value and stylish garden furniture addition.
A corner sofa can perfectly fit in a corner space, hence the name. They usually come in four to nine-seater options. Some models even include a coffee table and ottomans for extra storage.
Perfect for lounging, garden corner sofas are an increasingly popular choice of furniture. This is especially true for those with limited patio space.
Who knows? This type of furniture can be your ultimate outdoor companion!
What's more, garden corner sofas come with tons of benefits. For one, they can fill in your empty spaces without compromising the whole area. They offer optimum space efficiency.
Thanks to their unique design, corner sets are suitable for outdoor entertainment or just loafing about in the garden!. They're a great addition for those who like to entertain.
In short, they're fantastic for socialising! And, if you often change the setup of your patio or outdoor space, you can move them around without a sweat.
The availability of styles and designs for corner sofas are one of their great advantages as well. There are varying materials, colours, and textures for you to pick from to enhance the beauty and charm of your place.
Speaking of material, this is where synthetic rattan can make a huge difference in your set. Want to know why?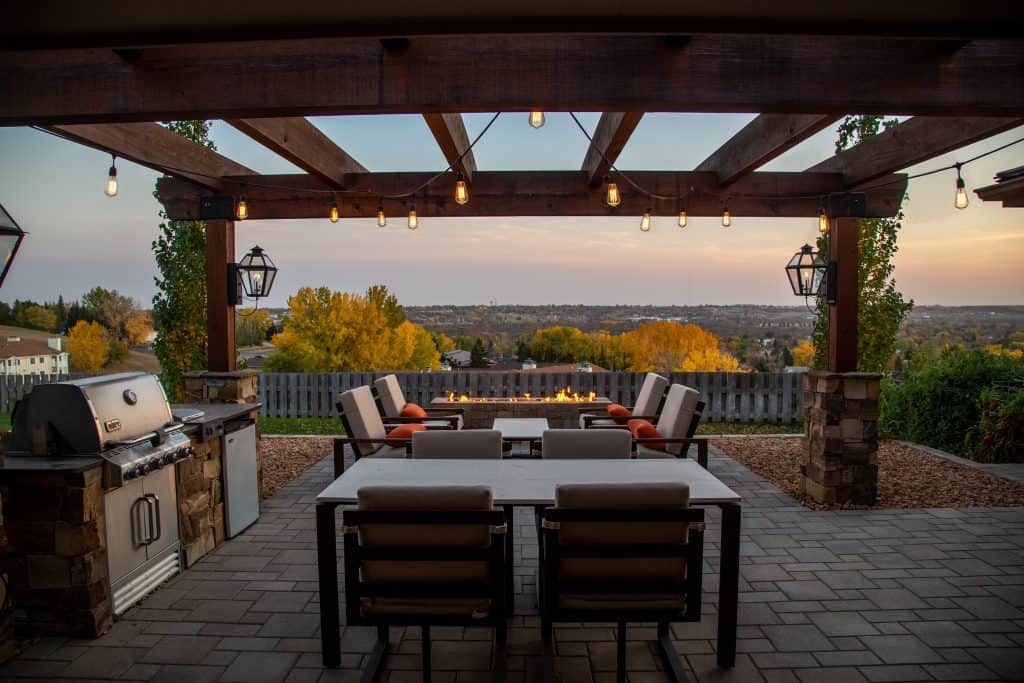 Rattan corner sofa: Why a rattan corner sofa set?
When talking about the best material for garden sofas, rattan is top-tier. But we're not referring to natural rattan material, in case you're wondering.
Compared to genuine rattan, synthetic rattan is a popular choice, which many homeowners prefer to invest in. Here's why.
First of all, synthetic (PE) rattan material is known for its weatherproof qualities. Furniture with features like these is guaranteed to last longer.
It's crafted to be UV-resistant and weather-resistant. Meaning your corner set will be much more hardy when left outside, especially during extreme weather conditions.
So maintenance is no longer an issue; it's a hassle-free option. You don't have to worry about loose strands either because synthetic rattan is durable.
As long as you know how to take care of and clean your rattan corner sofa set, it's sure to last for a long time. The best part is you won't have to worry about it as much as you would if you own a real rattan set.
It's a real deal!
How high-quality are rattan outdoor furniture corner sofas?
They're weatherproof, ideal for outdoor entertainment use. You can leave them out all year round without weathering. (Top tip: But if you want to keep their pristine condition, furniture covers will do the trick!)
Thanks to the robust PE material, they're resistant to rot, mould, and swelling.
Being a weather-resistant type of furniture also means they're UV-stabilised. This means they won't fade nor crack in the sun.
Modern, synthetic rattan garden furniture sets are made from durable plastic polythene (PE). This makes the set stronger and longer lasting than natural rattan.
They're more lightweight, making them easy to manoeuvre around your patio/outdoor space.
Low-maintenance garden furniture. Since synthetic materials are weatherproof they're a lot easier to maintain. Of course, you'll still have to keep an eye on your corner sofa and clean it now and then. (Top tip: An occasional quick clean can help them stay in good shape. In contrast, covering them when not in use prevents fading.)
Given all these fantastic advantages, all you have to do is sit back and enjoy every moment with your rattan corner sofa set. Your afternoon to evening chats with friends will be more comfortable and cosy, too!
Buying tips for choosing the right rattan corner sofa/rattan garden furniture
If you're thinking of investing in some, we'd recommend opting for a model that's made from a weather-resistant flat weave synthetic rattan and powder-coated steel frame.
A good quality flat weave is guaranteed to be UV protected and weatherproof, so be sure to choose a set with this feature. I mean, who doesn't want a set that can withstand harmful sun rays and harsh British weather, right?
Opting for a powder-coated steel frame is also a factor. This type of framework offers more strength and durability to the set.
Plus, look for a set that comes with back and seat cushions. They add long term comfort, at the same time, prevent the furniture from taking a beating.
Luckily for you, most rattan corner sets come with soft garden cushions to sink yourself into!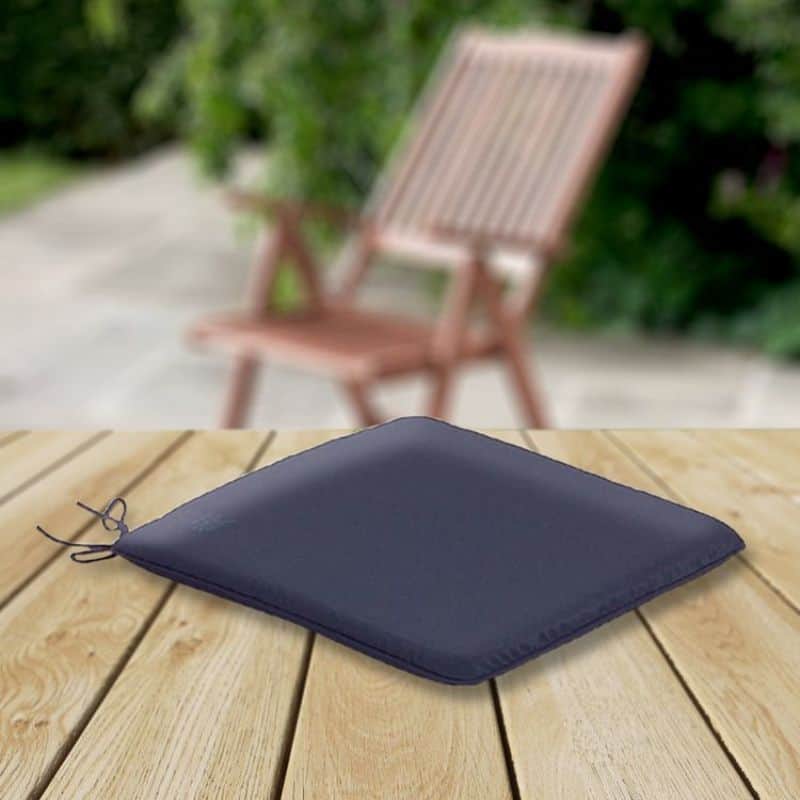 It's also important to measure your space. Know how much space you have available in your outdoor space, in the area you'd like your corner sofa to go.
Start by measuring the area of your chosen spot. This should include measuring along any walls or boundaries f you do plan to place your set in the corner.
Make sure to leave room for side tables, if necessary. Then, measure the space's depth, considering any rugs or tables that will sit in front of the sofa.
Don't forget to get the height as well. Pay attention to any shelving units or hanging plants (if there's any).
Lastly, pick your style. There are lots of different corner outdoor sofa styles to suit every patio or garden space.
Take a look at our best-selling rattan corner sofa sets below!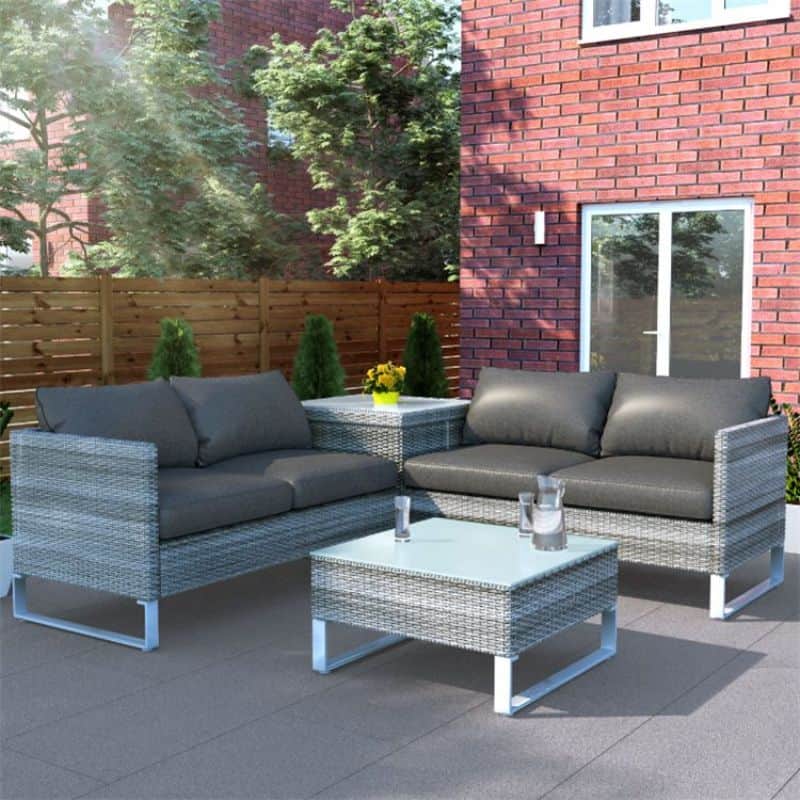 BillyOh Rattan Garden Furniture Set: Corner Sofa Sets
Designed with comfort and functionality in mind, the Salerno corner sofa set is a must-have staple in every garden setting. This set comes with soft, inviting cushions to sink yourself into.
Socialising outdoors has never been this comfier!
A large storage box along with a garden coffee table is included, too. These ensure you can have all your essentials at hand.
A great feature of the Salerno is its versatile design. With its flexible pieces, you can change the layout of your outdoor space at ease.
Most importantly, it's made from a weatherproof flat weave rattan and a powder-coated steel framework. This makes the Salerno long-lasting and ideal for both outdoor and indoor use.
If you look for a fancier rattan corner sofa set, then look no further than the BillyOh Capri! This set is the perfect blend of functional design, comfort and style.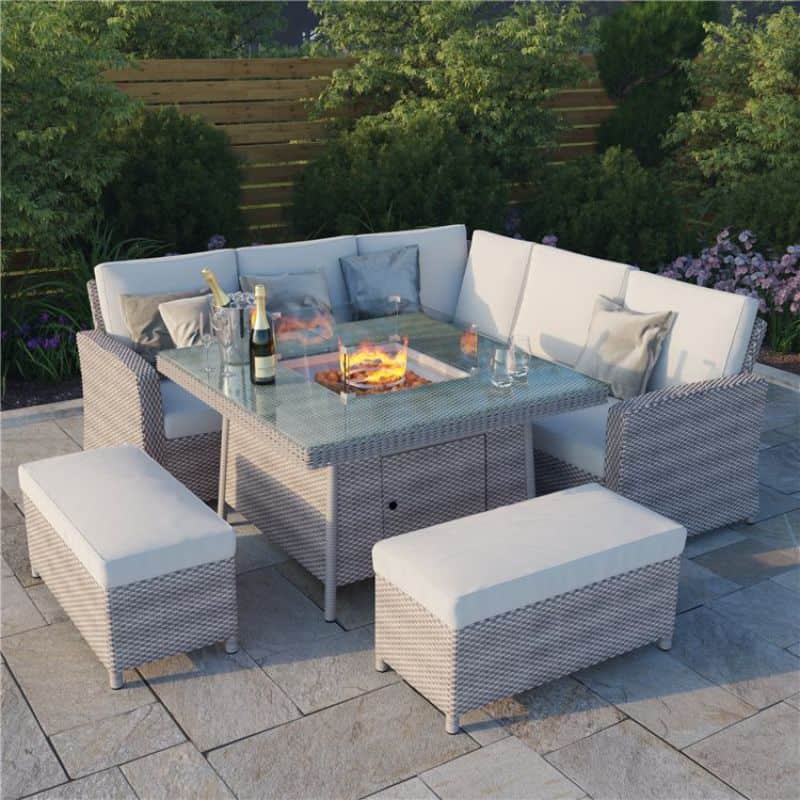 What makes the Capri a luxurious type of corner sofa and excellent value for money is that it comes with a fire pit dining table. But not just an ordinary fire pit; one made from stainless steel with multiple heat settings.
This lets you prolong your outdoor relaxation long into the night (after-dark events). Another great feature that comes along with this set is the glass surrounding the fire pit. This makes your open-fire and garden dining experience a lot safer and enjoyable for everyone.
What's more, the convenient corner design enhances the space in your garden. Two comfortable double benches are also provided, offering extra seating. They also can double up as footstools.
Like the rest of our rattan garden dining chairs and sofa sets, the Capri is engineered with premium quality.
It's crafted using a powder-coated aluminium frame. This offers protection from rust and corrosion. The advanced flatweave material used is guaranteed UV-resistant, anti-fade and anti-mould.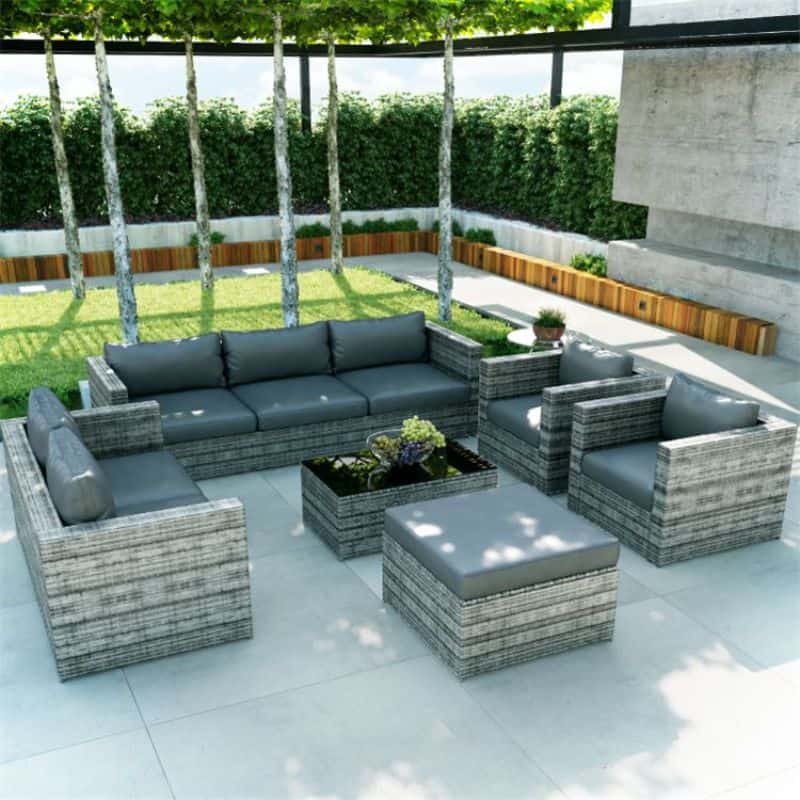 Even the BillyOh Seville can help you make the most of your patio corner space! This piece of furniture offers a lot more seating space; it's an 8-seater ideal for the whole family or friends.
Consisting of three sofas (two-seater), two armchairs, and an ottoman (doubles up as extra seating), there's enough space for everyone.
The thick back and seat cushions ensure you'll be socialising and dining in comfort. You can now have a comfortable outdoor living space for personal use or entertaining guests.
The seat is indeed a must-have for the summer month! Overall, this rattan garden furniture set includes:
a three-seater corner sofa
two armchairs
stool
tempered glass-topped coffee garden table
extra two-seater corner sofa
The Seville is an excellent choice of rattan corner sofa set if you have plenty of space. Next thing you know, you'll be ready for hosting cosy get-togethers.
Alternative garden corner sofa sets: aluminium
Apart from rattan and wooden furniture, metal sets are also a favourite choice of many UK homeowners. You have several options for outdoor metal pieces, but the most popular among them is aluminium.
Aluminium garden furniture also offers fantastic benefits. For one, these set are robust but lightweight and resistant to rust and corrosion.
Offering a more chromatic style, most aluminium sets feature a powder-coated framework. This makes each set resistant to fading and UV light, as well as rust-proof.
If you're looking for the best metal furniture, there's one name that screams excellent value for money — BillyOh. Like our rattan sets, our aluminium sets offer unmatched longevity and functionality.
So what are you waiting for? Shop from our range of rattan furniture via the button below to pick up your own corner sofa set!
Shop Rattan Garden Furniture
FAQs