It's often thought that working from home can be less productive than working in an office. The thinking is, there'd be more distractions and you'd get less work done. However, there are a vast amount of benefits when it comes to working from home. 
Below are a few tips on how to create a productive environment when working from your home office.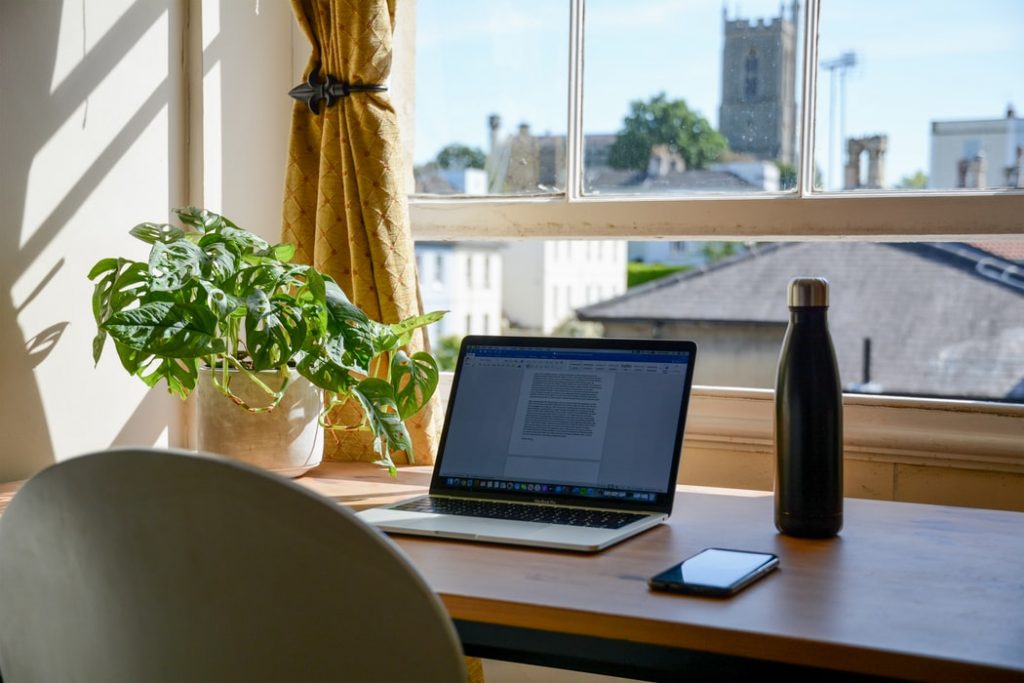 1. Create a Dedicated Workspace
Working from home doesn't mean you can't work in an office set-up. Create a dedicated workspace at home where you can keep all of your work necessities organised. 
Separate this space from other rooms in the house such as the living room. This will help to minimise distractions. Try not to work in your bedroom either, these rooms are often associated with rest, this would create an unproductive working environment. 
If you have a spare room, it's better to create your workspace there. The ability to close the door to your 'office' will help cut out distractions. It's best to use this room just for work purposes rather than anything else.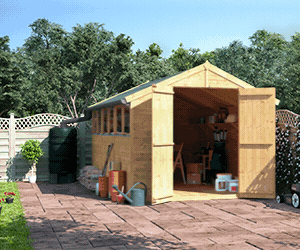 If a spare room isn't an option, try finding a garden building so that you can physically leave your house each day and work in a separate space. A separate space may reduce the temptation to overwork and will help to form structure. 
There are so many great benefits to having home office space!
TIP: Try to place this away from spaces where children or pets play, this can also cause distractions.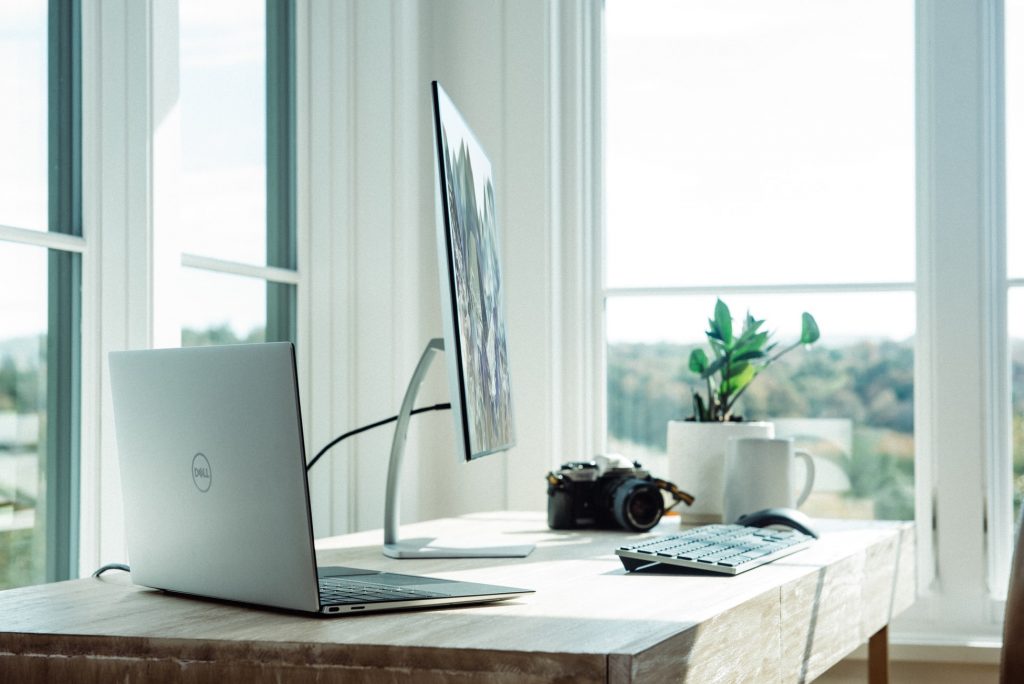 2. Make Your Home Office Professional
The next step is to make your new home office feel professional and organised. There are some key things to add to your home office to create a professional feel.
An office chair
A desk
Shelves/ draws
A computer 
A printer 
You'll also need any other stationary or software your job requires. It may also benefit you to dress professionally too. This would enable you to feel more productive than casual clothes or pyjamas would. 
If you don't already, starting and ending at specific times can also benefit you. Having set working times can result in you not overworking and makes sure you don't leave any deadlines until the last minute. 
There are some incredible ways to decorate your at-home office!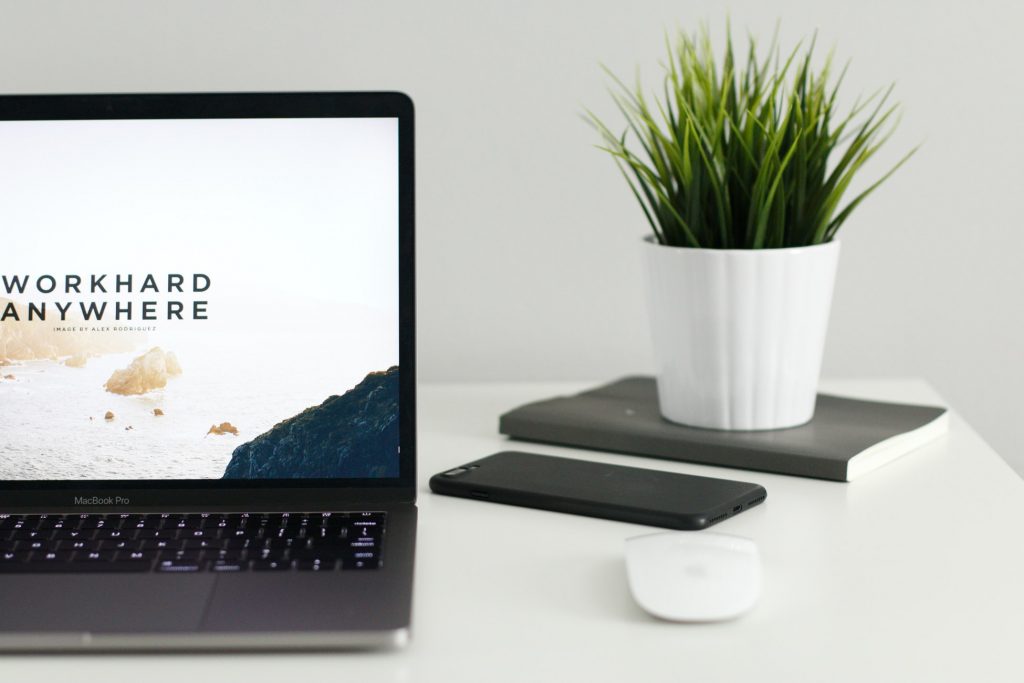 3. Declutter Your Desk
Making sure you have a tidy space can impact your productivity. A cluttered desk can result in a cluttered mind. 
Tidy away and organise any paperwork you have, make sure to take out any unnecessary coffee mugs and put all of your pens and pencils away. 
Decluttering your workspace regularly can increase your productivity and creativity and improve your work ethic. Make sure you don't completely empty your desk, however. It's beneficial to have small plants or ornaments on your desk. 
There are plenty of great organisational hacks available if you don't know where to start tidying your desk! 
4. Position Yourself Well
Stay away from working on your bed or your sofa. Choosing the right chair will not only be beneficial to your health but will also boost your mood. Choose a comfortable chair that allows the arms and back to be adjusted. This will help to prevent any back or leg problems.
For extra space, you could add a coffee table to your office. This will create a designated space for your cups and mugs, away from any sensitive technology. This will also help to reduce the clutter on your desk.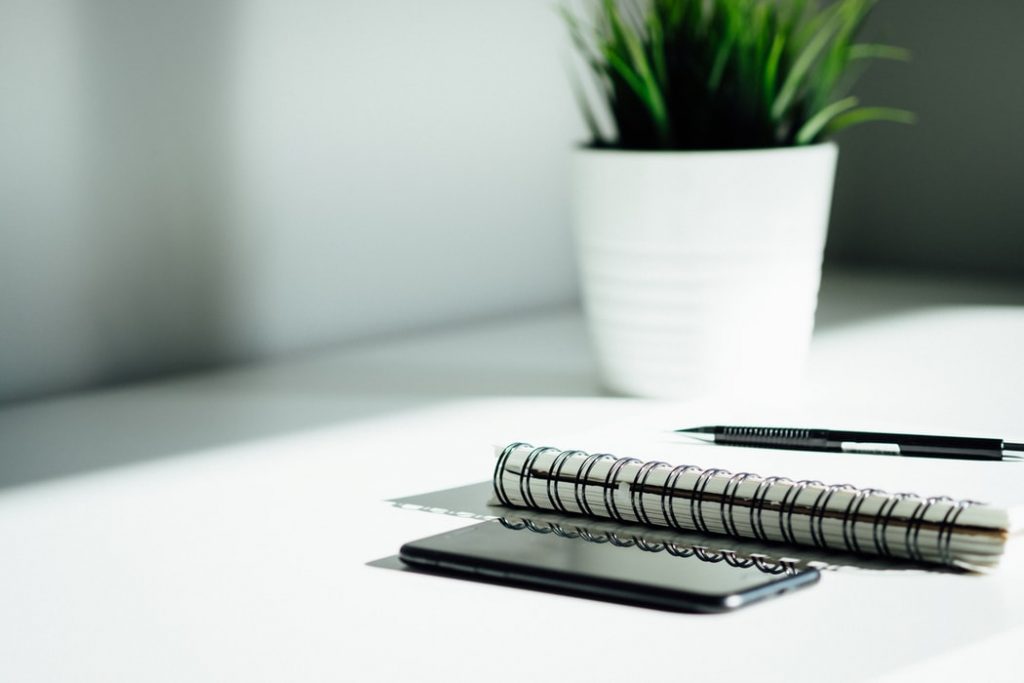 5. Add In Some Greens
House plants naturally absorb a lot of toxins from the air, reducing pollutants. Adding in some houseplants can improve concentration, creativity and air quality, resulting in improved productivity. 
You could choose either a desk or floor plant, whatever size you choose, the plant will have the same effect. If you don't feel like you're able to keep plants alive, try choosing a cactus or other succulent plants. They're more resilient and need less maintenance. 
House plants have endless benefits to your health and general well being. They also look great!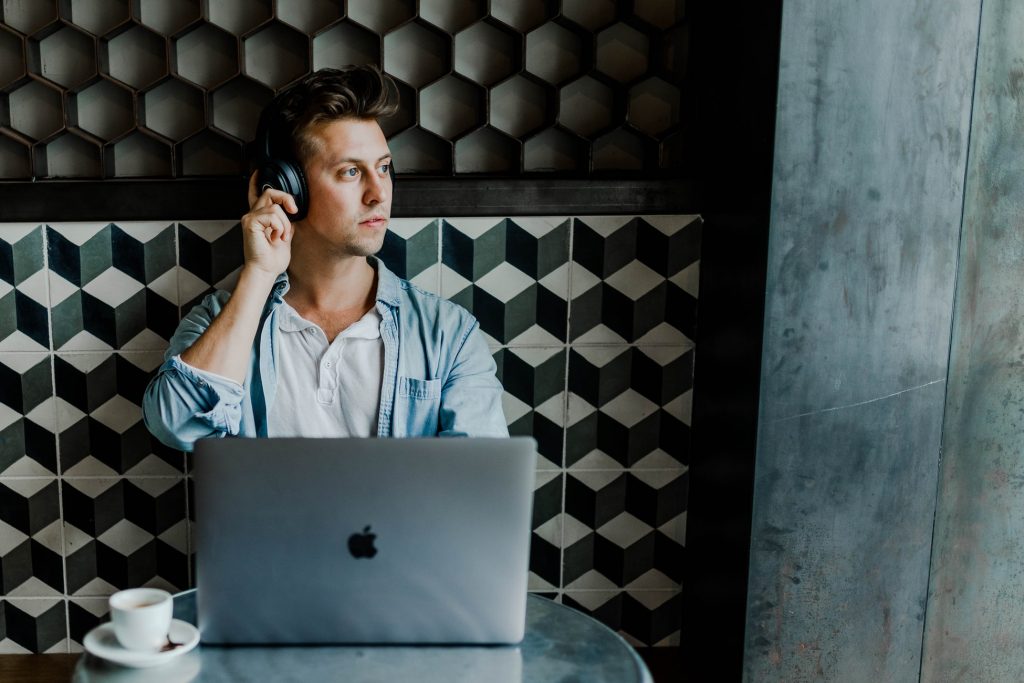 6. Reduce Possibilities Of Distractions
Minimising distractions is the ideal way to increase your productivity at home. Avoid turning on the TV or playing music. Don't try to work when you're taking care of your kids and try to stay off your phone. 
If you feel like you'll get distracted easily on your computer, you can install a blocker. This will stop you from heading onto any gaming sites or social media. It will prevent you from wasting any time when you should be working and will reduce the possibility of any distractions.
TIP: Get yourself a separate work computer, this will leave your personal computer work free and prevent distractions.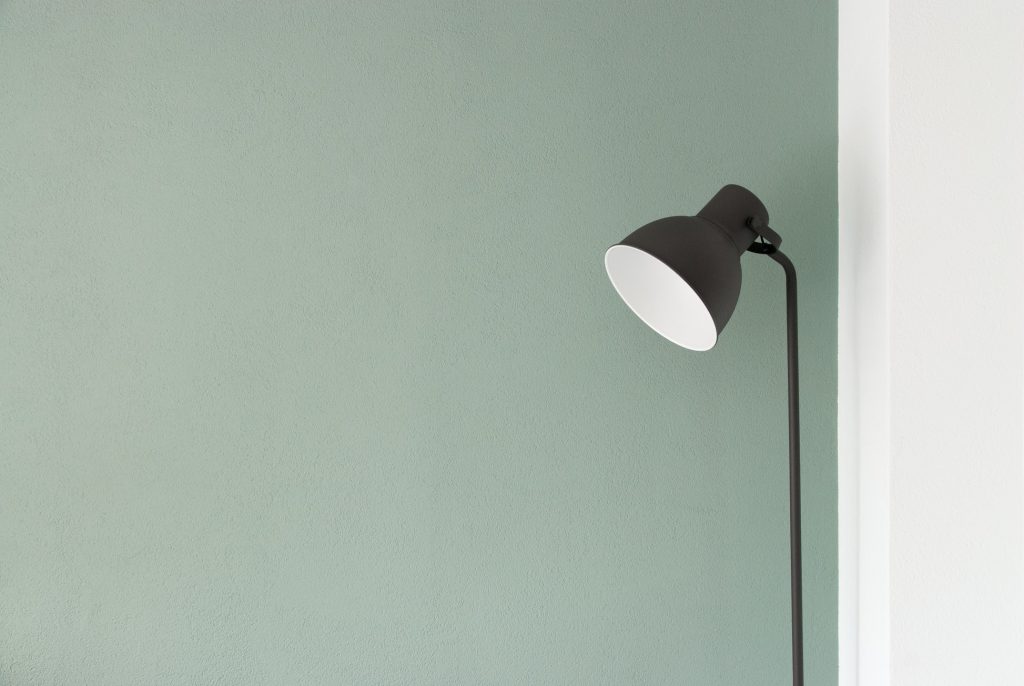 7. Sufficient Lighting
Lighting can have a massive impact on your concentration. The more light you have in your office, the more productive you'll be. Refrain from leaving your office with minimal lights on and get a few lamps you can switch on as well as your main light. 
Poor lighting can also impact your health, giving you headaches and putting strain on your eyes. 
Good lighting can improve your energy, mood, alertness and positivity. Resulting in better work performance. Although natural light has endless benefits, it can also cause a glare on your computer screen. Try positioning your computer screen away from a window.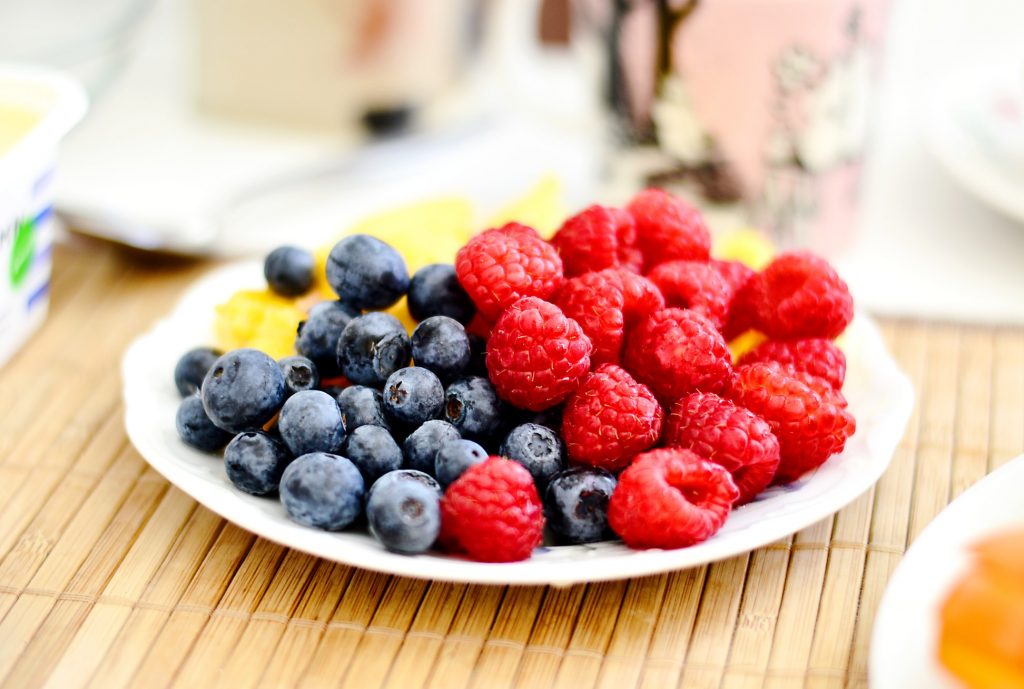 8. Keep Snacks and Drinks In Your Office
It's always best to keep your office stocked with water and any snacks you might want or need. Heading to your kitchen can result in you taking longer breaks than you're meant to, decreasing your productivity levels. 
Keep a dedicated shelf for snacks, maybe even invest in a mini-fridge. Try stocking these with healthy snacks with minimal sugar. This will prevent a sugar crash later on. Natural sugars can also improve concentration and productivity. Try fruit, nuts and yoghurt for your snack of choice! 
With all of these tips in mind, you can now convert your at-home office space into a productive and spacious workspace. And click the button below if you're looking to purchase one of our incredible garden offices!
Shop Home Offices