It is tough to have a variety of products from different brands because of trust issues. As much as possible, most of the people would patronise one brand that could give them the best quality and affordability.
With that, if they heard that brand, they can say that it offers good quality products because of their proven and tested materials. Moreover, it is exhausting to look for something bulky and heavy in the market and then ending up having nothing.
Therefore, we listed down the most valued products from a brand that you can trust. We got you here with the list of our top 10 favourite products from BillyOh.
BillyOh offers you the best quality of products from garden furniture, BBQ grillers, to garden buildings such as summerhouses, playhouses, sheds, and log cabins. They can give you long years of warranty, free delivery, customisable options of the sizes and materials that suit your needs.
This company delivers its easy and quick to assemble products directly from their factory which you can assure are Britain-made. They have the most exceptional pressure treated woods and stainless materials for your outdoor products.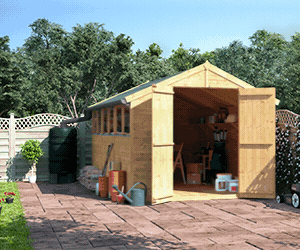 You can give them a try if you are seeking an outdoor building product.
Therefore, upgrade your garden with one of these top favourites from our products then purchase another one or more when you have experienced its quality.
Top 10 Favourite Products of BillyOh:
BillyOh MatrixOrigin 6+1 Burner Hooded Gas BBQ with Side Burner
It is not surprising that this 6+1 Burner is our best selling product because it has a lot to offer and very ideal for your outdoor events.
Who wouldn't want six burners and another one on the side, right? It can cook your food to perfection because it has a thermometer to measure your desired cooking temperature.
You can even move it around your yard with its attached wheels. It also has a considerable cabinet for extra storage to keep everything in one place when cooking which would be very convenient for you, and a removable grease pan which can be cleaned then use for the next barbeque grilling.
You can be very joyful about having something worthy of your money with our BillyOh Origin 6+1 Burner Hooded Gas BBQ with Side Burner.
BillyOh Bunny Max Tower Playhouse
Our BillyOh Bunny Max Tower Playhouse is the top favourite among the garden playhouses. This is the most reviewed product which was praised for its functionalities. It can be a perfect playhouse for your little boys and girls because of its classic and unique design.
Its apex roof makes it airy to let your children easily breathe as they stay and play inside. You can even choose what type of roof that suits your needs and also either a ladder or a slide as this one is elevated from the ground. You are assured of having quality wood materials with this one.
BillyOh Picton Corner Summerhouse
This another favourite product from BillyOh surely deserves its spot. This 7×7 tall BillyOh Picton Corner Summerhouse could be an asset in your garden. With its wide and modern windowed glass and door can make you appreciate your surroundings.
It can be an outdoor office, reading nook, or an outdoor place when hanging with your friends and family.
BillyOh Expert Tongue and Groove Apex Workshop
This another top favourite can be your property if you want to be serious in working in the garden. The BillyOh Expert Tongue and Groove Apex Workshop garden building is best for your productivity goals.
A garden lover would love to have this as this is tall and has full working space inside. Also, this can store your massive set of gardening equipment, workshop, or make it another outdoor house to watch your favourite TV series while eating your favourite snack.
BillyOh Master Tongue and Groove Apex Shed
This BillyOh Master T&G Groove Apex Shed assures you to have a stable build of shed plus the great selection of sizes they have.
If you plan to upgrade on having bigger plants and store massive equipment, you are safe with this product. This is such dependable storage with its robust and firm wood materials.
BillyOh Keeper Overlap Apex Shed
This top 8 product we have is suitable for a small family who loves hanging out in their garden. With this BillyOh Keeper Overlap Apex Shed, you can enjoy more gardening experience and activities with your family.
You can transform it also with what your family needs the most like storing your kids' bikes. Your properties can be intact and organised with this garden shed.
BillyOh Boxer Apex Metal Shed
This BillyOh Boxer Apex Metal Shed is made up of galvanised steel. This is also a top product from the brand as it is ideal storage for your DIY tasks and goods because it is a waterproof metal shed.
With its 195×165 cm measurement, you are guaranteed to have a decent and maximum space of storage. It is also a little bit fancy with its sliding door, so it gives you more space.
BillyOh Lollipop Junior Tower Playhouse
   This another garden playhouse made it to our top 10 best selling products because of its elevated and slide features that make it more appealing. Your kids will surely be fond of this BillyOh Lollipop Junior Tower Playhouse because of its added features and stable foundation.
Most importantly, your kids will enjoy more hours of playing because it is spacious with its four fixed windows.
BillyOh Rosario Dining Chairs – 2/4/6/8 Seat Rattan Dining Chairs in Natural with Cushions

BillyOh Rosario Dining Chairs – 2/4/6/8 Seat Rattan Dining Chairs in Natural with Cushions
   A garden set up upgrade will not be complete without adding some outdoor dining furniture like this BillyOh Rosario Dining Chairs with Cushions. We made sure that your outdoor furniture can resist the natural elements worries as these are made of PE rattan.
This set of furniture will not only give your garden more casual and traditional feels but also the convenience of moving and carrying them around your garden wherever you want them to put.
BillyOh Dorset Log Cabin
   Who would not buy something that can be their second home and can be a garden star at the same time? This BillyOh Dorset Log Cabin will not disappoint you with its beautiful appearance. This is such a versatile cabin that can be your workspace, game room, private gym, or a movie theatre.
You do not have to do some building and construction again of the much-needed extension of your place. Other than that, we will give you the options and choose whatever is suitable for your needs.
Our New Products
Moreover, we now have new products that can be one of your favourite products from us too.
We have a new set of garden furniture which is the BillyOh Florence 4 Piece Rattan Sofa Set. This will not only complement the beautiful garden you already have but also gives you full comfort and relaxation.
We also have new designs of log cabin namely BillyOh Metro Log Cabin, BillyOh Highfield Log Cabin, and BillyOh Travis Log Cabin.
BillyOh Metro Log Cabin gives you the modern feel you are looking for a log cabin in your garden. It is ideal for a family with the tall height genes with its extra high central double doors. These new log cabin could give you the comfortable living you'd been aiming for in a cabin.
BillyOh Highfield Log Cabin, however, has the modern apex design and also high central doors. With these features, you will be able to enter and move tall and huge large items easily such as your outdoor furniture and gardening tools.
Lastly, our new BillyOh Travis Log Cabin that features a modern pent design that would be fascinating in your modern garden setting. Besides, the size adjustable side unit which is attached to the building is such a wish granted for your daily storage.