Although winter might be the best time to snuggle up under the sheets, it also gives you the chance to do some activities that you can't do in the summer! And we're not talking about building a snowman or having snowball fights – we mean hosting an outdoor party!
Winter is a long season, and it can get boring when you're stuck indoors. So, why not find a way to make use of your garden and throw a party? It may sound crazy, but we're going to help you with everything.
Now if you have already kept your patio furniture inside your storage, there's no need to panic. You won't need those. Find out what you'll need with the help of our top tips on hosting an outdoor party this winter.
1. Gather Everyone Around a Firepit
Fire pits can be beneficial all year round, but they are mostly handy when the colder months arrive. The main thing you need to keep in mind when hosting a winter outdoor party is to keep your guests warm. You can look into building a DIY fire pit or invest in a portable version one like the
BillyOh 3 in 1 Round Brazier Fire Pit. Aside from keeping you and your guests comfortable while staying outdoors, a fire pit also adds camping feel to your party. That means you can also use it to toast some marshmallows and make some s'mores!
2. Offer a Bunch of Blankets
Of course, your guests are expected to dress warmly, but providing them with blankets is also a great help. Have a basket of throw blankets available so your guests can wrap themselves up as they mingle with everyone. Having sheets around won't also leave your guests sitting on metal furniture that has been out in the cold for days.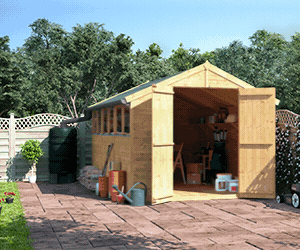 3. Light Up the Way
Since the sun doesn't stay out too long during the colder months, it's great to invite your guests early in the day. However, you need to make sure it doesn't get too dark as the night falls. A bonfire or fire pit might help, but lanterns and lights will also come in handy.
4. Serve a Warming Menu
There's no better way to enjoy a winter garden party than with some hearty yet warming food. Instead of serving usual picnic snacks, include meals that will warm up everyone. Soups, sausages, barbecues, are excellent choices as they're simple and can cater to a lot of guests. You can also roast some vegetables for sides like potatoes, cauliflowers, and mushrooms for a more elegant dish.
5. Drink in the Season

Aside from the food, your guests will surely be expecting good drinks as well. Luckily, there are endless options for warm drinks that everyone will enjoy, so you'll never run out of ideas. Try adding some cranberry juice or pomegranate to fizz to give it a wintery feel. And of course, the party won't be complete without steaming mugs of tasty mulled wine! Here's a tip: Add a hint of cardamom to your mulled wine to give it a unique taste.
If you're planning to throw a party this winter, but you don't have enough space inside your home, then you might have overlooked the use of your garden. Despite the chilly weather, there are many ways you can enjoy right talks and have warming drinks outside while waiting for the stars to shine at night time.