Outdoor lighting can create a nostalgic Christmas scene in gardens and front yards. It brings so much festive cheer outside of your home, brightening (pardon the pun) everyone's day.
There's no limit to what you can create. So to inspire your creativity this season, we've put together a list of our favourite outdoor Christmas lighting ideas.
Perfect for lighting up snowy or dreary holiday nights, take a peek and get started adding a little festive sparkle to your outdoor space!
1. White Christmas porch setup
It's about time to think outside of your home's four walls and fill every nook and cranny of your porch with Christmas lights! The white branch-inspired lighting in this idea gives off a major winter wonderland vibe.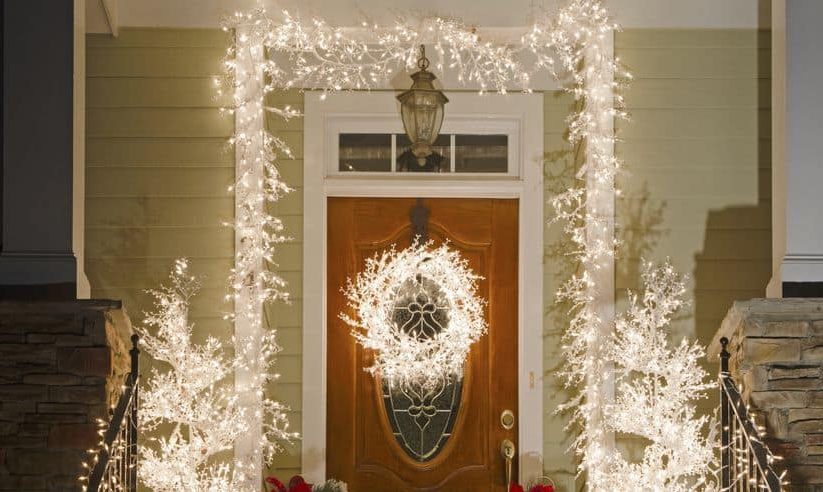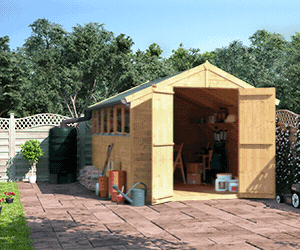 2. Colourful Christmas trees along the pathway
Everyone loves the appeal of twinkling outdoor Christmas trees. Decorate these little trees with a combination of various light colours along the pathway.
Don't forget about your porch, railings, and even staircases!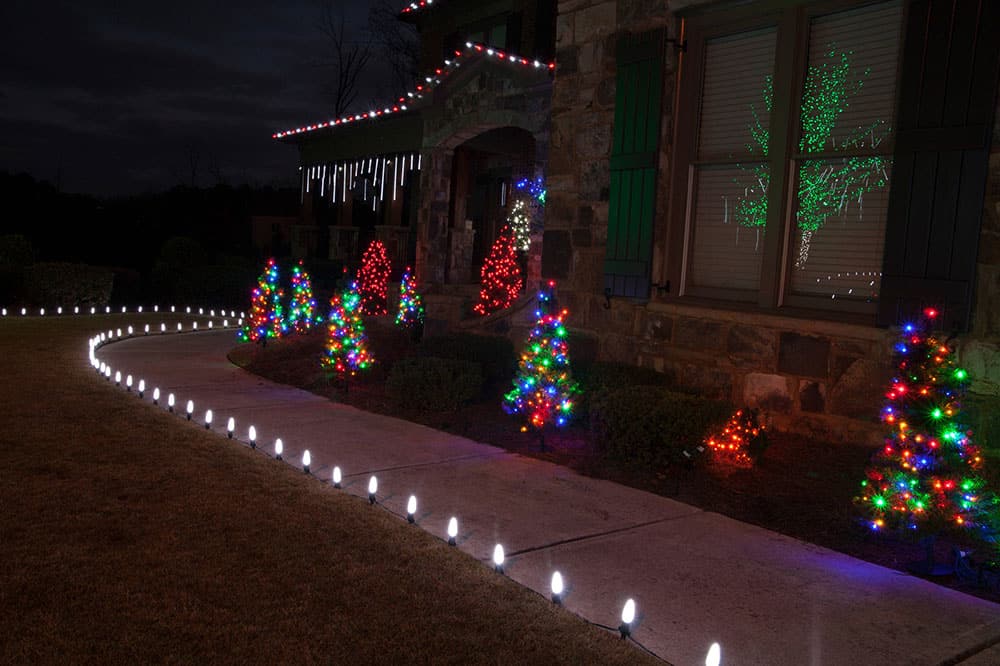 3. Go all out with topiary animals
Don't just use lights; incorporate illuminated animals to make your outdoor decoration even more fun. Take a cue from these lit up reindeer to impress not only the neighbourhood but also Santa!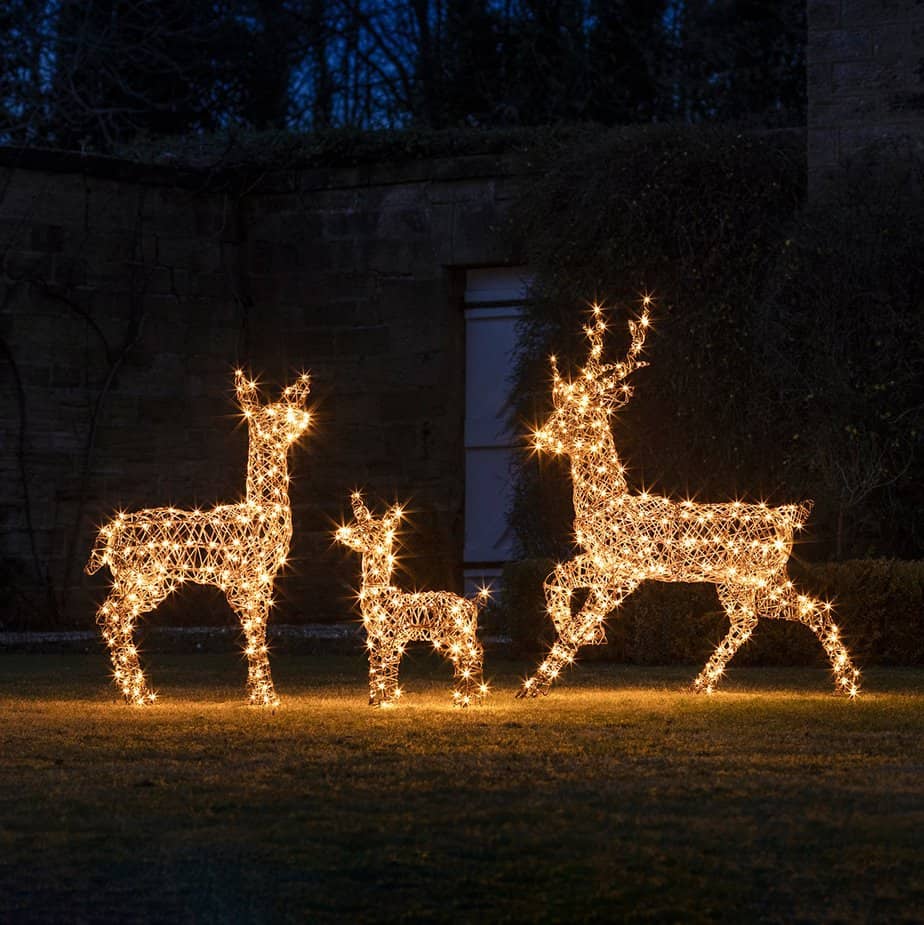 4. Wrap the trees
Garden trees make an excellent addition to outdoor Christmas decor, especially when they have lights on. When wrapped with fairy lights, they also make a stunning visual display for onlookers whilst making your exterior look even more inviting.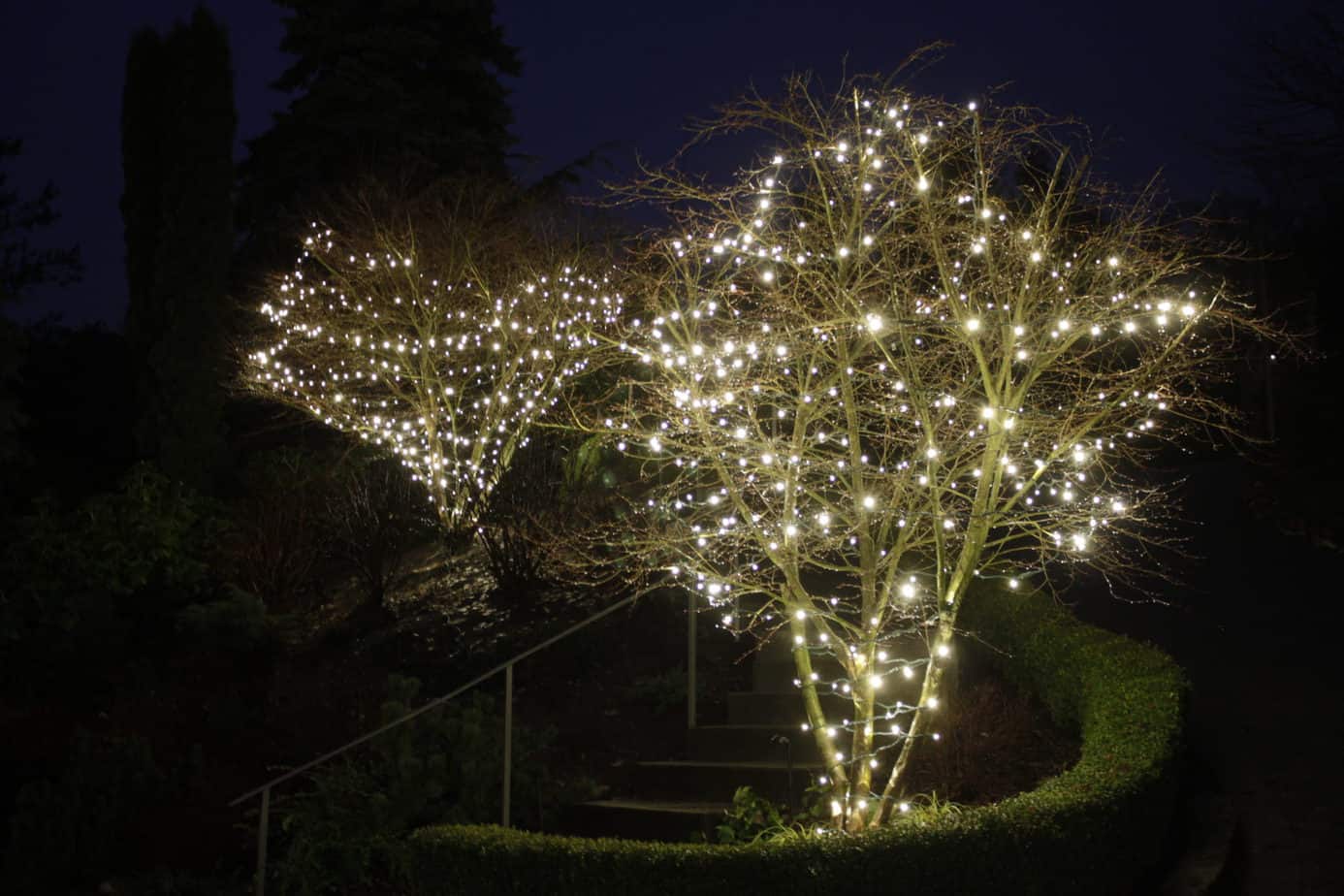 5. Opt for laser lights
Why not opt for an outdoor laser projector for Christmas this year? You can create an aesthetic tree line or decorate with lights in whatever way you want.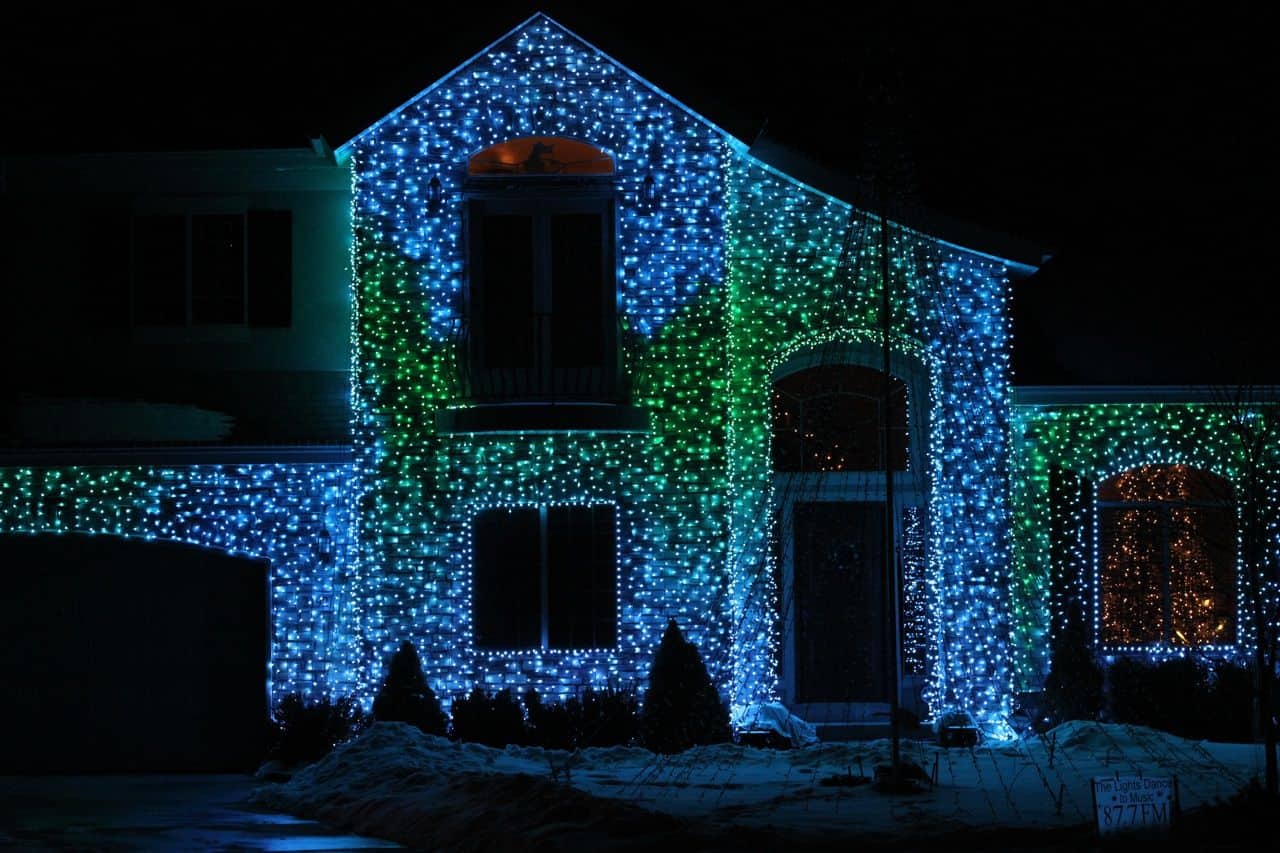 6. The cascading icicle lighting effects
Create a beautiful light show in your front yard or garden with a dripping effect like this one! Simulating falling snow, simply add the lights on your roof or trees to add more value to your outdoor design.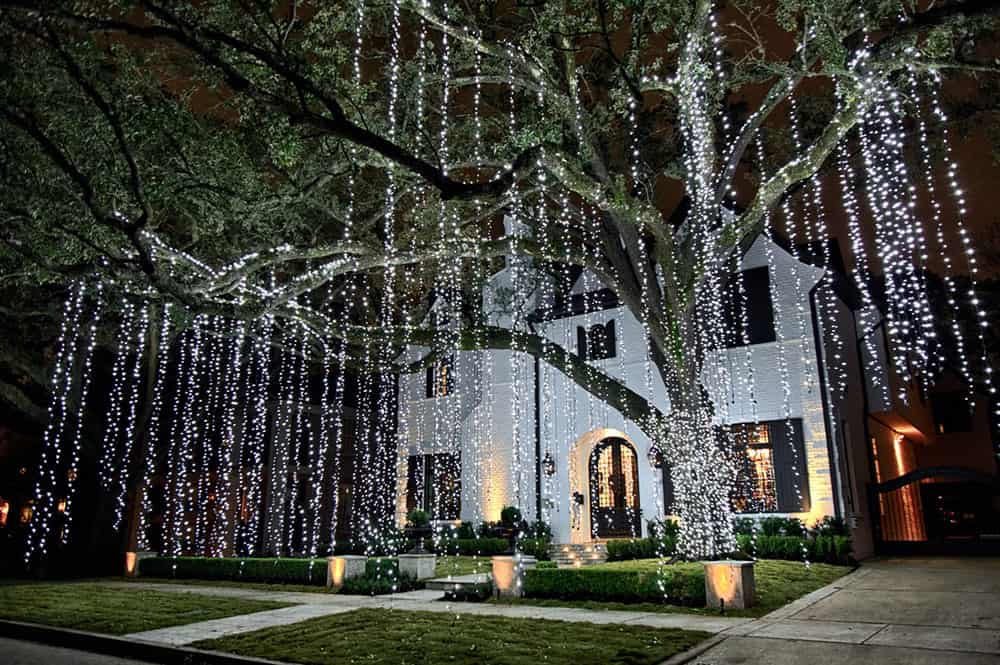 7. Bushes wrapped with net lights
Make use of the bushes around your home by wrapping them around with net lights. This concept makes a great deal of difference, adding massively to your outdoor Christmas setup.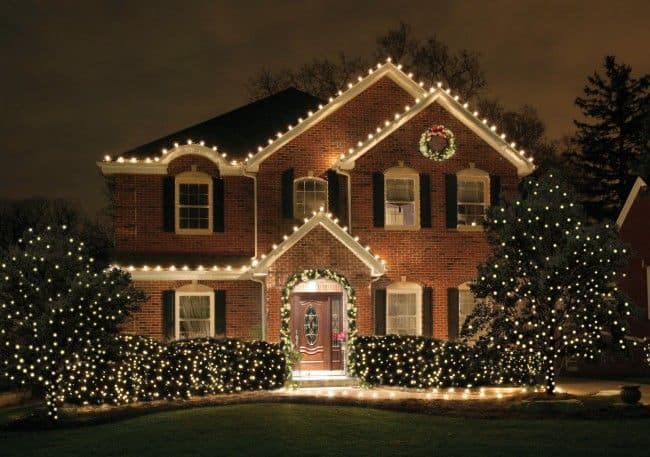 8. Christmassy roof display
Be creative with your holiday roof decorations and have a little fun with your lights. Take this holiday roof light display as a blueprint. It perfectly shows the holiday spirit, and if you join the neighbourhood lighting competition – you'll surely bag the prize!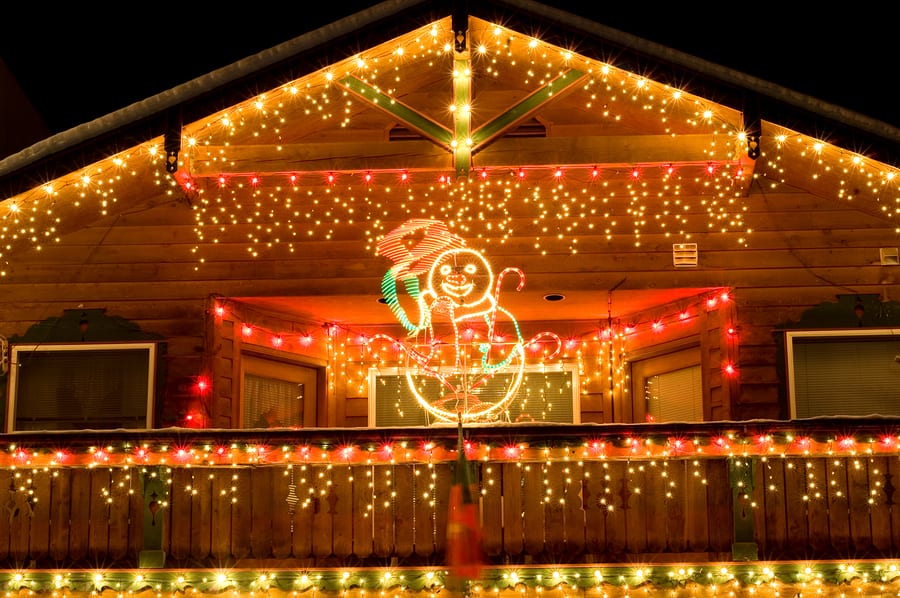 9. Star lanterns paired with string lights
Not only do star lanterns look amazing, but they also give a festive look to balconies. Even if you don't get snow for the holidays, sweeping string lights can give your balcony a spark that feels like winter.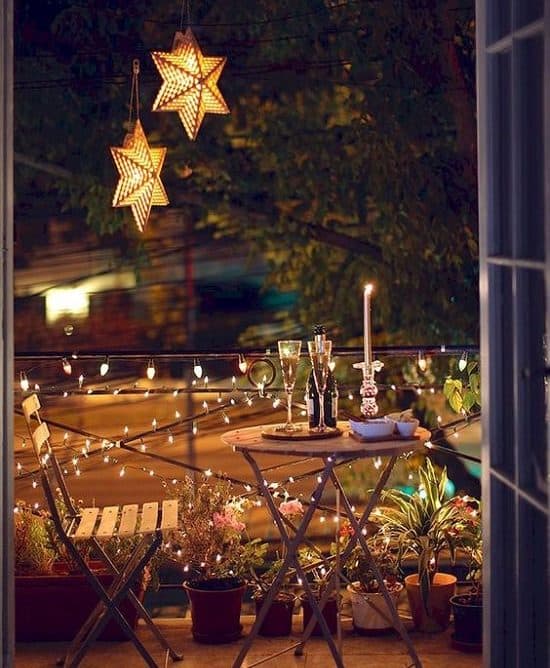 10. Add neon signs
Go extra with your outdoor Christmas lighting game by adding a massive neon sign on your roof or front gate. It helps outline your house, mainly the roof, just as shown in the picture.
We're telling you; going for this concept, your house could be the centre of attention in town!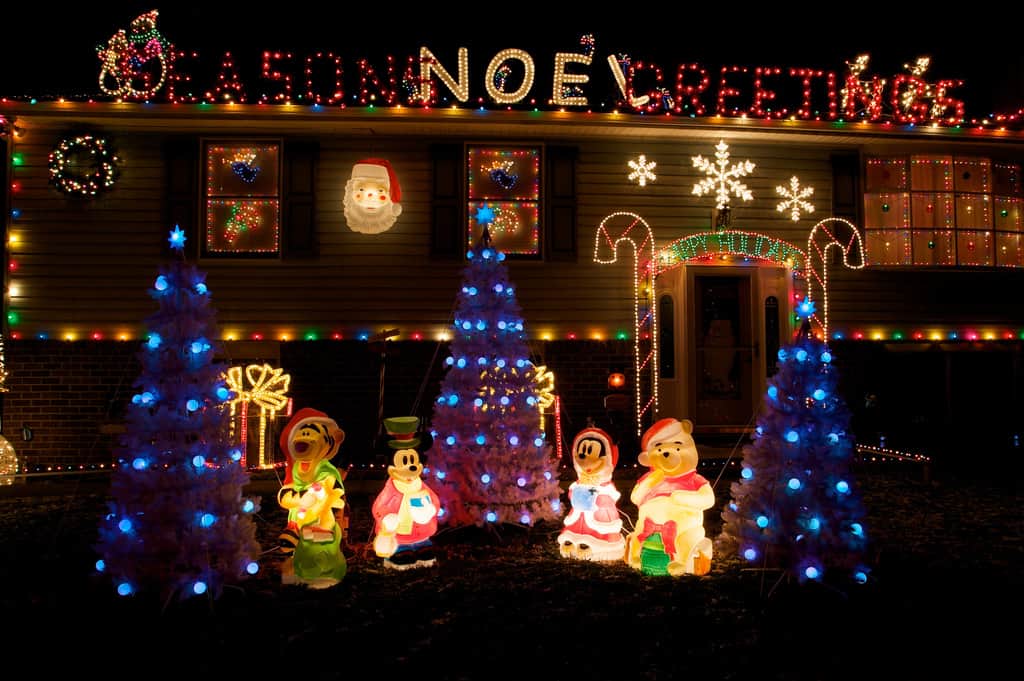 11. Highlight your main door
Beautiful red bows with lush green creepers on your main door are enough to strike the right chords for your festive season. Beautify the outdoor space more with yellow lights and creepers around the pillars.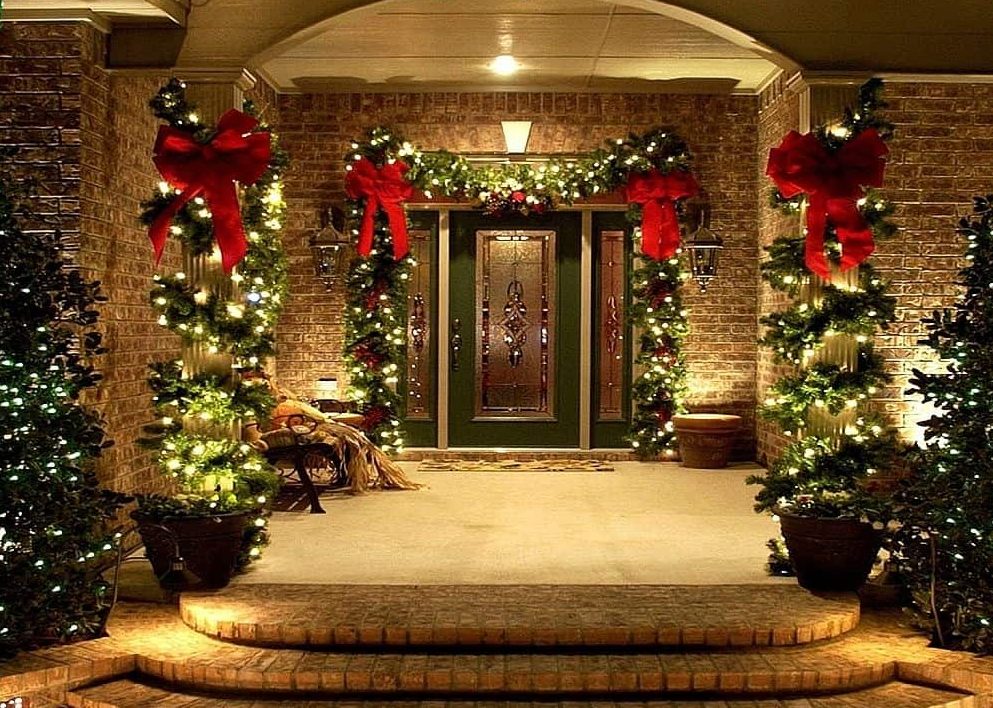 12. Create a spiral bordered path with lights
By looking at this snowy garden path, the small outdoor lamps create a cheerful surrounding. They light up the street leading to your house, greatly impacting your holiday spirit mood.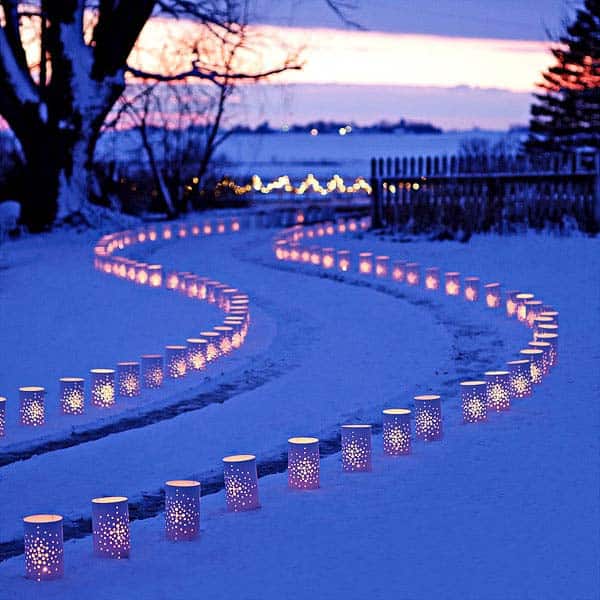 13. Bright, massive star on the wreath
Stars are one of the true symbols of Christmas. Your outdoor lighting setup won't be complete without their presence. Welcome the festival of joy, a simple big star on a wreath concept like this around your house.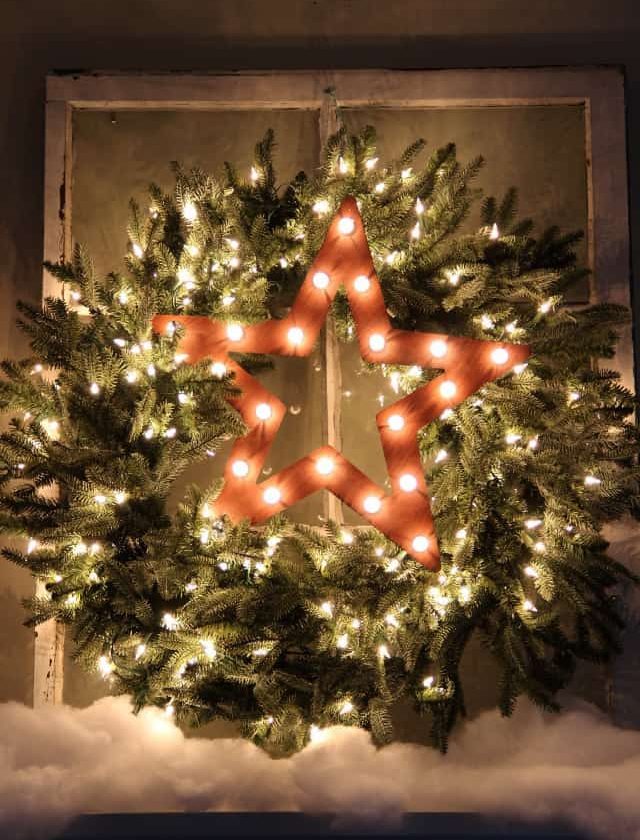 14. Go full-house
Imagine what Santa (plus the neighbours and passerby) will look like when he visits your home! From the roof, all the way to the fence, a Christmas display like this will never let you down.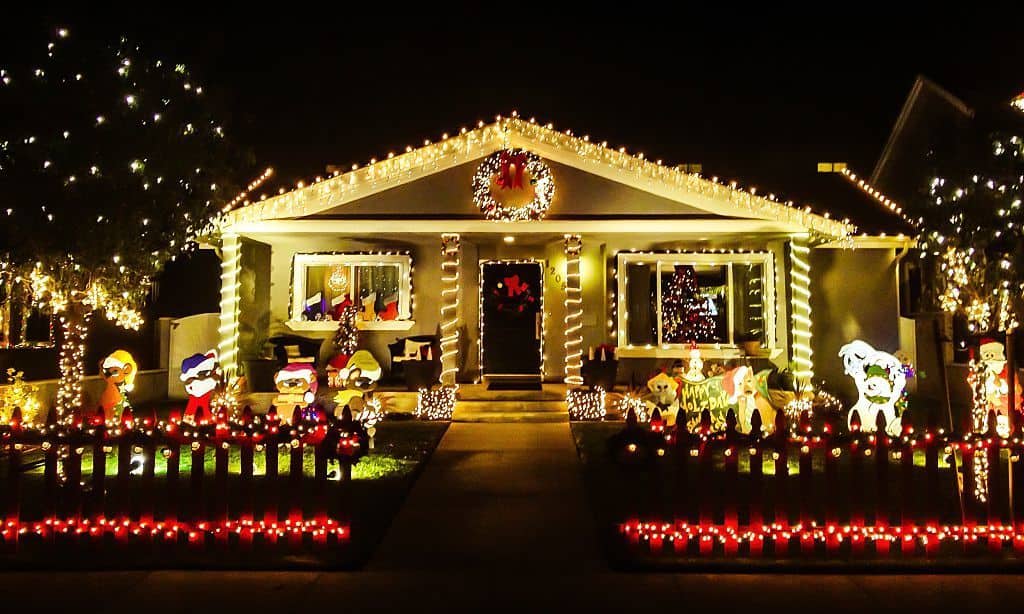 15. Light-wrapped pillars
Garland lights can easily wrap around railings to produce a stunning display. They add height and look incredible when used to outline the front door in place of greenery.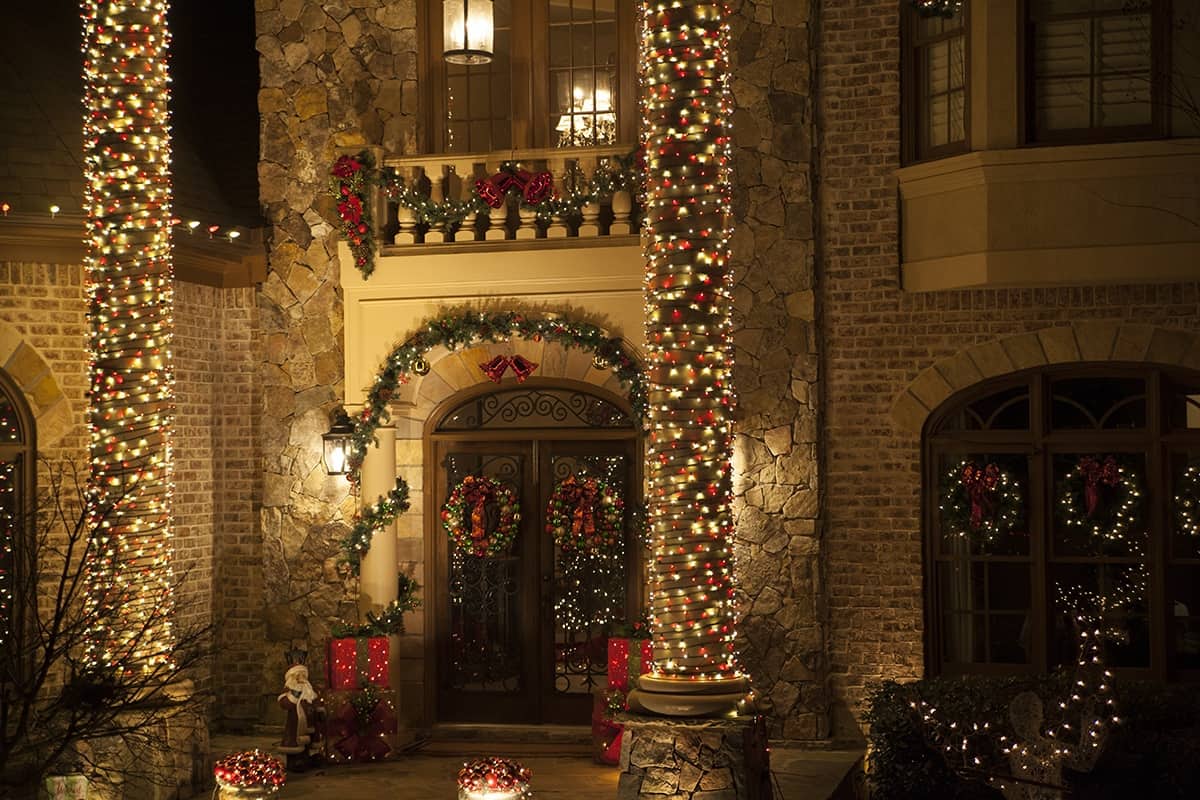 16. Oversized starlight spheres
Create a focal point in your Christmas outdoor decor by adding massive-sized starlight spheres into the background! Choose starlight spheres in one or a few colours to complement your holiday theme.
Use mini versions to hang between each column or across the ceiling to complete your Christmas-themed porch.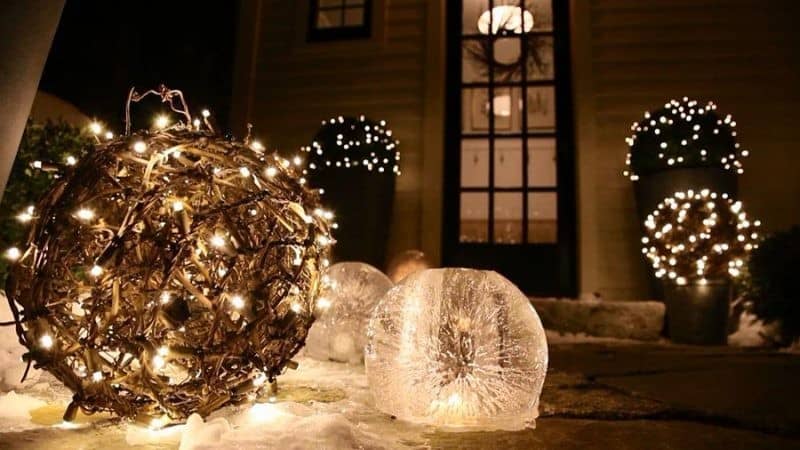 17. LED snowflakes
Step into a winter wonderland every time you arrive home with lighted snowflakes on your porch. Add a wintry mix with snowflakes in different sizes and styles hanging above the front entryway or backyard trees.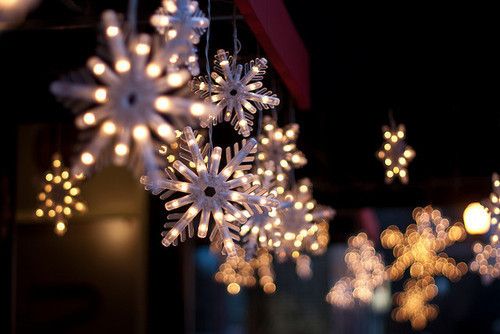 18. Stay gold
Gold is a great choice of colour theme if you want to stick to one type of Christmas light design. You can't go wrong with it as it works well with just about any home style. Gold-toned lights also avoid an over-the-top look, perfect for a simple outdoor Christmas setting.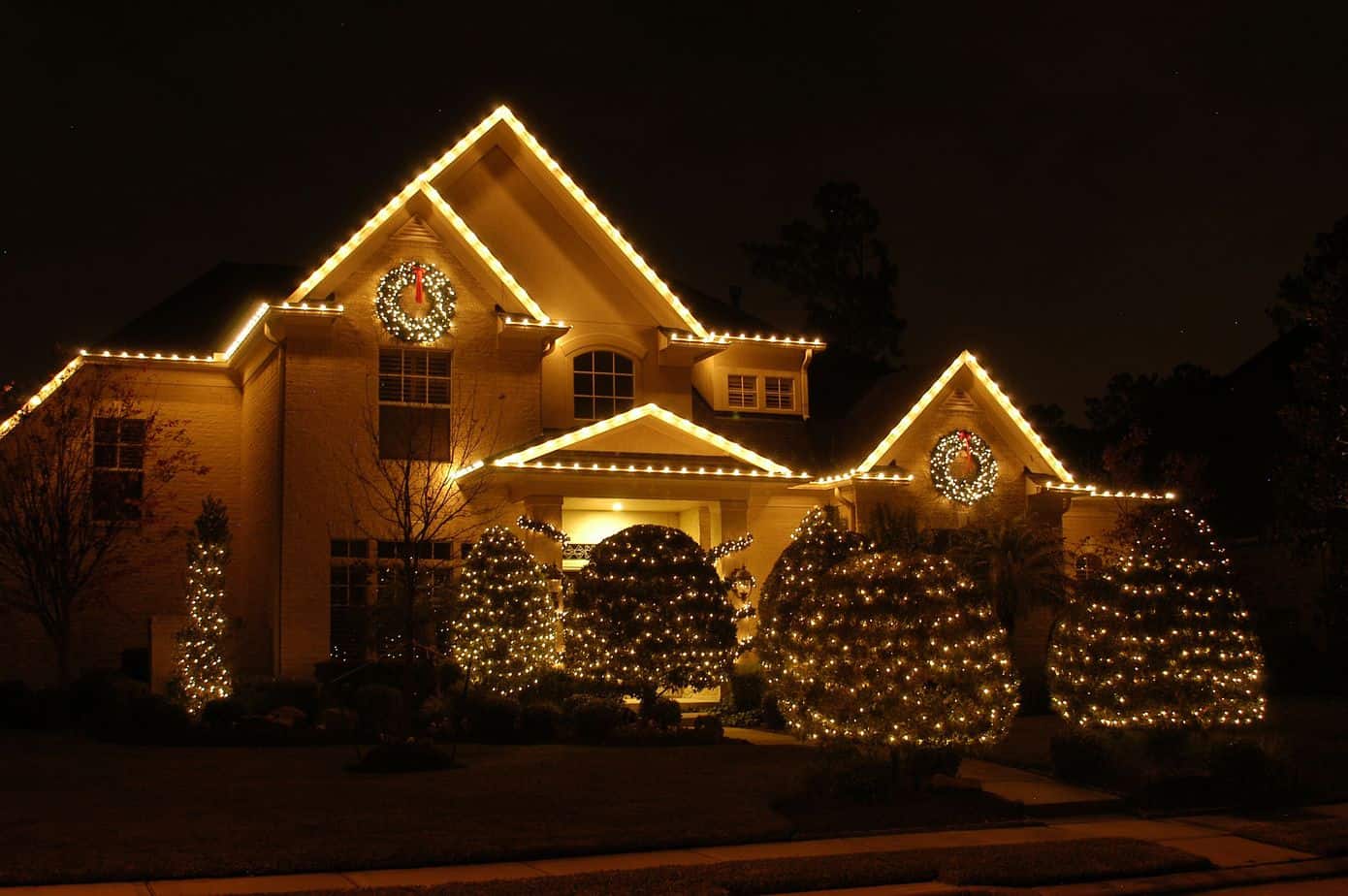 19. Or go for a red and green colour scheme
Keep the lights minimal and clean with a red and green colour scheme for your outdoor space. This colour combination denotes all the Christmas cheer!
Use green lights on the bushes and your roofline, then contrast the green with red backlighting.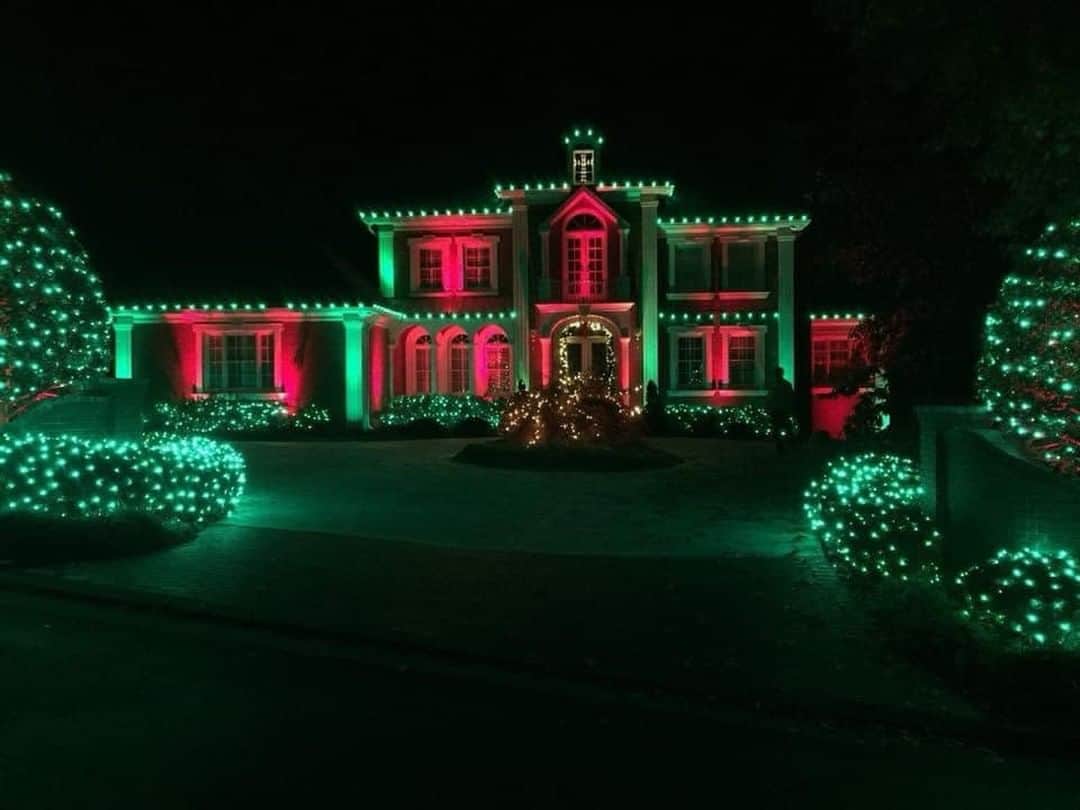 20. The ultimate flying Santa and reindeer display
How about a quick ride with Santa this holiday? Lift the mood of your neighbourhood with this flying Santa and reindeer display! The bright neon lights and other Christmassy displays complete the spirit of Christmas.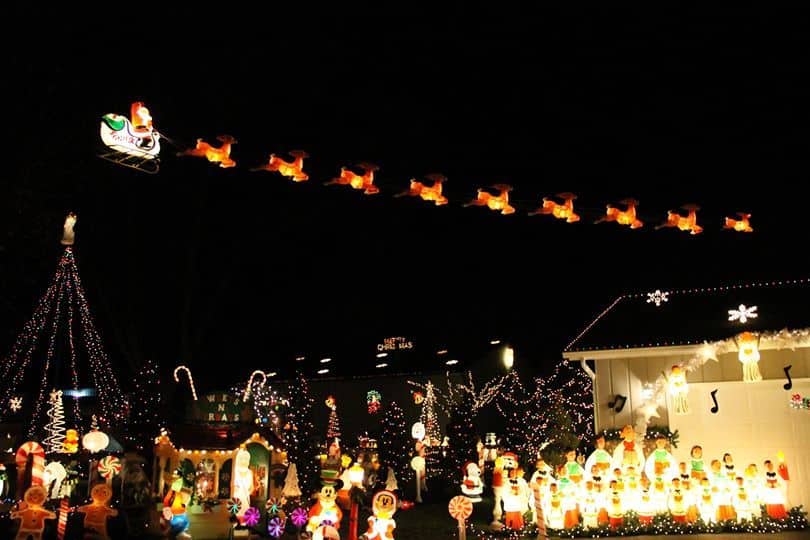 21. Outline the section of your home
Use fairy or globe lights to outline your house and turn it into the perfect gingerbread house at night. Focus on the roof, windows and doors to create a merry-effect light display. Warm colour lights also add a hint of vintage charm.

22. Keep it minimal
Even with a minimalist approach, you can get your home into the holiday spirit. Take this front yard makeover, for example.
The simple wreath hung on the door signals that Christmas is around the corner. But the small globe lights on each container plant make the area look simply festive.

23. Light up the fence
Don't forget your fence when decorating your front and back gardens for the season. Use garlands and holiday lights to illuminate your home's border at nighttime. Add ribbons for a holiday cheer.

24. A tropical holiday
Who says tropical garden ideas can't get Christmassy? Palm trees make an excellent Christmas tree alternative.
Use string lights to wrap around them to channel a tropical holiday spirit. Simple outdoor lighting like this will give your home the bliss of the holiday season, even without the snow.

25. Christmas experience on the patio
Get that romantic winter experience by covering your patio with Christmas lights! A combination of net and string lights can help recreate this dreamy setup. This is fantastic if you plan on hosting alfresco dining this holiday season.

26. Light wreath display
This holiday lighting display is made from string lights and a few ornaments. Wrap the lights around a wire wreath frame and hang it by the window or entrance door. What a creative way to make use of the Christmas lights – and a great DIY project for the kids, too!

27. Lighted rattan reindeer
A family of reindeer by the front or back yard is a lovely way to welcome Christmas. This year, opt for something new such as this rattan reindeer display.
Wrap string lights around them and add holiday ribbons for finishing touches.

28. Hang Christmas light balls
Decorate your patio or porch with these Christmas light balls. You can even make one or a few yourself using wires and string lights!
Just wrap the lights around a circular wire frame – make sure the whole thing is covered. Complete the look with ribbons or metal strings to hang on trees, ceilings or windows.

29. Solar-powered glass lanterns on the trees
Solar Christmas lights guarantee a lower electric bill and smaller carbon footprint. The benefits outweigh the costs without taking away from your festive display.
This Solar Powered Glass Jar Lantern Light is a great example. Invest in a few and hang them around your trees, pergola ideas, or fences.

30. Easy elegance with natural elements
Deck out your home's entrance with loads of natural elements and string lights. Take a cue from this cheery home with a lit evergreen garland. Plus, two large urn planters with spotlights for a dramatic statement.

31. Tomato cage trees
Pull your tomato cages out of the shed and give them the spotlight this holiday season. With a bit of imagination and bling, you can transform them into amazing Christmas trees! A DIY project can only take around 15 minutes to make.

32. LED starlight
Add the perfect finishing touches to your home with a LED starlight. Not just for Christmas, this indoor light can be used all year round to create a cosy ambience in your living space.
This novelty starlight with fireworks is entwined with 100 microlights that give off a warm glow.

33. A merry outdoor fireplace
There are so many seasonal and festive outdoor fireplace mantel ideas that you can try out too. And below is one of our favourites, and we thought you'd also like it! Pair them with green garlands and red ornaments and displays for accent.

34. Snow globe terrariums
It will only take you a few minutes to pull off these DIY winter-themed terrariums. Pick up a few jars and stuff them with fake snow, LED lights, vintage figurines and bottle brush trees.
Hang them anywhere, such as on trees, windows or pergolas, through twine or string.

35. DIY burlap Christmas garland
Lighted burlap garland adds a rustic touch to holiday decor and can be used yearly. Spruce up the look by adding festively coloured ribbons to a string of white lights.
Perfect for fences, columns, doors and windows. Get the tutorial at Create Craft Love.

36. Pinecone lanterns
Add seasonal style to your home with pinecone decors, such as these lantern displays. The rusty lantern case and wooden sledge offer a rustic charm, perfect for pinecones. 
They will look magical as winter centrepieces, door decorations, mantel accents, and more.

37. Christmas topiary greenery
These little trees created from herbs or other evergreens work well as holiday trees. A great alternative if you don't have a big backyard to have an actual tree.
Snip, trim, and shape the plant's foliage into the design you want to go for. These tips will come in handy.
38. Draped string lights
Shower your patio with a glittering glow with curtain lights. String or icicle lights will do the work!
Just drape them on the patio, porch, and windows like a curtain. This will give your home a charming, festive twinkle that feels like winter.

39. Holiday garage makeover
When it comes to garage/carport design ideas, you can't miss the Christmas makeover. Take a cue from this cheery garage decorated with a big red bow, garland, and wreath.
Light up the garlands and wreath to add a touch of holiday elegance.

40. Wall lamp decorations
Add holiday decor to garden wall lamps to give them a pop of holiday cheer without being overbearing. Wreaths make an excellent choice as they only need to be hanged. They'll look better if they're wrapped with string lights, so they'll stand out at night.

41. The nativity scene
Bring the story of Jesus Christ to life by placing a nativity scene in your front or back garden. Crafted with fabric and sisal over a metal frame, it features Mary, Joseph and Baby Jesus.
The addition of Christmas lights shines brightly in this crèche.

42. Candyland display
Candy canes and peppermint candies are on the sweeter side of Christmas decorations. They make any garden, front yard, or property – in general, look adorably Christmassy.
Turn your home or a garden room into a Candyland for the neighbourhood to enjoy, especially kids!

43. Or give it a candy cane look
You don't have to go overboard with the candies. A simple candy cane-inspired look will do. Take a cue from this gingerbread-like house.
It's decorated with peppermints and candy canes, and the lights are all red and warm white. The best part? The white roof gives an appearance of white icing!

44. Frosty the Snowman
The addition of Frosty the Snowman into this setup creates a magical atmosphere around the house. And the owner didn't stop at that!
They wrapped the trees and bushes with bright string lights. Plus, the presents under the Christmas tree also make lovely decors.

45. Rustic porch
This rustic porch Christmas setup has that cosiness to welcome friends and family. The simple displays match the aesthetic of the cabin home, spreading holiday cheer.
Wrap the wooden beam with garlands and ornaments. Place a few lanterns on the pathway to welcome guests.

Round-up
Thanks to these ideas, your home will be the envy of your neighbourhood! At least one from this list will help you bring some great outdoor lighting setup that will dazzle your surroundings. 
Most importantly, spread the spirit of the holiday season like never before!
Shop Rattan Garden Furniture