How to heat up your patio all year round?
Outdoor living space offers the perfect spot for entertainment and leisure. But when the winter season kicks in, the weather limits your time spent outdoors.
This is where our patio heating ideas come into play. Along with fire pits, we've prepared an extra dose of inspiration and put together our top picks from the web.
These ideas are guaranteed to provide that much-needed warmth on your patio. What's more, they can help create a focal point, making your space more inviting and pleasing. With these stunning and practical designs, you're bound to find something you love. Let's have a look at them!
1. Fire pits
If you got the space, make more of your outdoor heating and turn it into a focal point of your patio. You can even go bespoke, upgrade the look of your fire pit. Define the space and give it a sleek finish. Take a cue from the photo below; it makes an ideal feature to centre seating around.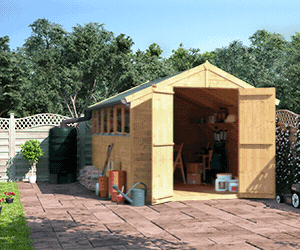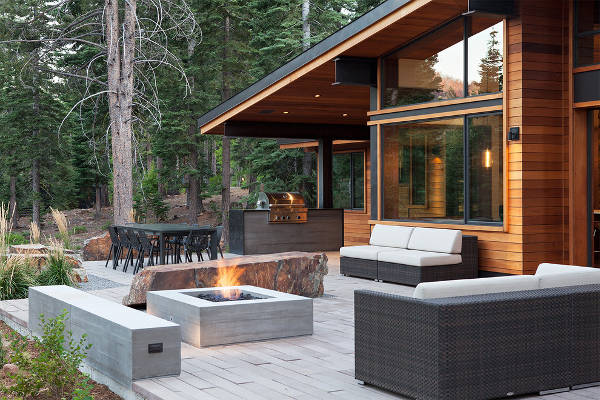 2. Fireplace
A fireplace installed into a boundary wall adds a stylish centrepiece to patios – on top of the temperature boost, of course.
If you have a small garden, this design will take up next to no floor space by utilising an existing wall. Plus, you'll still get all the benefits of having a fire pit.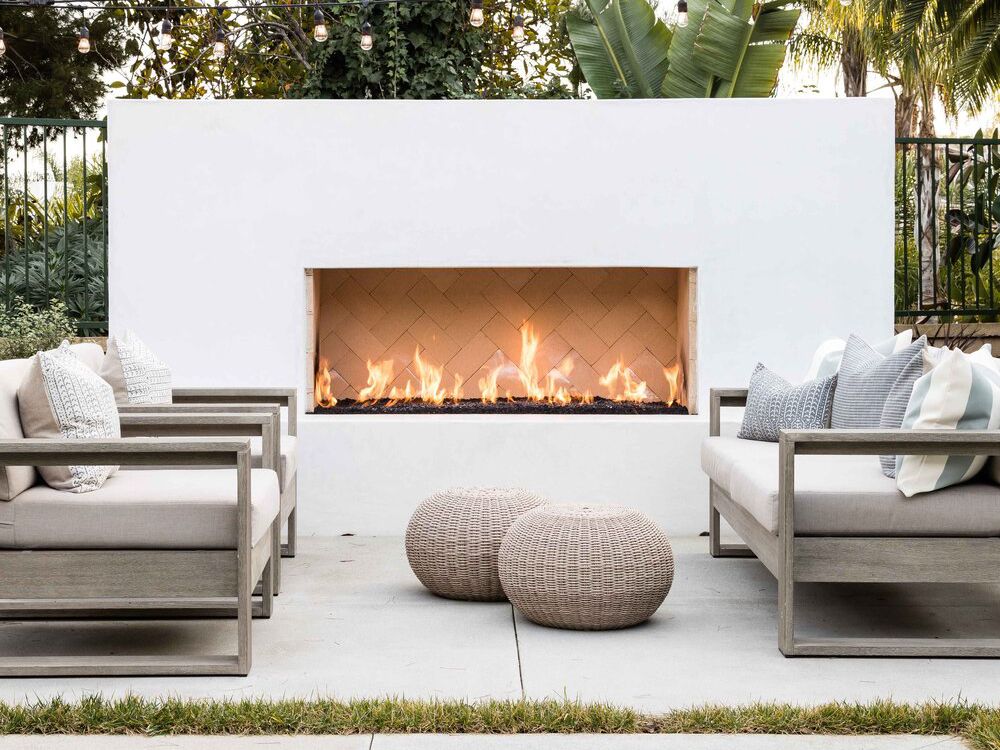 3. Chimineas
A portable fire pit like a chiminea is a smart choice for you if you often move around your patio. Chimineas have eye-catching flues that can mimic the look of a built-in design.
Take inspiration from the scene below to achieve a Scandi-chic look.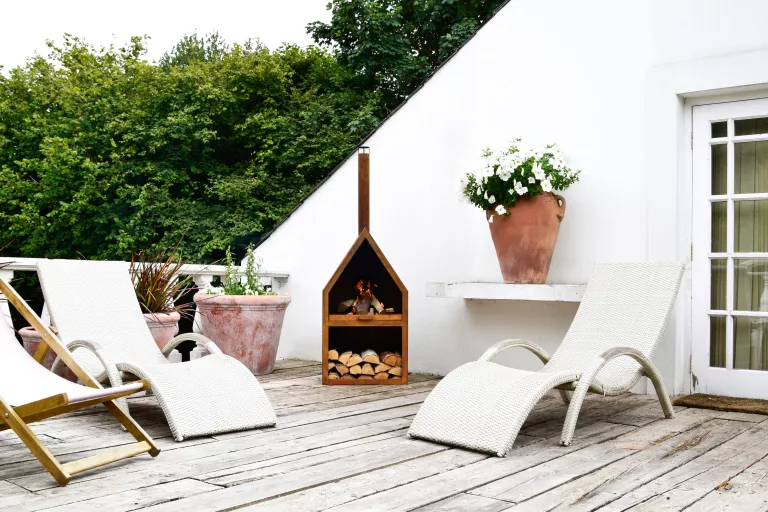 4. Fire pit dining tables
Have you heard about fire pit tables? It's a concept that combines a fire pit and a patio table.
Provide convenient light, warmth, and at the same time, a level surface to put things down. With this, you can make the most of your patio all year long.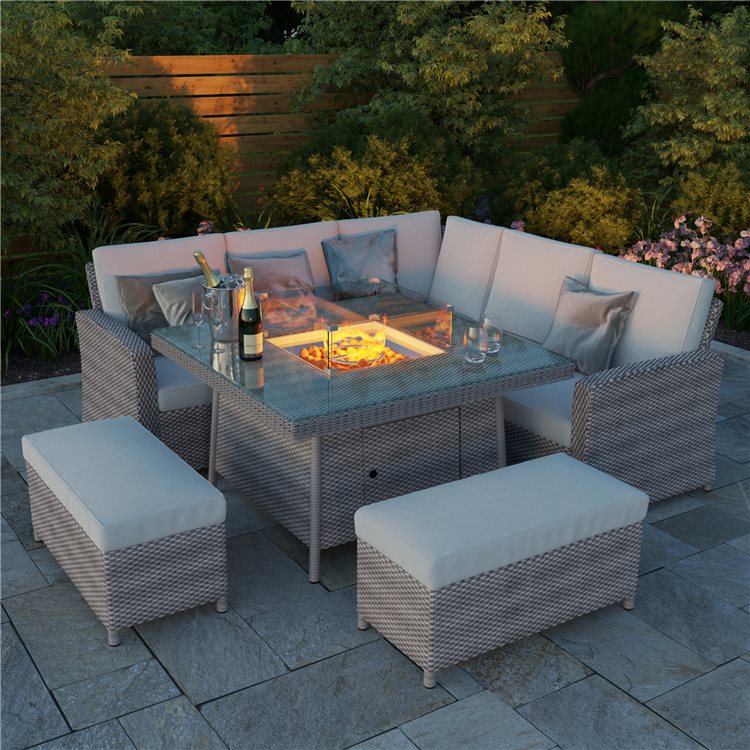 (BillyOh Capri with Firepit Table)
5. Stone chimneys
Having a built-in stone fire can take your patio to the next level! The classic charm of wooden furniture paired with a stone chimney can give you that camp-out vibe, but in a stylish, more sophisticated way.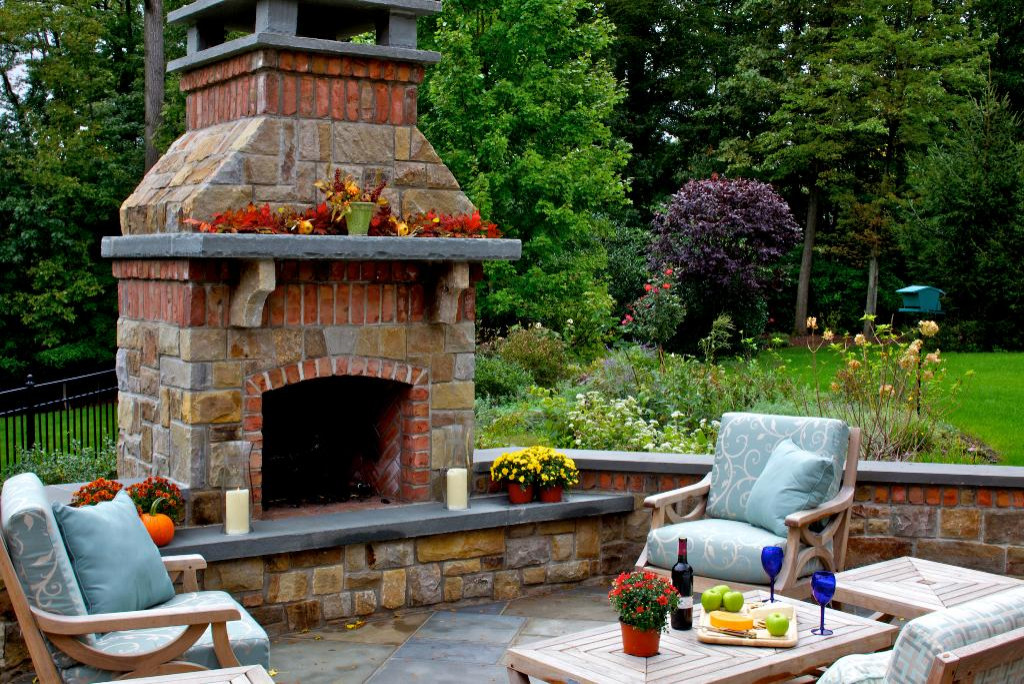 6. Concrete fire pit centre tables
When talking about functionality, this fire pit centre table says it all. Serving as a dual purpose, a heating source and a table, it makes an instant garden centrepiece.
This rectangular design perfectly fits in narrow spaces with a slimline lounge chair.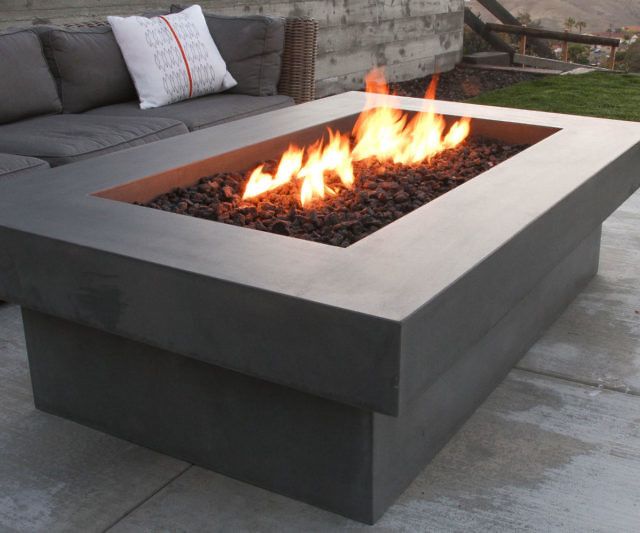 7. Patio heaters
Stylish patio heaters can be hung like lights (e.g. infrared heaters). But there are also pendant style and lamp-like standing heaters. In this patio, the heaters are fixed at the corners of the ceiling. They make the perfect addition to make a formal outdoor living space snug.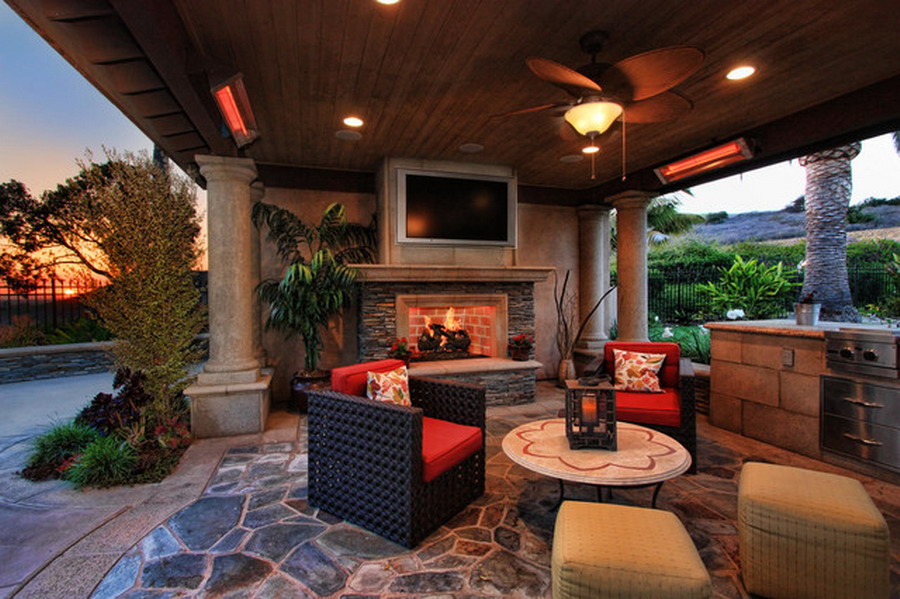 8. Outdoor hot tubs and spas
Picture this: it's a frosty December night, and a hot steam tub awaits you on your patio. Now we're talking! Even if it's winter, you can warm up and relax in the comfort of your outdoor space with an outdoor hot tub!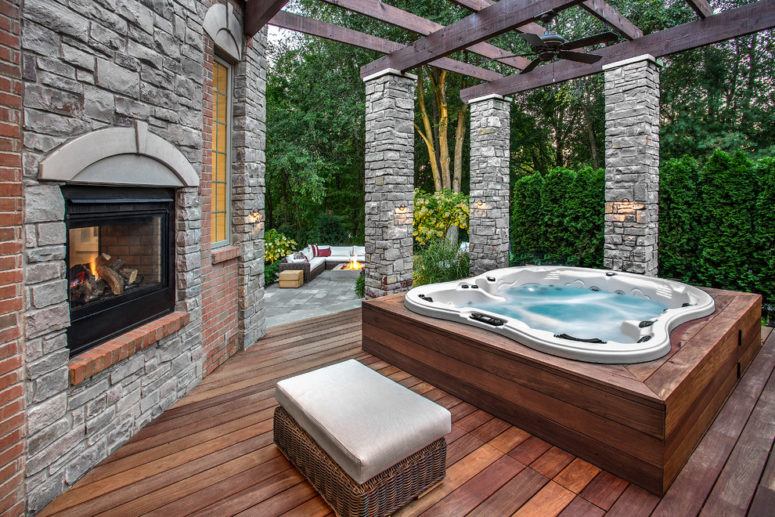 9. Heated floor decking
Keep yourself and your family warm by installing radiant heating beneath the flooring. The heating system helps warm up your patio or deck. Added bonuses include melting fallen snow and keeping the patio from getting icy!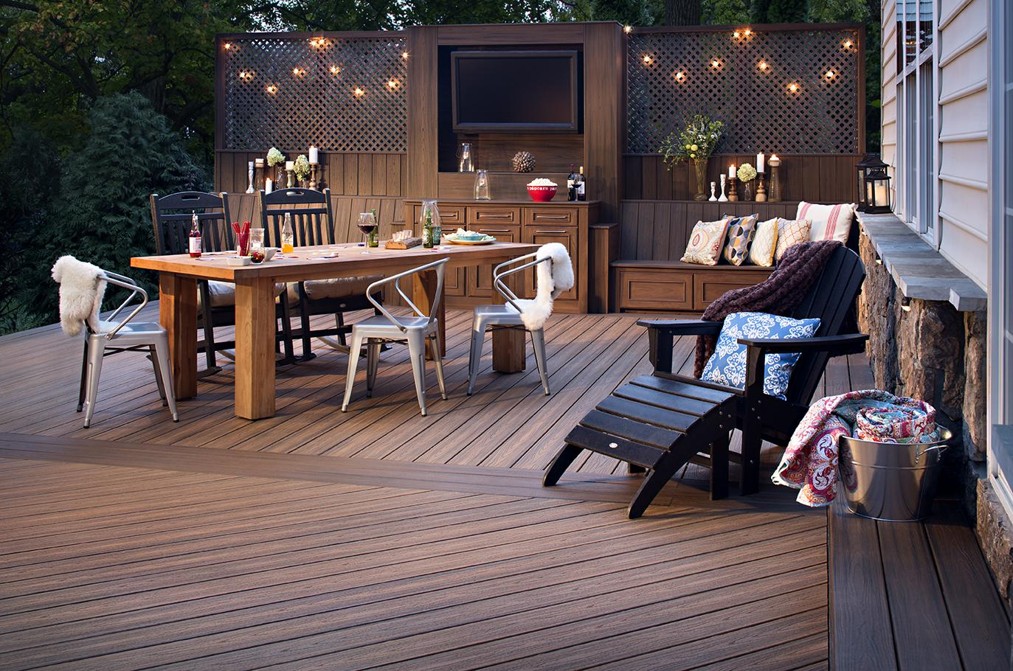 10. Sunken snug
This sunken patio seating design adds a modern fire pit into the banquette. It offers all the comfort you could ever ask for! If you have the budget, consider recreating something as stunning as this one in your own space.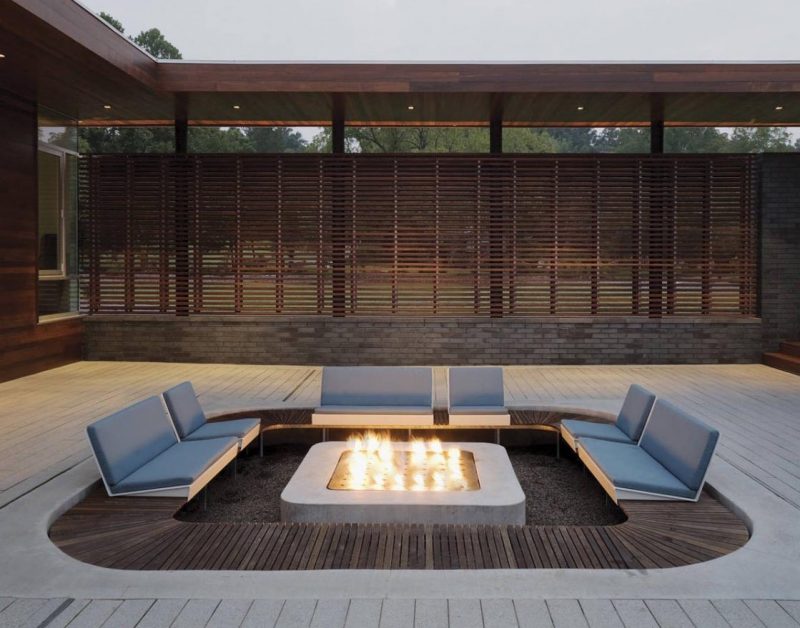 11. Corner garden luxury
When it comes to corner garden ideas, fire pits are a great way to create a feature at the end of your yard. Here, the design brings a stunning focal point to the scene. The built-in benches blend well with the fence, and they offer extra seating, which is a plus!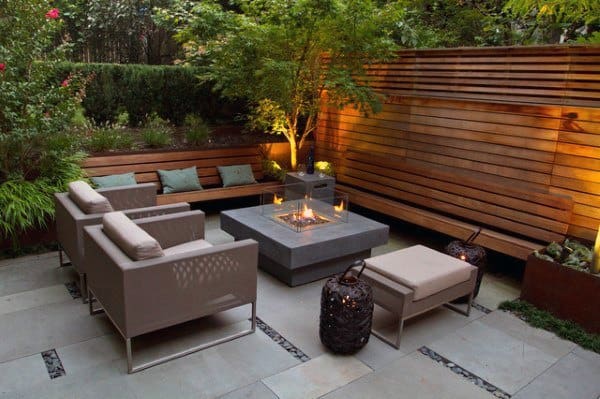 12. Built-in fire pit
There's an added bonus that a built-in fire pit offers to landscapes. And that's transforming a typical patio into a liveable space, which adds value to the property. The warmth draws people in; at the same time, it could attract potential buyers.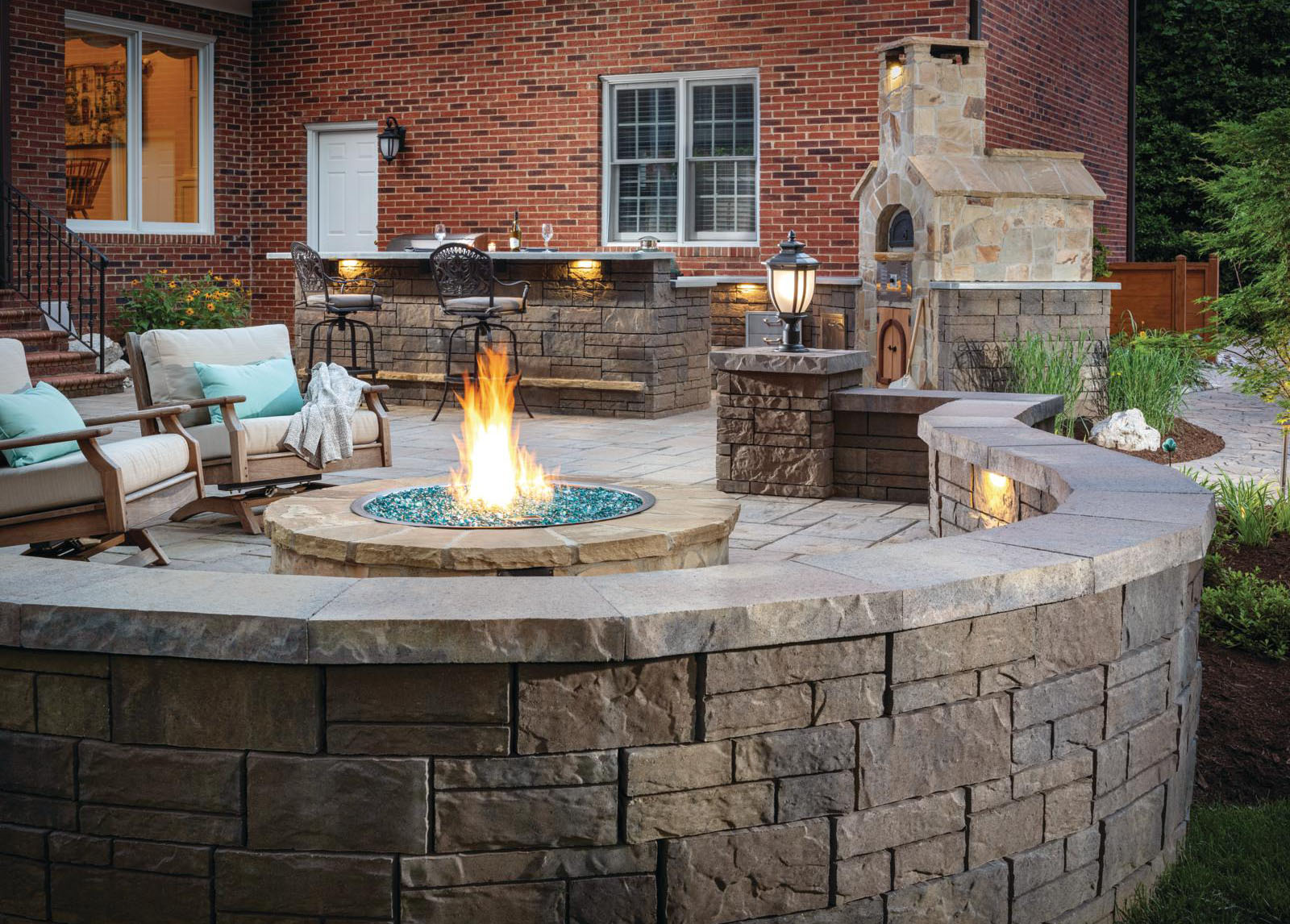 13. Fire bowl
A compact fire bowl is the way to go for small gardens, patios and balconies. You can easily move it around or store it inside when not in use. Opt for a simple, concrete design that takes up minimal space but looks lovely when lit.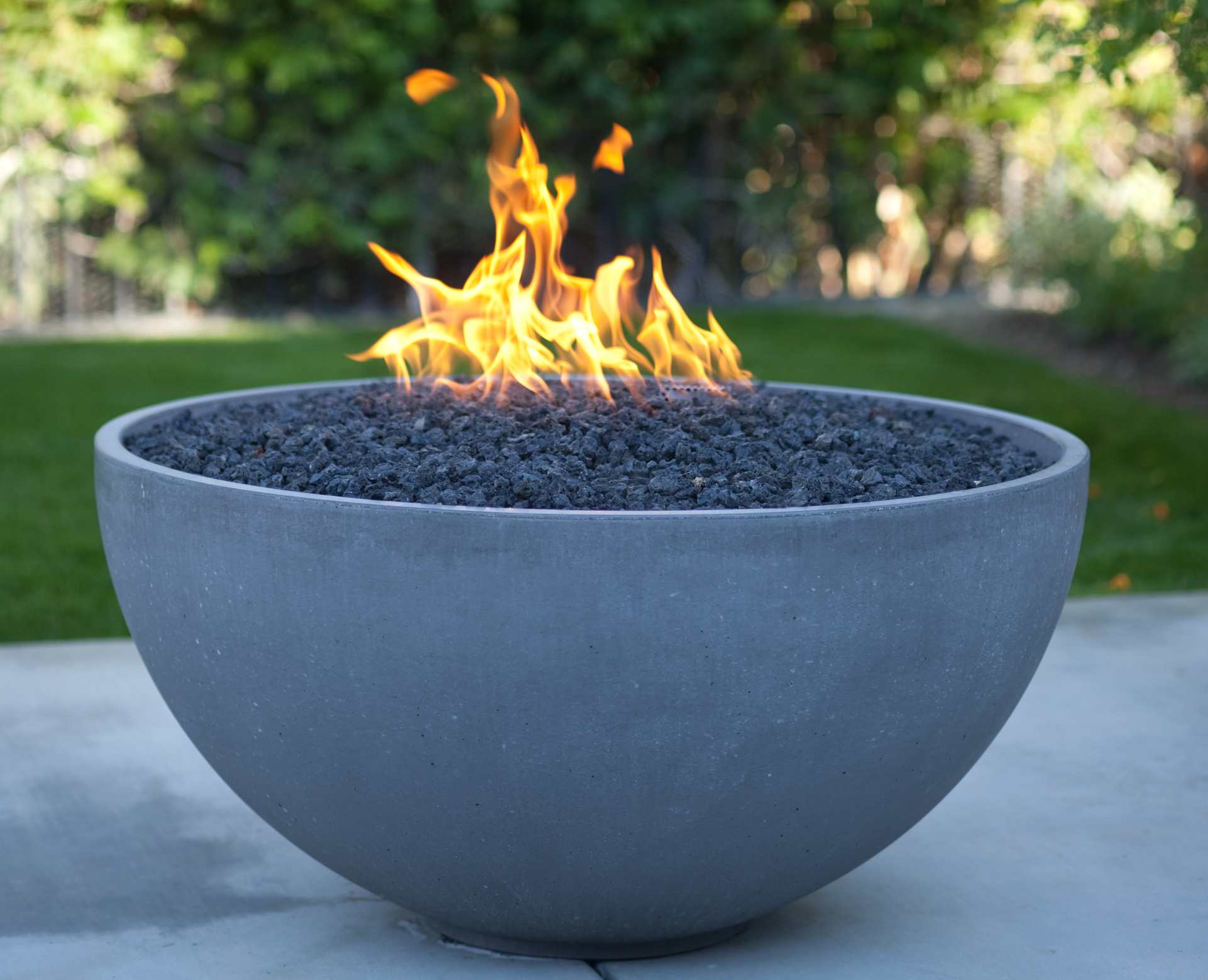 14. Electric patio lamp heater
Add heat and a unique centrepiece to your patio with an electric patio lamp heater. There are more styles than you may think, and you'll enjoy your patio way longer into winter!
15. Wheelbarrow heater
A wheelbarrow BBQ fire-bowl that can be pushed to any place in the garden. The modern design will surely create a statement on your patio. But you can always go to the DIY route and turn a rusty old one into a centrepiece of your backyard.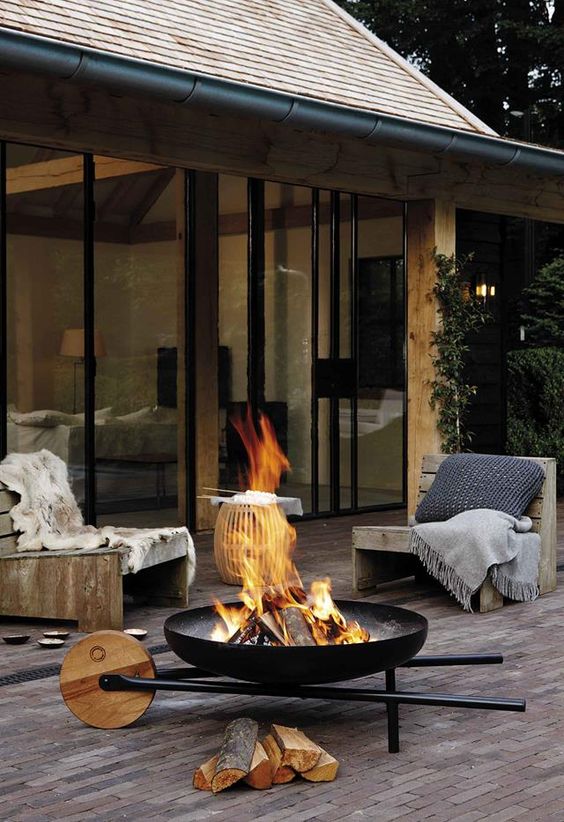 16. The ultimate outdoor kitchen
Make your outdoor kitchen a place you want to be on a chilly day. Opt for appliances that pack on the warmth. This includes a BBQ grill, pizza oven, and other cooking equipment that heat things up.
The addition of a fireplace will surely make guests want to hang out more on your patio after dinner ends.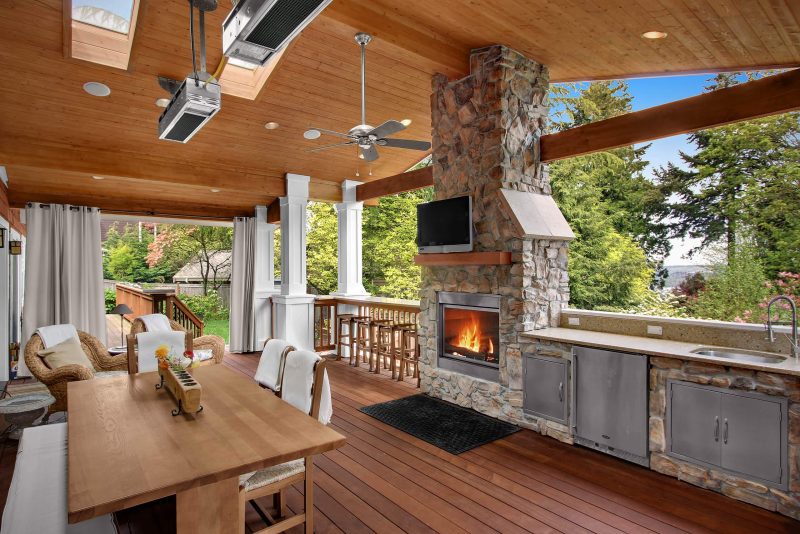 17. Flowerpot heater
Flowerpot heaters are kind of an improvised cold weather survival solution. The idea is to use stacked terracotta pots and use a few candles to generate heat to warm a room.
This can work when you want to heat a "personal" amount of space, such as a small patio.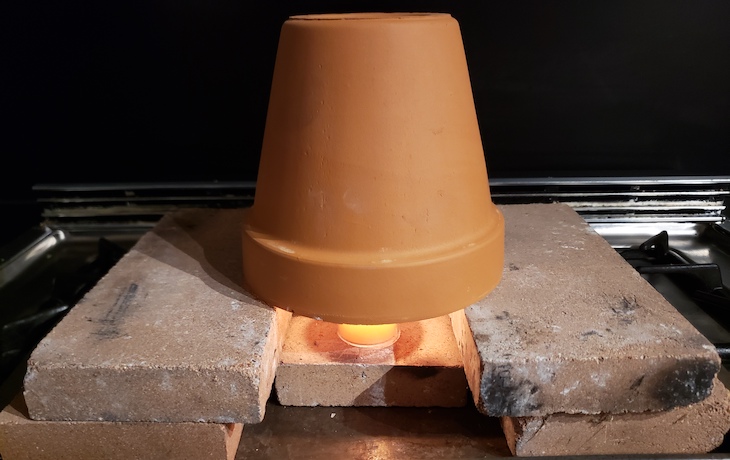 18. Patio torches
Torches are a great garden lighting idea. They turn up the heat as well as the ambience of the outdoor space. Go for a bamboo stake for a touch of tropical, or opt for a copper one to suit your modern patio setting.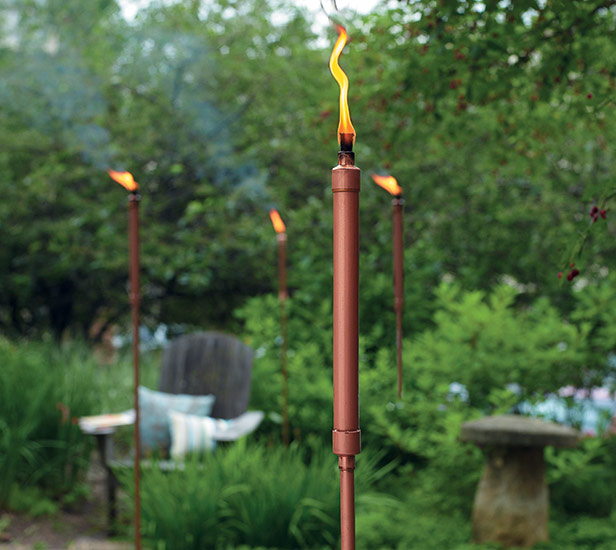 19. Rugs and blankets
Have you picked the best heat source for your patio? Great! Now, it's time for some finishing touches.
Although outdoor rugs can't provide the same warmth as a fire pit or heater, they can make a difference. It can make the space feel cosier, plus some blankets to snuggle with.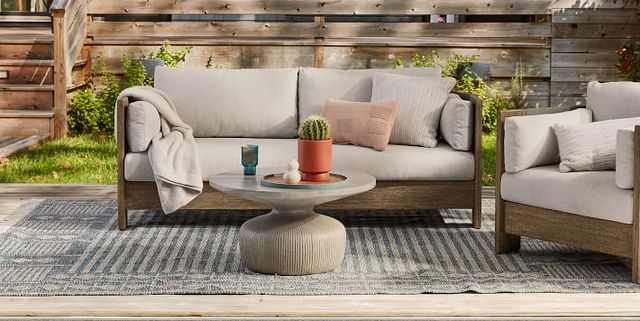 Round-up
With the addition of a heating source, you have the freedom to extend the time spent on your patio. It also upgrades the look of your outdoor living space, making it functional all year round.
You'll now be able to host get-togethers and entertain in your patio into the late evening, even in winter. And, with our range of patio heating ideas, surely there's something to suit your taste and budget.
For more garden makeover designs, read our ultimate list of garden ideas next!
Shop Electric Patio Heaters
FAQs