How to heat up your patio all year round?
Outdoor living space offers the perfect spot for entertainment and leisure. But when the winter season kicks in, the weather limits your time spent outdoors.
This is where our patio heating ideas come into play. Along with fire pits, we've prepared an extra dose of inspiration and put together our top picks from the web.
These ideas are guaranteed to provide that much-needed warmth on your patio. What's more, they can help create a focal point, making your space more inviting and pleasing. With these stunning and practical designs, you're bound to find something you love. Let's have a look at them!
1. Firepits
If you got the space, make more of your outdoor heating and turn it into a focal point of your patio. You can even go bespoke, upgrade the look of your fire pit idea. Define the space and give it a sleek finish. Take a cue from the photo below; it makes an ideal feature to centre seating around.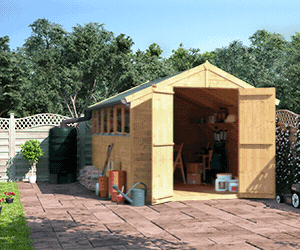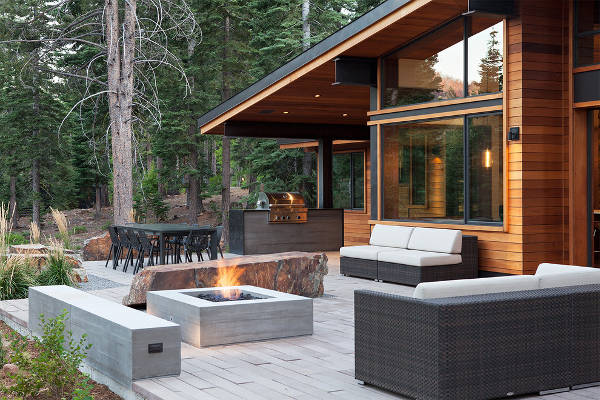 2. Fireplace
A fireplace installed into a boundary wall adds a stylish centrepiece to patios – on top of the temperature boost, of course.
If you have a small garden, this design will take up next to no floor space by utilising an existing wall. Plus, you'll still get all the benefits of having a fire pit.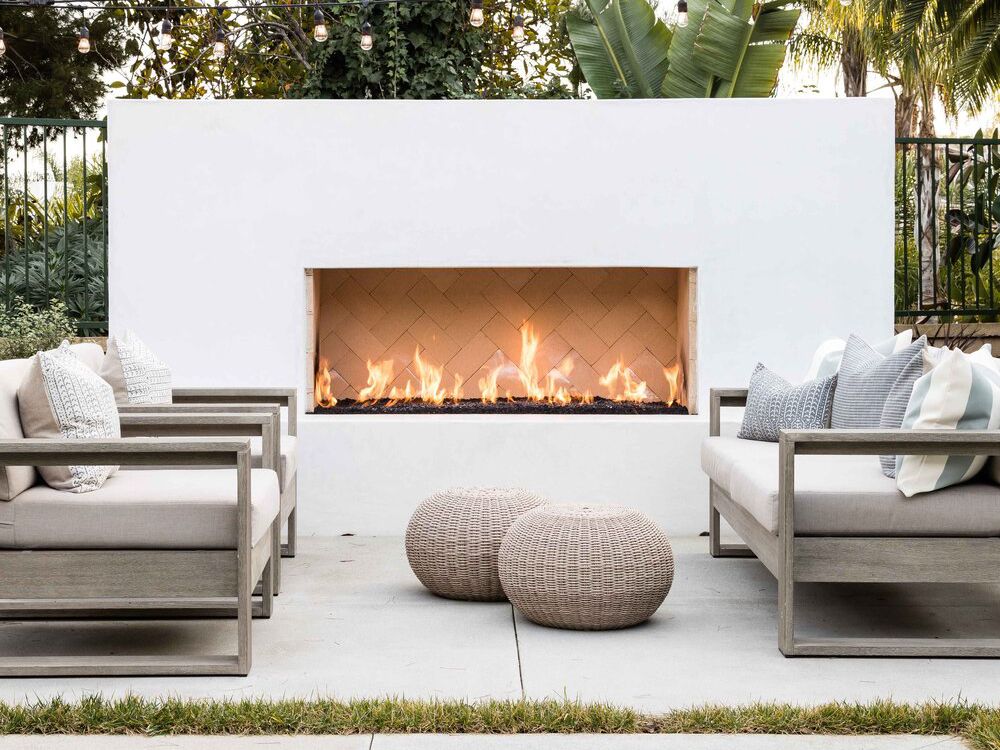 3. Chimineas
A portable fire pit like a chiminea is a smart choice for you if you often move around your patio. Chimineas have eye-catching flues that can mimic the look of a built-in design.
Take inspiration from the scene below to achieve a Scandi-chic look. For more inspiration, take a look at our chiminea ideas.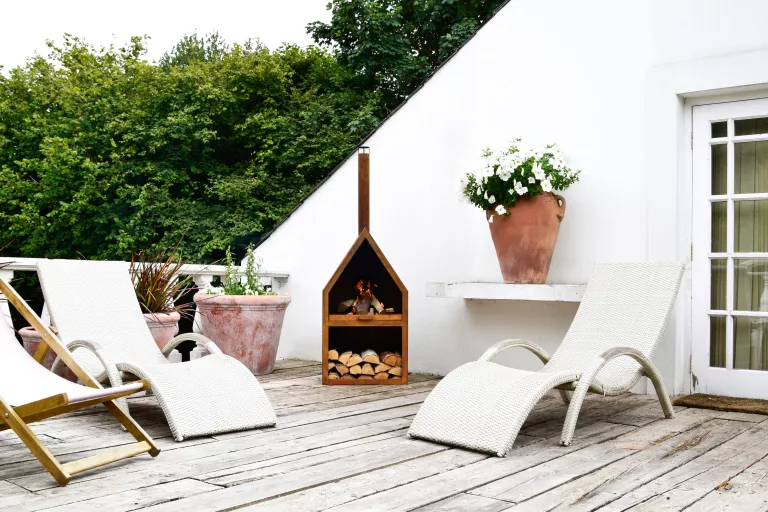 4. Fire pit dining tables
Have you heard about fire pit tables? It's a concept that combines a fire pit and a patio table.
Provide convenient light, warmth, and at the same time, a level surface to put things down. With this, you can make the most of your patio all year long.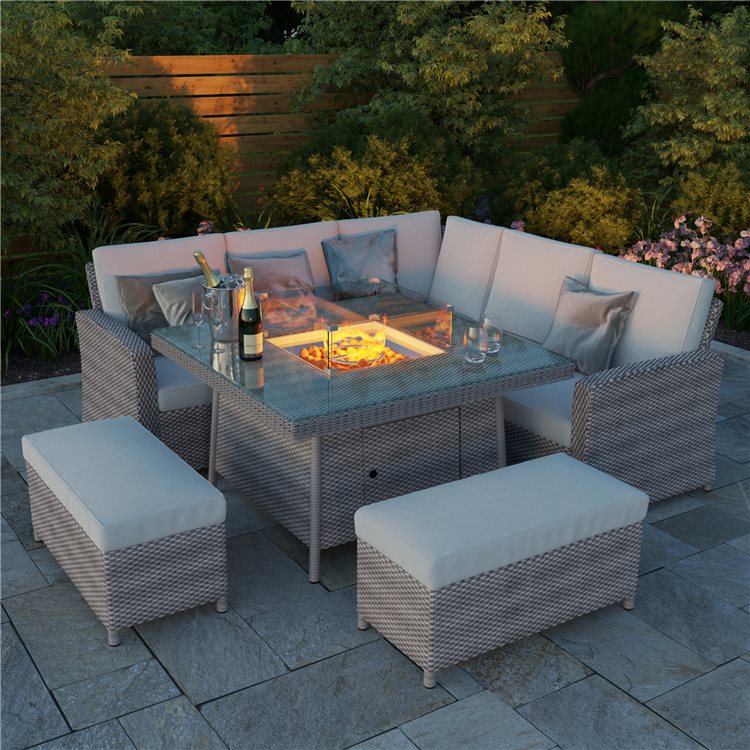 (BillyOh Capri with Firepit Table)
5. Stone chimneys
Having a built-in stone fire can take your patio to the next level! The classic charm of wooden furniture paired with a stone chimney can give you that camp-out vibe, but in a stylish, more sophisticated way.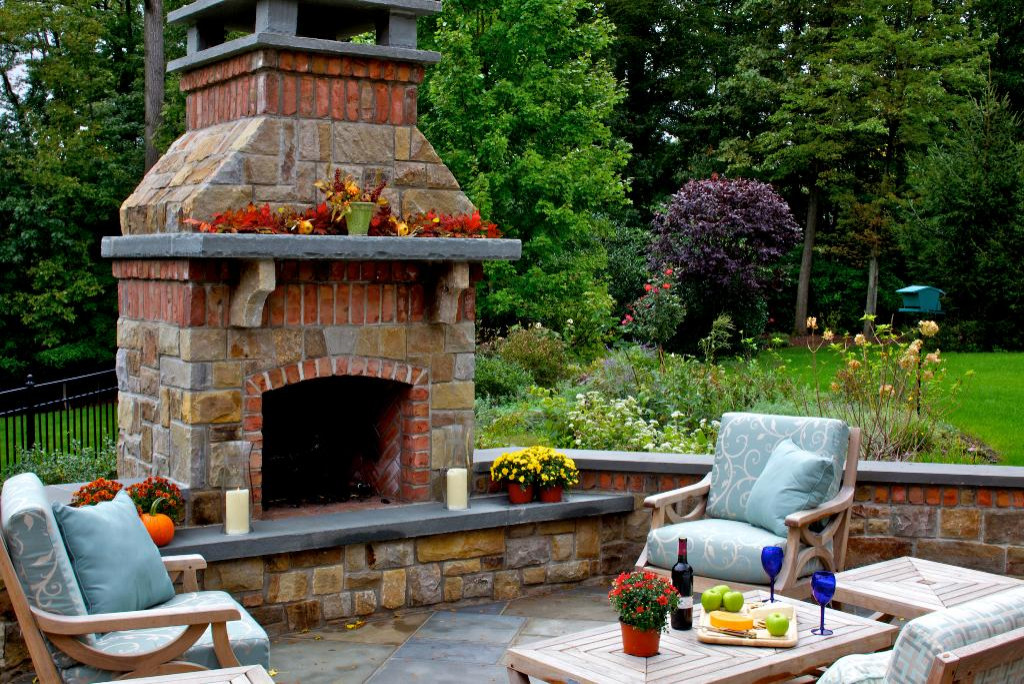 6. Concrete fire pit centre tables
When talking about functionality, this fire pit centre table says it all. Serving as a dual purpose, a heating source and a table, it makes an instant garden centrepiece.
This rectangular design perfectly fits in narrow spaces with a slimline lounge chair.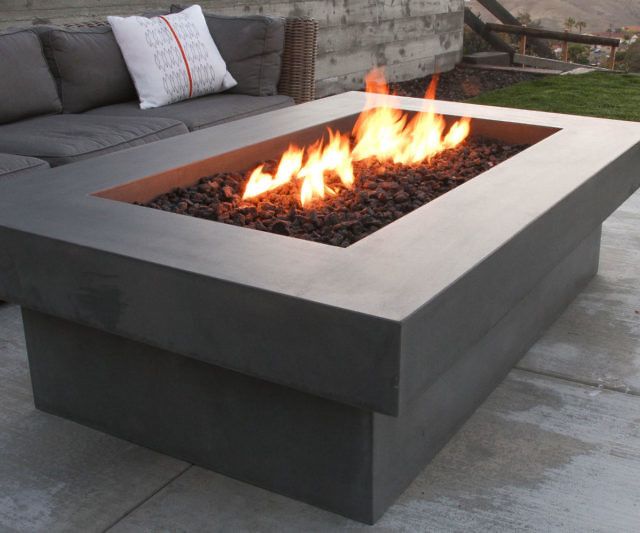 7. Patio heaters
Stylish patio heaters can be hung like lights (e.g. infrared heaters). But there are also pendant style and lamp-like standing heaters. In this patio, the heaters are fixed at the corners of the ceiling. They make the perfect addition to make a formal outdoor living space snug.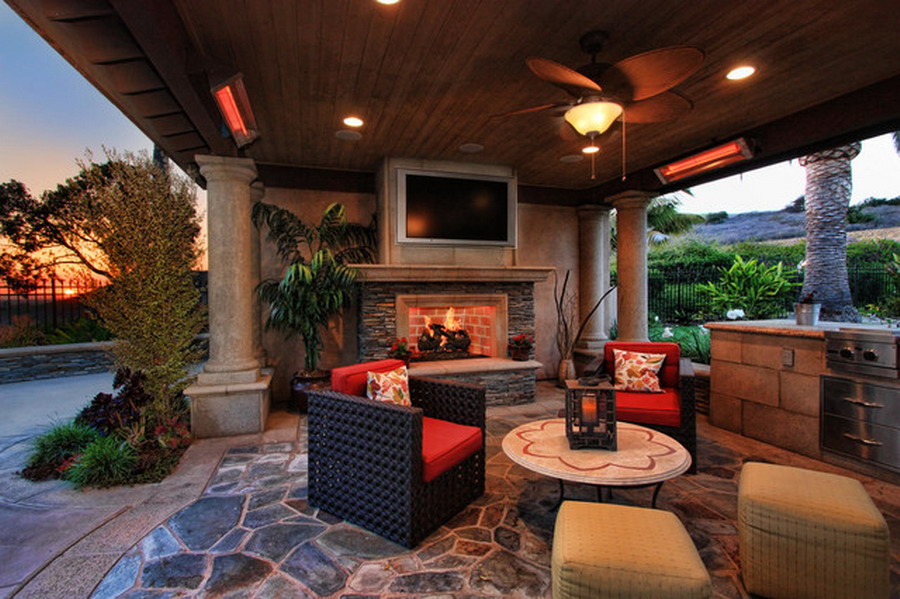 8. Outdoor hot tubs and spas
Picture this: it's a frosty December night, and a hot steam tub awaits you on your patio. Now we're talking! Even in winter, you can warm up and relax in the comfort of your outdoor space with an outdoor hot tub!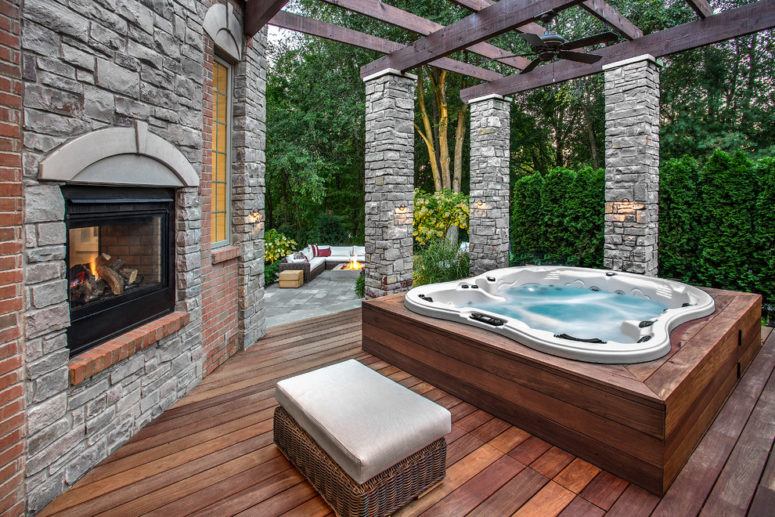 9. Heated floor decking
Keep yourself and your family warm by installing radiant heating beneath the flooring. The heating system helps warm up your patio or deck. Added bonuses include melting fallen snow and keeping the patio from getting icy!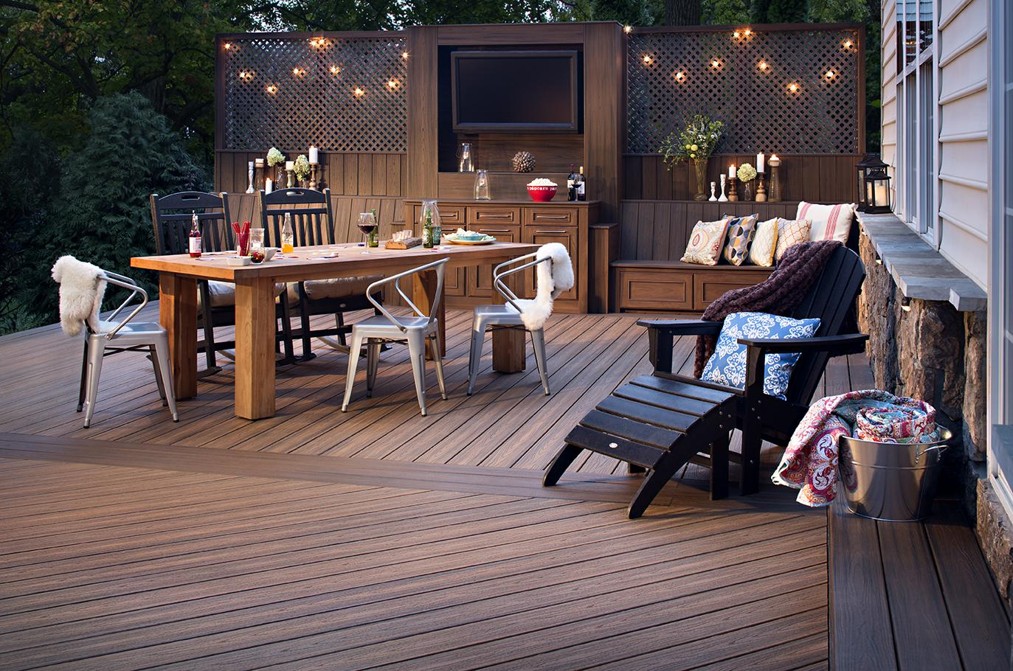 10. Sunken snug
This sunken patio seating design adds a modern fire pit to the banquette. It offers all the comfort you could ever ask for! If you have the budget, consider recreating something as stunning as this one in your own space.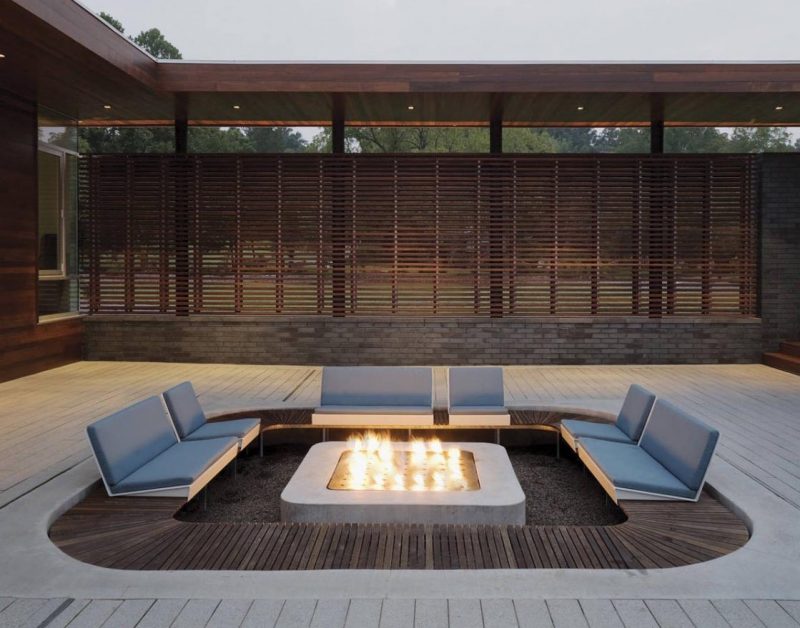 11. Corner garden luxury
When it comes to corner garden ideas, fire pits are a great way to create a feature at the end of your yard. Here, the design brings a stunning focal point to the scene. The built-in benches blend well with the fence, and they offer extra seating, which is a plus!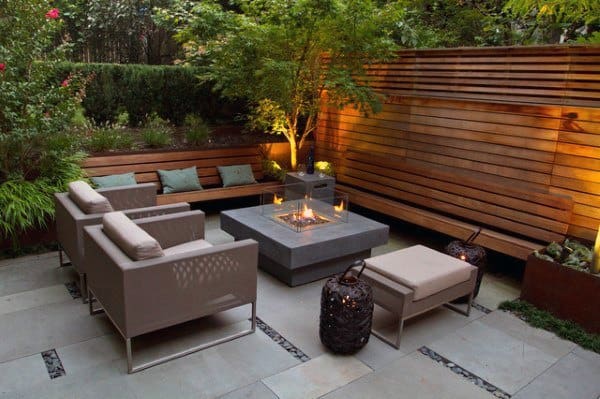 12. Built-in fire pit
There's an added bonus that a built-in fire pit offers to landscapes. And that's transforming a typical patio into a liveable space, which adds value to the property. The warmth draws people in; at the same time, it could attract potential buyers.
13. Fire bowl
A compact fire bowl is the way to go for small gardens, patios and balconies. You can easily move it around or store it inside when not in use. Opt for a simple, concrete design that takes up minimal space but looks lovely when lit.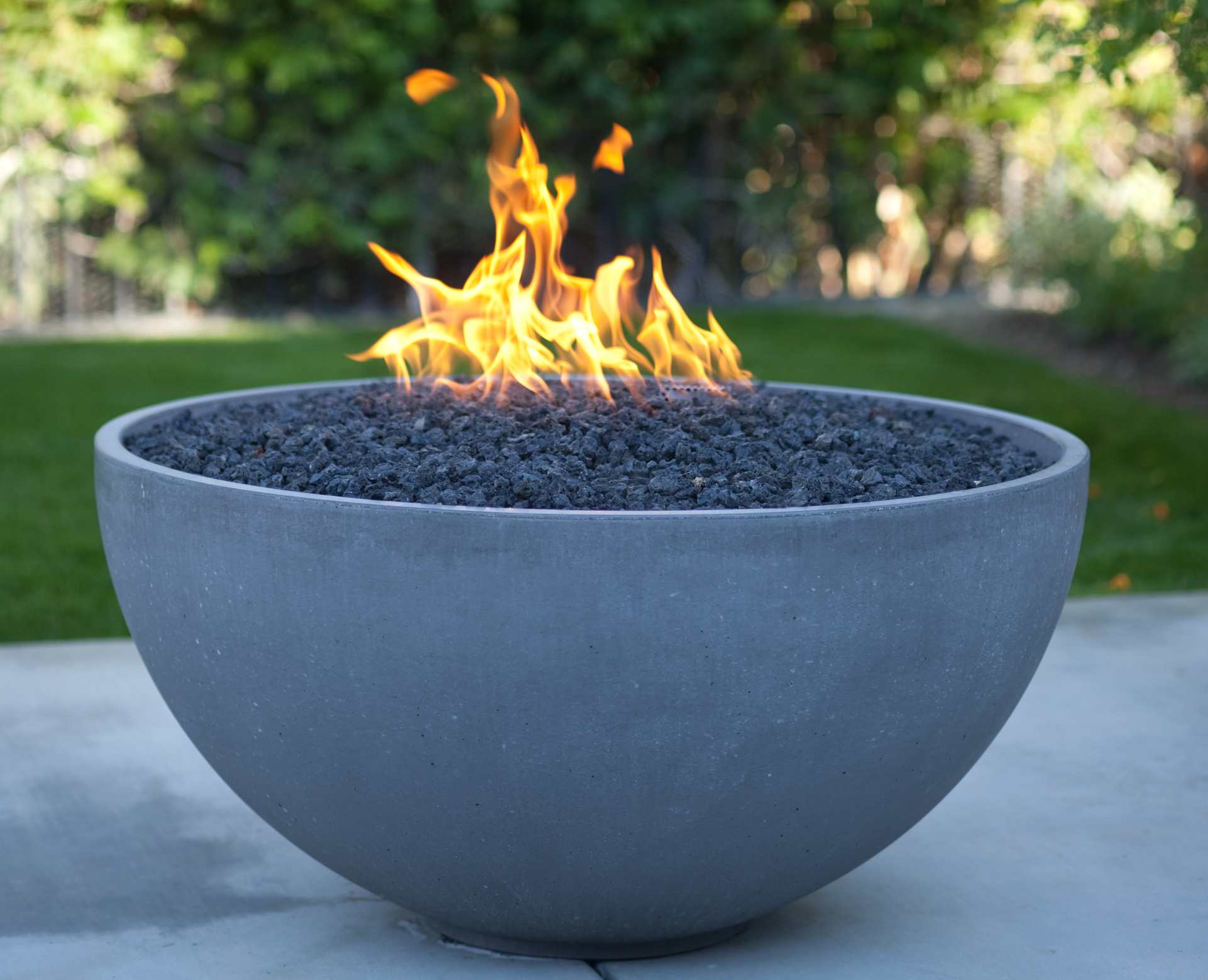 14. Tabletop electric patio lamp heater
Add heat and a unique centrepiece to your patio with an electric patio lamp heater. There are more styles than you may think, and you'll enjoy your patio way longer into winter!

15. Wheelbarrow heater
A wheelbarrow BBQ fire bowl that can be pushed to any place in the garden. The modern design will surely create a statement on your patio. But you can always go to the DIY route and turn a rusty old one into a centrepiece of your backyard.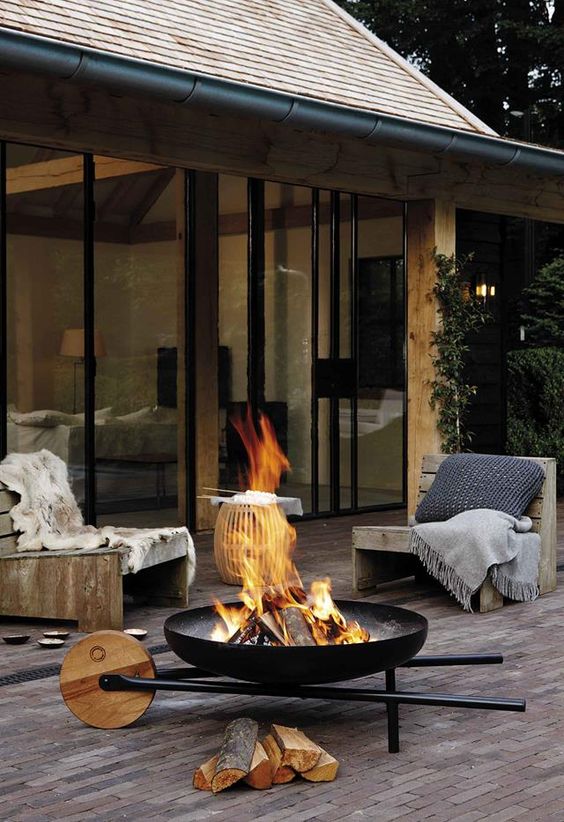 16. The ultimate outdoor kitchen
Make your outdoor kitchen a place you want to be on a chilly day. Opt for appliances that pack on the warmth. This includes a BBQ grill, pizza oven, and other cooking equipment that heat things up.
The addition of a fireplace will surely make guests want to hang out more on your patio after dinner ends.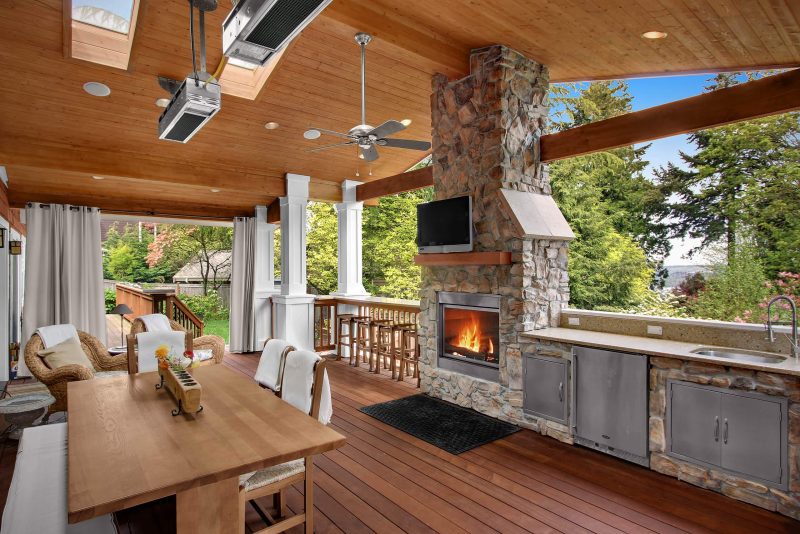 17. Flowerpot heater
Flowerpot heaters are kind of an improvised cold weather survival solution. The idea is to use stacked terracotta pots and use a few candles to generate heat to warm a room.
This can work when you want to heat a "personal" amount of space, such as a small patio.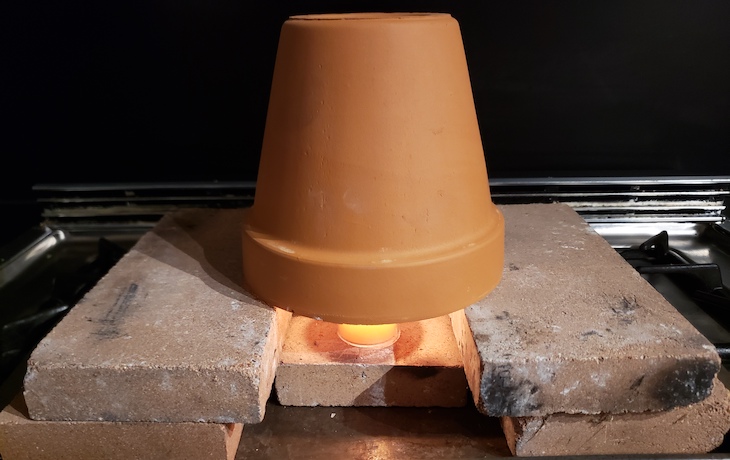 18. Patio torches
Torches are a great garden lighting idea. They turn up the heat as well as the ambience of the outdoor space. Go for a bamboo stake for a tropical touch, or opt for a copper one to suit your modern patio setting.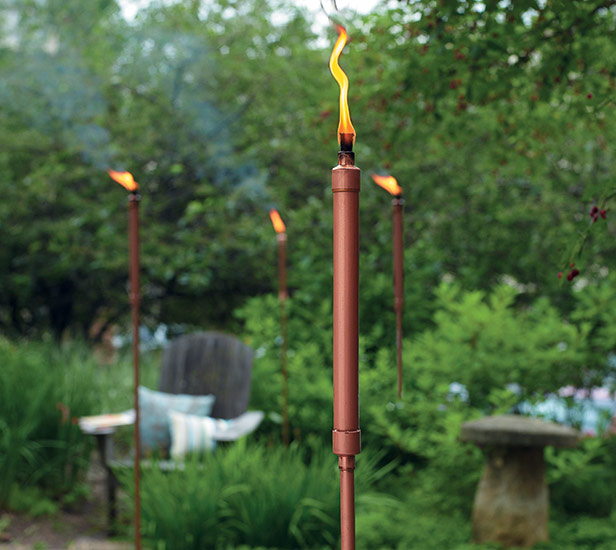 19. Rugs and blankets
Have you picked the best heat source for your patio? Great! Now, it's time for some finishing touches.
Although outdoor rugs can't provide the same warmth as a fire pit or heater, they can make a difference. It can make the space feel cosier, plus some blankets to snuggle with.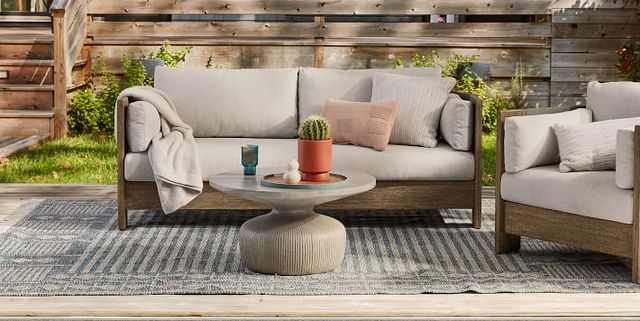 20. Heat lamps
As mentioned earlier, patio heaters are also available in freestanding lamps. They're portable, don't take up much room, and are usually fuelled by propane.
The BillyOh Medora, for one, has the potential to transform a cold night into a cosy garden party! Just flick the simple switch to provide instant heat and lighting to the gathering.

21. Wall-mounted alternative
Wall-mounted heaters can be a comforting addition to any patio and backyard setting. With a push of a button, turn the area into a heated oasis without taking too much floor space.
The BillyOh Alberta makes the perfect example. It uses a discrete design that takes up little space to heat your outdoor space quickly.

22. Radiant bar heaters
These are incredibly effective, especially with an enclosed outdoor kitchen area. This heater style is a good choice for windy and exposed locations near the ocean or on an escarpment.
Although they're not as decorative as wood fires, they're non-intrusive and can be installed on most exterior ceilings.

23. Fire pit lantern
Sometimes small things really can make a backyard space pop and warm. We're talking about this portable fire pit lantern.
The protective mesh cage will keep anything (or anyone) from touching the inner tube. It reliably boosts the welcoming vibe when dotted around your patio.

24. Heater with built-in speakers
Here's a great patio heater to spruce up your garden! It features built-in Bluetooth speakers and colour-changing LED lights. A perfect addition to blinging up your BBQ!
Look for a unit that comes with a remote so you can change the LED lights depending on your mood.

25. Ceramic heating table
If you've got no space to fit a BBQ or a fire pit on your patio, then you'll love this! It's a ceramic table with elegant steel legs that can be put to a whole range of practical uses.
From creating a warming fire to providing a table space, chill drinks and cooking up some BBQ. This small fire pit table has everything you need in one package.

26. Alcohol heater
This DIY approach can be a lifesaver during a winter power outage. It can provide you with heat for cooking while keeping you warm on a chilly night.
You only need common house supplies, making it an inexpensive option to heat your house or patio.

27. Natural gas approach
A natural gas heater may be the right solution for your winter patio needs. It may cost you a bit upfront, but the long-term costs are significantly less, and it's much easier to maintain.
It produces a full range of heat instantly and it's one of the most affordable fuel options.

28. Solar can heater
This solar heater sucks the cold air from your home through a tube installed at the bottom. When the sunlight hits the soda cans, they will be heated pretty quickly, warming the cold air.
The hot air then returns through the tube on the upper part of the frame. If you're looking for ways to heat up your space using natural energy, this method is for you!

29. Cast iron outdoor heating
Offering an eccentric style, this will look fantastic on your rustic-themed patio. The quaint fireplace offers an old-world vibe that would also sit well in a bohemian-themed space.
Opt for a smaller size if you have a small patio. Place it in the corner, fire it up and enjoy the warmth.

30. Double up the look
For courtyards, one heating source isn't enough. Take this outdoor entertainment space, for example. A fireplace can be seen in the yard kitchen.
Meanwhile, a fire feature is also set in the pit. Doubling up the look creates an even bigger statement while offering extra warmth.

31. Fire bowl with console
A compact design that makes the most of vertical space -ideal for vertical garden ideas. The design of this pair brings the flickering flames and warmth closer to eye level.
The elevating look also frees up space for storage. Make use of that space underneath with logs for a stylish effect. Top tip: The taller and sleek the console, the better.

32. Metal can electric heater
DIY metal can electric heaters are a safer option as they do not involve open flames. They make a perfect option to use in areas such as a garage or shed, other than on patios.
The preparation takes several steps, requiring you to buy numerous items. This video tutorial will come in handy.

33. Gas bottle log burner
You can get that extra bit of time enjoying the outdoors without freezing with this project! Giving a midcentury and modern chiminea look, you can recreate this with a bit of time and creativity.
Prepare propane gas cylinders (make sure they're washed off well) to get started.

34. Old washing machine drum fire pit
This tossed-out washing machine drum can be your patio's new heating source. You can skip the decorative elements, and high-heat paint will do. But make sure to file any sharp edges and use steel parts for the legs for safety.

35. Metal fire pit bowl
Ideal for a modern and minimalist garden style, this metal fire bowl has a polished and sleek design. The stainless steel material offers durability and corrosion- and stain-resistant surface.
It doesn't require any prep work, as well – just set it in place, get some firewood and start using it.

36. L-shaped design
Give every seat access to the fire! Build a banquette that mimics the L-shape of the fire pit to enjoy the open fire from any angle. Keep your seating low to create a relaxed experience, as long as 12 inches off the ground.

37. Chiminea fire pit
This log burner chiminea also makes the perfect focal point for get-togethers. Its slim, tall design is great for smaller gardens as it can easily be stored in the corner or a shed.
With the black body and mesh door give this wood fire model a modern twist.

38. On the ground heat source
This built-in fire pit offers the perfect entertaining headquarters. The in-ground design makes the ideal option if you want a permanent heat source fixture on your patio.
When not in use, cover it to keep out the weather and prevent anyone from tumbling into it.

39. Fire pit and grill in one
This patio heat source concept is a win-win for your fire pit and barbecue party! You can have the grill suspended over your fire pit to support a frying pan and large pot.
Or install a grill rate on the other side, a spark screen, so everyone is protected, and a fireplace poker.

40. Steel fire cube
We love the fresh and modern design of this steel fire cube. The gel fuel is made of pure alcohol, water, salt and thickeners, and it burns for 2-3 hours. A perfect addition to balconies and small patio spaces that need a heat source.

41. Ceiling propane gas heater
Propane gas heaters are convenient and versatile. The hanging pendant-like design also saves floor space while providing equal heat to the space. Some common designs include wall-mounted models, stand-up versions, and even tabletop ones.

42. Tungsten smart-heat gas portable
This heater offers efficient heating in a stylish, modular, and portable design. It features a neutral black finish and is powerful yet easy to manoeuvre.
If you want to add a piece of modern art and a high-performance radiant heater in one to your patio, this is your best bet!

43. Glass tube design
The latest design and heat, glass tube-type heaters bring style to outdoor heating. Their unique, visually mesmerising flame provides an equal and good amount of heat.
Opt for a model with a 360-degree caged heating element to heat everyone who sits around it!

44. Quartz heater
Quartz heaters are effective outdoor heating solutions thanks to the type of infrared they emit. The infrared provides enough warmth to offset the cooler temperatures outside.
What's more, this radiant heat warms everyone without being dissipated by the air.

45. Steel wood burner centrepiece
Looking for solid steel outdoor heater ideas? How about this contemporary beauty fit for any patio centrepiece? The weather-resistant carbon steel will age beautifully, perfect for your rustic-themed patio.

Round-up
With the addition of a heating source, you have the freedom to extend the time spent on your patio. It also upgrades the look of your outdoor living space, making it functional all year round.
You'll now be able to host get-togethers and entertain in your patio into the late evening, even in winter. And, with our range of patio heating ideas, surely there's something to suit your taste and budget.
For more garden makeover designs, read our ultimate list of garden ideas next!
Shop Electric Patio Heaters
FAQs