There is unique beauty, not to mention durability, in metal furnishings like our BillyOh garden furniture sets. Besides amplifying the look of your patio, metal-made sets practically give you the comfort you look for in garden furniture. 
Metal furniture for your outdoor space is a worthy investment, but only if you know how to take good care of them. Elements like the sun rays, rain, and the normal wear and tear are among the enemies that take their toll on metal pieces. It usually happens in the form of corrosion among aluminium sets and rust among iron metal items. 
With the right know-how and TLC, treating these damages can be surprisingly simple. This is the way to go if keeping them in sheds when not in use or making use of covers are not your options. If also you have quality pieces instead of cheap ones that get broken after a few days, then maintaining them is no chore.
We've come up with quick and easy tips on how to restore oxidised patio furniture and bring back its refined metallic look. So don't junk those busted fixtures just yet — read on instead!
Aluminium
Common Issue: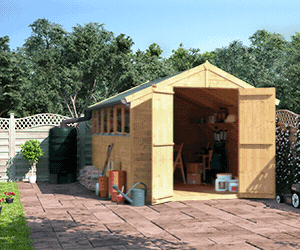 Corrosion or painted surfaces oxidise over time.
How to Restore:
Clean the spoiled surface with warm water and liquid soap (natural acid like lemon juice and vinegar are also effective in removing aluminium stains). Then, rinse and allow to dry completely. Cover the dent with a matching colour paint as the finishing touch and to provide protection against further elements.
Automotive cleaner and wax also work to moisturise the surface. Heavily corroded aluminium surface, on the other hand, requires professional treatment.
Iron Metal
Common Issue:
Rust, the unsightly rust. It is formed when furniture pieces are frequently exposed to sun and rain.
How to Restore: (For Light Rust)
Try the sanding technique. Use a scouring pad or steel wool to remove the bit of rust. Kerosene is safe to use but work on it in a well-ventilated area. Then, refurbish the rusted area with coat paint.
How to Restore: (For Medium Rust)
Use a wire brush for removing moderate rust or you can apply a commercial rust remover. Make sure not to leave any rust, dirt, or flaky paint. Then paint to prevent rust from coming back too soon.
How to Restore: (For Heavy Rust)
First, use a scraper to strip away paint flakes and bubbles. Then, remove the remaining rust with a coarse or stiff-bristled wire brush. Remember to remove the dust created from wire brushing. Apply a commercial rust remover afterwards.
Give your newly-cleaned furniture a nice finish by spray painting on them. You can look for paint types designed to protect the metal from rusting in commercial stores for better results. 
Don't make the mistake of painting over the rusted area because it will not solve the problem but instead, create lesions that can further damage the metal.
Restore the elegance of your furniture by choosing the right paint colour.
How to Prevent Rust:
The key to maintaining your iron-wrought furniture rust-free is to keep it clean. Wash it regularly with warm water and liquid soap to keep the dirt and dust from trapping the moisture from metal paint.
The use of a rust-resistant primer will also help keep the rust from forming.
Lubricate all the moving parts on a regular basis. Check the fasteners in assembled frame periodically from rust or corrosion.
Remember to keep any of your furniture from prolonged sun and rain exposure. Use tarps or furniture cover when not in use.
By following these practical steps, you are giving your beloved furniture a prolonged life, saving you from the cost of replacing them constantly!