Landscaping a garden takes time. A lot of things needs to be considered. One of these is determining what to put into the your allotment.
Alex, father of three, wanted to get his kids a present. Something they will cherish until they grow old. He got them a BillyOh Lollipop Junior Tower Playhouse with Slide Option and his kids loved it! It's amazing how you become a hero in your little ones' eyes when you get them a present as lavish as this.
Seeing that his garden is quite spacious and can still brighten up, he also got a BillyOh Mini Master Tongue and Groove Pent Store Shed for himself and his wife. We just can't imagine how happy his family is and how proud Alex would have felt. This is heart-warming story of the Johnsons.
We ask Alex…
What made you purchase your building from Garden Buildings Direct?
"I'd been looking on ebay and amazon but wanted to buy direct from source. I found your site on the intent and found it well priced" he says.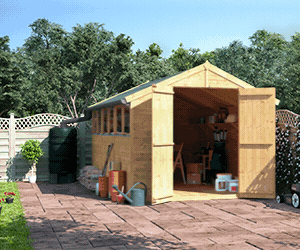 Why did you choose this building?
"My garden had a transformation, and it just seemed to fit my family's needs. I've got a 3-year-old and a 5-year-old and thought they'd love it."
How was your customer experience?
He answered. "Absolutely perfect start to finish!"
How are you finding the building now?
"Great. Sturdy. And looking good." says Alex.
"Grace, our 3 year old, wakes up, opens the blinds, and wants to be outside. This morning she had me fill a jug of warm water to defrost the pool of ice at the bottom of the slide." he adds.
Would you recommend buying from us?
"Yes! as a matter of fact, my friend Collin has or is just about to order the same things I did." says Alex.
How did you decorate it? What paint did you use?
"It's not painted yet. We like the look of it so are going to leave it as is for the time being." he says.
The various sizes and styles of our buildings will surely fit any garden allotment. Spring is just aroung the corner. It's high time for gardens to have a makeover. Check out our other sheds and playhouse. And to you Alex, cheers.
---
Inspired by Brett's story?
You can have your own shed and customise the way you like it. Check out our wide range of shed that will definitely fit all types of garden.
---