For serious gamers, a gaming chair alone just won't cut it. That's why certain items are must-haves for any true game room.
If you're passionate about gaming, a dedicated space can take your experience to the next level. And if you don't have room in your home for a game room, consider transforming a shed into one. Alternatively, you may want to invest in a dedicated space if you haven't already.
Once you've secured your game room, it's time to ensure that it has all the essentials. So let's get into it!
1. Power and internet access

Before filling the shed with gaming equipment, you'll need to plan out the space. This includes setting up power outlets.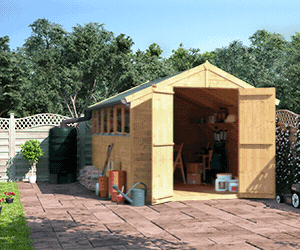 Without access to electricity, you won't be able to use devices and enjoy your gaming experience. Lighting is also essential for creating the right ambience in your gaming room. Cooling and heating systems require electricity to operate too.
Besides electricity, you'll also need a reliable internet connection to play. You can either run an Ethernet cable to your shed or use a WiFi antenna. A stable internet can help you stay connected with the gaming community.
2. Furniture

Such furniture can provide comfort, organisation, and functional space for gaming:
Gaming chair.

Ideally, it should be ergonomically designed to support your back, neck, and arms. This will also allow you to sit comfortably for extended periods.

Gaming desk.

A gaming desk is specially designed for gaming setups, offering enough space. It should also provide a comfortable and ergonomic working environment.

Storage cabinets.

For storing gaming equipment, games, and accessories and keeping clutter at bay.
3. Lighting setup

While natural light is unbeatable, it's also crucial to prioritise interior lighting. There are tons of unique lighting solutions you can find on the market today.
Take LED lights, for example. You can also add marquee bar signs, accent lighting, or strip lights under your desk or on the ceiling.
4. Blackout blinds
Excess external light can hinder gaming performance and cause distractions. Installing blackout blinds or curtains can solve this issue. Blackout roller blinds, for one, are particularly effective. It allows you to adjust the light levels for optimal gaming conditions.
5. Advanced gaming accessories

There are tech gadgets that can make a big difference, enhancing video games. Not only do they look super cool, but also, these fun collectables will make a statement in your gaming room.
We're talking about:
RGB wireless surround sound gaming headset for PC

Headphone stand with USB charger

Wireless keyboard and mouse combo with RGB backlighting
6. Good sound system

Good music enhances the atmosphere of any space, including a gaming room. Upgrade your gaming experience by investing in a superb sound system. Choose from speakers with 2.1, 5.1, 7.1, or 9.1 channels, or go for wireless designs to minimise cord clutter.
7. Gamer wall decals and gaming posters

Add some flair to your gaming room shed by decorating it with gamer wall decals and posters. These decorative touches are easy to put up or move around and create a welcoming atmosphere.
8. Neon signs

(Image Credit: Wallpaper Flare)
Elevate your gaming room's ambience with a retro neon sign for a pop of brilliant colour. Dim the lighting to accentuate the sign and create an exciting gaming space.
9. Install a TV

Consider adding an entertainment centre to your gaming room with a flat-screen TV. It's great for hosting guests and connecting gaming systems and streaming devices. Pair it with a comfy sofa for a cosy movie night or play games on a larger screen.
10. Arcade machines

Add a vintage vibe to your games room with a classic arcade machine! You only need one solid unit for a totally retro feel. Enjoy classic arcade games with friends and family anytime. Just make sure to have enough space to fit the machine inside.
11. Boards and card games

(Image Credit: Wallpaper Flare)
Boost brain function and have fun with friends by adding challenging board games. Take a break from video games and play darts using a traditional magnet or suction cupboard. Try modern plays like Coup, Codenames, Flamme Rouge, and Catan. Keep score on a chalkboard for every game in your shed games room.
12. Billiard table

A billiard table is a stylish and fun addition to your games room. Before purchasing one, consider your available space. Top tip: Opt for some smart designs that double as a table tennis board.
13. Mini bar

No games room is complete without a mini-bar setup. This adds a retro and fun feel, allowing you and your guests to enjoy drinks and chat between gaming sessions.
Get some stools for your shed games room or garden pub to take a break. Consider the BillyOh Nightjar Garden Bar for the best mini-bar setup option.
14. A centrepiece pool table
With a pool table, challenge your pals to a friendly or competitive match, and create memories. It's a versatile piece of equipment that can provide fun and entertainment all year round.
15. Popcorn machine

Popcorn is a delicious snack option that can be enjoyed by everyone during gaming sessions. The machine also provides a classic cinema feel and can look amazing near the mini bar.
16. Air purifier
Adding an air purifier can help improve the air quality. This can create a healthier and more comfortable gaming environment. And this is particularly a must-have if you have respiratory problems or allergies.
17. Beanbags

Beanbags can offer excellent support for long gaming sessions. They also add a casual and laid-back vibe to the room, which can enhance the overall gaming experience. Plus, they can be easily moved around to accommodate different group sizes or game setups.
18. Power strips and surge protectors

(Image Credit: Wallpaper Flare)
These items can protect your expensive gaming equipment from electrical surges and spikes. They also allow you to plug multiple devices into a single outlet. What's more, they reduce clutter and make it easier to manage your cords.
19. A large area rug
A large area rug can help improve the overall comfort and cosiness of the space. It can also serve as a sound barrier, reducing echoes and noise levels. The rug can also be a great way to add a pop of colour or pattern to the room.
20. A selection of popular video games

This will give you a variety of options to choose from. It also allows you to cater to different tastes and preferences and keep the game fresh and exciting.
21. Multiple monitors
Multiple monitors provide a wider field of view. This allows gamers, a.k.a. you, to have more screen real estate for immersive gaming or multitasking. Incorporate them by setting up a sturdy monitor stand. Or use wall mounts to maximise desk space. Ensure proper positioning for optimal viewing angles.

22. Virtual reality (VR) headset
VR headsets offer an immersive gaming experience, transporting players into virtual worlds. Designate an area with enough space for movement. Install VR-compatible sensors or cameras for accurate tracking.

23. Beverage cooler
A beverage cooler keeps refreshments nearby. With one, you can stay hydrated and energised throughout the gaming session. Place it within arm's reach of the gaming area or integrating it into a dedicated gaming console or desk.
24. Surround sound speakers
Surround sound speakers enhance the audio quality. Installing one in your game room enables you to immerse in rich and detailed soundscapes.
Strategically placing speakers around the room. Or consider investing in a surround sound system designed specifically for gaming.
25. Streaming equipment
Such addition enables you to share your game play with others or create gaming content. Set up a dedicated streaming station with a quality microphone and webcam. Of course, don't forget a powerful computer capable of handling streaming software.
26. Game capture device
A game capture device allows gamers to record. With this, you can capture your play moments for sharing or archiving purposes.
Connect the capture device to the gaming console or PC. Ensure compatible software is installed for seamless recording and streaming.

27. Adjustable standing desk
An adjustable standing desk provides flexibility. This means you can switch between sitting and standing positions for improved comfort.
Select a standing desk with adjustable height settings. Also, make sure it's ergonomically designed for extended gaming sessions.

28. Multiplayer gaming accessories
These include additional controllers, headsets, or gaming keyboards/mice. You'll need such extras if you often play with friends or family members – perfect for multiplayer gaming! Store them somewhere accessible when needed.
29. Gaming headset stand
Keep your gaming headset organised and easily accessible by using a headset stand. By having a dedicated stand, the headset is far from getting tangled or damaged when not in use. Even better, it helps declutter the gaming area.
Look for a stand that matches your gaming aesthetic or opt for a sleek and functional design.

30. Cable raceways
Neatly conceal and manage cables with cable raceways. These can be mounted on walls or along the edges of furniture. With one, you can keep your gaming area tidy, minimising cable tangling.
31. RGB light strips
Add a vibrant and customisable touch to your gaming room with RGB lighting strips. These can be placed behind desks, shelves, or other furniture. Experiment the placement to create an immersive and dynamic lighting setup!

32. Gaming mouse pad
Enhance precision and comfort during gaming sessions with a large gaming mouse pad. One should provide ample space for smooth movement and protect your desk surface. It's an essential accessory that enhances the overall gaming experience and performance.

33. The gamer's ottoman
Opt for a storage ottoman with a gaming-themed design that doubles as a seating option. This should provide you with hidden storage, to add. Perfect for your extra game controllers, accessories, or extra cables. One can also contribute to the room's tidiness and functionality.
34. Gaming-themed doormat
Make a statement from the moment guests enter your gaming room! The doormat not only serves as a functional item for wiping shoes. But it also adds a touch of personalisation and reflects the gamer's identity. Go for a doormat that showcases game logos, characters, or humorous gaming phrases.
35. The gaming clock
A gaming-themed clock serves both functional and decorative purposes. Functionally, it allows you to keep track of time during gaming sessions. This can help you manage your gameplay time effectively.
Additionally, it adds a decorative element that enhances the overall gaming atmosphere. It serves as a visual statement piece, tying together the gaming aesthetic.
Round-up
Transforming a shed into a dedicated gaming space requires effort and time, but it's worth it. We hope our guide can help you achieve the best gaming experience in your DIY games room!
Shop Log Cabins
FAQs
Gamers take their playtime seriously. With this, having a separate room for solely gaming is essential.
Now, when talking about how to set up one, go back to our list of must-have 15 items to complete the look of your shed game room.
Note: Make sure to create a space with an ambient background light to make your gaming experience fancier. Add strip lights under your gaming table or on the ceiling and some accent light fixtures.
Apart from your PC, it would be best to have a stable and good quality gaming desk and chair. A good desk will ensure you get to enjoy your playtime for years to come, giving your computer a rightful area.
Whereas a comfortable chair will keep you from having backaches, so you can focus on your game well.
If you have the means, you might as well add these cool, high-tech gadgets in your gaming set-up:
RGB wireless surround sound gaming headset for PC
Headphone Stand with USB charger
Wireless keyboard and mouse combo with RGB backlighting