It's a question all Rattan Furniture owners have had on their minds at some point or another. Can it get wet and, more importantly, can it get mouldy? Let's break down this question and put these fears and anxieties to rest.
What Exactly Is Rattan?
Although Rattan – or ratan – is often confused with wicker, it is actually a type of vine that comes from a palm tree called Calamos Rotang from countries in Oceania and Asia. The tree is incredibly similar to Weeping Willow trees.
Rattan is made of a natural fibre that is highly malleable, elegant, and beautiful. It is also ideal for outdoor decorations.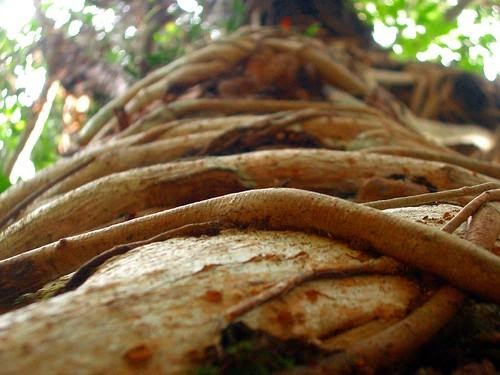 Can Rattan Furniture Get Wet?
Natural fibres shouldn't be exposed to the sun and rain for a long time, but with outdoor garden furniture, it's bound to happen.  Modern rattan furniture is often built using synthetic rattan, for its weatherproof qualities and UV resistance, meaning it will not fade. This article is focused on the maintenance of natural rattan furniture.
Even with the utmost care, moisture may still get through to rattan. When rattan furniture gets wet, as long as the necessary measures are taken, it should be ok. For drying your garden rattan furniture, simply use a dry cloth – in no circumstance use any chemicals, such as cleaning products containing alcohol or acetone.
Does Rattan Furniture Get Mouldy?
Since rattan is made of natural materials and it will be exposed to moisture – even if it's just air humidity – it's likely that it will get mouldy.
When this happens, the natural fibre from your furniture will hold on to this moisture for quite some time, and later when exposed to the sun again, it will become the perfect environment to develop mould.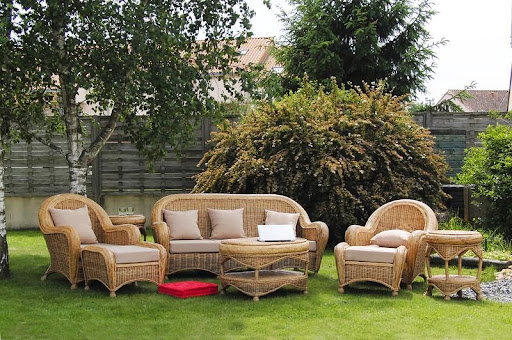 Image Credit: Burgermac  / flickr
How to Restore Wet Rattan
Wicking Away Water
If your rattan outdoor furniture is soaking wet after leaving it in the rain for several days, make sure to dry it as quickly as possible to avoid damage and cracks. 
Here are a few options that can assist you with restoring your wet rattan garden furniture:
Absorbent towel

Hairdryer

Dry cloth 

Fan
It's best to start by wiping everything with a dry cloth or absorbent towel, then move on to using a fan or a hairdryer to dry even the smallest cracks. Make sure it's completely dry before putting it to use again.
If you decide to use a hairdryer, use it on low so you don't damage your rattan. This option will help you to quickly restore your furniture, as the air and heat will dry even the smallest areas that absorbent towels can't reach. A tip is not to stand still with the hairdryer, preventing it from over-drying the natural fibre and breaking it in the future. 
So, move the hairdryer around slowly and gently so the heat will spread evenly. If sunny – and with no signs of rain – another great way of drying your rattan furniture is to let it sit on the sun for a few days, but make sure you take it inside or cover it during the night so it doesn't absorb any nighttime humidity or condensation when the temperature drops. 
You can also try a fan. In this case, don't set it too high and make sure the rotation covers the entire wet area. Since the fan wind is not hot, you can just let the fan do the work for you. 
Solution for Sag
If you've had the unfortunate situation of someone sitting on your wet rattan sofa or chair, be careful. In this case, turn the furniture upside down, apply warm water to the area using a clean cloth or a sponge and let it dry for 24 hours. The warm water will cause the fibre to shrink back to its usual shape. If after this it's not yet totally back to normal, you can let it dry completely and repeat the process after a few days. 
How to Get Musty Odour Out of Rattan
If your rattan furniture is exposed to rain and sun day in and day out, it's likely to develop mould at some point. If this is the case, dry the furniture using one of the options provided above so you can start the process of getting rid of the musty smell without damaging the natural fibre of your furniture. 
A cheap and homemade solution is to use equal parts of bleach and water to clean it. With a clean cloth, damp it in the bleach-water mixture and with a sponge, wipe everything down. Let the mixture sit for a few minutes but don't over damp the cloth. Then, with another clean cloth, use warm water and a few drops of neutral detergent to remove the bleach. Once this is done, dry the entire rattan furniture with absorbent towels and let it sit in a non-humid room until fully dried. 
How to Weatherproof Rattan Furniture
Weatherproofing your synthetic rattan furniture is one of the most important tips for extending its life and preventing damages and mould. Luckily, there are many ways of weatherproofing your outdoor rattan furniture. See below a few options so you can choose the one that best suits you, your lifestyle, and your budget. 
Use Varnish or Paint
This type of weatherproofing has proved to be very efficient. If you decide to varnish or paint it, the first thing you need to do is decide whether the colour will remain the same or not. If you choose the first option, you can pick a transparent, matte, or glossy finish, while for the latter option, you can pick between a variety of tones.
If you decide to paint your rattan garden furniture, make sure to use solvent-based paint, which will make your work last longer.
When painting or varnishing, use a flat brush. You can apply as many coats as necessary and let it dry at least half a day between each coat. 
Apply Tung Oil
Tung oil is another option to waterproof your outdoor furniture. It will keep the natural look of the rattan and protect it at the same time. This can be quite time consuming, but once you see the final result, it'll be worth it. 
Before getting started, clean the furniture – you can even use a hover to assist with this for deep cleaning. Once this is done, grab a clean cloth, dip it in oil and apply it to the furniture. 
For prolonging its lifetime, this should be repeated every year.
Use a Furniture Cover 
A simple furniture cover is another great option, especially if you don't like or have the time to paint or apply oil to it. 
If you chose this option, be sure to purchase a good quality cover that's long-lasting and covers the legs of your furniture.
Care of Outdoor Wicker
If you follow all the steps mentioned above, your rattan garden furniture should last at least 10 good years!