Written by: Gregory Miller
There's nothing like kicking back and enjoying the serenity of your garden. From the smells of your blossoming flowers to the satisfaction you feel from watching your work come to fruition, gardening is therapeutic. One could always sit on your porch and take in the beauty of your garden, but adding garden furniture to an outdoor space will allow you to relax in comfort. As the new year draws near, we're going to look at 12 garden furniture trends for 2018.
1) Garden Benches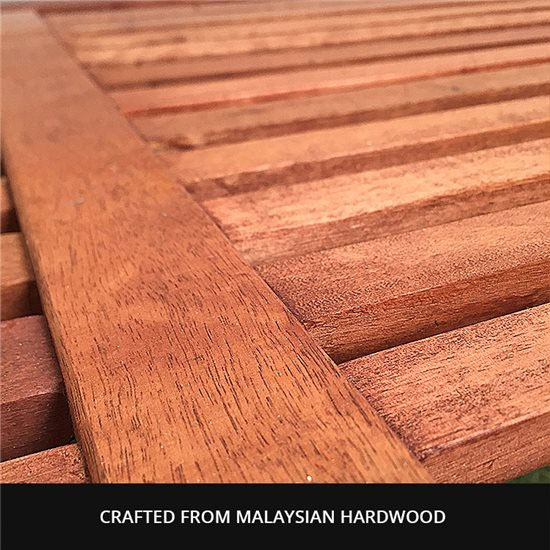 Garden benches aren't just for parks. They also make great garden furniture. After a hard day, you can take a load off on a two-seater garden bench, such as the Classic Melaine 1.2m Bench. Sturdy and reliable, garden benches give you the option to invite visitors into your garden so that you can enjoy the view together. Benches such as the Melaine 1.2m Bench are made from durable Malaysian hardwood and have a slatted design that will only beautify your garden. After arching your back all day in your garden, the high-back design of this garden bench should allow you to relax in comfort.
2) Outdoor Sofas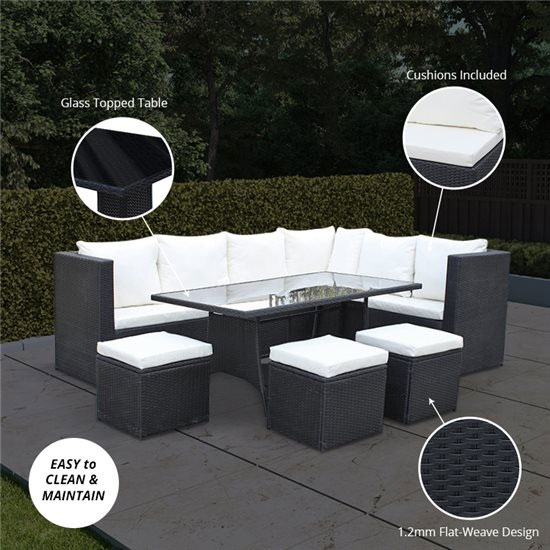 If you're looking for true comfort, then you can't go wrong with outdoor sofas. Outdoor sofas are the perfect place to entertain friends and family as you sip tea and engage in conversation. Furniture, such as the Siena 8-seater outdoor Rattan set, is perfect for entertaining a larger number of people in your garden area. This set comes complete with a glass-topped table, comfy cushions, and even a parasol option! If outdoor family dinners are your thing, an outdoor sofa set would be the perfect garden furniture to add to your yard.
3) Garden Parasols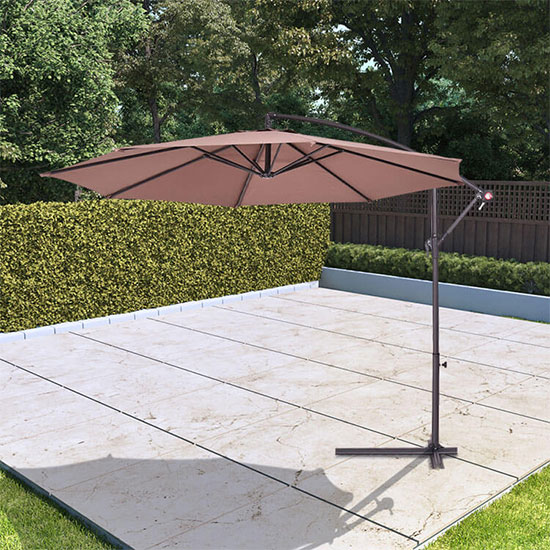 Garden parasols are great additions to any garden. Whether it's raining or the blazing sun is beating down upon your brow, a garden parasol can help you fight the elements and allow you to work in your garden in inhospitable weather. Garden furniture like the Garden 3m parasol cantilever should most definitely do the trick. With its durable polyester fabric cover and modern cantilever design, you'll get all the coverage you'll need. A garden parasol will add equal parts protection and style to your yard. Shade should always be welcome when the sun is beating down relentlessly overhead thus you'll never go wrong with adding a parasol to your yard in 2018.
4) Garden tables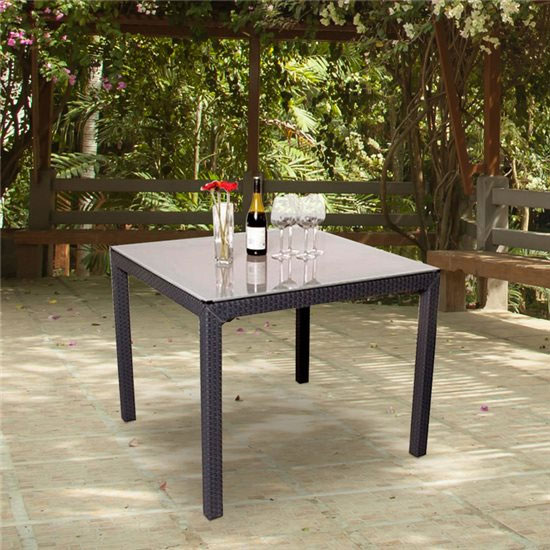 Garden tables are useful in a variety of ways. They provide a place for you to set down your drink, sit and talk with friends, or even lie down your gardening tools. Garden tables come in a variety of shapes and styles. Take the Keter Sumatra Garden Table for example. Stylish and sturdy, this chair will enhance any outdoor space. It's great for placing food and drinks and simply adds another unique layer to your garden. This table is weather resistant and requires no maintenance, so you can leave it out rain or shine and not have to worry about your table suffering from the ravages of mother nature. 2018 is as good a time as any to add a garden table to your garden furniture collection.
5) Garden Chairs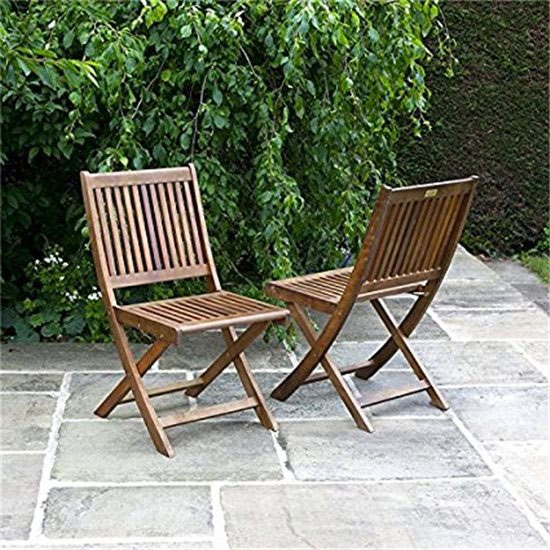 Garden chairs are a simple addition to your garden. A garden chair is portable and you can set it up properly in any part of your outdoor space easily. Garden furniture like the Hampton Folding Chair is a practical addition to any garden space. It's easy to store, highly portable, and made from durable Eucalyptus hardwood.  This chair will take anything that mother nature throws at it, making it an excellent choice for leaving out in your garden rain or shine. When you're ready to store it away, simply fold it up and slide it into a convenient space, such as in a garden shed or under the awning on your porch.
6) Garden Cushions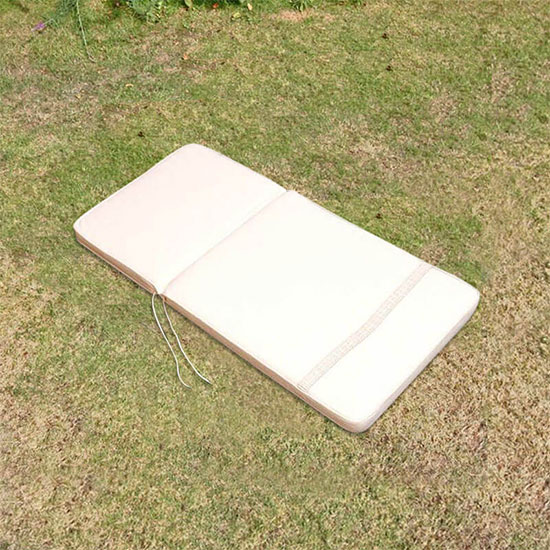 Lounge in style in 2018 with a garden cushion. A garden cushion is versatile in the sense that you can use it both on your lawn chairs or simply use it alone. Garden cushions are great for those who want to lounge out in their yard, but don't want to get dirty by laying on the ground. Check out this full back garden cushion. This stylish cushion has embedded piping that allows it to stay durable. The fabric is fade resistant so you don't have to worry about mildew and stains ruining your cushion. If you're in the mood for an outdoor lounging session, you should consider purchasing a garden cushion.
7) Garden Furniture Covers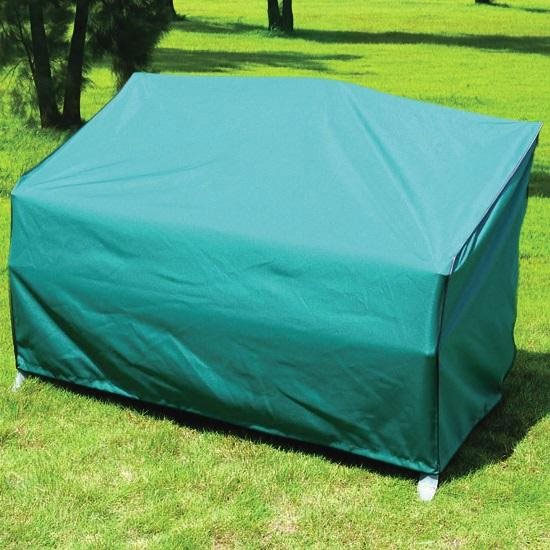 Even though most lawn furniture is weatherproof, it would still behoove you to consider a furniture cover. Furniture covers come in various shapes and sizes. Some are large and made of woven polyethylene, like the Deluxe PE Bench Cover. Then there's the Premium PVC Bench Cover, which is made from PVC. Both covers are 100% waterproof and UV resistant. For the sake of the longevity of your lawn furniture, garden furniture covers are great investments.
8) Bean bag chairs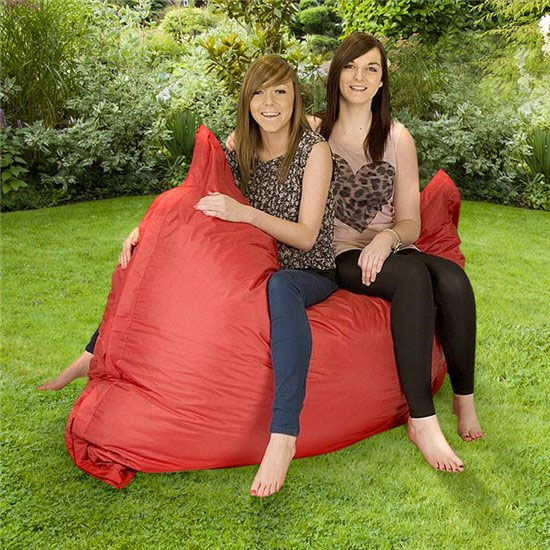 Were you aware that certain types of bean bag chairs are also considered lawn furniture? As you go into 2018, think about throwing a bean bag chair in the yard for the kids to roll around in. They're big, comfy, and loads of fun!
9) Garden furniture for kids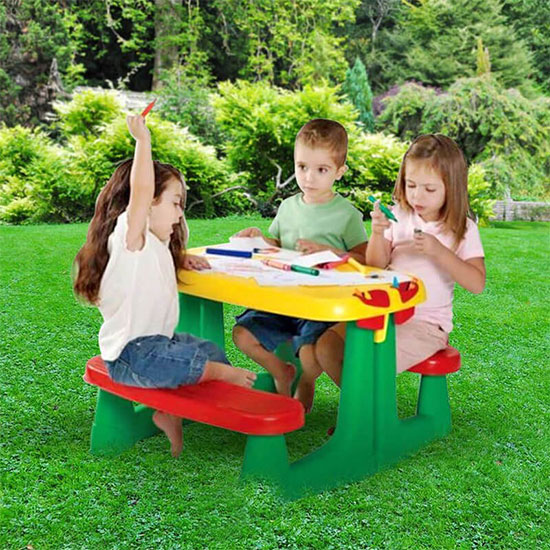 Your garden space just doesn't have to be for adults. It can also be for kids too. Give your kids an excuse to get outside and enjoy the air and sunshine. When they're done running around the yard, they can take a break at the Keter Amigo Picnic Table. We've covered a few tables in this list thus far, but nothing quite like this. This table has a durable polyresin construction and comes in a variety of fun colors. Up to four kids can all sit down and spend hours engaging in creative activities such as coloring and arts and crafts. This durable picnic table is UV resistant, so the colors won't fade when left underneath the sun. If the weather starts to turn sour, simply bring the table in to protect it from the elements. Overall, garden furniture for kids will encourage them to get outside and enjoy the day!
10) Metal garden furniture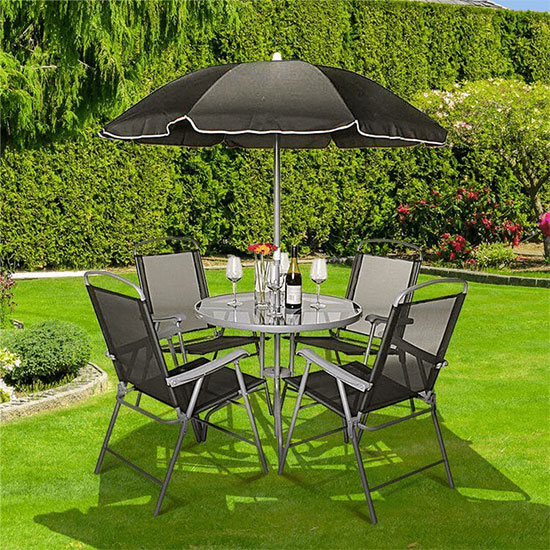 11) Rattan Garden Furniture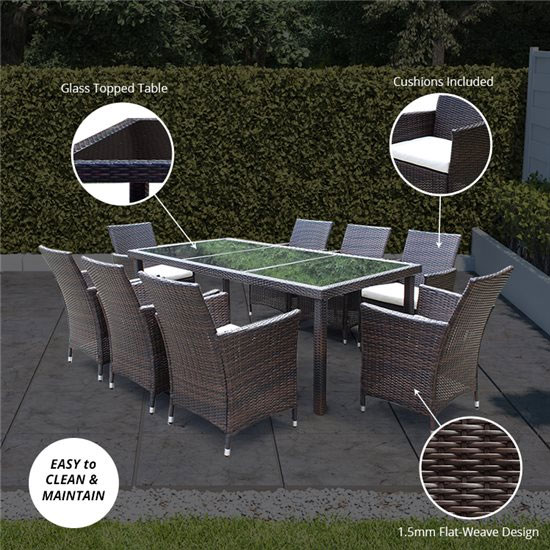 When it comes to rattan, it's often used interchangeably with wicker. Though the two fall under the same category, rattan is not wicker. Rattan possesses a strong core and is one of the strongest woods. It's highly durable and difficult to break. That's why Rattan makes such fantastic garden furniture. Rattan can be fashioned into table frames, chairs, and other like garden furniture. The 8 seater rectangular outdoor rattan dining set is the perfect example of rattan artistry at its finest. With its flat-weave construction, seat cushions, high-quality resin-weave, and ability to resist the UV rays of the sun, this outdoor set will both add style to your outdoor space and provide an excellent place for friends and family to enjoy an outdoor meal together.
12) Wooden Garden Furniture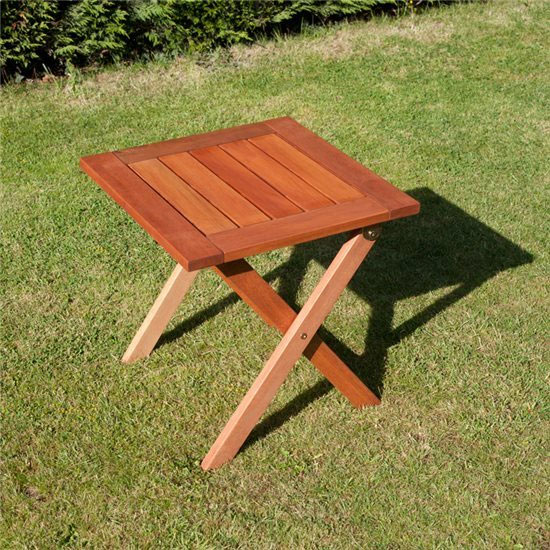 Wooden garden furniture choices have always been a popular choice amongst garden furniture lovers and that trend is likely going to continue well into 2018. Wood can be made into chairs, benches, and tables. A great wooden table choice would be the Elegance Garden Table. Its foldable design makes it the perfect picnic companion and it's made from a quality wood. There is also the Windsor Traditional Bench. It can sit up to 2 – 3 people and is made from beautiful acacia hardwood.  It's very easy to assemble and would make a great addition to any garden.
What are your garden furniture plans for 2018?
2018 is a new year with an entire range of new possibilities. Whether you're looking to decorate your yard with a furniture set, add in a garden bench, or even throw in a massive bean bag chair the possibilities are endless! As you walk into your garden in 2018, take the time to gaze around and envision what types of furniture would look the best. You might be surprised at what you come up with.
Just remember – one trend that's never going out of style is making sure you maintain your garden furniture! To do that, invest in furniture covers to protect sets from the harsh weather and the onset of damp (and ultimately mould!).
A good-quality PVC cover can be a super-cheap alternative to having to shell out for a new furniture set because it's gotten rotten! Another alternative would be to invest in weather-resistant garden furniture like synthetic rattan. Imitating the lovely style of traditional woven furniture (but without all the maintenance hassle and fear of cracking!), this
modern garden furniture trend offers a budget-friendly alternative that's long-lasting and hard-wearing!
And when you're using your garden furniture, or if you don't want to cover it – make sure to store it out of the harsh weather. If you've got room in a shed or summerhouse, keep unused furniture stored over the winter months.