We love to catch up with our customers to see how they're getting on with their garden buildings. So today, we've got someone special with a great story about how they transformed their BillyOh purchase.
Hi there, what's your name?
Hi there, I'm Emma.
And Emma, which outdoor garden building did you go for?
I chose the BillyOh Bella Pent Summerhouse.

And what size did you get your Bella summerhouse in?
I got the 8x8ft model.
What made you pick this particular model?
We were looking for a small cabin to recreate a bar we visited in Japan that only had enough room for a bar and stools around the outside. Plus we live in London so space is limited in the garden!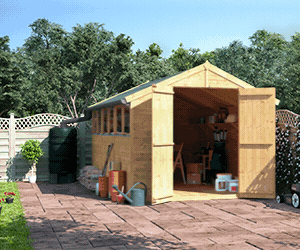 Sounds like you made a great choice! So, what're you using your outdoor building for?
As a bar – for drinking/dancing/playing board games with the kids on a Friday night.
BillyOh Bella Summerhouse (Building)

What would you say your new garden building has allowed you to do that you couldn't before?
Have a space away from the house to enjoy with friends so we don't wake the kids up!
Also, over the last year, it's allowed us to feel like we are sort of going out, even if it is just to the bottom of the garden!
Oh we hear that Emma! Have you decorated your garden building then?
The decor of our house was very much inspired by a trip to Japan so there's lots of wood and natural materials throughout.
We also love the colour black and mood lighting so we extended this out through our garden to the bar.
BillyOh Bella Summerhouse Exterior
Sounds great. What's your favourite thing about your building?
It feels like you could be anywhere not just at the bottom of a garden in suburban London!
And what made you choose Garden Buildings Direct?
It was difficult to find a modern style of summer house that would fit in with the garden we had designed. But we found the BillyOh Bella and it matched perfectly.
BillyOh Bella Summerhouse Interior
What luck! And how was your experience with us?
Very good.
Almost done – any top tips for anyone wanting to create their own garden bar?
Think of things that you love and that make you feel relaxed and happy. It could be a place, a colour, or an item of furniture. Use this as inspiration for your retreat!
Good thought Emma and thanks again. Where can people see more of your garden building?
They can find me on @housecapades_london Instagram. 
Wow, it sounds like Emma's making the most out of her summerhouse. So if you've got a fantastic story about your BillyOh shed, summerhouse, or log cabin conversion – we'd love to hear. Simply get in touch with us on social media for a chance to feature here.
And if you want, you can check out more customer stories right here.
Shop Summer Houses