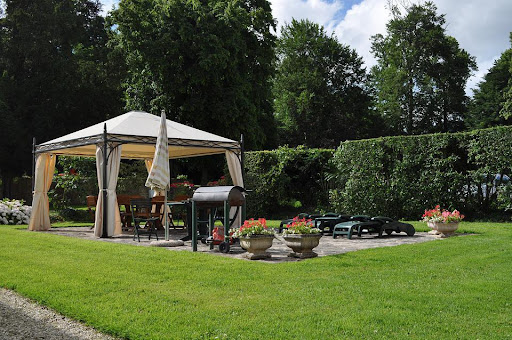 Image Credit: gantriis / Pixabay
There's nothing better than seeing a bright blue sky in the UK, especially during the Summer – as this means it's BBQ season! 
Before creating your perfect BBQ garden area, there are a few things to consider. These include your available space, what you want to include, and the style you like. 
Whether you're a newbie to design or an avid designer, these tips will help you create the perfect BBQ area with ease.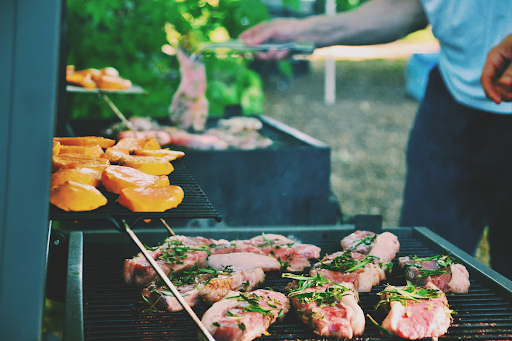 Image Credit: Unsplash
Where Should You Situate Your Barbecue Area?
Ideally, you should aim to have your BBQ area as close to the house as possible. This will help as you'll be getting things such as meat out of the fridge and other things from the kitchen. 
Finding a flat space such as a patio is also important. Make sure the ground is stable to prevent the BBQ from falling over.
Although you want your BBQ close to your house, we'd recommend not putting it too close to your back door, or else you may have smoke blown into your house, which is not ideal.  
Dedicate An Area To Cooking
If you're looking for a new and exciting way to spruce up your BBQ, why not build a dedicated area for cooking. By doing this you will get more of an outdoor kitchen vibe and it will protect your BBQ from bad weather. 
If you have a smaller garden, aim to create a little nook in order to keep everything tidy and protected. 
Dedicate a Place For Food Prep
Alongside having a dedicated area for cooking, it's important also to dedicate an area for food prep. Making your own food prepping station is a great addition to any setup, plus it stops you from needing to go in and out of the kitchen. You can be creative with this and add pops of colour around the station.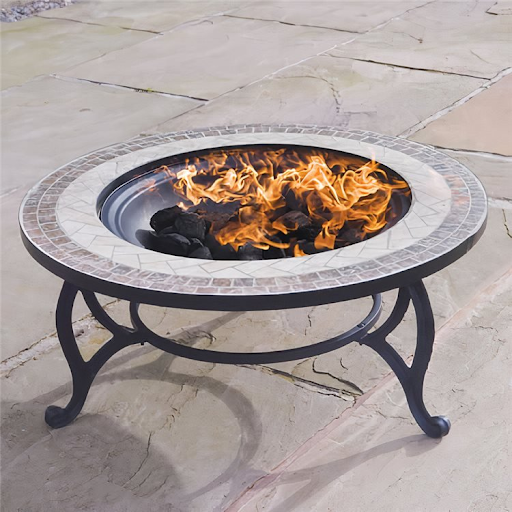 Double Up a Fire Pit as a BBQ
If you're looking for a fire pit for your perfect BBQ garden area, you may want to consider a fire pit that also works as a BBQ grill. With so many designs of BBQs with multiple functions you're bound to find one which suits your design. 
If you're looking to create a family-oriented garden area, a fire pit that doubles up as a BBQ is a great way for everybody to get involved with the cooking, and also creates the perfect space to cook smores.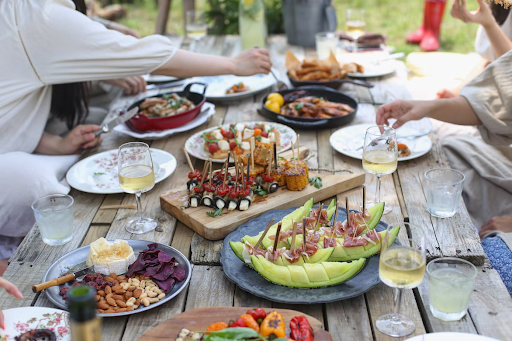 Image Credit: Unsplash
Go All Out With an Outdoor Kitchen
And if you're looking for a more permanent solution to your BBQ area, why not consider an outdoor kitchen? This is a great option if you like hosting and have the space for it in your garden. 
Wall-Mounted BBQ Area To Save On Space
If you're limited on space, that doesn't mean you can't create a lovely BBQ area. To save space you can even wall-mount a grill. Create shelves within your garden area to place the grill on and add additional shelves for food preparation (as with a smaller BBQ these usually aren't included).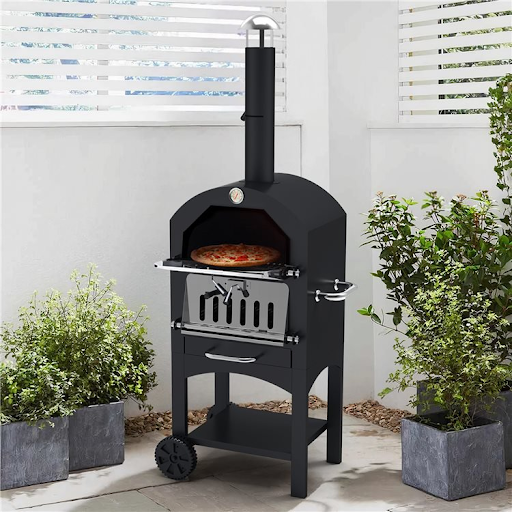 BillyOh Pizza Oven, Chimney Smoker & Charcoal BBQ
Build a Pizza Oven – Perfect For Garden Parties
If you're looking for the ultimate garden party must-have, a pizza oven is ideal! With different sizes and portability, you'll be spoilt for choice when it comes to picking up that perfect pizza oven. 
Using a pizza oven provides your guests with even more tasty food options and can also work as an alternative to a BBQ. 
Pick a BBQ that makes a style statement
One of the great things about BBQs is that they come in plenty of different shapes, colours, and sizes. There are plenty of solutions when looking for that perfect BBQ. A large BBQ grill is great to include as part of an outdoor kitchen or a more uniquely shaped BBQ easily makes a style statement.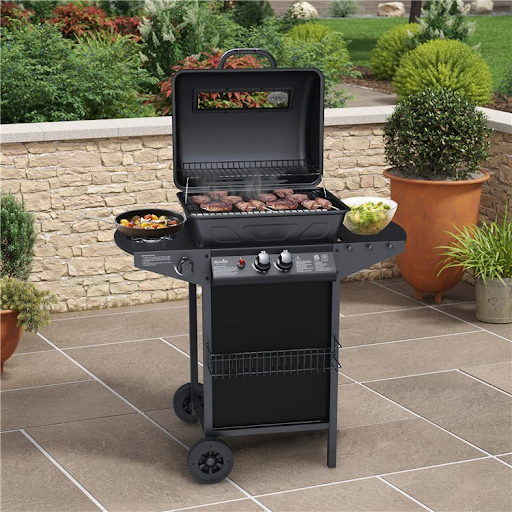 BillyOh Oregon 2 Burner Gas BBQ
Choose a compact BBQ for small areas
If you're working with a smaller area, why not consider choosing a compact BBQ? BillyOh offers a Kettle Charcoal BBQ which is ideal for gardens with a lack of space. If you're looking for a BBQ that has all of the frills of a bigger grill, the Oregon 2 burner makes for a great choice. 
Build a Pergola Around a BBQ For All-Weather Cookouts
In the UK we face a lot of rain and drizzle throughout the year, therefore if you're looking to create a BBQ area to be used all year round a pergola might be the answer. This wooden structure can create shade on the hotter days, and shelter from the rain during those rainy days. 
Keep a Garden Bar Close To Hand
If you like to host company regularly, a garden bar is a must. Whether you're looking to convert your shed into your very own bar, or if you're looking to create a standalone garden bar, there are plenty of inspirational ideas out there.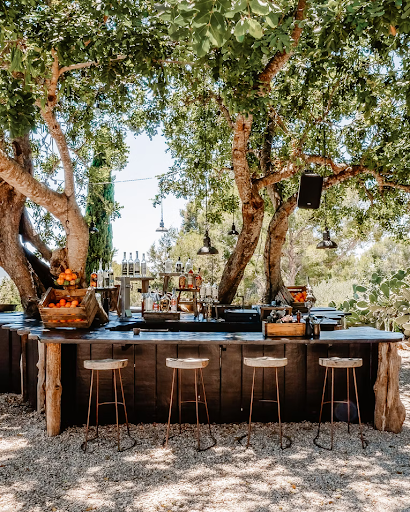 Image Credit: Unsplash
How Do You Decorate a BBQ area?
There are many ways to decorate a BBQ area, depending on what style you're going for. Some decorative ideas to consider when decorating a BBQ area are:
Lots of lovely plants in bright pots 

Build the right decking or foundation for your BBQ area 

Create a built-in BBQ design 

Use rustic materials
Add a Practical and Attractive Dining Set
Once you're happy with your BBQ area, it's important to consider adding a practical dining set ready for your guests to eat at. Making sure that your garden furniture is well covered and taken care of will provide a long-lasting dining area that is practical and attractive. 
How Can You Disguise a BBQ?
If you're not happy with the look of your BBQ you may want to disguise this. Create an area within your garden that isn't on show, you can do this with a shed, investing in a dedicated BBQ shelter, or simply using a cover. 
Making sure the items around your BBQ are stylish can help to boost the look and feel of your garden area. 
So whether you're looking to spruce up an existing BBQ space or create a whole new one, we hope these tips have been helpful when learning how to create the perfect BBQ garden area.