We can't rely on the great British weather to give us endless sunny days in the summer to enjoy BBQs with friends and family. 
So it might be worth investing in a shelter of some kind, so you can still fire up the grill even when the heavens open!
Let's take a look at some ideas.
1. Cabin BBQ station
Perfect for any garden set up, the BillyOh Log Cabin Workshop can be your next BBQ station! The customisable opening windows and solid-boarded double doors makes it an ideal space for outdoor cooking.
With so much floor space, a mini dining set or a bar countertop can easily fit inside too!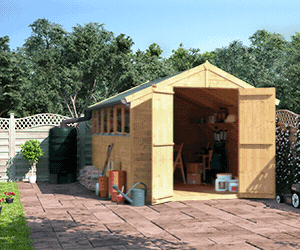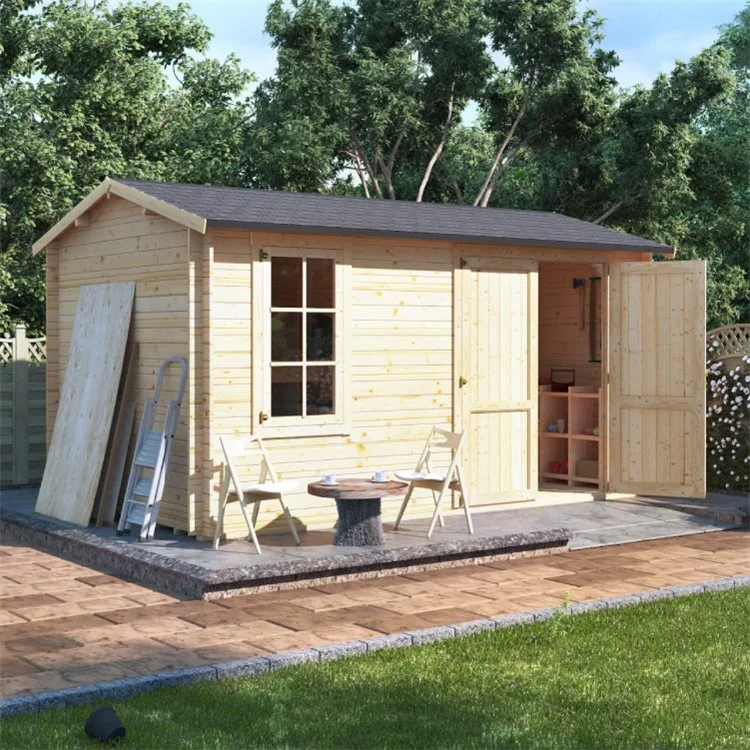 2. Stone BBQ area
Revamp your outdoor cooking experience with an optimised stone BBQ shelter. Adjacent to the BBQ, you'll find a seating area that offers comfortable seating for you and your guests.
To shield you from the sun's rays and provide respite on warm days, install a pergola that stands tall above the area.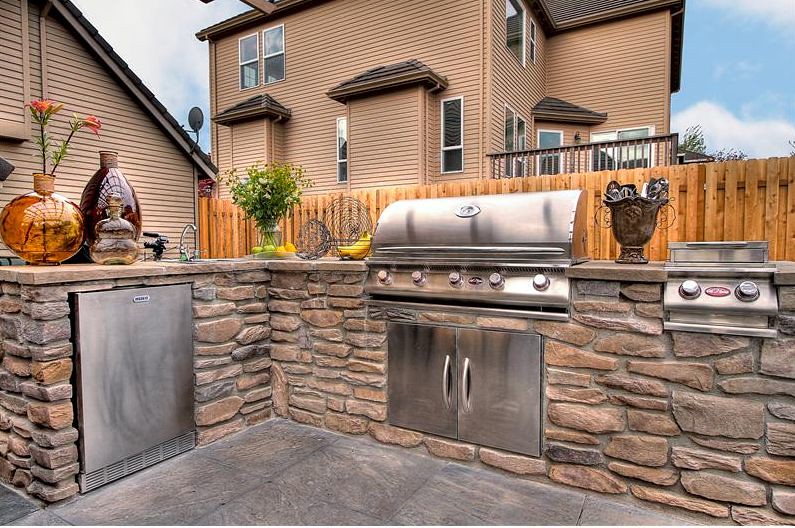 3. Tiny corner BBQ with roof
Transform your modest garden into an inviting BBQ haven, complete with a roof. Embrace the limited space by adding a kitchen nook that caters to your family's culinary desires. Indulge in the pleasures of al fresco dining without compromising on style!
4. Bricks and light wood
Use weathered wood panels and authentic natural stone. This design effortlessly blends timeless elegance with nature's raw beauty. Experience the pleasure of outdoor cooking amidst a rustic oasis.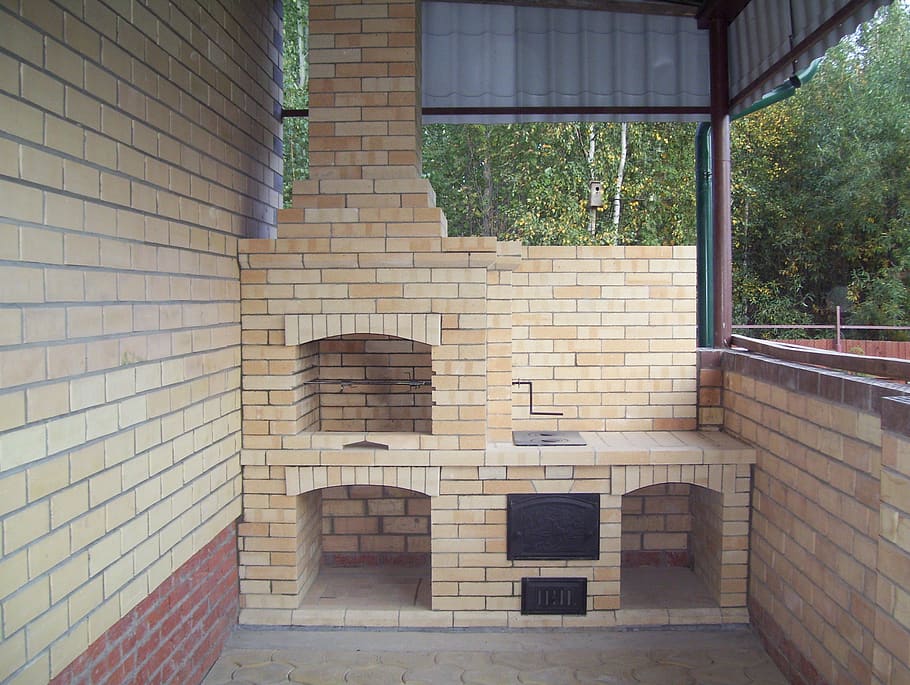 5. Modern BBQ shed
Is it a wooden wall? No, it's an amazing BBQ with a foldable door that also serves as a shelter whilst you're cooking. 
You can also close it off when it's not being used.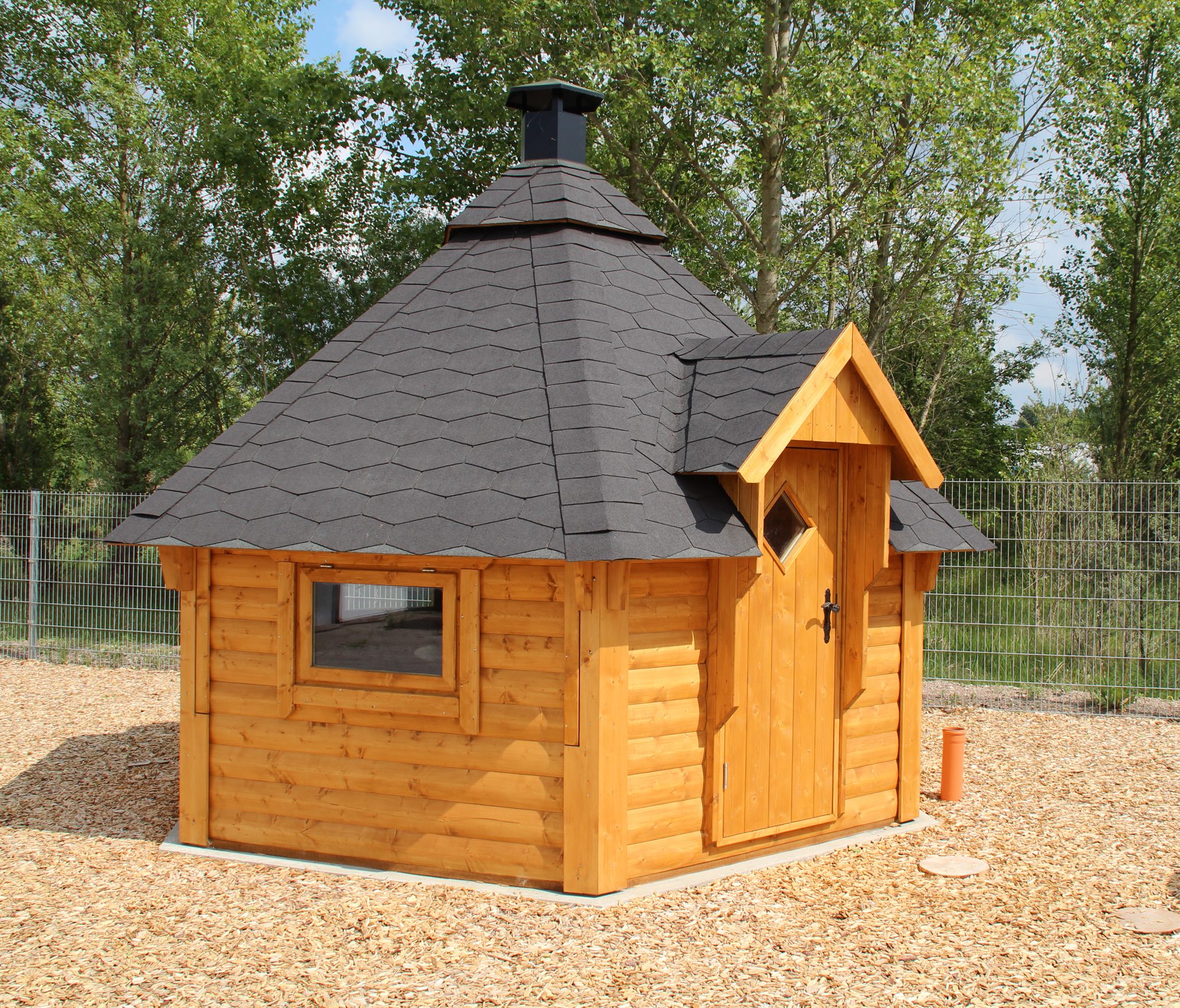 6. Outdoor kitchen shed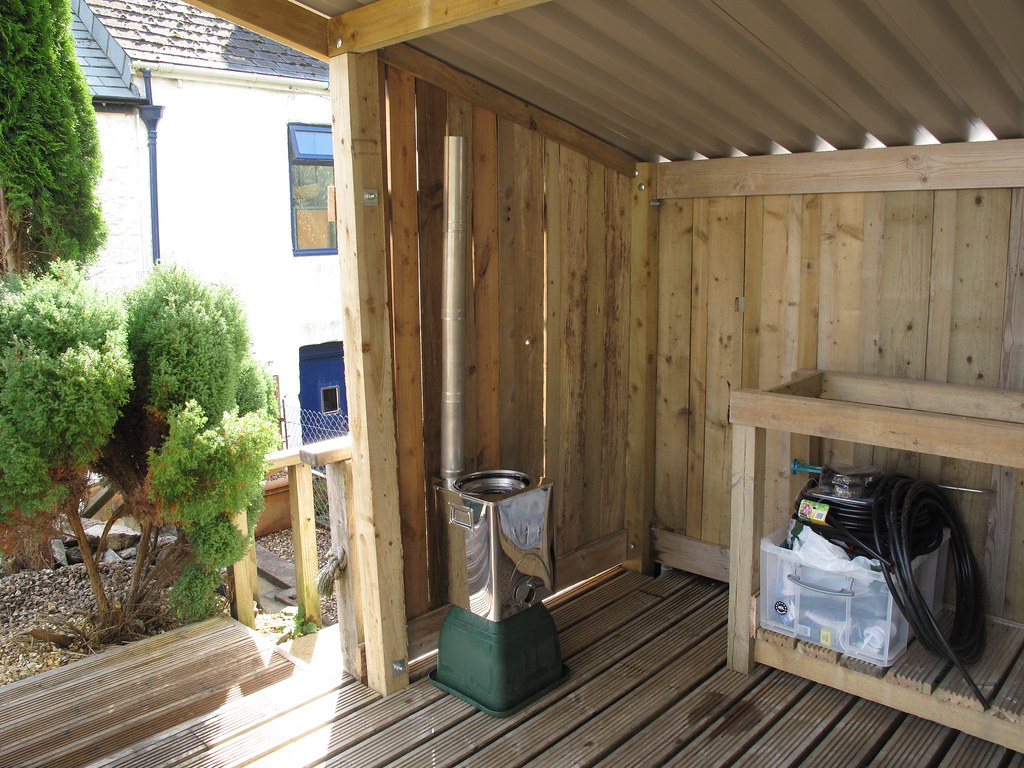 Transforming a shed into a BBQ station is simple. Clear the shed, install shelves for storage, and place a sturdy table for food prep. Add hooks for utensils and hang a whiteboard for menus. Install a ventilation system for smoke. Don't forget to create a cosy seating area nearby!
7. BBQ simple shack
Or maybe go for a simpler setup and just place whatever you need under a shelter for protection from the rain. No need to bring the entire kitchen if you don't want to. 

8. DIY BBQ shelter
Try building a simple shelter for your BBQ yourself if you're handy with wood, so you can make it as big as you need it to keep you and the grill covered while cooking.

9. Tiny BBQ shelter
Install a compact roof structure made of weather-resistant materials. Attach sidewalls or curtains for additional protection. Ensure proper ventilation to prevent smoke buildup. Add hooks or shelves for utensil storage.
10. Semi pergola for BBQ
Position the semi-pergola over the grill to provide shade and shelter from rain. Choose a sturdy material like wood or metal for durability. Add a retractable canopy or curtains for adjustable coverage. Arrange seating and a food preparation area beneath the pergola.
11. Modern stone and bricks
Lay a strong foundation using concrete. Construct the shed walls with stone and bricks, ensuring a sturdy structure. Install a durable roof and provide proper ventilation. Incorporate modern design elements, such as sleek lighting fixtures and clean lines.
12. Open BBQ shack
Choose a suitable location and clear the area. Erect a basic wooden frame for the shack's structure. Install a sturdy roof to provide shade. Leave the sides open for ventilation and a spacious feel. Add a grill and ample counter space for food preparation.

13. Cedar corner station
Choose a corner area in your outdoor space and build a cedar frame for the station. Install a durable countertop and attach a grill and storage. Create seating with cedar benches or chairs to complete the look!
14. Foldable outdoor kitchen
Select a compact foldable grill and a portable table. Choose a convenient location that maximises space, unfold the grill and set it up. Place the portable table nearby to maximise the space. Enjoy the convenience and flexibility of your foldable BBQ station!
15. BBQ deck and shelter
Build a sturdy deck using weather-resistant materials. Install a roof or canopy for shelter from the elements. Position the grill in a safe and accessible area on the deck. Add seating and a dining area for comfortable enjoyment.
16. Simple BBQ gazebo
Set up a simple BBQ gazebo effortlessly! Choose a suitable location in your outdoor space, then assemble a gazebo kit with a sturdy frame and roof. Ensure proper ventilation for smoke. Add seating and a small table for convenience.

17. BBQ deck on slope yard
Level the area by building a retaining wall or using adjustable deck supports. Construct a sturdy deck frame that follows the slope. Install a durable deck surface. Then, position the grill securely on the level deck area and seating.
18. Wooden and transparent
Build a wooden structure for the BBQ area, including walls, countertops, and storage. Install a transparent roof made of polycarbonate or glass panels for natural light. Ensure proper ventilation, add seating and outdoor decor.
19. Side oak gazebo
Create a levelled and paved space for the BBQ station. Use oak wood for the construction of countertops, shelves, and seating. Add decor elements like hanging plants, lanterns, and rustic signage. Also, consider incorporating natural stone accents for a rustic touch.
20. Transparent canopy for BBQ
Install a sturdy frame for the canopy and secure transparent panels. Position the grill and prep area underneath. Enhance the decor with string lights, vibrant cushions, and a cosy seating arrangement. Add a weatherproof rug for comfort.

21. DIY wooden BBQ area with lights
Build a wooden frame for the BBQ station and install countertops. Hang string lights above the area for a warm ambiance. Add decorative lanterns and solar-powered pathway lights for additional illumination.
Incorporate cosy seating with cushions and a dining table (if the space allows). Use planters and flowers to bring a touch of nature.
22. Metal gazebo grilling station
Assemble the metal gazebo and position it in your desired location. Install a sturdy grill and food preparation area inside. Enhance the decor with outdoor-friendly rugs, comfortable seating, and vibrant cushions. Hang lanterns or string lights that match the material for ambience.
23. Tiny BBQ deck and roof
Build a compact deck and attach a weather-resistant roof for protection. Opt for space-saving furniture like folding chairs and a small table. Utilise built-in benches with storage underneath. Maximise space by using vertical planters or wall-mounted décor.
24. Classy grill shelter
Construct a stylish shelter using quality materials. Choose elegant and comfortable furniture pieces. Or opt for versatile options like benches with storage. Enhance the ambience with soft outdoor lighting – and plants for a touch of greenery.
Create a sophisticated grilling station that exudes both class and comfort!
25. All-in-one gazebo BBQ space
Assemble the spacious gazebo and position it strategically. Position a large grill and food preparation area. Arrange a dining set with ample seating and a serving table. Add cosy outdoor sofas or lounge chairs for relaxation – or for extra seating.

26. Tiki-inspired BBQ hut
The perfect BBQ shelter idea with its exotic and tropical ambience! The thatched roof and bamboo accents evoke a sense of relaxation and vacation. This concept effortlessly transports you and your guests to a beachside paradise.
Achieve this idea in your garden by using natural materials like bamboo and thatch. Incorporate tropical plants and tiki torches and lanterns to complete the look.
27. Elevated BBQ platform with a thatched roof
This design provides a unique and elevated outdoor dining experience. The thatched roof adds a touch of rustic charm and protects you from the elements while enjoying BBQ.
Construct a sturdy platform or raised deck in your garden and cover it with a thatched roof or canopy. Add comfortable seating and ambient lighting to create a cosy and inviting space.
28. Repurposed shipping container BBQ shelter
An innovative DIY approach that combines functionality and sustainability! The durable shipping container provides a sturdy enclosure for your BBQ activities.
To carry out, find a suitable shipping container. Then, modify it to include proper ventilation, windows, and a functional cooking area. Paint the exterior to match your garden aesthetic. Consider adding seating or storage options inside to finish the setup.
29. Contemporary glass and steel BBQ pavilion
Offering a sleek and modern design that blends seamlessly with a contemporary garden! The use of glass and steel creates a stylish and open feel. This allows for unobstructed views of the surrounding landscape.
To get started, consult with a professional to design a custom glass and steel structure. Incorporate ample ventilation and add blinds or shades for privacy and sun control.
30. Rooftop BBQ terrace with a retractable canopy
This design can maximise your outdoor space while offering a versatile entertaining area. This idea allows you to utilise the rooftop of your building as a dedicated BBQ space. Plus, with the added benefit of a retractable canopy for shade and protection.
You'll want to ensure that your rooftop is structurally sound and can support the weight of a BBQ setup. Install a retractable canopy or pergola system to provide shade when needed. Finally, furnish the terrace with comfortable seating and appropriate safety measures.
31. Asian-inspired Zen garden BBQ gazebo
An Asian-inspired Zen garden BBQ gazebo combines tranquillity and functionality! This scheme creates a serene space for outdoor cooking and dining.
The gazebo's design incorporates elements of Japanese aesthetics. This can include clean lines, natural materials, and minimalistic features.
Execute this idea by designing a gazebo with a simple and elegant structure using wood or bamboo. Incorporate Zen garden elements to create a calming ambience for your BBQ gatherings. Start with pebbles, bamboo fencing, and plants. Adding a small water feature nearby also enhances the Zen experience.
32. Portable pop-up BBQ tent with built-in seating

With built-in seating, this idea offers versatility for outdoor cooking on the go. Ideal for picnics, camping trips, or impromptu BBQ parties in different locations.
To achieve this idea, invest in a high-quality pop-up BBQ tent that is easy to assemble and disassemble. Look for models that include built-in seating. Or those with options for attaching lightweight foldable chairs.
33. Mediterranean-style clay tile BBQ pergola
This brings a touch of Mediterranean charm and warmth to your outdoor cooking space. The clay tiles provide natural insulation and help create a cosy atmosphere.
Construct a pergola structure with sturdy wooden beams and pillars. Use clay tiles or terracotta roofing for the roof to evoke a Mediterranean aesthetic. Add climbing plants such as bougainvillaea or grapevines to enhance the ambience.
34. Multi-level BBQ deck with integrated shelter
The multi-level design allows for separate areas dedicated to cooking, dining, and lounging. This provides a dynamic and versatile space for outdoor entertaining. The integrated shelter provides weather protection while still allowing for an open-air experience.
Design a multi-level deck with durable and weather-resistant materials. Add a covered section with a retractable or permanent roof for the merged shelter. Furnish each level with appropriate seating and amenities.
35. Tropical bamboo BBQ hut with palm leaf roof
An excellent idea that brings a sense of exoticism and relaxation to your BBQ space. The use of bamboo and palm leaves creates a natural and tropical ambience. Like the tiki-inspired, it can transport you to a tranquil island retreat.
Construct a hut-style structure using bamboo poles for the frame and a palm leaf roof for the shelter. Add bamboo or rattan furniture for seating. Make sure to incorporate tropical plants and accents to enhance the tropical atmosphere.
36. Vintage-inspired roadside BBQ shack
This concept adds a nostalgic and charming touch to outdoor grilling. To achieve this, use reclaimed materials like weathered wood and vintage decor. Add a tin roof for an authentic look and create a cosy atmosphere with string lights and vintage seating. Incorporate a rustic BBQ as the centrepiece.
To enhance the experience, include a serving window and a small outdoor seating area. Don't forget to add some retro-inspired signage and artwork to complete the roadside vibe.
37. Scandinavian minimalist BBQ shelter
A Scandinavian minimalist BBQ shelter exudes simplicity and elegance. Focus on clean lines, natural materials, and a neutral colour palette. Opt for natural wood accents, such as cedar or birch. Make sure to keep the design streamlined and uncluttered.
Use minimalistic furniture and furnishings that prioritise functionality and comfort. Add subtle lighting, like soft string lights, to create a cosy ambience. Emphasise the beauty of natural elements and simplicity in design.
38. Beach-inspired surf shack BBQ station
A beach-inspired surf shack BBQ station captures the laid-back, coastal vibe. Start by using weathered or reclaimed wood to create a rustic look. Mix in elements like surfboards, beach signs, and shells to bring the beach atmosphere to life.
Consider adding a thatched roof or bamboo accents for a tropical touch. Create a casual seating area with vibrant cushions and comfortable beach chairs. Include a bar counter for guests to relax and enjoy their BBQ. Enhance the space with beach-themed accessories like lanterns and nautical ropes. Aim for a relaxed and inviting ambience that evokes the feeling of a beach getaway.
39. Rustic log cabin shelter

This approach offers a cosy and traditional atmosphere. Use natural logs or log siding for the structure to achieve an authentic cabin aesthetic. Add a stone or brick fireplace as the focal point, providing warmth and adding to the rustic charm.
Use warm, earthy tones for the interior and exterior, complementing the natural surroundings. Include ample seating and a large table for gathering family and friends. Enhance the ambience with soft lightings, such as lanterns or rustic chandeliers.
Embrace the cabin theme by incorporating woodland-inspired decor and accents. You can never go wrong with animal antler decorations or plaid textiles.
40. Urban rooftop BBQ oasis
An urban rooftop BBQ oasis with a green living wall brings a touch of nature to an urban setting. Start by installing a living wall filled with lush plants to create a vibrant backdrop. Choose durable and weather-resistant materials for the BBQ station, such as stainless steel.
Create a comfortable seating area with garden furniture and add shade with a parasol. Incorporate ambient lighting to set the mood during evening gatherings. Utilise space-saving techniques, such as vertical gardens, to maximise the rooftop area.
41. Serene Japanese tea house-inspired BBQ pavilion

A BBQ shelter idea that combines elegance and tranquillity. Incorporate clean lines and simple forms in the architecture. Use natural materials to create a harmonious blend with the surrounding environment. Wood and stones are your best bet.
Include sliding shoji doors or screens to allow for versatility. Create a Zen garden around the pavilion with bamboo, rocks, and a small water feature. Choose minimalistic and low-profile furniture for seating and dining. Add soft lighting, such as lanterns, to create an intimate and calming atmosphere. Overall, aim for a design that promotes relaxation and mindfulness.
42. DIY repurposed pallet wood with hanging planters
This design idea offers an eco-friendly and budget-friendly solution. The use of pallet wood adds rustic charm and warmth to the space.
To achieve this, dismantle pallets and repurpose the wood to build the frame and walls. Hang planters on the walls to add a touch of greenery and enhance the aesthetics. Ensure proper ventilation and safety measures when working with wood.
Consider adding a corrugated metal roof for weather protection. Customise the shelter size and layout based on your needs. Finish the project by staining or painting the wood for a polished look.
43. Modern farmhouse-style BBQ barn
Paired with sliding barn doors, this combines a rustic appeal with contemporary elements. Start by selecting a barn-inspired structure with a metal roof and wooden siding. Incorporate large sliding barn doors for easy access and a stylish focal point.
Emphasise the farmhouse aesthetic with rustic lighting fixtures, exposed beams, and weathered finishes. Create a spacious interior with functional storage for grilling equipment and utensils.
Include a covered porch area with seating for guests to relax and enjoy the BBQ. Add decorative touches like vintage signs or farmhouse-themed artwork to complete the look.
44. Contemporary steel and glass BBQ gazebo
A sleek and modern outdoor cooking space approach. Opt for a steel frame with clean lines and a minimalistic design. Add large glass panels for an open and airy feel while providing shelter from the elements. Also, choose weather-resistant materials that require low maintenance.
Install a built-in grill and countertop space for food preparation. Consider integrating a retractable awning to offer flexibility in sun protection. Enhance the ambience with contemporary outdoor lighting fixtures and comfortable modern seating.
Focus on seamless integration of indoor and outdoor spaces for a harmonious design.
45. Floating BBQ platform with a waterproof canopy
Bring a unique and luxurious touch to outdoor grilling with this BBQ shelter idea! Construct a sturdy floating platform using composite decking or marine-grade wood. Install a waterproof canopy above the platform to provide shade and element protection.
Incorporate a built-in grill and prep area with storage for convenience. Ensure the platform is properly anchored and can support the weight of the BBQ and occupants. Consider adding integrated seating or lounge areas for relaxation.
Add ambient lighting and incorporate safety measures, such as non-slip surfaces and railing. You'll want to ensure a functional and safe floating BBQ experience.
Round-up
With the sporadic nature of our weather here in the UK, adding a roof over your BBQ will mean you can enjoy cooking outdoors come rain or shine. 
Whether it's a small, simple shelter you're looking for, or a building to house a lavish bar and outdoor kitchen, we hope you've found some inspiration in our list of ideas
Shop BBQs