We can't rely on the great British weather to give us endless sunny days in the summer to enjoy BBQs with friends and family. 
So it might be worth investing in a shelter of some kind, so you can still fire up the grill even when the heavens open!
Let's take a look at some ideas.
1. Cabin BBQ station
Perfect for any garden set up, the BillyOh Log Cabin Workshop can be your next BBQ station! The customisable opening windows and solid-boarded double doors makes it an ideal space for outdoor cooking.
With so much floor space, a mini dining set or a bar countertop can easily fit inside too!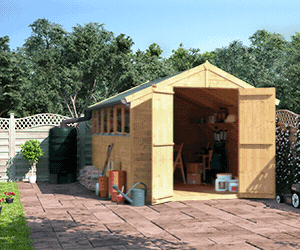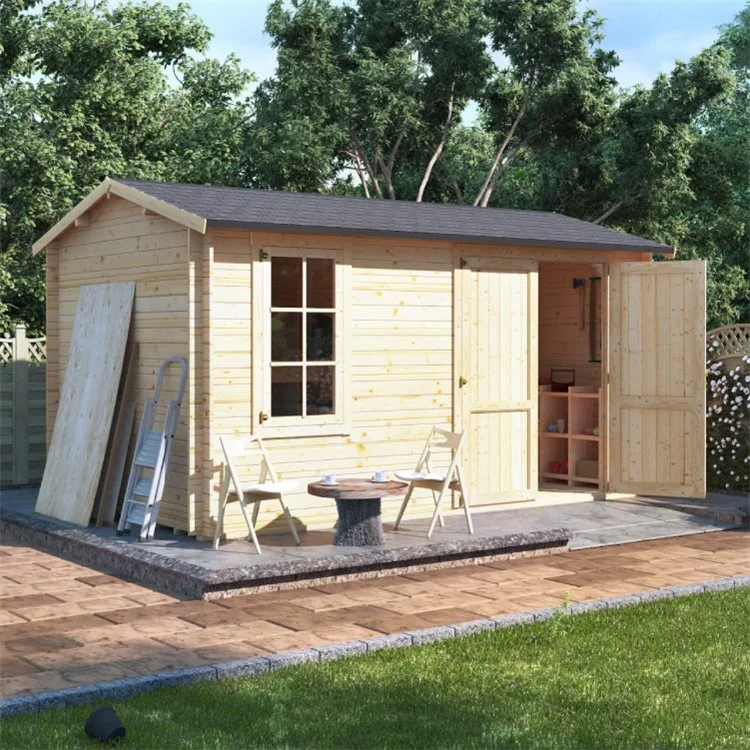 2. Stone BBQ area with simple poof
A small pergola will give you some shade while you're cooking under the sun. 

3. Tiny corner BBQ with roof
You can still have an appealing BBQ area with a roof, even if your garden is not that big. You could create a small corner outdoor kitchen space like this to feed all of the family. 
4. Bricks and light wood
If you prefer more of a rustic style, you could build your outdoor kitchen from weathered wood panels and natural stone.
5. Modern BBQ shed
Is it a wooden wall? No, it's an amazing BBQ with a foldable door that also serves as a shelter whilst you're cooking. 
You can also close it off when it's not being used.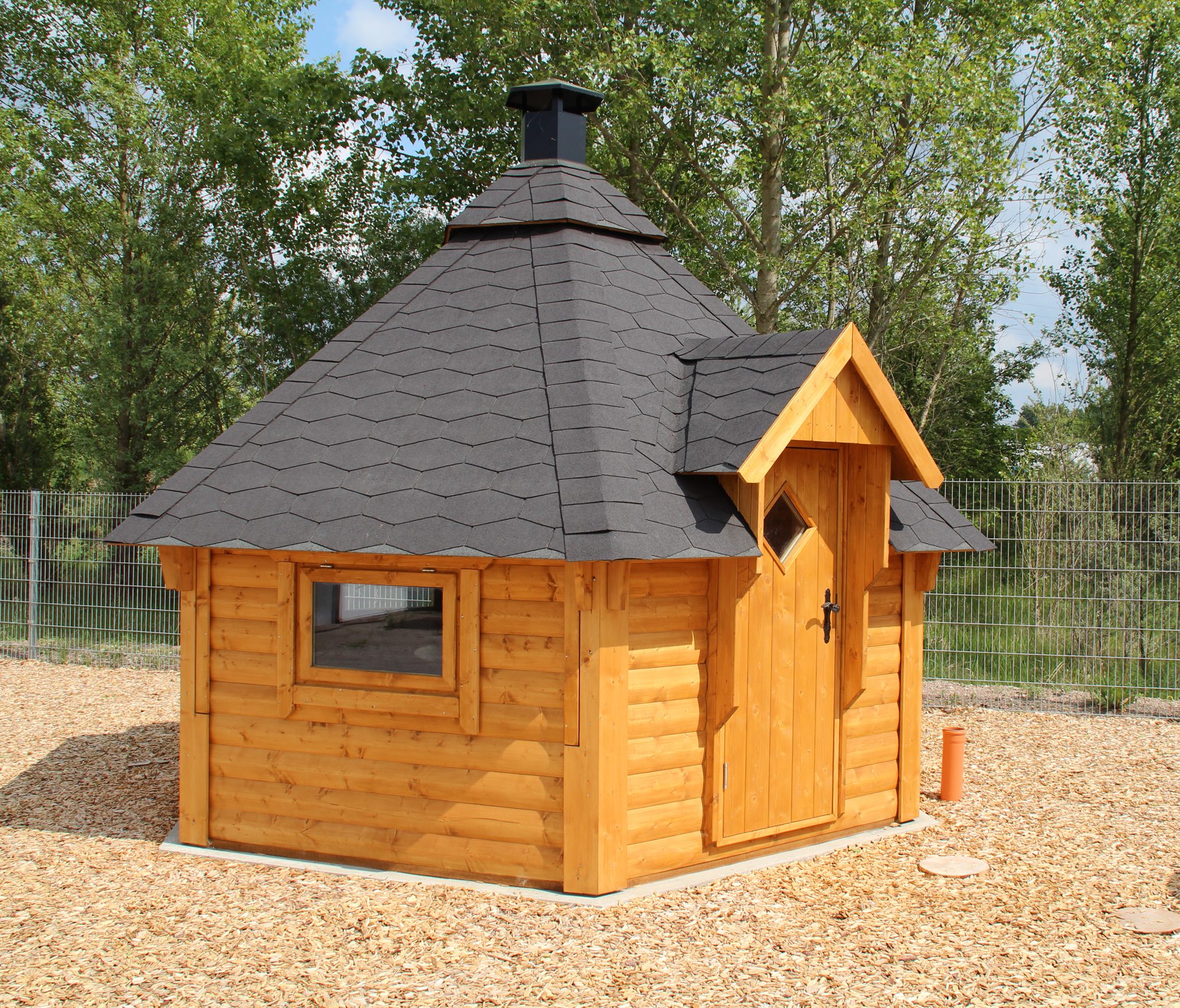 6. Appealing outdoor kitchen shed
This one looks like a small storage unit from the outside, but when you open the door it becomes an ultra-modern outdoor kitchen area, with a useful sink and plenty of storage.
7. BBQ simple shack
Or maybe go for a simpler setup and just place whatever you need under a shelter for protection from the rain. No need to bring the entire kitchen if you don't want to. 

8. DIY BBQ shelter
Try building a simple shelter for your BBQ yourself if you're handy with wood, so you can make it as big as you need it to keep you and the grill covered while cooking.

9. Tiny BBQ shelter
This simple setup would keep your BBQ covered at all times, so it's protected from bad weather. 
10. Semi pergola for BBQ
Add a pergola (or a semi-pergola) to keep the BBQ protected from the rain and keep you protected from the sun.
11. DIY BBQ shack
A little bit of a project but with an amazing result. You'll want to have a BBQ with your friends every day!
12. Custom-built BBQ table and shelter
Build your own BBQ station (or get someone else to) around your BBQ so you can store your tools but still have space for serving up your delicious food out of the rain. 

13. Outdoor mini kitchen
You could add a transparent roof to your outdoor kitchen so light can still shine through and you're still protected from the weather.
14. Modern stone and bricks BBQ shed
If you have the space, a modern outdoor bar and BBQ area is great for some friends or family gatherings.
15. Modern open BBQ shack
This contemporary design is perfect for BBQs by the pool but great for keeping the grill protected from splashes.
16. Cedar corner BBQ shed
A great setup built in a corner, so you can just close it when you're not using it and save some garden space.
17. Rustic BBQ wall setup
Some dark wood for a rustic look and a small semi-roof to gain some shade when necessary.
18. Small simple BBQ shed
If you're building your own BBQ shelter, remember to place some windows for the smoke to find its way out – great if you're using a BBQ smoker.
19. Foldable outdoor kitchen
This DIY outdoor kitchen setup is perfect for a small garden space, as you can fold it away and gain some garden space when you're not using the grill.
20. BBQ deck and shelter
Build your BBQ area on your covered deck so you can still enjoy cooking outdoors on rainy days. 
21. No walls
Just a great roof with some spotlights, perfect for cooking outdoors after the sun goes down.
22. Simple BBQ gazebo
No need for a huge setup or spending a lot of money. If some shade is what you're looking for, a simple gazebo goes a long way.

23. Small BBQ wooden shed
Again, if all you're looking for is to cover your BBQ, there's no need to go crazy with the setup.
24. Huge appealing wooden roof
If you prefer a more permanent feature to protect your BBQ from the weather, this type of solid structure is perfect. You can even fit a pizza oven under there!
25. BBQ deck with black and white tones
This ultra-modern BBQ kitchen has useful built-in storage and a sleek black roof structure to protect your cooking area from the rain. 
26. Side pergola for BBQ
This pergola is perfect to gain some shade while cooking on a hot, sunny day. The trellis provides some extra privacy from neighbours. 

27. BBQ deck on slope yard
With a concrete base to make the space level, you can still have a BBQ shelter even if there's a slope on your garden.
28. Small cooking deck
You could go for a decked area for your outdoor cooking to keep your grass safe from food spills or grease from the BBQ.

29. DIY huge BBQ shack
You'll need plenty of time, wood and dedication to build your own BBQ shack, but the result could be amazing. You could add a bar and bar stools for your guests, and string lights to add to the party feel and keep your gathering going into the night.
30. Red wood BBQ shelter
You could use tin sheets to make your own shelter for your BBQ area. 
31. Wooden BBQ area with transparent roof
This outdoor kitchen uses all natural tones to help it blend in with the garden, and a transparent roof to provide protection from the rain while still letting natural light through.
32. Classy wooden pergola
You could go for a lavish Japanese style pergola to create a stylish shelter for your BBQ area. 
33. Huge BBQ area setup
Brown and silver tones provide a clean finish on this amazing BBQ setup. There's even an air extractor to keep the outdoor kitchen smoke-less. 
34. BBQ and small bar gazebo
This stylish, standalone gazebo provides a great BBQ shelter. It even has a couple of little bars to hold your drinks while you're cooking.
35. Outdoor corner small kitchen
A rollable canopy gives you the choice to enjoy the sunshine while you're cooking or shelter from the rain. It can also provide some shade if the sun's rays get too much. 
36. Side oak gazebo
You could build a shelter for your BBQ to match your decking. All you need is the grill and maybe some comfy chairs and you're good to go!
37. DIY BBQ station
This small BBQ station is easy to recreate at home and won't take up too much garden space. The stove is a great addition as it means you can do all your cooking outside if you want to. 
38. Grey big BBQ gazebo
This simple but sleek and stylish gazebo would add a modern touch to your BBQ area. 
39. Small BBQ shed on wall
If you have a small garden, you could keep it small and simple with a half-shed against a wall for your BBQ shelter. 
40. Transparent canopy for BBQ
This sleek canopy provides protection from the rain but still lets the sun shine through. 

41. DIY wooden BBQ area with lights
If you're the kind of family that likes to party into the night, be sure to add some lighting to your BBQ shelter.
42. Modern simple BBQ gazebo
Not all BBQ shelters have to be made of wood. This modern metal shelter helps provide some shade and a spot for your drinks to help you keep cool on hot days. 
43. Tiny BBQ deck and roof
With a small shelter like this one, there's not enough room to throw a party next to the grill but at least you and your meal will be safe from rain!
44. Classy grill shelter
A classic-style wooden gazebo can be used as a shelter for your BBQ. Add trellis to the sides for extra privacy; you could even add some climbing plants!
45. Useful BBQ gazebo
This useful design has plenty of shelving for preparing and serving your food, and hooks to hang up your tools.

Round-up
With the sporadic nature of our weather here in the UK, adding a roof over your BBQ will mean you can enjoy cooking outdoors come rain or shine. 
Whether it's a small, simple shelter you're looking for, or a building to house a lavish bar and outdoor kitchen, we hope you've found some inspiration in our list of ideas.
Shop BBQs