These small garden ideas prove that there's no limit when it comes to outdoor space upgrades. The next thing you know, your square footage plot now plays a bigger role in your property.
These garden design ideas don't have to be expensive, either. A bit of creativity and a few tricks open new possibilities. Whether dealing with a narrow space or a cramped covered patio, this guide will give you the power to do so.

Keep reading to explore what you could come up with, whatever floor space you have!
1. Planter with lattice trellis
Vertical gardens are one of the most popular ways to maximise compact spaces. This gardening method involves growing on walls and roofs in various styles. A great example of this is using structures like trellises.
A planter with a lattice trellis, for one, suits an urban garden best. It offers a 2-in-1 solution: a planter for the greens and a trellis for climbers that doubles as a privacy screen.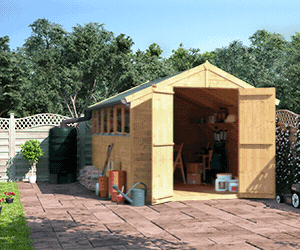 2. Corner pergola
Make use of every inch by creating an extra seating area in the corner. Introduce a bigger structure like a pergola and terracotta potted plants. These simple tricks can transform a plain nook into a relaxing hideaway.

3. Grass island
One of the effective small garden ideas is the circular lawn method. It makes compact spaces feel less enclosed with a tidy, boxlike appearance. If you have a shed you wish to hide, incorporate a trellis. Such structures like that can also divide your garden into defined spaces.

4. Grow a wide range of garden plants
Use plants of different heights and colours to disguise boundary walls and fencing. This planting trick will evoke a cottage garden vibe rather than dull square footage. You can also mix a variety of potted plants in the background for a tropical hint.

5. Rustic garden steps
Recycle your old garden steps as a base for tiered planting. The extra height means they'll take up less space than regular garden beds.

6. Outdoor mirror addition
A mirror does the magic of making small outdoor living spaces appear bigger. It also reflects more light and thus makes the garden feel airier and less enclosed. Mirrors work in most garden layout ideas.

7. Middlesized garden deck
Different flooring styles help create defined areas and make them feel more spacious. Consider a garden with decking layout for one of your small garden ideas. Try a tiered look with a lawn spot for playing, and introduce brick paths in between, for instance.

8. Vertical space gardening
Take your planting off the ground with vertical gardening. Grow upwards instead of outwards, be it indoors or outdoors. Use shelving, trellis, or other systems to support evergreen garden plants.

9. Hanging colourful flowers
Brighten up an old colander with some paint and use it as your hanging basket. The draining holes are perfect for allowing excess water to seep through.

10. Vegetable garden in vertical
Grow your own kitchen garden with herbs and veggies using a trellis or in window boxes. Be the living proof that vegetable gardens can thrive even in a middlesized garden!

11. Small courtyard garden side
Create a comfortable spot to relax in a side yard. Use light colours to give a sense of space and airiness. And for a low-cost privacy option or covering a plain wall or garden fence, opt for bamboo screening.

12. Bricks and garden plants
Use asymmetrical planting to make your garden feel less square and fussy. Bricks are a simple and affordable material for creating your own flower beds.
13. Small patio with couch
You don't need a large space to create a relaxing outdoor environment. All you need is a garden furniture piece to spend those sunny days and get your small garden ideas concept done.
Go for a comfortable sofa and a tidy lawn look for a minimalist approach.

14. Miniature Zen garden
The trickling sound of a water feature is perfect for helping you relax in your zen outdoor space. Add a variety of simple and colourful flowers and garden plants for a splash of greenery.

15. A living green wall
If you like greenery but have little room to plant on the floor, try the walls! Living wall structural plants can spruce up your outdoor space and add extra privacy.

16. Corner garden planters
Make the most of every small garden space with corner garden planters. This thoughtful approach to planting would also look lively in balcony gardens.
17. Open simple garden
If your garden has plain walls, brighten them with low maintenance plants and tall plant pots or climbers. Add a bench so you can sit out and enjoy your garden.

18. Middlesized garden shed
A tall, narrow shed is the perfect size for a middlesized garden. Keep all your gardening tools in one place and never worry about clutter.

19. Picture frames in garden
A living picture frame adds extra natural touch with close to no upkeep needed. It's key to bringing some life to a plain wall.
20. DIY vertical space planter
Design your own vertical planter to keep the cost down. All you need is some wood, and the results could be amazing! This is a great solution if you're short on space for planting.

21. Cultivate on the balcony
The right small garden ideas can get you to a balcony gardening habit even with no pro-green thumb skills. A container garden is a great starting point, e.g. with seasonal flowers. Then decorate with cosy bench seating and an outdoor rug to make the most out of the tiny area.

22. Garden benches and beds
Build your seating into your garden bed borders to make the most of the space and give your garden a modern look.
23. Small garden cabin
Add a small log cabin to give yourself some sheltered feeling of space outside. With one, you can still enjoy your garden room when the weather isn't great. Add some cosy touches to make it feel homely.

24. Simple side yard
Side yards are cosy by nature. Add comfortable seating paired with a mini dining table. Then decorate the space with bunting and flowers for a calming, peaceful touch.
25. DIY tiered planters
Use some leftover fencing to create your own planters. Go for a tiered-style planter if you're trying to save space but still want to add some colour.

26. Wall string trellis
Breathe new life into a plain wall by creating a string trellis for climbing plants. Not only is it budget-friendly, but you can also get creative with the shapes.

27. Corner shed
Tuck in a small corner shed in your country garden and store all your equipment out of sight.

28. Custom stepping stones
Use decorative stones to create your own garden path. Get the kids to help you paint the pebbles for a fun weekend family activity.
29. L-shaped sofa
An L-shaped sofa will give your small alfresco dining a modern look. Have a look at this rattan 5-seater corner sofa set, for example. It's a worthwhile investment that can furnish any small garden ideas in style.

30. Lighting solutions
Add soft lighting to your small backyard to make it feel a little cosier. If you're considering investing soon, check out our garden lighting range today!

31. Minimalist modern backyard
Use minimalist furniture and light colours to make a small space feel less enclosed. Add tall trees to soften a harsh wall and for elongation.

32. Side flower beds
Leave the centre of your garden clear to give off a more spacious feel. Place all your container garden plants and flowers to the sides to brighten up plain fencing.

33. DIY garden bar
Create a little spot to serve drinks for your garden gatherings with a foldaway bar. Add in more garden furniture like bar stools and this BillyOh Nightjar.
34. Zen fountain
Nothing beats relaxing in your garden while listening to the sound of running water. A modern bowl-style water feature fountain makes the perfect finishing touches. It's easy to install and requires less maintenance than a pond and takes up much less space.

35. Floating pots
Make your plants look like they're floating on the wall by using minimalist hangers. It'll help to spruce up a plain white wall and give you back some ground space. 
36. Shed vertical garden
Or you may recycle an old wooden pallet to create a vertical floating yard to hang on your shed or garden fence. Add some small blackboard pieces so you can keep a note of what you're growing.
37. DIY wood pallet deck
Create your own decking using recycled pallets for a simple but effective patio area for your dining table. Add some splashes of colour with planters and a colourful umbrella. 

38. Pots on shelf
If you're short on ground space, add a shelf along your wall or fence to give your plant pots a new home. Bunting and string lights will also add charm.
39. Herb garden on corner
Use simple planters and some old steps to create a tiered planter for your corner kitchen garden. It's easy to set up, yet it adds some appeal.

40. Large garden bar
Another example of a foldaway bar, this one has a built-in planter for decoration and a sturdy table top for eating and drinking.
41. Wood-lined plant frames
A different but stylish choice to have your plants on the wall instead of the floor. Take the DIY approach using leftover wood and then hang them on your fence or wall.
42. DIY bench and pergola
You'll need a couple of wood and patience, but the outcome will be a nice place to sit in your sun garden and relax. Add climbing plants to the trellis and pergola to complete the look.

43. Gravel garden path and flowers
Gravel looks great as a substitute for grass and can make a small garden look very classy. It's also an inexpensive way to transform your garden. 

44. Japanese lanterns
Transform the look of your garden with zen lanterns or sculptures to help you relax the moment you step outside.

45. Hanging pipe planters
You can craft a planter out of almost anything. A leftover plastic piping, for one, looks great as a hanging planter and can be easily modified. 
46. Classy natural stone garden bed
A simple garden bed made of natural stone can transform the look of your garden. It's easy and inexpensive to make yourself.
A gravel base, for instance, is great for drainage and helps to keep weeds at bay. This concept also looks good in a courtyard or contemporary garden.
47. Pallet garden table
The possibilities are endless when it comes to wooden pallets. Build a garden dining table, for instance, to enjoy meals outside.

48. Recycled junk garden
Got some old stuff in your shed? Use it to add some personality to your garden! For inspiration, have a look at these creative upcycling ideas.
49. Buried pots
Bury your plant pots to add a different style to your garden beds. A white stone addition in the curved pattern gives this bed a modern look.
50. Balcony hanging pots
If you live in an apartment or flat, introduce a potted garden to your balcony with hanging plant pots. A few attached to the metal rod will make them a great outdoor feature.

51. Relax in a hammock
If your outdoor space is too small for garden furniture, a hammock can serve the same purpose for relaxation. A stylish hammock adds that cosy factor to your space, best for an afternoon nap or getting lost in a good book.

52. Decorate it with globe string lights
No matter how small your patio is, string or fairy lights in the mix can light up the mood. Hang them on garden fences or under a pergola. For maintenance-free lighting solutions, go for solar lights.

53. Depend on garden sling chairs
Sling chairs are one of the best seating options for a garden with limited space. Its folding feature lets you free up space when not in use. Plus, they make the perfect companion for an impromptu yard game.
54. Dead landscape nooks makeover
In a small country garden, it's easy to overlook the areas that don't get a lot of attention. This includes the corners, but you can turn those spots into unexpected focal points. Add a centrepiece fruit tree, flower pots, box hedging and a wide range of plants for interest.

55. Repurposing an old shutter for the plants
Feature exterior wall with an old shutter installed and filled with edible plants. This is a creative way to introduce vertical gardening to your humble space and make use of an old item!
56. Hanging herb planter for your small garden centre
Looking for more cheap, small garden ideas for your humble yard? A DIY hanging herb planter won't cost you that much, but it needs some creativity! An old canvas shoe organiser, for instance, will do the trick!
57. Welcome wildlife
Even a tiny bird bath with bird feeders can help attract birds, even better if you have a large one! To welcome more wildlife in your yard, add bug hotels and pollinator-friendly plants.

58. Stick with natural garden materials
Grey and green combinations would look naturally pleasing for your country garden. You also won't need much materials or fixtures – lush foliage, shrubs, trees, and an alcove seating will do the magic!

59. Take a cue from small contemporary gardens
One of the creative garden layout ideas that will make your compact plot feel bigger! An L-shaped corner couch is your best bet when it comes to outdoor seating. And a small fire pit or the addition of a feature fireplace will complete the look.
60. Create a seasonal garden
No productive garden is complete without bedding for a veggie or herb garden or blooms. With a seasonal garden, you make the most of your plot all year round. You'll also be able to see how much your garden has changed throughout the year!

Small Garden Ideas: Round-up
It can be a real challenge to revamp a small garden space when you're on a tight budget. Let alone having to think of what you can do to make the most out of the limited plot you have available. But not anymore with these small garden ideas!
If you're furniture and garden building hunting, why not add some pieces from BillyOh? Just click the button below to have a look around!
Shop The BillyOh Range
FAQs